Home
News
Sports
Social
Obituaries
Events
Letters
Boundary County Archives ~ November 2017
News
November 11
Unsettled weather predicted in the week ahead: According to the National Weather Service, a very active weather pattern will envelope the region beginning Monday and continue through the week with frequent periods of mostly valley rain and mountain snow.

Thank you for your service: At 11 a.m. on the 11th day of the 11th month, 99 years after the guns of World War I fell silent, a crowd gathered in Veterans Memorial Park outside the library in Bonners Ferry and remembered the honor and the sacrifice of those among us who, at one time, took an oath "that I will support and defend the Constitution of the United States against all enemies, foreign and domestic." A NewsBF pictorial
Democrat House Party a fun success: More than 30 people from across the county, from Porthill to Naples, dropped in on the Democratic House Party for Puerto Rico at Debbie Flory's house on Tuesday, raising over $400 to be donated to World Central Kitchen.
Schweitzer kicking off season November 18: Thanks to consistent temperatures for snow making and some significant early natural snowfall, Schweitzer Mountain Resort is pleased to announce the start of the 2017/18 season on Saturday, November 18.
November 10

Family coping with sudden loss as holidays draw nigh: A young man died unexpectedly in Bonners Ferry Friday, leaving his wife and two children in mourning and facing costs they should not have to face at a time, with the holidays so close at hand, that they should be rejoicing. The reality of what's befallen them has yet to set in, but Bonnie's sister is asking all the family's friends to help with funeral costs and to help them put their lives back together. Updated with service notice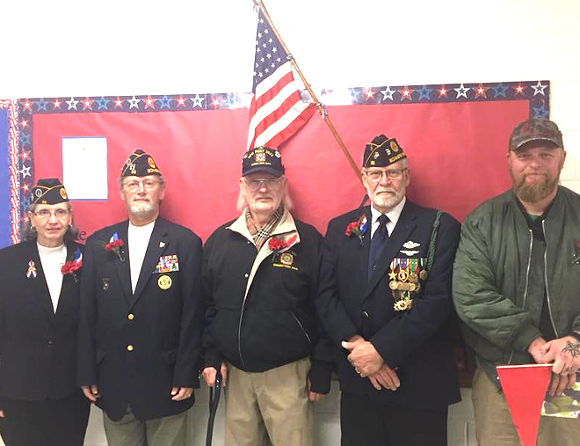 BCMS Leadership Class says thank you, veterans: The Boundary County Middle School Leadership Class extends a big thank you to the veterans who came and spoke to their advisory classes today, and to the students, who were very respectful and participated and wore red, white and blue!
November 9
Rural health in Boundary County: Across America, rural settings allow for a simpler way of life. However, when it comes to health care, rural health clinics are anything but simple. The Rural Health Services Act of 1977 has helped bring healthcare providers to rural areas, meeting the needs of families that would otherwise not have access to care. By Jeannie Harkness
Mark Fenton to speak of more active Bonners Ferry: The city of Bonners Ferry is pleased to bring Mark Fenton to our community Monday and Tuesday at the Kootenai River Inn to discuss public health trends and ways to combat childhood obesity in our community. Space is limited and you need to register by 5 p.m. today.

The incredible shrinking bladder: Age can be a funny thing, if it doesn't drive you nuts. Take the bladder, for instance. In my case, please, take it and replace it with a football or something. It has shrunk to the size of a toad's eyeball. Such was not always the case. Musings from Moyieboy by Ken Carpenter
Moyie Springs City Council Minutes, October 4
November 8

Women in Agriculture Conference here soon: The 2017 Women in Agriculture Conference will offer women in Washington, Idaho, Oregon, Montana and Alaska a unique opportunity to gather in 40 different locations for a one-day event featuring knowledgeable speakers, inspiring stories, networking with other producers and practical advice for learning new skills.

'Electrofrogging' clears way for climate adaptation grant: An invasive frog in the wetlands of North Idaho is triggering climate related habitat work in Boundary County. In recent years, warm temperature loving American bullfrogs have been making their way north along the Kootenai River Valley toward the Boundary-Smith Creek Wildlife Management Area (BSCWMA) near the US-Canadian border.
Sloppy weather expected: The National Weather Service has issued a winter weather advisory for mixed precipitation, in effect from 10 p.m. today through noon Thursday. Total valley snow accumulations of up to two inches are expected.
November 7
Thompson to join Bonners Ferry City Council: Val Thompson garnered 154 votes to incumbent Ken Toline's 50 votes to take a two year seat on the Bonners Ferry City Council, and in Moyie Springs, Geoff Hollenbeck was the top vote getter with 37 and Stephen E. Economu garnered 29 votes to fill two vacancies on the Moyie Springs City Council.
Gearing up for the Festival of Hearts: The 2018 Fry Healthcare Foundation's Festival of Hearts takes place at 6 p.m. Saturday, February 10, at the Kootenai River Inn. The Festival of Hearts is the foundation's major fundraising event of the year to raise funds for Boundary Community Hospital.
Bestowing honor on Idahoans: Governor C.L. "Butch" Otter unveiled a new public service advertising campaign today seeking nominations for the highest civilian honor the State of Idaho bestows on its citizens.
Court dispositions and sheriff's log
November 6
Friends of the KNWR to hold annual meeting: The annual meeting of the Friends of the Kootenai National Wildlife Refuge will be held in the refuge education barn at noon Tuesday, November 14, and they'd love to have your input!
RCC honors vets as Back Adit plays The Pearl: Looking for a way to honor and entertain your local heroes? Bring them to The Pearl this Veteran's Day to see Back Adit! The show starts at 7 p.m. Saturday, November 11. Rawlings Community Counseling sponsors all veterans for this show, offsetting regular ticket prices for our community's veterans.

Local Marines to celebrate 242nd birthday: They are the few, the proud. The U.S. Marines. A group, perhaps more than any other, that epitomizes loyalty, honor, service. A group that, once you join and serve, you are forevermore a part of. On Friday, November 10, the Corps celebrates its 242nd birthday, and all Boundary County Marines are invited and encouraged to attend this year's Marine Corps Ball, to be held at the Kootenai River Inn.
Flags half staff to honor victims of Texas shootings: We are deeply saddened by the shooting in Sutherland Springs, Texas, which took the lives of more than 25 innocent victims while they were attending church. As we mourn the victims of this unprovoked act of violence, we pray for healing and comfort for all the family members and loved ones who are grieving.

Idaho Family Reading Week just ahead: Idaho Family Reading Week starts next week, November 13-16, and Valley View Elementary has a full week of activities planned to get your family reading. Their theme of "Tell me a tale" will inspire children to write their own stories and read them to classes.
November 4
Winter weather advisory for snow continues: The National Weather Service has issued a winter weather advisory for continued snow, effective from 4 a.m. Sunday through 4 a.m. Monday in North Idaho and northeast Washington. An additional two to four inches of snow is expected to fall during that period in the lower elevations, with up to seven more inches falling in the mountains.
ISP offering winter driving class: The Idaho State Police will be holding a Road Safe Class for the 2017/2018 winter driving season from 9 a.m. to noon Saturday, November 11, at the Idaho State Police District 1 Office, W615 Wilbur Avenue, Coeur d'Alene.
November 3
Collision on icy road claims Bonners Ferry woman: A Bonners Ferry woman died today in a two-vehicle collision with a semi in Bonner County caused by slick roads.
Care-N-Share Christmas season is here: Care-N-Share Christmas is on its 35th year of helping insure the children of our community have a wonderful Christmas! If you or someone you know will be needing help this Christmas, applications are now available.

Badger Band Notes: letter, schedule and permission slip were sent home for Gathering of the Bands this week. Chaperones are needed, please contact Mrs. Hanna if you are available to travel with us on Wednesday, November 15, to North Idaho College in Coeur d'Alene. Excerpts from The BFHS Band November Newsletter

Christmas tree season on the IPNF: It is soon to be the most wonderful time of year to visit the Idaho Panhandle National Forests and find the perfect Christmas tree! Individual Christmas tree permits are $5 each and are available at the U.S. Forest Service supervisor or district offices.
Public comment sought for state insurance waiver: The Idaho Department of Insurance intends to apply to the Centers for Medicare and Medicaid Services and to the United States Department of the Treasury for a Section 1332 State Innovation waiver on or about January 5, 2018. Public comments will be accepted until December 15.
November 2

Winter driving conditions are here to stay: The Bonners Ferry Police Department wants to remind everyone on Inland Northwest roads, especially those here in Boundary County, that driving conditions are bad and getting worse! Temperatures are dropping below freezing in most areas and the snow and slush from the day's precipitation is freezing, with more heavy snow expected through tonight and into morning.
Winter conditions expected to make travel difficult: A winter storm warning remains in effect until 11 a.m., and as the system develops, the outlook continues to grow more grim for those who are traveling in North Idaho and northeastern Washington. Mountain snow and valley rain and snow will change to all snow by this evening. Heavy accumulations are expected north of Deer Park and Athol.
Local Democrats hosting party for Puerto Rico: he Boundary County Democrats will hold a House Party to Benefit Puerto Rico on Tuesday, November 7, at Debbie Flory's place in Bonners Ferry. This is a community event and everyone is welcome to join and raise funds to support recovery efforts in Puerto Rico.
Grizzly gates to be opened for season soon: The Idaho Panhandle National Forests will be reopening several forest gates in grizzly bear management units in coming weeks. Gates should open, depending on weather conditions and available personnel, November 16 in the Selkirk Mountains and December 1 in the Purcell and Cabinet Mountains.

Budding pilots encouraged to apply: After another summer flipping huckleberry pancakes and enjoying great company, local Experimental Aircraft Association EAA Chapter 757 is seeking pilot training scholarship applications. The Chapter held monthly Pancake Breakfasts from May through September to raise funds for flight training scholarships.
Hire a Vet event set in Post Falls: The Idaho Department of Labor's Kootenai County office will host a Hire a Veteran event from 10 a.m. to noon Wednesday, November 8, at N600 Thornton Street, Post Falls.
Cruz backs Labrador's gubernatorial bid: U.S. Senator Ted Cruz announced Wednesday he is endorsing Raúl Labrador's bid to become Idaho's next governor. "I've worked closely with Raúl Labrador over the past few years to advance conservative policies for our country ..."
November 1
Winter storm warning issued for snow: The National Weather Service has issued a winter storm warning for heavy snow, in effect from 5 a.m. Thursday to 11 a.m. Friday. Plan on difficult travel conditions, including during the evening commute on Thursday. Total snow accumulations of four to eight inches in the valleys, with mountain accumulations up to 17 inches, are expected.
Cleanup Week coming to Bonners Ferry: The Bonners Ferry City Street Department will pick up yard waste from the front curb side of residences and businesses during the week of November 6 through November 13.
Back to archives