Boundary County News
Home
Sports
Social
Obituaries
Events
Letters
February 22
BFHS welcomes semester two and hopes for more sun! In total, semester one flew by, and I don't know where the time went. I am thankful for a great semester, and there are many people that I will be thanking in the coming weeks for helping BFHS put another semester under our belt. By Principal Kevin Dinning
County Road closures now in effect: A number of Boundary County roads have been closed today to hauling due to spring break up weather conditions. There is a 24-hour grace period, but just to be safe, if you need to haul on a Boundary County road and you're not sure, call Road & Bridge at (208) 267-3838 before you head out.

Paradise Valley woman meets cougar in her yard: Melissa ran into a cougar in her back yard Tuesday evening when she went out to shut her chicken coop for the night in Paradise Valley between Black Mountain Road and Brown Creek. If you live out that way and heard a crazy woman screaming, she said, that would have been her. It turns out, she did just what experts recommend in such a confrontation.
February 21

The power of a child's smile and a wave: While in Super1 in Bonners Ferry recently, Samantha West and her three kids walked around looking for groceries. "It was busy in there and I kept feeling like I was in someone's way," Samantha wrote in a rave she posted today on the Bonners Ferry Rant & Rave page on Facebook.
Crapo, Risch call for another year of SRS funding: Citing the stress on many rural county budgets, Idaho Senators Mike Crapo and Jim Risch joined 78 of their colleagues in sending a bipartisan, bicameral letter to the Office of Management and Budget calling on it to provide funding for the Secure Rural Schools program in the President's upcoming budget request.
Local quilts keeping refugee children in Jordan cozy: Quilters in Boundary County have been busy for some time now making and donating quilts to Quilts Beyond Borders, a non profit organization dedicated "To Provide quilts to children in need, especially orphans living in under-served areas of the world where the warmth of a quilt is needed at night."
CNA scholarships available at BCH: CNA scholarships are available for the spring semester of the nursing assistant certification program in Bonners Ferry through North Idaho College and Boundary Community Hospital, which starts March 28.

The curse Of Lippy Goatenstein: My tendency to adopt strange habits without even knowing it has become legendary. A few years ago I was out back paying some attention to my two Goatie Boys. Musings from Moyieboy, by Ken Carpenter
Honorably discharged vets to get online PX privileges: After four years of coordination with the Departments of Defense, Army and Air Force as well as several other federal agencies, the Army & Air Force Exchange Service will welcome home approximately 15 million veterans on November 11, Veteran's Day, 2017.
February 20

Festival of Hearts a huge success! The Fry Healthcare Foundation Festival of Hearts was a resounding success, raising more than $37,000 in one night. With the money from the gala, combined with funds from the 2016 Golf Tournament, we are able to fund the entire $41,000 for the Spacelabs Healthcare Cardiac Monitoring Central Station Control System for Boundary Community Hospital.
Apps and gadgets in forestry; two classes offered: Forestry technology has been undergoing many changes. Managers of large public or industrial forest lands have increasingly combined aerial imagery with geographic information systems (GIS) to develop ever more sophisticated, geo-referenced forest information.
February 19
Shawn Keough's report from Boise: Greetings from our state Capitol! Thank you to those who have contacted me to let me know your perspectives on the idea of renaming our Long Bridge across the Pend Oreille River the Veterans' Memorial Long Bridge.
February 18

Rucker pleads not guilty to St. Ann's arson: Shane Rucker, 33, Bonners Ferry, appeared in U.S. District Court Friday in Coeur d'Alene and entered a plea of not guilty to two charges brought Wednesday by a Boise grand jury for allegedly burning down St. Ann's Catholic Church in Bonners Ferry April 21, 2016.
February 17
Nasty roads ...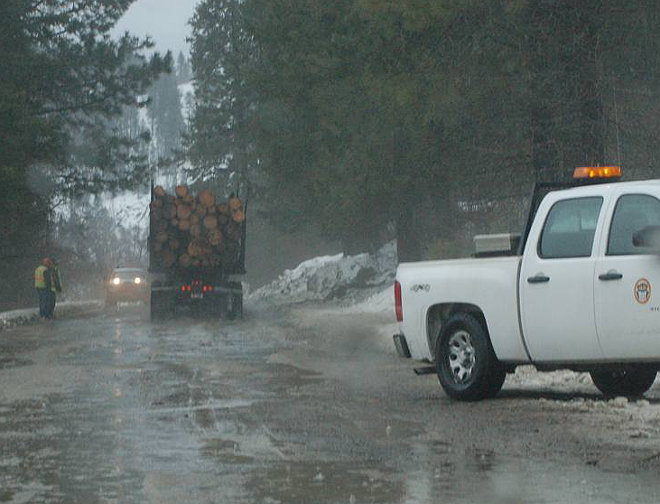 Photo by Sara McIntyre
With all the recent bad weather, roads around Boundary County, especially the side and feeder roads, have been treacherous of late, with a combination of slush, ice and water making travel difficult and the timing of the weather making it hard for hard-working road crews to get and stay caught up. This shot was taken today on Crossport Road near Katka, where Dobson Creek has overflowed.
Be prepared for spring road break-up: Once again it is the time of the year we need to think about break up road closures. Trust me; it is not my favorite part of this job. Temperatures are warming up and hard surfaced roads are soaking in the sunshine and a surface thaw will begin. Cold nights will slow it down. By Clint Kimball
BCH certified as level IV trauma center: Boundary Community Hospital has recently been designated as a Level IV Trauma Center by the State of Idaho. The designation for the hospital is part of the Idaho Time Sensitive Emergency System (TSE) and is reserved for hospitals that meet the stringent criteria established by the state.
Crapo accepting internship applications: The deadline is rapidly approaching for Idaho's students to apply for internship opportunities in U.S. Senator Mike Crapo's Washington, D.C., office, or in one of his six regional offices throughout Idaho.
Boundary County Commissioners minutes, January 16
February 16
Snow storm is over, digging continues: The snow storm is over, the roads are getting better, and slowly members of our community are digging out. By Michael Meier, Boundary County Director of Emergency Management

Arrest made in St. Ann's arson: Shane Rucker, 33, Bonners Ferry, was arrested today on a two-count federal indictment in the District of Idaho charging him with destruction of religious property and using a fire to damage or destroy religious property.
Sandbags available at Road & Bridge: Today the National Weather Bureau issued a flood warning for Boundary County and others. With the melting snow and light rain falling, county residents may be experiencing some local water problems with their homes or driveways. By County PIO Michael Meier
Flood watch upgraded to warning: The areal flood watch issued Wednesday has been cancelled and replaced by an areal flood warning, which means that the chances of flooding are imminent and that those in flood-prone areas should prepare to go to higher ground if it becomes necessary. The warning remains in effect until 10 p.m. today.

Our kids really are worth whatever it takes: February has been an unpredictable month of school, or lack of school I should say. I know students, staff, and parents are ready to get back to normal. Speaking of normal, this winter has been anything but. However, as I was shoveling the roofs of Naples Elementary and Mt. Hall Elementary, I was touched by how many people turned out to help the schools. By Principal Lisa Iverson
4-H Friday Friends seeking coordinator: Boundary County 4-H Friday Friends is looking for a program coordinator. The position is 19 hours a week total with 10 of those hours on Fridays during the school year.
USFS Region 1 accepting job applications: U.S. Forest Service Region 1 is pleased to announce the beginning of their summer temporary positions being advertised on www.usajobs.gov starting today. The advertisements will close on February 22 at midnight EST.
February 15
School district gives thanks: What a week! February 6 through 10 will be one for the record books. It was a great combination of dangerous roads, heavy snow/ice and changing weather conditions which shut BCSD #101 down; some might call it the "perfect storm."
February 14

Snowmaggedon '17 officially ends: The state of emergency declared by Boundary County Commissioners a week earlier was quietly and gratefully allowed to expire Monday, and while the work made necessary by the heavy drop of February snow has by no means ended, the pace has slowed to a more tolerable level much less frenetic.
Victim Services support group starting back up: Boundary County Victim Services has experienced a short hiatus in their support group due to a lack of participants. It is their hope that with new word of mouth and sharing on social media they can start it up again, and they've set March 1 for the date.
Areal flood watch issued: The National Weather Service has issued an areal flood watch for North Idaho and northeast Washington, in effect from Wednesday evening through Friday morning.

New law office opening in Creamery Building: The old Creamery Building office recently vacated by Boundary Abstract didn't stay empty long, and Bonners Ferry attorney Thomas Bushnell, who had been on hiatus since a health scare last year, is bustling, with plenty of help from his family, to get everything ready for his official opening day tomorrow.
February 13
If you are missing a mule and a pony call Merrill Marcy, 267-4303.
To everyone within Bonners Ferry City limits along the South Hill who get their garbage picked up in the alleyway: Currently the alleyways are not plowed and therefore the garbage pickup will take place on plowed streets for the remainder of the time the alleyways are impassible. The garbage service contractor has been contacted and been advised to operate in this manner until further notice.
ISP now answering poaching hotline: Due to changes in a contractor used for Idaho's Citizens Against Poaching hotline, callers should not be alarmed when Idaho State Police answers the phone.
Akins Harvest Foods to close: Employees at Akins Harvest Foods, 7168 1st Street in downtown Bonners Ferry, were notified last week that they'll be without jobs as of Wednesday, February 22, when the store is scheduled to be shuttered.
Chance of precip coming, shouldn't amount to much: While Boundary County has a high chance of seeing more snow after the weather becomes unsettled beginning Wednesday, there is little chance we will see very much, if any accumulation.
Three Elk Mountain farmers honored: The Boundary Soil Conservation District had the pleasure of awarding John Kellogg, Ed Atkins and John Solt 2016 Conservation Farmer of the Year awards at a breakfast banquet hosted at the Kootenai River Inn on February 7. The three gentlemen accepted the awards on behalf of Elk Mountain Farms.
Feist Creek gearing up for Valentine's Day: If you still haven't decided where to take your sweetheart for Valentine's Day Tuesday, there's no place more romantic than Feist Creek Restaurant and Motel, 2673 Moyie River Road, and the crew is gearing up to make your visit wonderful.
Penguin Plunge just around the corner! You have the opportunity to support our Special Olympians by participating in the Penguin Plunge 2017. For the seventh year, teams and law enforcement officers will be "Taking the Plunge" by jumping into Kootenai River to raise funds for Idaho Special Olympics.
'Ruby Ridge' to air on Idaho Public Television: It's been 25 years since the Ruby Ridge siege in North Idaho. Randy Weaver and his family faced off with federal agents in a shocking stand-off on a mountain top not far from Bonners Ferry. A new documentary titled "Ruby Ridge" airs Tuesday night on American Experience on Idaho Public Television.
February 10
For those facing flooding problems, Boundary County will have sandbags outside the gate at Road & Bridge, 73 Sunrise Road at the top of the North Hill, on Saturday morning. Sand is available at the county landfill.
Road clearing will take time: One of the leftovers from our declared emergency snow storm is the terrible condition of all our city and county roads. Roads are being cleared as quickly as possible within the county, but it's going to take time. By Michael Meier, Boundary County Emergency Management
County asking for damage reports: Boundary County Emergency Management Director Michael Meier is asking all county residents who suffered structural damage to their home or buildings during the latest snow storm event since commissioners declared a state of emergency February 6 to please report those damages by sending an email to mmeier@boundarycountyid.org.
In the big chair ...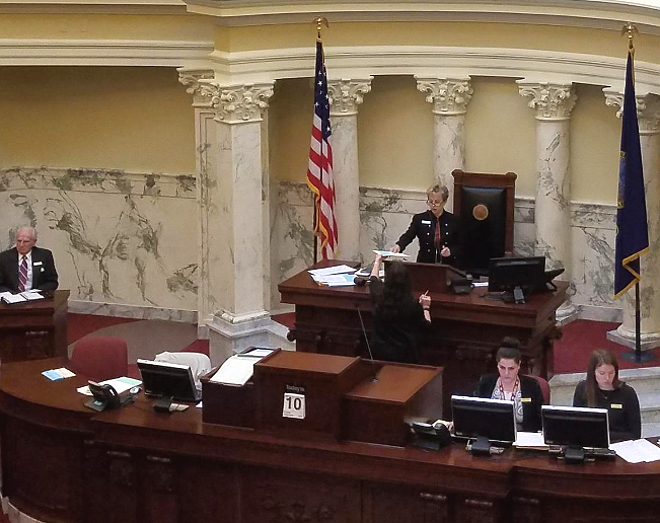 If the face behind that big desk looks familiar, that's because it's our very own Idaho District 1 Senator Shawn Keough at the head of the Senate Chamber on Friday. "I was honored to preside over the Idaho State Senate today!" she said.
February 9
Power outages widespread, could last into Friday: Northern Lights is fighting through a significant ice and snow storm that continues to impact our area with wide spread power outages. Additionally, ice and snow loaded trees and power lines will continue to complicate this problem by causing new outages over the next 24 hours.
Friends of the Restorium Valentine's raffle underway: Friends of the Restorium are holding their 12th annual Valentine' Day basket raffle, with drawings to be held at 6 p.m. Saturday, February 11.
Businesses warned of phishing scam: Attorney General Lawrence Wasden is asking Idahoans to be on the lookout for a particularly dangerous phishing scam that could compromise sensitive employee data.
Boundary County Public Schools are closed today due to weather.
February 8
Boundary County public schools will be OPEN Thursday, February 9. If conditions worsen overnight, and closure become necessary, district officials will make the decision in the morning. I apologize for the initial post stating schools were closed.
Inmates coming to help as more snow falls: Due to recent Severe Winter Weather, Boundary County declared a State of Emergency on February 6 to assist with the critical infrastructure within the county only. By Mike Meier, Boundary County Public Information
February 7
Boundary County public schools will be closed Wednesday, February 8, due to adverse weather and to enable students who are able to assist in preparations for the next storm system expected Wednesday night.
Wednesday storm watch upgraded to warning: The winter storm watch issued early this morning has been upgraded to a winter storm warning, in effect from 4 p.m. Wednesday through 4 p.m. Thursday.
Snow daze ...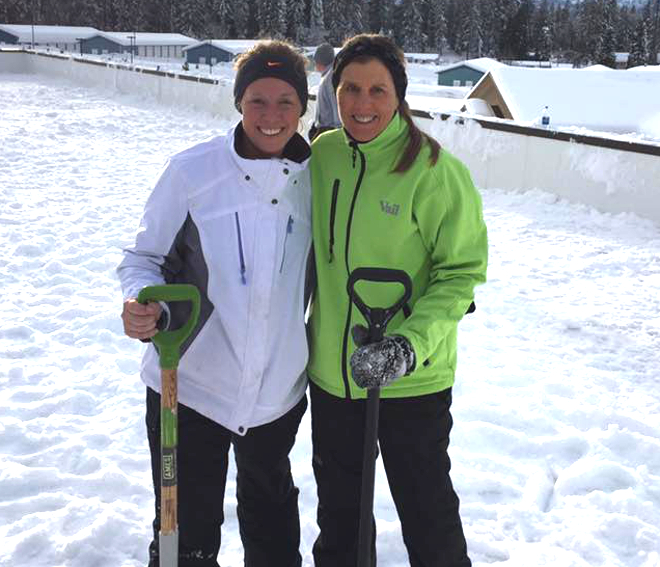 Just because schools have been closed for bad weather this week doesn't mean staff and many students haven't been hard at work, they just traded pens, computers and books for snow shovels and snow blowers and the cozy classrooms for the school house roof! Teachers Kelly Hinthorn and Janis Tucker send out a cordial invitation to any who want to help before the next winter storm hits! They'll be at ... er, on Boundary County Middle School on Wednesday.

A Valentines to remember with 'Elvis': Come in from the snow to warm your Valentine with a "Love Me Tender" Saturday night at The Pearl Theater, at 7 p.m. February 11. Brad Mitchell, a renowned Elvis tribute performer, just returned from the Caribbean after performing for an Elvis Birthday Cruise, and he's looking forward to making your weekend special.

Round II of Snowmaggedon on the way: In the face of another winter storm poised to arrived almost on the heels that just left the region reeling, the National Weather Service has canceled a snow advisory issued Monday and issued a winter storm watch for snow, rain and ice in its stead. The watch is effective from Wednesday afternoon through Thursday evening.
Moyie Spring City Council minutes, January 4
Archives