Boundary County News
Home
Sports
Social
Obituaries
Events
Letters
March 29
The 20 Mile Water Board of Directors would like all members to know that all water tests have been completed and passed. The water is good and the IDEQ boil order has been lifted!
Meet the next five DYW participants
:
Twenty of Bonners Ferry's most outstanding junior girls are taking part in this year's Bonners Ferry Distinguished Young Women Scholarship Program April 29 at the Becker Auditorium, and here are five more of the young women now preparing for "A Night at the Oscars."

Enough Chicago already! A fellow told his co-worker that he had just turned down a huge raise because he didn't want to move to crime ridden Chicago. His friend replied that he had lived in Chicago for ten years and never had a single encounter with a crime of any kind. Musings from Moyieboy by Ken Carpenter

Former RMA director facing Wyoming sex charges: Former Rocky Mountain Academy director Scott Addison, 48, whose tenure there lasted just three months, was arrested in Laramie, Wyoming, February 22 and officially charged March 1 with 25 felony counts after multiple women accused him of sexual assault and attempted blackmail.
Fuelwood permits available on the IPNF: Fuelwood permits for the 2017-2018 season will be available beginning April 1 on the Idaho Panhandle National Forests. A Personal Use Firewood Permit is required if you wish to take firewood home.
March 28

Family's dachshund missing in Naples area: A family's beloved dog is missing from the Naples/Blue Lake/Deep Creek area. She's a mini brown and tan dachshund. She is very much missed. If you happen to see her, please call Denice Sandelin at (208) 290-3605 or (208) 290-4262.
Moderate to heavy rain expected tonight, Wednesday: The National Weather Service has issued an areal flood watch for the region, including Boundary and Bonner Counties, effective from tonight through Friday morning as a warm, moist storm system is expected to bring moderate to heavy rains to the area beginning late tonight through Wednesday.
Tutxinmepu Powwow this weekend at UI: The University of Idaho will host its 18th annual Tutxinmepu Powwow Saturday and Sunday, April 1-2, in the ASUI-Kibbie Activity Center in Moscow.
Over-the-year job growth continues to top nation: Idaho's seasonally adjusted unemployment rate for February held steady at 3.6 percent while the state continued to lead the nation in over-the-year job growth for the sixth consecutive month.
Boundary County Commission minutes, March 13
March 27
Time nears to get studded tires off: If you are traveling in Idaho, the deadline for snow tire removal is Sunday April 30. The fine in Idaho for having studded tires past the April 30th deadline is $67.
March 26
School bus route changes on Deep Creek Loop: In order to reduce delays in transporting students living on Deep Creek Loop, which remains closed at the north end from Peaceful Way to Highway 95, School District 101 will have a second bus running Deep Creek Loop beginning Monday morning.
Boundary County road update for Monday morning: As of Sunday evening, the following road issues can be expected for the Monday morning commute ...
March 24
Expect Highway 95 delays as slide area still unstable: The Idaho Transportation Department advised the Boundary County Sheriff's Office late this morning that they will reduce travel on Highway 95 near Mountain Meadows Road to one lane until the hillside which slid onto the highway last weekend can be deemed stable.

Readers lift NewsBF to a new milestone: At 10:06 p.m. Thursday, someone clicked a button on our Facebook page, and established News Bonners Ferry as the best liked local news source in Boundary County. We can't be sure who our 5,000th Facebook friend is, but we are glad you stopped by.
March 23
Highway 95 moving, Deep Creek Loop remains closed: As of 8 p.m. today, Highway 95 at mile 498.6 six miles south of Bonners Ferry remains down to one lane of traffic with flaggers after a major mud slide Tuesday evening. Deep Creek Loop, which was shut down not long after the slide, remains closed.
Gearing up for 15th CommUNITY breakfast: The Bonners Ferry Rotary is pleased to announce its 15th annual CommUNITY Breakfast and Silent Auction, to be held from 7 to 10 a.m. Saturday, April 22, at the Valley Event Center at the Boundary County Fairgrounds.
Kootenai Tribe seeks aquaculture tech: The Kootenai Tribe of Idaho is seeking to hire an Aquaculture Technician II, who will work in assisting in all phases of production of burbot at the Kootenai Tribe's Sturgeon and Burbot Hatchery in Moyie Springs.
As of 1:45 p.m. the Westside Road is clear and re-opened to normal traffic after a mudslide this morning.
March 22
Applegate's body recovered from river: The body of a Bonners Ferry man who fell into the Kootenai River near Troy while scouting for wedding locations with his fiancé in December has been recovered by the Lincoln County Sheriff's Office.
Meet the second five DYW participants:

Twenty of Bonners Ferry's most outstanding junior girls are taking part in this year's Bonners Ferry Distinguished Young Women Scholarship Program April 29 at the Becker Auditorium, and in each of the next three weeks, we'll introduce you to five more of the young women now preparing for "A Night at the Oscars."
Major mudslide closes Highway 95: Boundary County was hit once again by a mudslide Tuesday evening that shut down travel on U.S. 95, this one the most significant since the major slides of 20 years ago. The hillside on the north side of the highway came down in a rush just south of Mountain Meadows Road near mile 498 at about 8:39 p.m., trapping a car that was driving through and inundating both lanes with a bank of mud, trees and debris in a swath estimated to have been 25 feet across and eight to 10 feet deep.
Flood warning extended as more rain forecast: The National Weather Service has extended its flood warning until noon Saturday as another round of rain is expected Thursday night and into Friday on ground that is too waterlogged to absorb more moisture.
Notice to 20 Mile Creek Water Members


There is a planned repair of a broken line Thursday March 23rd at 7 am. Will try to resume service by early afternoon. Boil order is still in effect till further notice. Thank you from your Board of Directors.

Slippery history of the Ash Street hill: With all the mudslides occurring this year and in particular the slide off on the South Hill on Ash Street Saturday, the staff at the Boundary County Museum thought the folks of Boundary County might enjoy a "slip sliding away" history of how the South Hill arrived at its current predicament.
Staying safe and healthy during and after a flood: In the wake of several North Idaho communities experiencing flooding and anticipating more rain this week, Panhandle Health District is reminding residents to stay safe and healthy during and after flood conditions.
March 21
Fire chief responds to allegations: I am following up on the letter (Don't be fooled by county-wide fire district) that was sent out with all of the misinformation regarding Fire and EMS in Boundary County. By Tony Rohrwasser, Fire Chief, South Boundary Fire Protection District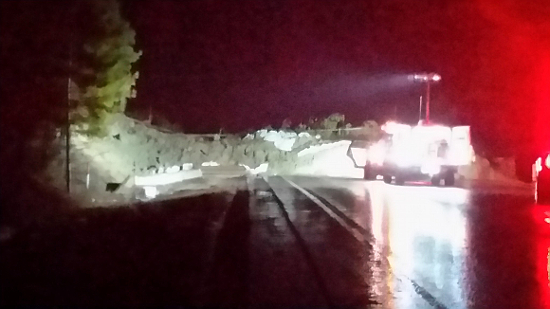 Lani Christiansen photo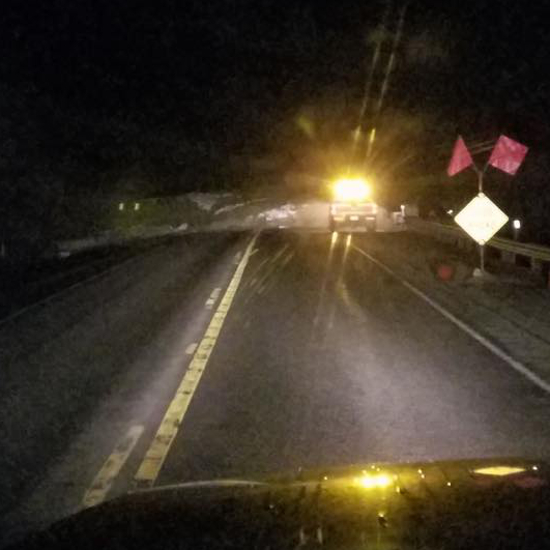 Joe Stockdale photo
Major mudslide blocking Highway 95


8:39 p.m.: Emergency crews are responding to a mudslide on Highway 95 near Mountain Meadows Road (mile 498) and both lanes are blocked with eight to 10 feet of mud. Vehicles were involved but no injuries are reported. Expect long delays. Avoid the area if at all possible. Through commercial vehicles should immediately divert so as to avoid the slide area as available detour routes cannot handle heavy vehicles. 9:04 p.m.: ITD is mobilizing heavy equipment to begin clearing the highway and to see if there may be additional vehicles under the slide, which, according to one responder's estimate, is approximately 25 yards across.

BFHS gears up to finish the third quarter: The end of the third quarter of the 2016-2017 school year is upon us, and Bonners Ferry High School students and staff will be working hard to finish strong. I know it is not safe to say this, so you can all blame me when it snows again, but we made it through winter. By Principal Kevin Dinning
Rotary visits Alpha 2130 robotics team: The Bonners Ferry Rotary held its meeting at the Bonners Ferry Middle School March 14 for a demonstration of the competition bot designed and built by the Bonners Ferry Robotics Team, Alpha 2130. The team gets only six weeks at the beginning of each year to build their robots for FIRST competition.
Bonners Ferry City Council minutes, February 21
March 20
Say goodbye to the sun for awhile: It was nice while it lasted, and the brief dry spell afforded by the sunshine of the past two days has helped the many hard working folks who've been out helping to get things back to normal after numerous mudslides and washouts, but the respite is about to end.
20 Mile Water under boil notice: The Twenty Mile Creek Water Association is under a drinking water advisory until further notice following depressurization of the water system caused by a water main break.

Superintendent addresses BFHS students, staff: On Tuesday, March 14, Boundary County School District 101 Superintendent Gary Pfleuger strode to the podium in the Becker Auditorium at 11 a.m. and addressed the entire Bonners Ferry High School student body and staff on safety, good manners, success and what the future might hold.
Time to bid farewell to Valley View bleachers: It is time to say goodbye to the old Valley View gym bleachers. Originally the Bonners Ferry High School bleachers when the school was built back in the 70s, those bleachers will be taking their millions of memories to the highest bidder, with sealed bids being accepted at the district office until 3 p.m. Thursday, March 30.

Those Ringtone Blues: I had my son put a new ringtone on my cell for me last year. Yes, my inherited Droid Maxx confuses the droppings out of me. Anyway, the sound coming forth from my smug phone now is the cawing of a crow. Musings from Moyieboy by Ken Carpenter
Boundary County emergency road closures
March 19
20-Mile Water expects some service back on Monday: Twenty Mile Water Association members have been without water since Saturday afternoon after a mudslide hit a creek, blocking a main system intake. There is also a line break somewhere in the system that needs to be located and repaired.
More rain forecast, flooding woes to continue: The National Weather Service has issued a new flood warning for North Idaho and northeast Washington, in effect until noon Wednesday and in spite of drier weather forecast today and Monday. The recent rains and warmer temperatures will continue to result in increased runoff, and with water tables already elevated, flooding is expected to persist.
Regarding recent rumors about Boundary Ambulance Service: Boundary Ambulance Service has recently been made aware of an anonymously penned letter circulating by email and on social media falsely accusing BAS of taking sides in the debate surrounding the amalgamation of fire districts in Boundary County. The letter further alleges that BAS has inappropriately managed the deployment of our ambulance fleet. By EMS Chief Jeff Lindsey
March 18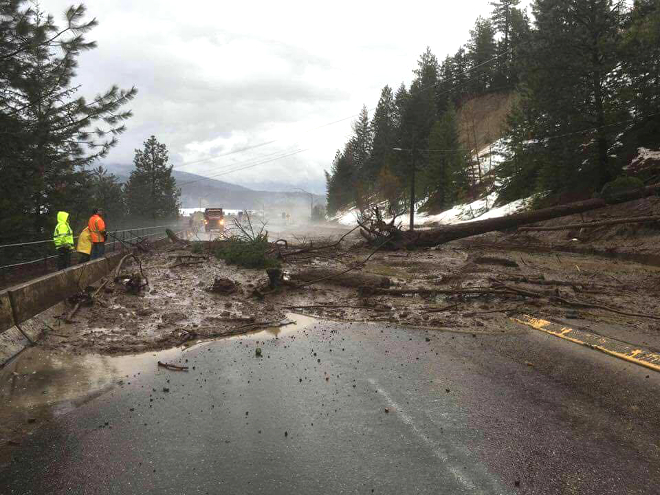 Rough day for travelers, road crews: Boundary County Commissioners have declared an emergency today a rain and melting snow wreaked havoc on roads and travel through much of the county. At about 12:39 p.m., a report came in of a mudslide across Ash Street just off Highway 95 in Bonners Ferry, and shortly after an officer arrived on scene, a second slide came down.
March 16

From the seed of an idea, a community benefits: On his business card, Casimir "Cas" Holeski defines himself as a "Fruit and Nut Enthusiast," and it's a self-bestowed title that didn't come about easily. But it's a good thing it did, as his enthusiasm for all things growing has led him on a one man mission that is starting to change how people in Boundary County look at their food supply in a most fundamental way.

ISP mourns passing of former director Edwin Strickfadden: The men and women of the Idaho State Police are deeply saddened to learn that one of our former directors and the "Father of the Contemporary ISP," Colonel (Retired) Edwin D. Strickfaden, passed away today. Strickfaden was a dedicated public servant who served in the U.S. Air Force prior to joining the State Police in 1967.
New flood warning issued through Sunday: The National Weather Service in Spokane has issued a flood warning for rain and snowmelt over North Idaho and northeast Washington, in effect until 12:15 p.m. Sunday. Another round of moderate to heavy rain will occur in the Friday afternoon through Saturday time frame.
North Idaho Veterans Stand Down coming in May: The 24th North Idaho Veterans Stand Down will be held from 8 a.m. to 2 p.m. Saturday, May 13, at the Kootenai County Fairgrounds, 4056 North Government Way, Coeur d'Alene.
March 15
Lions Den Road closed by mudslide: Lions Den Road is closed due to a mudslide. The closure is from the junction with Riverside Road to 2369 Lions Den (Selkirk House).
Soggy conditions affecting roads: Boundary County Road and Bridge Superintendent Clint Kimball advised they are experiencing drainage issues throughout the County consisting mostly of water out of ditches. There also have been some minor landslides that have been cleared and the roads re-opened.
Meet the first five DYW participants:

Twenty of Bonners Ferry's most outstanding junior girls are taking part in this year's Bonners Ferry Distinguished Young Women Scholarship Program April 29 at the Becker Auditorium, and in each of the next four weeks, we'll introduce you to five of the young women now preparing for "A Night at the Oscars."
UP train derails along the Moyie River: Emergency personnel were called out to a Union Pacific train derailment at about 7:30 a.m. today on the Moyie River Road approximately four miles north of Highway 2, caused by a mudslide. A dozen cars loaded with grain left the track, but none went into or threatened going into the Moyie River.
March 14
School District 101 M&O Levy approved by wide margin: Final results are in and the M&O levy was approved in each precinct and by a 68.9-percent margin, 1,027 yes to 463 no.

Surf's up at The Pearl: As an epic winter seems never-ending, North Idaho residents may find their thoughts turning to sunshine, sand, and sea. Look no further … The Pearl Theater has just the thing this Saturday at 7 p.m.! "View From a Blue Moon," written and directed by surfing legend John John Florence and Blake Kuny, explores the closest we can come to the ocean without buying a plane ticket.
BCMS accepting book donations for upcoming book fair: Boundary County Middle School is accepting donations of gently loved, kindergarten through 12th grade appropriate books in preparation for their Used Book Fair going on from Monday, March 27, through Friday, March 31.
Waiting for spring at Naples and Mt. Hall: As we say goodbye to winter and hopefully the snow, I need to reflect on the amazing events and incredible efforts put forth last month. To start, a huge thank you to everyone who donated, supported, and organized the Mt. Hall Auction. Annie Sundstrom and the PTO did an outstanding job! By Lisa Iverson

More details on the 2017 Penguin Plunge: This year's Bonners Ferry Penguin Plunge was a huge success with 64 jumpers plunging in the Kootenai River to support Special Olympics. Certainly a good time was had by all with approximately 140 people present. By Michael Meier
Boundary County Commission minutes, March 6
UI steaming ahead with biodiesel: The University of Idaho steam plant, which heats the Moscow campus with wood chips, is reducing its emissions, eliminating waste on campus and providing students with a learning opportunity all at the same time.
March 13
Flooding reported across the region: The areal flood watch issued by the National Weather Service this afternoon has been upgraded to a flood warning as numerous reports of flooding continue to pour in.
Idaho job growth leads nation: Idaho led the nation with a seasonally adjusted over-the-year (January 2016 - January 2017) job growth of 27,500 jobs and a growth rate of 4 percent – the fastest growth rate in the country.
Flood watch issued for tonight, Wednesday: The National Weather Service in Spokane has issued a flood watch for portions of Idaho and Washington, including Boundary and Bonner Counties, in effect from 5 p.m. today through late Wednesday night.
IDL offers fire-line safety class: The Idaho Department of Lands is offering a two-hour fire-line safety class for heavy equipment operators who are interested in assisting with wildland firefighting efforts on IDL protected lands during the 2017 fire season.
State wildlife action plan approved: The U.S. Fish and Wildlife Service recently approved Idaho's State Wildlife Action Plan, which renews the plan for about a decade and means the Idaho Department of Fish and Game will continue to get about $550,000 annually in federal money.
March 12

A cold day for the best Penguin Plunge yet: The 2017 Boundary County Special Olympics Penguin Plunge is in the books, with the best turnout to date as 64 people braved the icy waters of the Kootenai River Saturday, ranging in age from eight years to a day shy of 83, as longtime Penguin Plunger Marciavee Cossette took another dip Saturday and then celebrated her birthday today.

'Peter and Wendy' an awesome success: In one whirlwind week of auditioning, song-learning, rehearsing, and performing, 64 local children brought Neverland to life in Bonners Ferry's Becker Auditorium last Friday and Saturday. Missoula Children's Theatre's "Peter and Wendy," an original production by Michael McGill, provided opportunities for school-aged children to perform as Neverlanders, Lost Boys, Darlings, pirates, animals and clouds.

It's not nice to fool with Uncle Nature: It is human nature to blame Mother Nature for all natural catastrophes, while she rarely seems to get credit for the good things inflicted on the world's many life forms. Musings from Moyieboy, by Ken Carpenter
March 10
Detective describes suspected killer's last moments: On March 9 at approximately 4 p.m., Kootenai County deputies were dispatched to a call in the area of Hauser Lake Road and Kopf Road near Post Falls due to a possible sighting of the vehicle driven by Coeur d'Alene homicide suspect Steven T. Denson.
Bill would allow teens to work in woods with parent: Representative Raúl Labrador on Thursday announced the reintroduction of the Future Logging Careers Act, which would amend the Fair Labor Standards Act so that 16 and 17 year olds would be allowed to work in mechanized logging operations under parental supervision.
Small business relief bill introduced: Senator James Lankford on Wednesday introduced the Small Business Regulatory Flexibility Improvements Act to require federal agencies to analyze the full impact of a proposed regulation on small businesses. The bill is co-sponsored by Senators Chuck Grassley and Jim Risch.
State settles with ENA, CenturyLink: Governor C.L. "Butch" Otter and legislative leaders agreed Thursday to settle all financial claims by Education Networks of America (ENA) and CenturyLink for their development of the Idaho Education Network broadband system for Idaho's public schools.

KCSO needs to identify man in photo: The Kootenai County Sheriff's Office is asking the public for their assistance in identifying the individual in the attached photograph. The Kootenai County Sheriff's Office has found properties which they believe belongs to this man, but have been unable to identify him.
EAA expanding, has big plans for spring: The local Experimental Aircraft Association (EAA) is expanding its activities and members are working hard to get the word out as spring is finally making a slow appearance and flying season nears.
Boundary County Commissioners Agenda, week of March 13
Boundary County Commissioners minutes, February 27
Boundary County Commissioners minutes, February 21
Boundary County Planning and Zoning Commission Minutes, February 16
March 9

UPDATE: Coeur d'Alene Police confirm that Steven Denton has been found, dead of an apparent self-inflicted gunshot wound, near Hauser, Idaho. CdA police on look out for murder suspect: Coeur d'Alene police are searching for Steven T. Denson in connection with the apparent murder of 37-year-old Kelly A. Pease, formerly of Bonners Ferry, who was found inside her vehicle yesterday outside Kootenai Health with a gunshot wound to her head.

Stuermer seeks donations for medical mission: Pharmacist Aimee Stuermer, Bonners Ferry, will be returning to Guatemala on Friday, March 10, to volunteer once again with a Faith in Practice medical mission. Unfortunately, she's nowhere near reaching the amount of donations she'd hoped for to provide the level of care she would like to.
Oh, will it ever be spring? The National Weather Service in Spokane has issued a winter weather advisory for snow, in effect from 4 p.m. today to 6 a.m. Friday. Bonners Ferry and Eastport are likely to be hardest hit, with two to five inches of valley snow falling by late this afternoon.
Archives