Boundary County News
Home
Sports
Social
Obituaries
Events
Letters
June 28
AAA forecasts most traveled July 4th ever: This Independence Day, a record-breaking 44.2 million Americans will travel 50 miles or more away from home, taking to the nation's roads, skies, rails and waterways to honor the red, white and blue. With 1.25 million more travelers expected than last year, 2017 will be marked as the most traveled Independence Day holiday weekend ever.
The rules on Idaho firecrackers: With the 4th of July quickly approaching, the Boundary County Sheriff's Office would like to remind everyone that not all fireworks are legal to use in the State of Idaho. Below are a few of Idaho's laws pertaining to the use of fireworks. In a nutshell, if it leaves the ground under its own power or explodes, its illegal in Idaho.
Tribe seeking two aquaculture techs: The Kootenai Tribe of Idaho has two Aquaculture Technician I positions open in their hatchery operations. The application period closes at 4 p.m. tomorrow, and they would like more applicants to apply.
Crapo co-sponsors bill to improve VA appeals: Idaho Senator Mike Crapo on Monday announced his co-sponsorship of S. 1024, the Veterans Appeals Improvement and Modernization Act. His endorsement follows years of statewide veterans surveys, hundreds of town halls, and numerous direct communications with Idaho veterans.
June 27

Dinning elected IACC president: The Idaho Association of Commissioners and Clerks (IACC) held its annual conference in Idaho Falls June 6 through 8, and on June 7 members elected new leadership during their annual business meeting for the 2017-2018 year, and Boundary County Commissioner Dan Dinning was elected president.
Washington man uses teen girl to smuggle meth: A Davenport, Washington, drug dealer who used a 16-year-old girl in the worst possible way while transporting meth in Boundary County has been sentenced to a 20-month fixed term in Idaho prison with a maximum of seven years.
Spokane woman sentenced for heroin: A 24-year-old Spokane woman who paid a visit to Bonners Ferry last year with a Montana man will be a guest of Idaho a bit longer than she anticipated after being charged with possession of heroin and paraphernalia. But if she plays her cards right, she won't have to stay quite as long as she could.
Mecham getting a chance to go straight: A 36-year-old Bonners Ferry man who pled guilty to a string of burglaries and thefts in 2015 and 2016, including the theft of lumber from the little white Paradise Valley Church that is being renovated, will get one chance to avoid a lengthy prison term after Judge Barbara Buchanan last week chose to retain jurisdiction.

A great year behind, a better year ahead: Being in the proud profession of teaching and learning for 40 years now, I will start with a multiple choice question, "What did I learn this year?" Select one: A) Learning never stops, B) Communication is key, C) Mistakes are educational, D) Respect and trust are earned, or E) All of the above. Superintendent's Scoop by Gary Pfleuger
Village project looking for youth participants: This will be our third year Boundary County 4-H has offered summer youth programming for migrant youth in Boundary County and our second year partnering with the school district. This year marks the first time they will have enrollment spots available for other youth in our community to join in on the fun!
'Know Before You Go' this Fourth of July: As the Fourth of July weekend approaches, the Idaho Panhandle National Forests reminds visitors that fireworks are prohibited on all National Forest System lands; however, there are many other activities that people can do while visiting the 2.5 million acre forest.

Jobs you might not want: Ancient Egypt was juuust a bit of an odd place. If you recently moved there and checked out the local Help Wanted ads, you might be tempted to run, not walk, back to where you came from. Musings from Moyieboy by Ken Carpenter
Court record and sheriff's log
June 26

Storm brings power outages: As of 9:10 this evening, many Northern Lights customers remain without power as storms continue to move through the area, bringing wind and lightning but sparse showers. There have as yet been no reports of fires sparked by lightning strikes, but dangerous weather is expected to continue through 11 p.m. today.

Comedy coming to Kootenai River Days: A couple comedian friends of Tamra Hiatt's from Spokane will be performing at the Kootenai River Inn at 8 p.m. Friday, July 7, as part of the 2017 Kootenai River Days festivities in Bonners Ferry. You don't want to miss this fun event, and there are lots of other fun events going throughout that whole week.
Mountain Springs launching Early Learning Academy: ollowing the precept of Proverbs 22:6, "Train up a child in the way he should go and when he is old he will not turn from it," Mountain Springs Church is launching the Mountain Springs Early Learning Academy preschool and kindergarten to help instill God's love in each child so that he or she may grow to find his or her courage and confidence from knowing God's unwavering love.

Brown tabs to protect trees: Have you seen these packets attached to trees and wondered what they do Idaho Department of Lands, Forest Health Protection and volunteers came together recently to staple anti-aggregation pheromone bubble capsules onto trees on nearly 1,000 acres of Idaho State land.
Boy, that beer has a wizz to it! It seems the world never runs out of new and different ideas, some good but most on the debatable side as far as being useful to mankind. About 7,000 years ago one of mankind's greatest achievements took place. Musings from Moyie Boy by Ken Carpenter
June 24
Fine day for the Farmer's Market!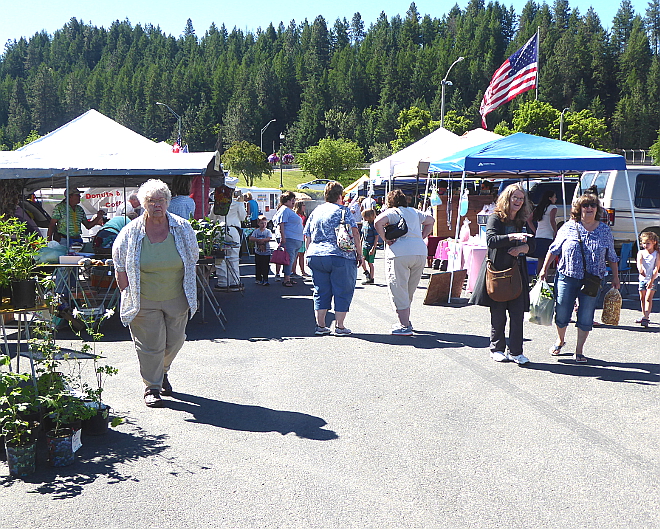 The warmth and sunshine made Saturday morning perfect for the Farmer's Market in the Bonners Ferry City parking lot, with a great turnout of both vendors and shoppers. And it wasn't just crafts, great food and garden starts that caught people's attention ... kitten starts (below) drew an enthusiastic crowd all by themselves!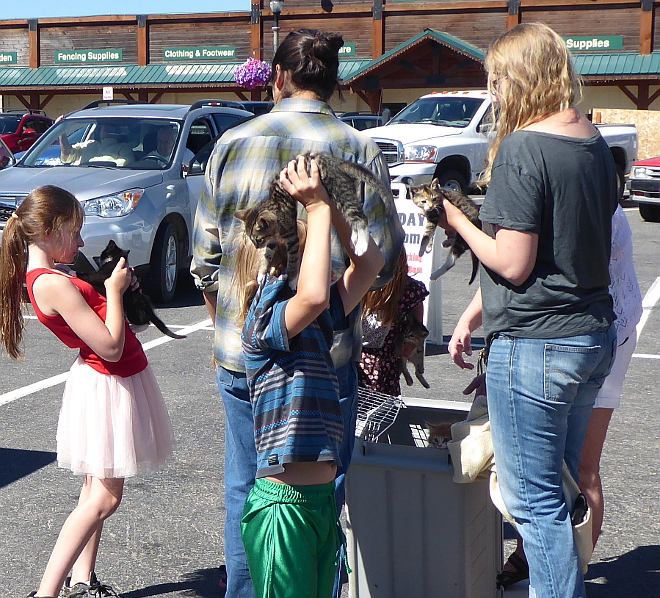 June 23
Trout Creek Road reopened: The Bonners Ferry Ranger District has reopened Trout Creek Road (Forest Service Road 634) in Boundary County. Repairs have been completed and the popular road leading to the trail heads of Pyramid Ball Lakes Trail, Fisher Peak Trail, Big Fisher Lake Trail, Pyramid Pass Trail and others is ready for summer travelers!
June 22

Team category added to Kootenai River Run 2017: This year the Kootenai River Run is adding a team category for the 5K run, with winners to be determined by the combined times of the five team members. This in addition to the regular gender and age categories as in years past that have made the Kootenai River Run, coming up Saturday, July 1, one of the Northwest's premier fun runs.
Friendly reminder; no fireworks in Bonners Ferry: As the Fourth of July holiday approaches, the City of Bonners Ferry would like to issue a friendly reminder to city residents and those visiting the city for the holiday about city ordinances and Idaho State Code regarding fireworks inside city limits.
June 21

Recital makes music visible: The Becker Auditorium at Bonners Ferry High School was witness to a rarity last weekend as music was made visible through dance, as the students and guests of The Dance Studio presented their 2016-17 Spring Dance Recital June 16 and 17. From Terrific Tots to Jazz, Ballet and Uptown Funk, the stage was filled with grace, poise and beauty. A NewsBF pictorial
Benefit set for A Blessed Beginning: Holy Myrrhbearers Orthodox Church, 1957 Pleasant Valley Loop, Naples, is hosting a benefit lunch at the church at noon Saturday, July 1, to benefit A Blessed Beginning Pregnancy Center in Bonners Ferry. Everyone is welcome to attend.
Classical Conversations offered in Bonners Ferry: Home schoolers interested in the classical approach to education are invited to consider Classical Conversations, a program that supports homeschooling parents by cultivating the love of learning through a Christian worldview in fellowship with other families focusing on three keys to a great education: classical, Christian, and community.
May unemployment rate declines to 3.2 percent: Idaho's seasonally adjusted unemployment rate fell for the third consecutive month in May to 3.2 percent, underscoring the increased pressure among Idaho employers competing for workers.
Moyie Springs City Council minutes, May 3
Moyie Springs City Council special meeting minutes, April 19
June 20
Warmer, drier summer predicted in northwest: The weather-climate outlook for the coming summer months appears to be comfortably warmer and drier than the last couple summers in the Columbia Basin.

Volunteers re-roof Vinther-Nelson Cabin: Volunteers and employees from the Idaho Panhandle National Forests replaced the cedar shake roof on the Vinther-Nelson Cabin earlier this month. The Vinther-Nelson Cabin, located on 8 Mile Island on Priest Lake, is part of the Priest Lake Ranger District.
Comment period open on education plan: The Idaho State Department of Education published Idaho's Federal Consolidated Plan opening the final public comment period yesterday. The updated plan includes public and stakeholder feedback on previous versions, while also taking into consideration feedback from board members.
Comments sought on licensing requirements: The Idaho Department of Insurance will be reaching out to stakeholders for comment regarding the licensing and renewal process to ensure that the Department's processes do not create unnecessary barriers to commerce or employment.

CdA physician gets month in federal lockup: U.S. Chief District Judge B. Lynn Winmill sentenced Coeur d'Alene gastroenterologist Dr. Stanley Toelle to one month in federal prison to be followed by one year supervised release for submitting false income tax returns in 2012 and 2013, Acting U.S. Attorney Rafael Gonzalez announced today.
Treasured Landscapes Restoration Project approved: District Ranger Erick Walker has signed the Treasured Landscapes Prescribed Fire and Whitebark Pine Restoration project decision on National Forest System lands within and around the Lightning Creek drainage on the Sandpoint Ranger District.
Swish entry deadline this Saturday: The 2017 Swish 3 on 3 Basketball tournament, brought to you by Boundary County Parks and Recreation, hits Main Street in downtown Bonners Ferry on Saturday, July 8! The deadline to enter is this Saturday, June 24.
Tribe seeking two aquaculture techs: The Kootenai Tribe of Idaho has two Aquaculture Technician I positions open in their hatchery operations. The successful candidate will work in assisting in ll phases of production of burbot at the Kootenai Tribe's Sturgeon and Burbot Hatchery in Moyie Springs.
Settler's Grove reopening after fire: The Settler's Grove of Ancient Cedars is reopening to visitors this Saturday, June 24! Located on the Coeur d'Alene River Ranger District, the area has been under an emergency closure for health and safety since fire burned through the area in 2015.
Court records and sheriff's log
Archives