Boundary County News
Home
Sports
Social
Obituaries
Events
Letters
January 17

BCMS mental athletes battle it out: Winners of the Boundary County Middle School spelling bee today were: Sixth grade, 1st place Ana Chase, 2nd place Damon Madson; Seventh grade, 1st place Morgan Moon, 2nd place Taylor Cromwell; and eighth grade, 1st place Camille Ussher, 2nd place Kyle Smith.
Weigh-in day for the races ...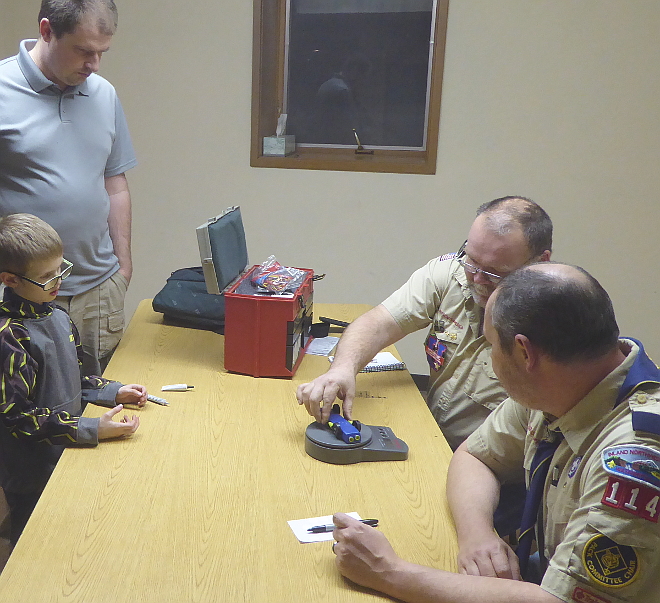 All eyes are on Cubmaster Thomas Husk during Tuesday night's Pack 114 meeting and weigh-in for this Saturday's Pinewood Derby! Mr. Husk is placing Tiger Cub Brydin Weymer's car to the moment of truth as Brydin and his dad, Colin, and Cubmaster Bill Blumenauer carefully watch the proceedings. This year's Cub Scout Pack 114 Pinewood Derby takes place at 11 a.m. Saturday at Trinity Lutheran Church, 6784 Cody Street, Bonners Ferry. All are welcome to cheer on your favorite Scout!
Ice, snow advisory tonight in northwest Montana: The National Weather Service, Missoula, has issued a winter weather advisory for freezing rain and snow in the Kootenai/Cabinet region of northwest Montana, in effect from 11 p.m. today through 9 a.m. Thursday.

Spokane mom seeking return of her children: A custody dispute between a daughter in Spokane and her mother in Boundary County has grown heated, as even though a court has ordered three children returned to their biological parents, their grandmother has allegedly refused to comply.
BCMS gearing up for second semester: I would first like to thank our citizens of the month. For November -- Citizenship -- BCMS selected: Kaelynn Baisden, sixth, Blake Rice, seventh, Leah Webster, eighth, and Jessica Hanna, staff. For December -- Generosity -- BCMS selected Markynn Pluid, sixth, Evelyn Chaney, seventh, Brena Gould, eighth, and Rita Vannoy, staff. These folks showed tremendous citizenship and generosity! By Principal David Miles II

Cowell moves up in Rod Benders Car Club: Last Wednesday, Richard Cowell was elected Vice President/Show Chairman by the Rod Benders Car Club. For the last year he's been in charge of their public relations, handling their advertising and serving as webmaster. Now he'll be in charge of overseeing the car show as show chairman and running club business a vice president.
Time to diet; BCH Auxiliary pie sale coming February 15: The famous Boundary Community Hospital Auxiliary Pie Sale will be Thursday, February 15, this year, in the basement at Trinity Lutheran Church, 6784 Cody Street. Buy the whole pie or just a slice. The coffee pot will be on, ready to serve!
January 16

Eli resting after another big hurdle: Eli Ashby, 6, is finally out of recovery, in a room and resting at Seattle Children's Hospital. His dad, Allen, is a trooper in Kootenai County with the Idaho State Police, but when asked who the real trooper in the family is, Allen, Eli's mother, Jenn, and Eli's Boundary County grandparents, Mike and Linda Ashby, Moyie Springs, will all, and without a second's thought, point immediately to Eli.
Google offers online entry into IT field in a year or less: Google, the most ubiquitous search engine on the planet today, has long faced an issue that many other companies also contend with -- open IT support roles, and not enough qualified candidates to fill them. A few years ago Google personnel began working with a non-profit organization to build out trainings and pathways to roles in technical support at Google.
~ Tonight's city council meeting moved back to city hall ~
Due to a scheduling conflict, tonight's Bonners Ferry City Council meeting, which had been scheduled for the visitor's center, will be held at Bonners Ferry City Hall, 7232 Main Street in downtown Bonners Ferry.

Groeschl taking the reins at IDL: The Idaho State Board of Land Commissioners voted today to appoint State Forester David Groeschl as acting director of the Idaho Department of Lands. The appointment follows the departure of former Director Tom Schultz.

Rain, snow on the way: Cloudy skies are in the forecast for the rest of today and tonight, and while radar this morning shows rain, rain/snow mix and snow at higher elevations to the south of us, the forecast for Bonners Ferry today and tonight says humid, but with nothing falling. That changes tomorrow.

Boundary County Library touted in state capitol: The best small library in America got a plug today, both in the Idaho legislature and in Besty Russell's "Eye on Boise" column in the Spokesman Review. Her column focused on a presentation by Idaho State Librarian Ann Joslin to the Joint Finance-Appropriations Committee.
ITD seeks comment on Rathdrum project: The Idaho Transportation Department invites the public to a hearing about the expansion of Idaho Highway 41 from Prairie Avenue to Boekel Road in Kootenai County from 4 to 7 p.m. Thursday, January 25, at the Coeur d'Alene office at W600 Prairie Avenue.
A-1 Auto Transport offers scholarships: hen students are looking for a way to cover some of the costs associated with going to school, A-1 Auto Transport is there to provide the help that is needed.
January 15
Bonners Ferry High School robotics season kicks off: Saturday, January 6, marked the annual FIRST Robotics season Kickoff. At 7:30 a.m., Bonners Ferry High School FIRST Team 2130 Alpha+ gathered at the robotics clubhouse and excitedly watched this year's reveal for the game, FIRST POWER UP! By Rayan Naylor
~ Visible fire a controlled burn ~
7:30 p.m.: Sheriff's dispatch confirms that a large fire visible in the Moyie Springs area is a controlled burn and not a structure or wildfire.
~ Restorium reported symptom-free ~
As of today, the Restorium is symptom free from a gastro-intestinal illness that swept through, and residents are now being encouraged to go back to the dining area for meals rather than eat in their rooms. Staff still asks that visitors who have been ill not visit unless you have been symptom free for at least 72 hours.
~ Car crashes into Callie's Niche ~
10:52 a.m.: Emergency crews are responding to Callie's Niche in downtown Bonners Ferry, where a vehicle has reportedly crashed into the building. Unknown if injuries. If traveling in the area, please yield to emergency vehicles. 10:57 a.m.: First responders report no injuries.
~ Highway 2 extremely slick ~
Deputies report Highway 2 between the Moyie Store and old Evergreen School is extremely slick, with two slides offs just before 7 a.m. Both are now cleared and ITD has been notified, but extreme caution is advised if driving through the area.
January 14
News Bonners Ferry Election Guide 2018: It's still early, but we're working hard to give Boundary County voters as much quality information as possible so they can make an informed decision when they go to the polls in the May 15, 2018, primary election and the November 6, 2018 general election.

Pack 114 to welcome girl Cub Scouts in historic roll-out: Cub Scout Pack 114 will welcome female Cub Scouts this month as they launch a new era of Family Scouting in Bonners Ferry. Thanks to its current den leader training and its longstanding charter partnership with Trinity Lutheran Church, Pack 114 is ready to begin before Boy Scouts of America's official roll-out in September!

Still working out what La Nina bodes for northwest spring: December 2017 was a month of transition. At times, the flow of the jet stream bowed into a large ridge that brought well-above-average temperatures and drier conditions racing north along the coast. Occasional west winds did bring in enough precipitation to keep most of Washington and Idaho near average.
2018 looks good for nursery/greenhouse growers: Northwest Farm Credit Services' 12-month profitability outlook remains strong for the nursery/greenhouse sector. Pricing is favorable; early bookings for 2018 are strong as buyers secure plants, although inventory shortages continue for certain plant varieties. Strong economic indicators will support continued growth for the industry.
January 13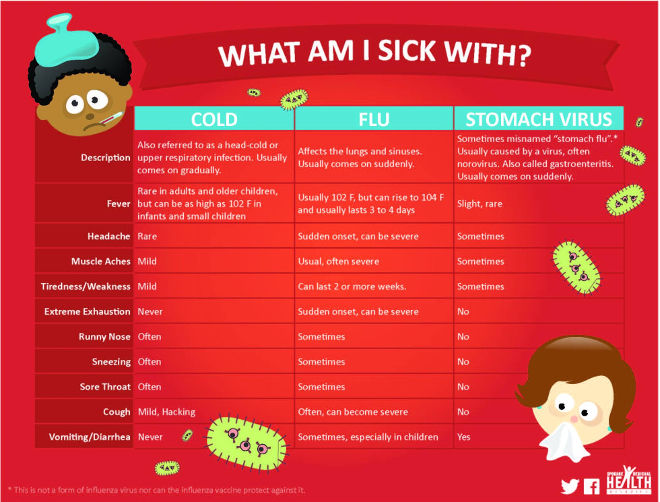 Cold, flu or stomach bug? How to tell: What are you sick with? Here is a quick reference guide posted by the Spokane Regional Health District for those of you not feeling well during this cold and flu season. Remember, the primary symptoms of the flu are sudden and severe muscle aches, tiredness and headache, often accompanied by a fever.
~ Saturday morning roundup ~
As of 6:30 a.m., Idaho 511 is showing North Idaho highways in good shape. It's 36 degrees in Bonners Ferry and Troy and 32 in Libby. Current radar shows no precipitation in the region, though it's raining toward Lewiston and snowing east of Helena. Northern Lights is showing 16 members without power on Bull Lake Road southeast of Troy, and a crew is working to get the lights back on.

Sofa raffle to benefit senior meals: Rich and Sherry Beck and the crew at Beck's Furniture, 6443 McCall Street, Bonners Ferry, recently looked over their awesome selection to find just the perfect item to donate for a raffle to help support the Senior Meals Program. And they came up with a winner, a beautiful light colored leather sofa with electric recliners on both ends to go home with the winner on Valentine's Day!
MLK weekend looking great on Schweitzer: Can you roll into the MLK Holiday any better than this? With five inches overnight and a light snow still falling, this mountain is charged and ready to go! With a foot of fresh snow in the last 48 hours, whether you are blasting the South Bowl chutes or taking a Cedar Park cruise, the conditions are amazing! By the Schweitzer Snow Crew

Lincoln Day Dinner just around the corner: Mark your calendars for Saturday, April 7, for the 2018 Boundary County Republican Central Committee's Lincoln Day dinner. It is expected that most of the Idaho state, local and national Republican candidates whose names will be on the Boundary County ballots in May will be in attendance.
Boundary County Commission minutes, January 1
January 12

Fit & Fall Proof class starting: The Senior Hospitality Center will begin the winter session of the "Fit and Fall Proof Class" beginning Monday, January 15, running at 10:45 a.m. every Monday, Wednesday and Friday through March 30.
~ We dodged a storm ~
It appears we dodged a storm in Boundary County as the snow that remains in the region is well to the south, particularly in the central Panhandle mountains along I90, where the winter storm warning is still in effect. ITD's 511 is showing Panhandle highways as normal. On Schweitzer, four inches of fresh snow was recorded this morning. There have been no reports on hazardous road conditions on the scanner so far this morning, but with the Bonners Ferry temperature below freezing at 28-degrees as of 6 a.m., keep an eye out for icy patches as you make your way in this morning.
January 11
Stomach illness hits many at the Restorium: The Restorium in Boundary County reports an outbreak of gastro-intestinal illness within the facility. The cases have been reported to the Panhandle Health District. Symptoms include nausea, vomiting and diarrhea. Steps have been implemented to curtail the outbreak.
Driver safety class can save seniors on insurance: A driver safety class will be offered at 8:30 a.m. Thursday, January 25, at the Senior Center, 6635 Lincoln Street, on the South Hill in Bonners Ferry. The class is open to anyone, but emphasizes safety issues related to people 50 years and older.

Monson services to be broadcast on BYUtv: BYUtv will be broadcasting the funeral services for President Thomas S. Monson, the 16th president of The Church of Jesus Christ of Latter-day Saints, at 11 a.m. Pacific Time Friday, January 12. View this live broadcast on any of the free BYUtv apps or online at byutv.org.
~ Power outage ~
At 8:57 p.m., Northern Lights is showing an outage affecting 11 members on Noble Lane and Pywell Road in the Copeland area. Crews are on the way. 9:22 p.m.: Power has been restored and there are currently no other outages showing in the Northern Lights service area.
Sloppy roads throughout region: As of 8:30 p.m., highway conditions throughout North Idaho, and much of the rest of the state, remain "difficult, according to Idaho 511, as little snow is still falling in Bonners Ferry, having shifted mostly to the southeast in Bonner and Kootenai Counties and into Montana. So far in Boundary County, motorists have been handling the road conditions well.
~ Roads are treacherous and getting worse ~
5:25 p.m.: Highways throughout the region are sloppy and getting worse, and if slowing down goes against the grain, it's one of those nights where you can jump into warp speed by hitting the high beams. State highways are listed on 511 as "difficult" and side roads are worse. In Kootenai County, I90 is closed between Exit 15, Sherman Avenue, and Exit 17, Mullan Road, due to a collision. If you don't have to drive, stay off the roads.
Still openings in BCH CNA class: There are still openings for the Winter Semester of the Boundary Community Hospital Certified Nursing Assistant Program that starts on Tuesday, January 16. Want to register for class or need more info? Contact Tracey Maas.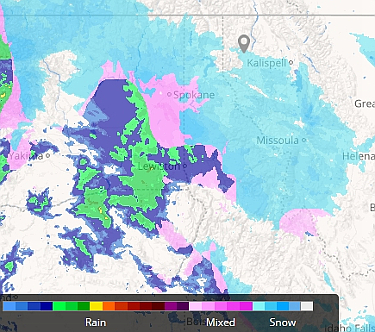 ~ Roads are getting slick ~
2:20 p.m.: Highways throughout North Idaho are getting slick, with slide-offs starting to be reported in Boundary County on Deep Creek Loop and Highway 2. State highways from Grangeville north are reported as "difficult." If you don't have to travel, stay off the roads.
Kellogg schools closed due to illness: Schools in the Kellogg School District are closed due to widespread illness and accompanying low attendance numbers. As a result, Saturday's Wildcat basketball games at Bonners Ferry have been cancelled.

Jade missing from home off Camp Nine: Mrs. Allred has been missing her female German Shepherd, Jade, since Wednesday morning from her home on Rigby Road off Camp Nine Road north of Bonners Ferry. Jade is wearing a red collar with a Salt Lake County, Utah, phone number on it, but no name. UPDATE: Jade is still missing as of Sunday. Please keep looking.
Get ready for more winter: With the temperature below freezing and snow on the way, highways in Boundary County are rated "fair" as of 6:10 a.m., but be on the lookout for slick spots.
Archives