Sports & Outdoors
Home
Obituaries
Social
Events
News
Letters
Looking Back
Health Jewels
Stitch in Time
Badgers one game short of state
:
The Badger baseball team endured a rough season all year but never gave up the fight, missing the state tournament for a second straight year by one game. The Badgers finished the season 11-12 overall last Saturday, losing to Priest River in the winner to state game.
---
Idaho stream fishing already open for fun: The general fishing season in Idaho, often referred to by anglers as "stream season," opened the Saturday before Memorial Day for many years. A few years ago that changed, and most streams are now open all year.
---
Badger spring football begins soon
:
Badger football spring practices for players in eighth thru 11th grades start at 4:30 p.m. Tuesday, May 28.
---

Record doesn't speak for Badger girls
:
Districts are over, softball is done for another year, and the weather is finally beautiful. On Thursday, May 2, Bonners played number one seed Kellogg in the first district playoff game.

---

Fore! Golfers needed! The Fry Healthcare Foundation's fifth-annual golf tournament is right around the corner, and duffers are in demand ... and you don't have to be a Tiger or an Arnie to contribute and have fun! The tourney gets off to a shotgun start at Mirror Lake Golf Course, Bonners Ferry, at noon Friday, June 14.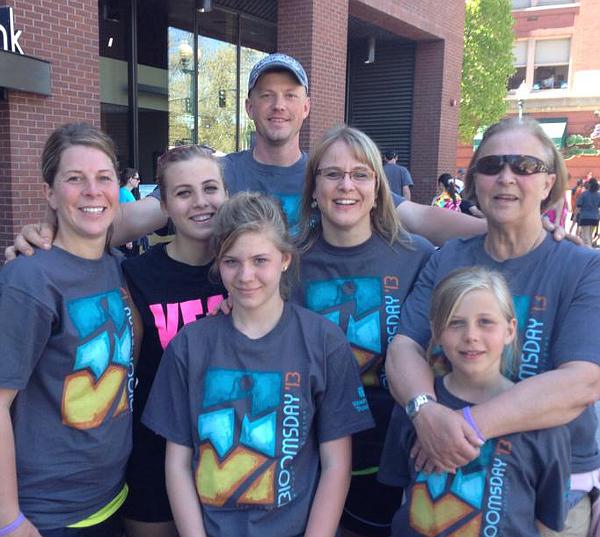 While the full list of finishers in Sunday's 2013 Bloomsday has yet to be released, a lot of Boundary County folks both made the trip to Spokane and crossed the finish line, including theSse familiar folks (l-r) Tacy Chouinard, Serenity Rose Winey, Sydney Chouinard, Cale Chouinard, Sabrina Winey, Hailey Chouinard and Pam Hamilton.
Basketball Camp coming:
The Badger Boosters and NBC Basketball Camps have teamed up to bring the Bonners Ferry Basketball Camps June 10-11. Camp for 7 to 11 year olds will be from 9 a.m. to noon and camp for 12 to 18 year olds from1 to 4 p.m. Cost is down this year, too; $65 if you pre-register, $75 if you sign up at the door. To find out more, call (208) 755-6118.
---
Spring Chinook season opens Saturday
:
The Idaho Fish and Game Commission approved a spring Chinook salmon fishing season to start Saturday, May 4, on parts of the Clearwater, Salmon and Snake rivers.
---
Badgers drop final two
:
The Badger baseball team finished the regular season by being swept rival Priest River, 6-0 and 13-6 in Intermountain League play.
---
Badger girls take first win
:
The Bonners Ferry High School softball team can finally add one to the "W" column of their record this year. The second game of their league doubleheader with Priest River resulted in the first win of the season for the Lady Badgers.
---
Badger boys have one more test before playoffs
:
The Badger baseball team travelled to Kellogg Tuesday and came away with a 10- 6 win over the Kellogg Wildcats in Intermountain League play. The win improves their record to 10-8 and 4-3 going into the last weekend of the season.
---
Big game rule books out this week:
The 2013 Idaho Big Game Seasons and Rules brochures are back from the printer and are being distributed. They should be available at license vendors and Fish and Game offices in most locations later this week.
---
Badger boys tame the Wildcats
:
The Badger baseball team celebrated senior day in style by sweeping the Kellogg Wildcats on Saturday. Seniors Garrett Skeen, Mike Clarkson, Jesse Woods, Cade Umphenhour, Will Weir and Austin Hawks were all recognized between games.
---
Another loss, no lack of 'try:'
Well, senior day may not have gone as all seniors dream, but the rain held off long enough to get both games of the doubleheader in. Seniors Aaramie Hoisington and Lindsay Taggart were honored before the first game on Saturday for their dedication and commitment to the softball program as well as a plethora of other achievements throughout their high school careers.
---
Interim fast pitch softball league formed
:
A group of concerned parents and community members met March 21 to discuss the lack of a well functioning fast pitch softball league in our area. Of those in attendance, current high school softball coach Lauren Bartoe expressed her opinions on having a strong league for girls to participate in and how much that helps her high school program.
---
Boys win Priest River dual:
On Tuesday, April 16, the Bonners Ferry track team hosted an Intermountain League dual meet against the Priest River Spartans. The boys won, 89-57, but the girls fell, 86-60.
---
Rae takes hard hit, jokes at practice
:
The Bonner's Ferry High School girls softball team traveled to Newport, Washington, for the first time in as long as anyone can remember on Thursday afternoon. With both teams fielding foreign exchange students and new players, it was sure to be a close match.
---
Happy birthday, Jesse Woods!
Senior Jesse Woods took the mound for the very first time in his high school career and came away with a 14-3 win over the Newport Grizzlies.
---
Tough day against Timberlake
:
The game Wednesday was another disappointing loss for the Badger softball team against the Timberlake Tigers.
---
Badger girls in closest game yet
:
In the closest game yet this year, the Badgers fell to the Libby Loggers JV team, 9-10 and 13-2.
---
Archives