Sports & Outdoors
Home
Obituaries
Social
Events
News
Letters
October
Badgers win IML championship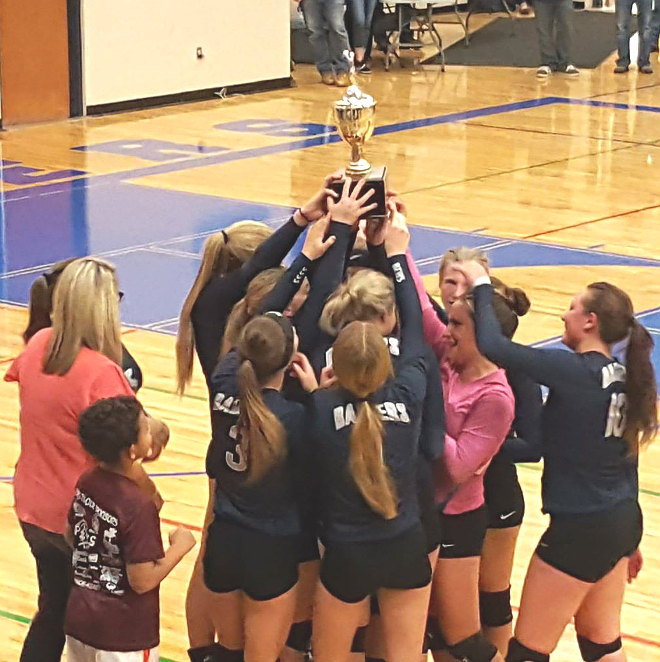 The Bonners Ferry Badgers, after a single league loss to Timberlake during the regular season, defeated the Tigers tonight at home to win the Intermountain League Championship, 25-12! More good news? The Idaho State 3A Volleyball Championship, coming up October 27-28, are in Coeur d'Alene at Lake City High School this year, close enough for everybody to form a massive Badger cheering section to convoy down! To get your tickets, visit https://gofan.co/app/school/IDHSAA.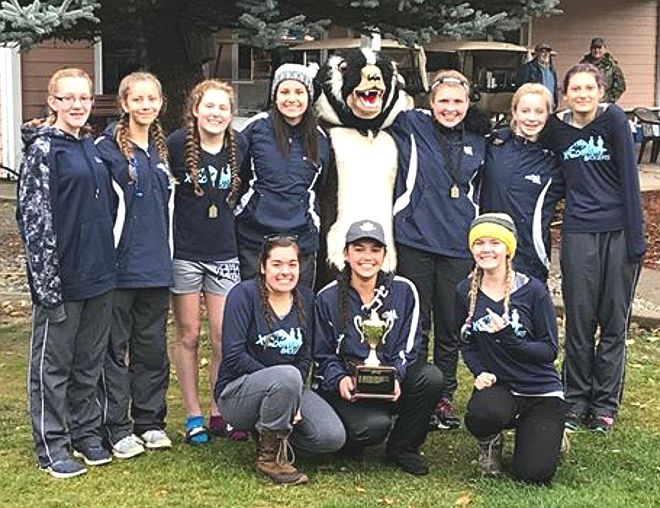 Badger harriers going to state: Badger cross country runner Jordan Young, the senior just to the right of Buddy Badger in the above photo, broke 20 minutes in the 5,000 meter course to win the girls Intermountain League District Championship at Pinehurst today, leading the team to a second place finish, and the Badger boys finished the district meet with a third place effort, meaning both teams will compete at the 2017 State Cross Country Meet on Saturday, October 28 in Eagle.
When you need to reach Fish & Game: With many of Idaho's hunting seasons in progress, the Idaho Fish and Game reminds people who spend time outdoors that there are several ways to contact a Fish and Game officer on weekends or outside regular business hours.

BCMS harriers in top form for districts: The Boundary County Middle School cross country teams had a great day Thursday when the traveled to Kellogg and the boys came home with a first place finish and the girls with a second! And to make it even better, their Kellogg hosts reciprocated what started early this season in Bonners Ferry and may become a tradition in North Idaho, if not beyond -- they provided the visiting teams with cookies as they boarded the buses to go home!
Badgers first in IML, hosting volleyball districts: Badger volleyball coach Kendra Maas announced today that the Bonners Ferry Badgers finished the regular season in first place in the Intermountain League, and will host the second round of district on Tuesday, October 17!
Lady Badgers end season with win: The Lady Badgers volleyball team finished their regular season tonight with a win at Kellogg, 28-18, 25-8, 25-14, ending their season with a 7-1 league record.

BF Wrestling Club hosting tourney: The Bonners Ferry Wrestling Club is hosting the Kids Folkstyle Tournament from 7 a.m. to 3 p.m. Saturday, October 21, in the Bonners Ferry High School gym, 6485 Tamarack Lane. Athletes from the North Idaho League and competitors in the USA Kids Folkstyle Tournament will take part.
Thanks, Badger seniors, for an awesome regular season ...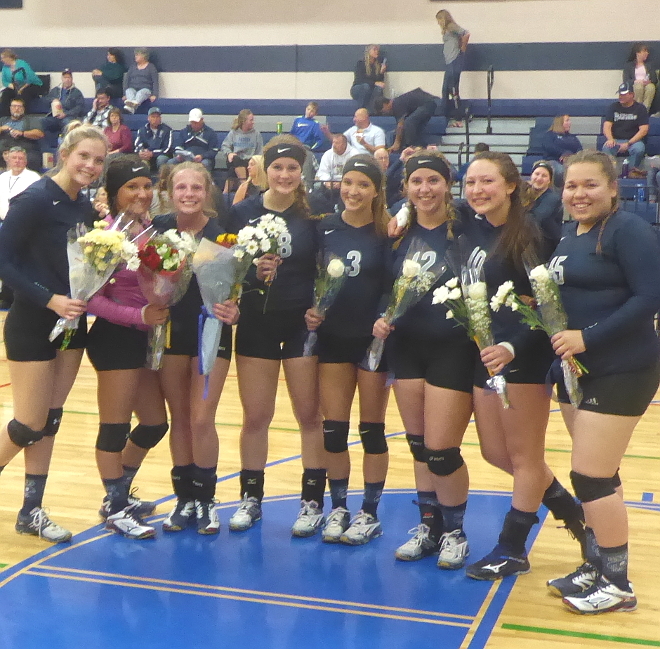 Badger seniors play final home game: The Bonners Ferry Badger varsity volleyball team played their final home match of the season Tuesday night, and for the first time this season, fell in league play to the Timberlake Tigers, 3-1, as both teams vie for the top spot in league standings with one game apiece left in their regular seasons. For the Badger seniors, who were honored before the start of the varsity game, it wasn't the way they wanted fans to remember what so far has been an awesome season.
Once extinct, Idaho coho are back and season opening: The Idaho Fish and Game commissioners on October 2 set a fishing season for coho salmon, which will run October 17 through November 16, or until further notice. Fishing will be open on sections of the Clearwater, South Fork of the Clearwater and North Fork of the Clearwater.
Lady Badgers look to finish strong season on top: The Badger varsity volleyball team is undefeated in the Intermountain League, 6-0 and 9-1 in match play overall, with two league games remaining. BFHS volleyball Senior Night is Tuesday, October 10, when the Badgers face the two-time defending Intermountain League Champion Timberlake Tigers.

IDFG considering opening steelhead harvest season: The Idaho Fish and Game Commission on October 2 postponed a decision on a staff proposal to reopen hatchery steelhead harvest with reduced bag limits in order to gather public comment. The commission plans to vote on October 13, and Fish and Game will take comment on the proposals through October 10.
September
~ Badgers fall to St. Maries on homecoming ~
It's a homecoming heart breaker for the Bonners Ferry Badgers, who fell to St. Maries September 29, 44-8. The loss puts the Badgers at 1-5 on the season, St. Maries is 4-2. The Badgers play their first league game against the 1-3 Priest River Spartans in Priest River next Friday at 7 p.m.
Expect delays to Beetop-Roundtop Trailhead: Travelers to the Beetop-Roundtop Trailhead #120 on the Idaho Panhandle Nationals Forests in Bonner County should expect delays due to the county doing road improvements on the West Spring Creek Road.
Decoys to be used to nab poachers: The Idaho Department of Fish and Game reminds hunters that in areas where the department receives complaints or reports of suspicious activity, officers may use "artificial simulated animals" during hunting season to detect wildlife law-breakers.
Badgers fall 50-14 at Pullman: Connor Kinkaid ran for two touchdowns and passed for two more to lead the Pullman, Washington, Greyhounds to a 50-14 win over the visiting Bonners Ferry Badgers in non-league play tonight.

Volleyball Association offering open gym: The Boundary County Volleyball Association is gearing up to offer a fun, active and competitive way to help you through the long dark that lies just ahead; adult co-ed volleyball on Wednesday nights from November through February, with an open gym starting at 6:30 p.m. Wednesday, October 4, for everyone interested in trying out.
Make the call to catch poachers: With many hunting seasons in progress or about to begin, the Idaho Fish and Game is asking the public to call the Citizens Against Poaching (CAP) hotline if they witness a violation of fish and game laws.
Correction: Badgers win in overtime: Thompson Falls had a great defensive game Friday night,but Bonners Ferry rallied to a 28-26 win in overtime.
Updates on fires that may affect early season hunts: Here's an overview of wildfires that may affect hunters. This post will be periodically updated, but wildfires are dynamic and situations can constantly change. We will do our best to keep hunters informed about what fires are affecting early season hunts.

Bonners Ferry wrestlers shine in big competitions: The Bonners Ferry Wrestling Club took flight this past season as Eli Richards, Kyle Smith, Evan Barajas, Jake Summerfield, Jackson Rickter, Austin Madden, Dalton Regehr, Jessie Sandelin, Maddox Mertwieller, Chance madden, Marcus Regerhr and Andrew Sandelin brought home over 27 medals from the Idaho Kids State folkstyle, freestyle and Greco wrestling tournament.
August
Badger boys soccer squad falls to St. Maries: The Badger boys soccer team traveled to St. Maries on Tuesday and came away with a rare 1-0 loss as Lumberjack Tyler Martin fought his way inside the box and scored the only goal of the game 39-minutes into the first half.
2017 should be another productive hunting season: Idaho big game hunters have been on a roll in recent years with a top-10, all-time deer harvest in 2016, an all-time record whitetail harvest in 2015, and a top-five, all-time elk harvest in 2015.
Discount sports physicals at Bonners Ferry Family Medicine: If your child missed the free sports physical at Boundary Community Hospital, don't fret! There's a back to school special at Bonners Ferry Family Medicine!
River cleanup set on the North Fork: The North Fork Coeur d'Alene River Watershed Advisory Group and the Idaho Panhandle National Forests invite you to participate in the fourth public cleanup day on the North Fork Coeur d'Alene River.
July
Don't forget to buy controlled hunt tags by August 1: Big game hunters who were successful in drawing controlled hunt tags for deer, elk, pronghorn, and black bear have until midnight MDT, Tuesday, August 1, to buy their tags.
Anglers asked to take survey on Upper Priest Lake fishery: Anglers! The Idaho Department of Fish and Game (IDFG) would like your input to help establish goals and objectives for managing fishing opportunities on the Priest Lake and Upper Priest Lake fisheries.

Badger football practice less than two weeks away: It's less than two weeks until Bonners Ferry Badger football's first practice on Monday, August 7. At 5 p.m., coaches and staff will be collecting paperwork, at 5:30 p.m. there will be a parent's meeting on the football field bleachers.
Casting for the bulls: fishing for Idaho's bull trout: They're big, they're hard fighting, and they're one of Idaho's most overlooked trophy fishing opportunities, but many anglers are still confused whether they can target bull trout for catch-and-release fishing. The short answer is yes.
Drawing coming for KNWR deer blind for disabled hunters: The Kootenai National Wildlife Refuge will conduct a random drawing on August 15 to award 10 hunters with disabilities a special Deer Hunt Permit. Hunters must provide proof of a valid Idaho Disabled Hunting License prior to the drawing.
Commission to consider rule changes at Bonners Ferry meeting: When the Idaho Fish and Game Commission meets July 26 and 27 in Bonners Ferry, they will consider routine agenda items as well conduct formal rulemaking to consider rules that are simple in nature and do not implement new regulatory requirements.
Fishing at Priest Lake is at a crossroads: Fishing at Priest Lake isn't what it used to be, which is fine for some anglers, but others would like to see it change. Fish and Game wants to know if the current management is still working, or if change is needed.
Leftover turkey hunt permits going on sale: Idaho turkey hunters have one last shot at 124 leftover fall turkey controlled hunt permits that will be available first-come, first-served starting at 9 a.m. Monday, July 17 at all Fish and Game license vendors.
June

Holiday fishing fun in North Idaho: The Fourth of July holiday is a day of great celebration in the U.S. Fireworks, family and fishing are all great choices for activities during the Fourth of July holiday! And, because of the Idaho Fish and Game Price Lock program, buying your 2017 fishing license means the price of your next year's license won't go up! The Idaho panhandle offers outdoor opportunities in abundance.
Fishing heats up on the North Fork CdA and St. Joe Rivers: With the summer months upon us, trout fishing on the North Fork Coeur d'Alene and St. Joe rivers is heating up. Up until now, float fishing has been exceptional, but with flows receding on both rivers, walk-and-wade anglers will have access to more water and better fishing.
Badgers travel to Omaha with Loggers: Five Badger baseball players were able to check an item off their bucket lists courtesy of their summer American Legion baseball team, the Libby Loggers, as they are now at the College Baseball World Series in Omaha, Nebraska.

Lake Pend Oreille kokanee fishing outlook: Kokanee fishing is finally beginning to pick up on Idaho's largest body of water. Unusually cool and blustery spring conditions and high inflows have kept most kokanee anglers away from Lake Pend Oreille. With the increasing numbers of kokanee in Pend Oreille over the past few years, anglers have been pleased with the number of relatively large kokanee available from this popular fishery.
South Fork of the Salmon will not open for Chinook fishing: A poor return to the South Fork of the Salmon River means anglers will miss a year of Chinook fishing on the popular river, but anglers can still get a crack at the fish starting Thursday, June 22, on the Lochsa and upper Salmon River upstream of Challis.
Elk tags in capped zones going on sale soon: Resident hunters wanting to purchase a general season elk tag in a "capped" zone will want to review this year's seasons and rules booklet for changes on how tags will be sold in July.
Badger wrestlers ready to compete in Indy: Kyle Smith, Eli Richards, Andrew Sandelin and Jake Summerfield of the Bonners Ferry Wrestling Club are with the rest of the Idaho State National School Boy Duals team in Indianapolis, Indiana. Weigh-ins and skin checks are done and wrestling starts tomorrow, June 8. Good luck to our hometown boys and the rest of the Idaho Team!
Fish stocking underway in Panhandle waters: Fish and Game stock over 22,000,000 fish from its resident hatcheries into lowland lakes, reservoirs and mountain lakes every year. Stocked fish include fry, fingerlings, and catchable sized fish from 18 species and 16 strains.
June 10 is Free Fishing Day in Idaho: Saturday, June 10, is Free Fishing Day, and the Idaho Department of Fish and Game invites veteran and novice anglers of all ages, residents and nonresidents alike, to celebrate the day by fishing anywhere in Idaho without a license. Though fishing license requirements are suspended for this special day, all other rules, such as limits or tackle restrictions, remain in effect.
Archives