Sports & Outdoors
Home
Obituaries
Social
Events
News
Letters
May

A long, rewarding journey for Isaac Lavala: Isaac Lavala loves the game of football. He has been playing tackle football since the sixth grade and it has always been his favorite sport. When he is not getting the ball thrown or handed to him to gain yardage, he is on the defensive side of the ball. But it was in a sport he turned to with improving his football game that he left his mark in the record book.
Idaho 4-H shooting programs expanding: The University of Idaho Extension 4-H Youth Development program can boast more than a century of helping young people learn leadership and good judgment in hitting targets, ranging from earning blue ribbons for sewing projects to mastering animal showmanship at county fairs.
Need more proof the state 3A baseball game was epic? The Idaho State 3A Baseball Championship between reigning champion Fruitland and first-time contending Bonners Ferry was something special, but just how special became a little clearer on Tuesday when IdahoSports.com released the viewership numbers from this year's live game broadcasts.

Another great Koocanusa Fishing Derby in the books: The 15th annual Koocanusa Fishing Derby, held May 20-21 at Koocanusa Resort and Marina, Libby, Montana, is in the books, with a total of 323 people and 120 boats hitting the water to test their skill. This year's winners were Shane Allen, first place rainbow trout, 11 pounds 14 ounces, won $1,836.80 ...
Apply now for Idaho's first Super Hunt: Hunters hoping to enter Idaho's first Super Hunt drawing have through May 31 to apply. With every entry in Fish and Game's Super Hunt drawings, hunters get a chance at winning the hunt of a lifetime.
Yea, it was a pretty wild game ... The Badger baseball team set a new standard in their 24 year program by playing in their very first 3A State Championship game last Saturday only to lose in heartbreaking fashion 19-16 against the three time defending State Champion Fruitland Grizzlies. By Coach Tom Turpin
Deadline near to apply for controlled hunts: Hunters have until midnight Monday, June 5, to apply for this fall's deer, elk, pronghorn, black bear and turkey controlled hunts.
Chinook run is late, below forecast and fishing could end soon: Anglers should soon know the fate of the 2017 spring Chinook run, and how much longer the spring fishing season will continue.
Fruitland State A3 baseball champs once again
Fruitland is again Idaho State A3 Champion, defeating the Bonners Ferry Badgers19-16 in an historic three and a half hour game that went right down to the wire ... wow!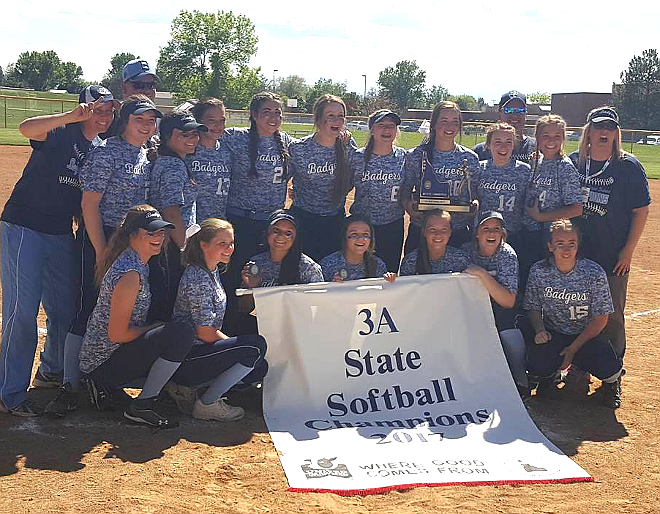 THE BONNERS FERRY BADGERS ARE THE 2017 IDAHO STATE 3A SOFTBALL CHAMPIONS!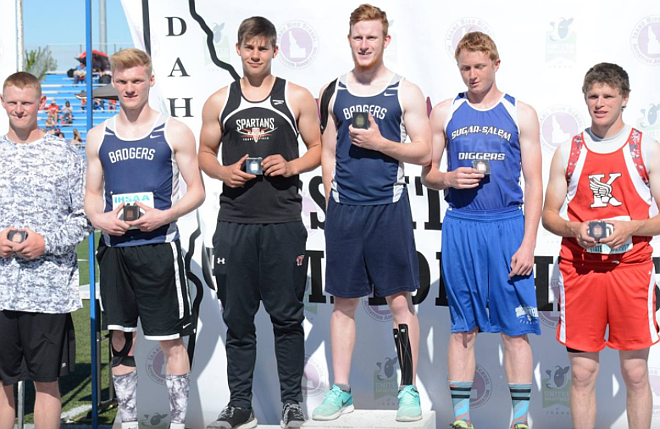 Photo by Robert Lavala
Badger baseball, softball teams both reach championship, Lavala sets state record
The Badger girls shut out Timberlake 11-0 this morning to claim the first berth in the 2017 Idaho State 3A Championship softball game, which takes place at 2 p.m. (1 p.m. PST) today! The Badger boys play Fruitland at 4 p.m. 3 p.m. PST) today in the 2017 Idaho State A Championship baseball game. Also, a hearty cheer goes out to Badger Isaac Lavala, who won the 2017 Idaho State 3A Pole Vault Championship and set an Idaho State high school record at 15'2"! The second Badger on the podium is Nikolous Bertling. GO BADGERS!!
Badger boys edge Payette
The Badger baseball team defeated Payette in their second game of the State A3 baseball tournament, with Brady Bateman pitching a complete game to a 5-4 win. The Badgers play Saturday for the state title against the winner of Fruitland and Sugar Salem at 3 p.m. PST.
Lady Badgers earn shut out in game 2
4:35 p.m. May 19: The Lady Badgers took out Homedale, last year's Idaho softball champs, in a 4-0 rout, and will go on to face IML rival Timberlake tomorrow at 9 a.m. PST. Pitcher Kadi Bateman threw a near perfect game, giving up just one hit. GO, BADGERS!
A big thank you to Paula Burt for keeping NewsBF posted!
Lookout Pass ski area improvements on tap: Idaho Panhandle National Forest Supervisor Mary Farnsworth and Lolo Forest Supervisor Tim Garcia are pleased to announce they have signed the Record of Decision approving the expansion of the Lookout Pass Ski and Recreation Area.
!! Lady Badgers take grand slam win !!
9:47 a.m. May 19: The Badger ladies just beat Buhl in State 3-A softball play with a grand slam by Sydney Watt and a final score of 14-3. The Badgers next play the winner of the Marsh Valley/Homedale game, which gets underway in just over an hour, at 2 p.m. PST.
Badger boys open with 10-1 win, girls set to play Buhl: In Thursday's state tournament pairings, in every game where a first place district winner played a second place finisher, the second place finisher won. Such was the case with the Bonners Ferry Badgers baseball team, where the Badgers, who finished second in the District 1 Tournament, defeated District 6 first place team Teton by a score of 10-1.
Trapper education courses offered: Beginning July 1, 2018, every trapper who purchased their first trapping license after June 30, 2011, will be required to attend and pass a mandatory trapper education course before they can purchase an Idaho trapping license.

BCH Fun Run shirts are in: The Boundary Community Hospital Fun Run 2017 shirts are in, and there's still time to pre-register for the run on Saturday. There are still a few of the free shirts left so sign up today! For a printable registration form, click here! Check-in and same day registration starts at 7 a.m. Saturday, May 13, for 3K, 5K and 10K routes.
Badger Dance tryouts coming: Badgers interested in joining the Bonners Ferry High School Dance Team, including incoming freshmen, are reminded that tryouts are coming up from 9 a.m. to noon Saturday, May 13, in the high school gym.
Lady Badgers league champs!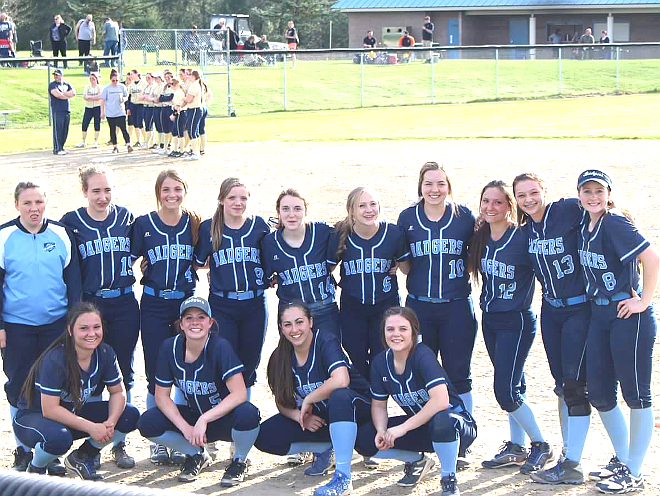 Big thanks to Paula Burt for sharing this!
The

The Lady Badgers won district play Tuesday night, beating Timberlake 15-2. They advance to the Idaho State 3A Tournament May 19-20 in Buhl. GO, BADGERS!

Eby pitches no-hitter to open districts: Badger Mason Eby pitched a no hitter yesterday in the Badgers first game of districts. The Badgers won the game 14-0 in five innings (mercy rule). They play again today, May 9, at home in Bonners Ferry in the championship game against Timberlake at 4:30 pm.
Sportsmen and women gain major access from three land deals: Idaho hunters and anglers gained permanent access to 12,600 acres of land in north Idaho for a net cost of about $300,000, thanks to three different land deals recently completed by Idaho Fish and Game.
Bonners Ferry Lacrosse Club hosting Jamboree: The Bonners Ferry Lacrosse Club will welcome teams from around the region Saturday for a full day of lacrosse at the Bonners Ferry High School soccer field, and Bonners Ferry will open up the action with an 8:30 a.m. match against Coeur d'Alene #1.
April
200th win for Turpin and third IML Championship!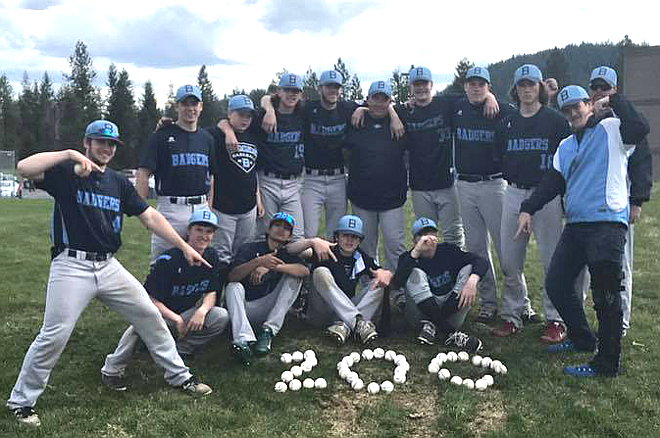 Saturday was a great day for Badger baseball coach Tom Turpin (back row, center) , who chalked up his 200th career victory as a head coach and led the Badgers to their third straight Intermountain League championship in a double header at Timberlake.
Dunham strikes out six in shutout, senior day coming: Jesse Dunham didn't allow a run as he struck out six and walked the lead off batter of the game and only allowed two hits to secure a five inning, 10-0 win over rival Timberlake Tigers. The win improves Dunham's record to 4-0 in the season. By Coach Tom Turpin
Making tracks for BCH Run 17: Since when is a run fun? When it's the Boundary Community Hospital Family Fun Run. On Saturday, May 13, lace up those running shoes and come out with neighbors, friends and family to get some exercise on the north side of Bonners Ferry. By Lauren Kuczka
Last chance to buy licenses before new fee takes effect: Hunters, anglers and trappers will see new prices starting May 1 with the addition of a $5 access/depredation fee for resident adults and $10 for nonresident adults when they buy their first annual license.
Badgers trample Wildcats in two: The Bonners Ferry Badger baseball team began their Intermountain League title defense Saturday with convincing wins over the Kellogg Wildcats, 11-1 and 10-0. Both games were shortened due to the 10-run rule.
Spring chinook seasons open Saturday: The spring chinook salmon fishing season will open Saturday, April 22, with a four-day-a-week season in the Clearwater River drainage, and daily fishing on the Snake, lower Salmon and Little Salmon rivers.
Badger baseball improves to 7-2 in early season play: The Badger Baseball team improved it's early season record to 7-2 last week over doubleheader sweeps of Chewelah and Riverside. By Coach Tom Turpin
Fur auction set for April 22 in Lewiston: This year's auction of furs, hides, antlers, and other items is set for Saturday, April 22, at the Idaho Fish and Game office, 3316 16th Street, Lewiston.
Now's the time to grab a rod and fish your local pond: Warm, sunny days probably have you itching to go fishing, but that beautiful weather means melting snow that blows out rivers, and puts a chill on some lakes and reservoirs. The answer to your fishing dilemma may be in your neighborhood, at a local park, or a within a short drive (or bicycle ride) away.
Panhandle turkey hunts should be good: General turkey season opens Saturday, April 15, and you can see units that have general hunts in our turkey hunting rules , as well as details about the seasons. Hunters will find most general hunting opportunity in the Panhandle, Clearwater and Southwest Regions, and beyond that most areas are limited to controlled hunts.

Expect Kokanee fishing on Priest Lake similar to last year: Priest Lake anglers can expect Kokanee fishing to be similar to what they found last year. Idaho Fish and Game Kokanee monitoring efforts suggest Kokanee numbers remain low, but the fish that are caught should be good sized, likely 14- to 16-inches.
Think 'Safety First' when turkey hunting this spring: With Idaho's youth turkey hunt beginning April 8 followed by the general spring turkey season opening April 15, the Idaho Department of Fish and Game is encouraging hunters to think "Safety First."
New trappers encouraged to complete education course: Beginning on July 1, 2018, every trapper who purchased their first trapping license after June 30, 2011 will be required to attend and pass a mandatory trapper education course before they can purchase an Idaho trapping license.
Archives