Sports & Outdoors
Home
Obituaries
Social
Events
News
Letters
July
Don't forget to buy controlled hunt tags by August 1: Big game hunters who were successful in drawing controlled hunt tags for deer, elk, pronghorn, and black bear have until midnight MDT, Tuesday, August 1, to buy their tags.
Anglers asked to take survey on Upper Priest Lake fishery: Anglers! The Idaho Department of Fish and Game (IDFG) would like your input to help establish goals and objectives for managing fishing opportunities on the Priest Lake and Upper Priest Lake fisheries.

Badger football practice less than two weeks away: It's less than two weeks until Bonners Ferry Badger football's first practice on Monday, August 7. At 5 p.m., coaches and staff will be collecting paperwork, at 5:30 p.m. there will be a parent's meeting on the football field bleachers.
Casting for the bulls: fishing for Idaho's bull trout: They're big, they're hard fighting, and they're one of Idaho's most overlooked trophy fishing opportunities, but many anglers are still confused whether they can target bull trout for catch-and-release fishing. The short answer is yes.
Drawing coming for KNWR deer blind for disabled hunters: The Kootenai National Wildlife Refuge will conduct a random drawing on August 15 to award 10 hunters with disabilities a special Deer Hunt Permit. Hunters must provide proof of a valid Idaho Disabled Hunting License prior to the drawing.
Commission to consider rule changes at Bonners Ferry meeting: When the Idaho Fish and Game Commission meets July 26 and 27 in Bonners Ferry, they will consider routine agenda items as well conduct formal rulemaking to consider rules that are simple in nature and do not implement new regulatory requirements.
Fishing at Priest Lake is at a crossroads: Fishing at Priest Lake isn't what it used to be, which is fine for some anglers, but others would like to see it change. Fish and Game wants to know if the current management is still working, or if change is needed.
Leftover turkey hunt permits going on sale: Idaho turkey hunters have one last shot at 124 leftover fall turkey controlled hunt permits that will be available first-come, first-served starting at 9 a.m. Monday, July 17 at all Fish and Game license vendors.
June

Holiday fishing fun in North Idaho: The Fourth of July holiday is a day of great celebration in the U.S. Fireworks, family and fishing are all great choices for activities during the Fourth of July holiday! And, because of the Idaho Fish and Game Price Lock program, buying your 2017 fishing license means the price of your next year's license won't go up! The Idaho panhandle offers outdoor opportunities in abundance.
Fishing heats up on the North Fork CdA and St. Joe Rivers: With the summer months upon us, trout fishing on the North Fork Coeur d'Alene and St. Joe rivers is heating up. Up until now, float fishing has been exceptional, but with flows receding on both rivers, walk-and-wade anglers will have access to more water and better fishing.
Badgers travel to Omaha with Loggers: Five Badger baseball players were able to check an item off their bucket lists courtesy of their summer American Legion baseball team, the Libby Loggers, as they are now at the College Baseball World Series in Omaha, Nebraska.

Lake Pend Oreille kokanee fishing outlook: Kokanee fishing is finally beginning to pick up on Idaho's largest body of water. Unusually cool and blustery spring conditions and high inflows have kept most kokanee anglers away from Lake Pend Oreille. With the increasing numbers of kokanee in Pend Oreille over the past few years, anglers have been pleased with the number of relatively large kokanee available from this popular fishery.
South Fork of the Salmon will not open for Chinook fishing: A poor return to the South Fork of the Salmon River means anglers will miss a year of Chinook fishing on the popular river, but anglers can still get a crack at the fish starting Thursday, June 22, on the Lochsa and upper Salmon River upstream of Challis.
Elk tags in capped zones going on sale soon: Resident hunters wanting to purchase a general season elk tag in a "capped" zone will want to review this year's seasons and rules booklet for changes on how tags will be sold in July.
Badger wrestlers ready to compete in Indy: Kyle Smith, Eli Richards, Andrew Sandelin and Jake Summerfield of the Bonners Ferry Wrestling Club are with the rest of the Idaho State National School Boy Duals team in Indianapolis, Indiana. Weigh-ins and skin checks are done and wrestling starts tomorrow, June 8. Good luck to our hometown boys and the rest of the Idaho Team!
Fish stocking underway in Panhandle waters: Fish and Game stock over 22,000,000 fish from its resident hatcheries into lowland lakes, reservoirs and mountain lakes every year. Stocked fish include fry, fingerlings, and catchable sized fish from 18 species and 16 strains.
June 10 is Free Fishing Day in Idaho: Saturday, June 10, is Free Fishing Day, and the Idaho Department of Fish and Game invites veteran and novice anglers of all ages, residents and nonresidents alike, to celebrate the day by fishing anywhere in Idaho without a license. Though fishing license requirements are suspended for this special day, all other rules, such as limits or tackle restrictions, remain in effect.
May

A long, rewarding journey for Isaac Lavala: Isaac Lavala loves the game of football. He has been playing tackle football since the sixth grade and it has always been his favorite sport. When he is not getting the ball thrown or handed to him to gain yardage, he is on the defensive side of the ball. But it was in a sport he turned to with improving his football game that he left his mark in the record book.
Idaho 4-H shooting programs expanding: The University of Idaho Extension 4-H Youth Development program can boast more than a century of helping young people learn leadership and good judgment in hitting targets, ranging from earning blue ribbons for sewing projects to mastering animal showmanship at county fairs.
Need more proof the state 3A baseball game was epic? The Idaho State 3A Baseball Championship between reigning champion Fruitland and first-time contending Bonners Ferry was something special, but just how special became a little clearer on Tuesday when IdahoSports.com released the viewership numbers from this year's live game broadcasts.

Another great Koocanusa Fishing Derby in the books: The 15th annual Koocanusa Fishing Derby, held May 20-21 at Koocanusa Resort and Marina, Libby, Montana, is in the books, with a total of 323 people and 120 boats hitting the water to test their skill. This year's winners were Shane Allen, first place rainbow trout, 11 pounds 14 ounces, won $1,836.80 ...
Apply now for Idaho's first Super Hunt: Hunters hoping to enter Idaho's first Super Hunt drawing have through May 31 to apply. With every entry in Fish and Game's Super Hunt drawings, hunters get a chance at winning the hunt of a lifetime.
Yea, it was a pretty wild game ... The Badger baseball team set a new standard in their 24 year program by playing in their very first 3A State Championship game last Saturday only to lose in heartbreaking fashion 19-16 against the three time defending State Champion Fruitland Grizzlies. By Coach Tom Turpin
Deadline near to apply for controlled hunts: Hunters have until midnight Monday, June 5, to apply for this fall's deer, elk, pronghorn, black bear and turkey controlled hunts.
Chinook run is late, below forecast and fishing could end soon: Anglers should soon know the fate of the 2017 spring Chinook run, and how much longer the spring fishing season will continue.
Fruitland State A3 baseball champs once again
Fruitland is again Idaho State A3 Champion, defeating the Bonners Ferry Badgers19-16 in an historic three and a half hour game that went right down to the wire ... wow!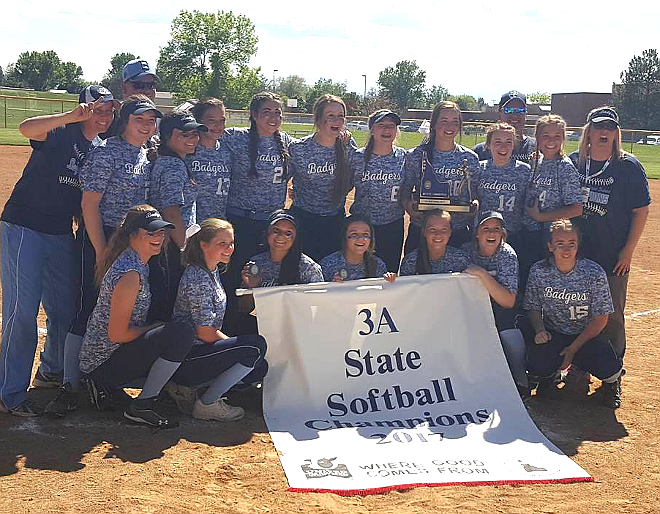 THE BONNERS FERRY BADGERS ARE THE 2017 IDAHO STATE 3A SOFTBALL CHAMPIONS!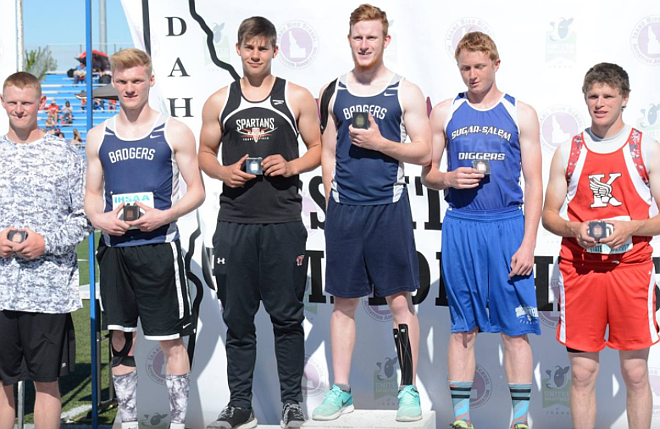 Photo by Robert Lavala
Badger baseball, softball teams both reach championship, Lavala sets state record
The Badger girls shut out Timberlake 11-0 this morning to claim the first berth in the 2017 Idaho State 3A Championship softball game, which takes place at 2 p.m. (1 p.m. PST) today! The Badger boys play Fruitland at 4 p.m. 3 p.m. PST) today in the 2017 Idaho State A Championship baseball game. Also, a hearty cheer goes out to Badger Isaac Lavala, who won the 2017 Idaho State 3A Pole Vault Championship and set an Idaho State high school record at 15'2"! The second Badger on the podium is Nikolous Bertling. GO BADGERS!!
Badger boys edge Payette
The Badger baseball team defeated Payette in their second game of the State A3 baseball tournament, with Brady Bateman pitching a complete game to a 5-4 win. The Badgers play Saturday for the state title against the winner of Fruitland and Sugar Salem at 3 p.m. PST.
Lady Badgers earn shut out in game 2
4:35 p.m. May 19: The Lady Badgers took out Homedale, last year's Idaho softball champs, in a 4-0 rout, and will go on to face IML rival Timberlake tomorrow at 9 a.m. PST. Pitcher Kadi Bateman threw a near perfect game, giving up just one hit. GO, BADGERS!
A big thank you to Paula Burt for keeping NewsBF posted!
Lookout Pass ski area improvements on tap: Idaho Panhandle National Forest Supervisor Mary Farnsworth and Lolo Forest Supervisor Tim Garcia are pleased to announce they have signed the Record of Decision approving the expansion of the Lookout Pass Ski and Recreation Area.
!! Lady Badgers take grand slam win !!
9:47 a.m. May 19: The Badger ladies just beat Buhl in State 3-A softball play with a grand slam by Sydney Watt and a final score of 14-3. The Badgers next play the winner of the Marsh Valley/Homedale game, which gets underway in just over an hour, at 2 p.m. PST.
Badger boys open with 10-1 win, girls set to play Buhl: In Thursday's state tournament pairings, in every game where a first place district winner played a second place finisher, the second place finisher won. Such was the case with the Bonners Ferry Badgers baseball team, where the Badgers, who finished second in the District 1 Tournament, defeated District 6 first place team Teton by a score of 10-1.
Trapper education courses offered: Beginning July 1, 2018, every trapper who purchased their first trapping license after June 30, 2011, will be required to attend and pass a mandatory trapper education course before they can purchase an Idaho trapping license.

BCH Fun Run shirts are in: The Boundary Community Hospital Fun Run 2017 shirts are in, and there's still time to pre-register for the run on Saturday. There are still a few of the free shirts left so sign up today! For a printable registration form, click here! Check-in and same day registration starts at 7 a.m. Saturday, May 13, for 3K, 5K and 10K routes.
Badger Dance tryouts coming: Badgers interested in joining the Bonners Ferry High School Dance Team, including incoming freshmen, are reminded that tryouts are coming up from 9 a.m. to noon Saturday, May 13, in the high school gym.
Lady Badgers league champs!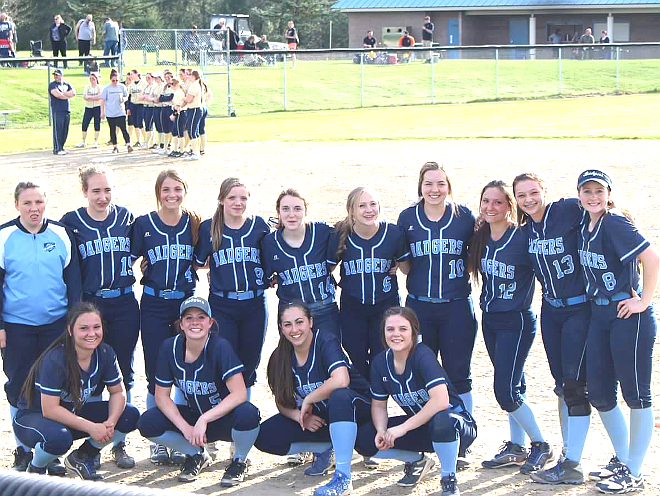 Big thanks to Paula Burt for sharing this!
The

The Lady Badgers won district play Tuesday night, beating Timberlake 15-2. They advance to the Idaho State 3A Tournament May 19-20 in Buhl. GO, BADGERS!

Eby pitches no-hitter to open districts: Badger Mason Eby pitched a no hitter yesterday in the Badgers first game of districts. The Badgers won the game 14-0 in five innings (mercy rule). They play again today, May 9, at home in Bonners Ferry in the championship game against Timberlake at 4:30 pm.
Sportsmen and women gain major access from three land deals: Idaho hunters and anglers gained permanent access to 12,600 acres of land in north Idaho for a net cost of about $300,000, thanks to three different land deals recently completed by Idaho Fish and Game.
Bonners Ferry Lacrosse Club hosting Jamboree: The Bonners Ferry Lacrosse Club will welcome teams from around the region Saturday for a full day of lacrosse at the Bonners Ferry High School soccer field, and Bonners Ferry will open up the action with an 8:30 a.m. match against Coeur d'Alene #1.
Archives