Lady Badgers bury the Miners
January 21, 2018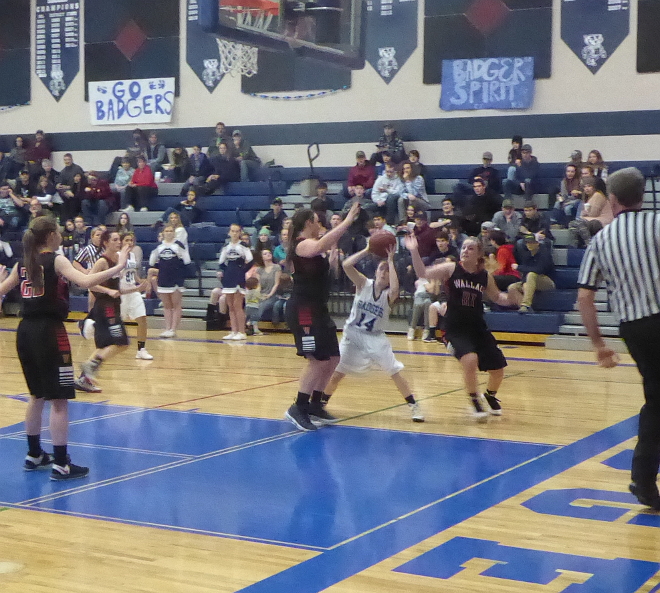 Badger senior Tori Burt works against two Wallace defenders as the Lady Badgers romp to a 56-23 non-league win at home Saturday afternoon.
The Lady Badgers hosted Wallace Saturday on Senior Day, and sent the Miners home with a 56-23 trouncing. The Badgers opened with a 22-3 first quarter, with all three of the Miner's points coming from the free throw line.

Miranda Wenk led the Badger drive, putting up 13 points and 13 rebounds. Kadi Bateman hit 10 points.

Kimmie Krouse led the Miners with 11 points.


| | | | | | |
| --- | --- | --- | --- | --- | --- |
| Scoring | 1 | 2 | 3 | 4 | Final |
| Wallace (3-10, 0-0) | 3 | 9 | 9 | 2 | 23 |
| Bonners Ferry (13-3, 1-1) | 22 | 13 | 17 | 4 | 56 |

Wallace
Krous 11, Hayman 2, Garitone 0, Frey 0, Hill 4, Sheppard 1, Morin 0, Bayer 0, Howard 5.

Bonners Ferry
Skeen 5, Pluid 8, Villelli 1, Wenk 13, Burt 0, Bateman 10, Ansley 9, Liermann 4, Ram 2, Blackmore 4.

The Badger girls host Kellogg in a league makeup game at 6 p.m. Wednesday, January 24, then travel to Priest River Saturday, January 27, for a 6 p.m. league match.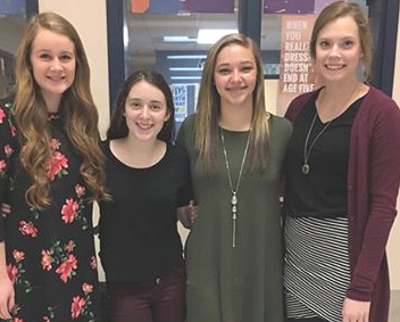 Badger seniors Kadi Bateman, Tori Burt, Kassie Skeen and Miranda Wenk.

The four Badger seniors playing their final season are Kadi Bateman, Tori Burt, Kassy Skeen and Miranda Wenk.

Kadi, the daughter of Tomi and Jed Bateman, plans to attend Snow College in Utah to play softball and study nursing and sign language.

Her fondest memories so far are hiking the ball to Miranda vs. Genesis Prep, making a half court shot in a game, her shoe falling off and continuing to play, shoe in hand. Stopping at Fred Myers and getting Cafe' Rio with Jerzie and getting pantsed in a game and Cassie helping her.

Tori is the daughter of Chad and Paula Burt, and she plans to attend college to study elementary education or cosmetology, marry the love of her life, have a perfect family and live happily ever after.

Her fondest memories are of playing with Maecie, Leilani and Grace, team dinners, and falling and dying on the court last year.

Kassie is the daughter of Pam and Eric Skeen, and she plans to attend Lewis and Clark State College or the University of Idaho to major in psychology and addiction studies. Then she will marry her sweetheart, travel all over and eventually start a family.

Her fondest memories are Erin's pep talks, red rover with Grace, Sydney peeing her pants, Ed's team pee, Emily Blackmore's Scott Sterling blocks and long bus rides and unique conversations with Jorryn.

Miranda is the daughter of Donielle and Dave Wenk, and she plans to attend a college to pursue a degree in nursing, marry her best friend, start a family and live happily with them.

Her fondest memories are the West Valley tournaments, always being Jerzie's partner, Kadi's hike pass to her, team get togethers, getting frosted cookis and spending time with her besties.
Questions or comments about this letter? Click here to e-mail!