March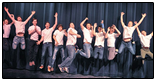 The 2018 Mr. BFHS Show will be this Friday, March 23 at 7:00 p.m. in the Becker Auditorium at the high school. All funds raised go towards the Senior Class of 2018.
Mt. Hall School announces citizens of the month: See the photo of the citizens here.
Naples Elementary Newsletter, March 2018: Attention Naples Elementary parents, students, community members, and all those who care about and follow the Wolverines: Here is your March Newsletter.
February

Kris Larson stepping into retirement: Bonners Ferry City Clerk Kris Larson's Retirement Social will be held from 1 to 3 p.m. Friday, March 2, at Bonners Ferry City Hall, 7232 Main Street in downtown Bonners Ferry. She plans, she said, to spend as much quality time with her adorable grandchildren as she can get!

Mt. Hall names latest Citizens of the Month: These students were honored at the January Mt. Hall Citizens of the Month Assembly; Aliyah Rosales, Hana Hartman, Alison Baird, Sofia Brown, Bradlee Bennett, Eva Willis, Gabriel Warren, Coleman Huggins, Brent Worley, Claire Hoggan, Abby Huggins, Isabella Romine, Jayda Giles, Bo Jantz, Helaman Hartman, Aubrey Bethke, Samuel Hegge, Bristol Hill and Noah Chase. Way to go, Wildcats!
Festival of Hearts a big success: The Fry Healthcare Foundation Festival of Hearts was a resounding success, raising more than $40,000 to benefit Boundary Community Hospital.

Rhoades graduates Air Force basic training: U.S. Air Force Basic Airman Jade Alana Rhoades, the daughter of Brianna Rhoades, Adam Fleck and the late Dusty Rhoades, all of Bonners Ferry, graduated from basic military training at Joint Base San Antonio-Lackland, San Antonio, Texas, in January.

Eika Willis a step closer to $50,000 scholarship: Eika Willis, an eighth grade student at Boundary County Middle School, recently won the school competition of the National Geographic Bee and a chance at a $50,000 college scholarship.

Daniela Villanueva is Badger awesome! Special Ed teacher Diane Niewieroski said Daniela Villanueva has been a student of hers for the past year and a half. "She is a wonderful young person who brings her best to every class," Diane said. "She is pleasant and comes to class daily with a smile on her face!"

Mary Krejci BCSD Classified Employee of the Month: Mary Krejci is many things to the students at Naples Elementary School. In addition to being the helpful Title I reading and math teacher, she is the origami teacher, the candle-making teacher. For being these things and more, I am pleased to introduce Mrs. Krejci and Boundary School District 101's Classified Employee of the Month for January. By Principal Robin Merrifield

Four county students graduate U of I: University of Idaho is pleased to release the 2017 fall semester Dean's List and graduate list. A total of 602 degrees were distributed at the University of Idaho following the fall 2017 semester, and more than 2,500 students qualified for the U of I Dean's List during the same semester.

Mrs. Fuller BCSD Employee of the Month: Mrs. Anna Fuller has been teaching in Boundary County School District for the past seven years. It's my pleasure to introduce her as Boundary County School District 101 January Certified Employee of the Month! By Principal Nathan Williams
January

Two chosen as FFA district officers: Meet newly elected FFA North Idaho District Reporter Katelyn Hutchinson, left, and President Shawna Siver, both from the Bonners Ferry FFA Chapter. Congratulations!

Generous Valley View students honored: Every month at Valley View Elementary, they celebrate a different character trait. In December, they celebrated "generosity" and the following students were highlighted as Super Stars by their teachers ... Please congratulate these generous students when you can!
Host families needed in area: The Germans are coming! And the Spanish, Italians and Brazilians too! All are high school exchange students who want to spend the 2018-19 academic year in the Bonners Ferry area!
Pack 114 has an outstanding day at the races: It was another fine Pinewood Derby for Cub Scouts in Pack 114 Saturday! Winners were Joe Rogers, Bear, first, Zander Fuller, Wolf, second, Landon Fuller, Lion, third, Brandon Gardner, Bear, fourth, Matthew McCabe, Webelos, fifth, and Joe Sutton, Bear, sixth.

Boundary County celebrates and honors MLK: Boundary County residents young and old joined together Saturday, January 13, at The Pearl Theater to celebrate and honor the life and dreams of Dr. Martin Luther King. The Boundary County Human Rights Task Force presented a film "Racism, Then & Now" by Professor Timothy Braatz.

Hamptons welcome Wilbur Van Martin: Kortny and Vince Hampton are thrilled to announce the arrival of Wilbur Van Martin Hampton! Wilbur was born at 5:57 a.m. today, weighing eight pounds, five ounces. He was 21 inches long. "We are so blessed and in love with our perfect little family," Kortny said.

Brady Bateman is Badger Awesome: "Brady Bateman is one of the most respectful young men that I have had the privilege of teaching," said Bonners Ferry High School advanced math teacher Russell Thorman. That nomination makes Brady Badger Awesome Student of the Week for this third week in January.

Mt. Hall names December Citizens of the Month: These bright, shining faces belong to Mt. Hall Elementary School's December Citizens of the month! They are, back row (left to right) ... Nah! You'll have to click the link! Congratulations to each of you!

Pancakes power eight flight scholarships: Eight flight training scholarships have been awarded by the local Experimental Aircraft Association, EAA Chapter 757. The Chapter received eight applications and was able to fund all applicants to some degree.

Dickson, Thorwart BCH Employees of the Month: Jeanine Dickson has been working for Boundary Community Hospital as a registered nurse for five years. Nita began her career with Boundary Community Hospital as a certified nurses aide in our Extended Care Facility in July, 2015. They are Boundary Community Hospital's January Employees of the Month!

Eby earns credentials as an engineer: Kara Cafferty, the daughter of Leonard and Edna Eby of Boundary County, recently passed the professional engineer exam to become a licensed professional engineer. Kara is a 2004 graduate of Bonners Ferry high school.

Five from county earn LCSC honors: A total of 896 students at Lewis-Clark State College earned honor roll distinction for the fall 2017 semester, LCSC administrators announced on Tuesday. Among the honorees, 426 made the President's List while 470 were named to the Dean's List. Five were from Boundary County.
December

Ruth Jackson grateful for help: Ruth Jackson sends out thanks to those who helped her get her driveway cleared of snow after her plight was posted on the NewsBF Snowline. She had been out earlier shoveling on her own, when she fell, her weight landing square on her wrist, snapping it badly.
Say a little prayer for Norma: NewsBF has received word that Norma Gorman, 84, Moyie Springs, has undergone major surgery to stabilize a neck fracture at Harborview Medical Center, Seattle, an injury sustained in a collision with a semi on Wednesday on Roosevelt Road.

Reoch retiring today at Community Thrift: After 10 years as a volunteer at the Seventh Day Adventist Community Thrift Store, 6778 Main Street, Bonners Ferry, Pam Reoch is retiring, and today is her last day! Everyone is invited to drop in at the store, next door to Wells Fargo Bank, for cake until 5 p.m. today to give Pam your best wishes.

Rae nominated for Air Force, Naval Academies: U.S. Senator Jim Risch (R-ID) last week announced his nominations to the United States Military Academies for the 2018-2019 school year. Victor "Ryne" Rae, Bonners Ferry, was nominated for both the U.S. Naval Academy at Annapolis, Maryland, and the U.S. Air Force Academy, Colorado Springs, Colorado.

Serenity Winey an Airman E2: Serenity Winey, the daughter of Robert and Sabrina Winey, Bonners Ferry, and a 2017 honor graduate from Forrest M. Bird Charter School, Sandpoint, recently graduated from Air Force basic training at Joint Base San Antonio-Lackland, San Antonio, Texas.

Firefighting brothers honored: Paradise Valley Fire District is proud to announce our first ever tie for the Firefighter of the Year award. All of their firefighters work hard, and it's the firefighters who vote for the recipient of this award amongst their brothers and sisters. This year, they voted to bestow this great honor on a pair of brothers. Not only brothers in fire, but also brothers by blood!

Banning joins Army infantry: Army Private Dillain Banning, the son of Jesse and Katie Banning, Bonners Ferry, graduated today from Army basic training and advanced infantry training at Fort Benning, Georgia, as his parents and siblings looked on. "We are more proud of you than you will ever know," his mother posted on Facebook.

Lavala USAF basic honor grad: U.S. Air Force Airman Isaac D. Lavala recently graduated from basic military training at Joint Base San Antonio-Lackland, San Antonio, Texas. He is the son of Robert and Sheila Lavala of Moyie Springs, and a 2017 graduate of Bonners Ferry High School.

Stacey Dean BCH patient care Employee of the Month: Nurse Stacey Dean started working at Boundary Community Hospital's Acute Care Unit in April, 2014. She has a strong 20 year nursing background, which makes her one great asset to this facility.

Sonya Tice is BCH non-patient care Employee of the Month: Sonya Tice began her career at Boundary Community Hospital almost eight years ago. She began as a per diem health unit coordinator for the emergency department and medical floor, working both night and day shifts to meet the needs of the hospital.

Bonners Ferry hydrologist gets his own forest: A former hydrologist on the Bonners Ferry Ranger District, Dale Deiter, has been selected as the new Forest Supervisor for the Prescott National Forest in Arizona. Dale's reporting date is January 8. He replaces Teresa Chase, who retired in March 2017.

Three graduate BCH fall CNA class: Boundary Community Hospital and North Idaho College announced the graduation today of the fall semester Certified Nursing Assistant (CNA) class. They are Lanilyn Hughes, Cheyenne Bennett and Summer Norman. The next semester starts January 16.

Victoria Rae Badger awesome student of the week: It is my pleasure to introduce Victoria Rae as the Bonners Ferry High School Student of the Week. Victoria is a sophomore with a 4.0 GPA who also excels on the varsity volleyball team, qualified for state in the discus and placed third in the shot put as a freshman. By P.E. Teacher Ed DePriest

Mt. Hall names November Students of the Month: Mt. Hall Elementary School's November Students of the Month were: kindergarten; Madison DesMarais, first grade; Dallin Baisden and Reya Riverman, second grade; Kaitlyn Becker, Olivia Lammers, Jack Marshall and Andres Ponce ...

Bev Heigel is BCSD 101 Classified Employee of the Month: I would like to introduce Bev Heigel as November's Boundary County School District's Classified Employee of the Month! Bev, a special education assistant, is an outstanding individual who makes Boundary County Middle School a better place just by showing up every day. By Principal David Miles II
Archives