Bonners Ferry hydrologist gets his own forest
December 13, 2017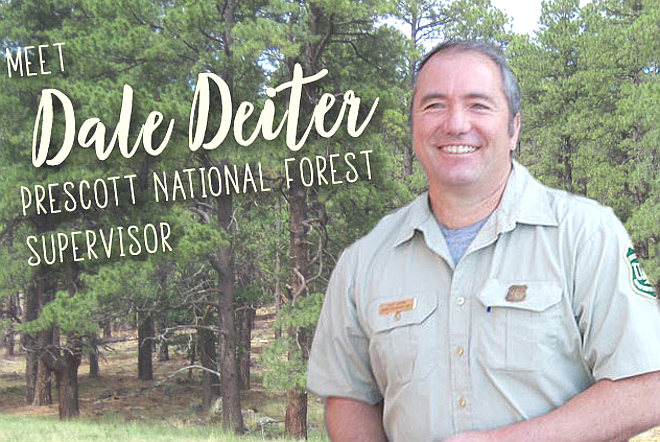 A former hydrologist on the Bonners Ferry Ranger District, Dale Deiter, has been selected as the new Forest Supervisor for the Prescott National Forest in Arizona. Dale's reporting date is January 8. He replaces Teresa Chase, who retired in March 2017.

Deiter is coming to Prescott from the Bridger-Teton National Forest in Jackson, Wyoming, where he has been Jackson District Ranger since 2007.

Deiter grew up in Arizona and New Mexico where his dad, Jerry Deiter, was a District Ranger on the Gallup, El Rito, Clifton and Sierra Vista Ranger Districts with the Forest Service. In 1984, Deiter started his career with the Forest Service and spent three seasons as a Wildland Firefighter on the Gila National Forest and one season as a wildlife technician on the Bridger-Teton while attending college at Northern Arizona University (NAU).

Deiter received a Bachelor and Master of Science in Forestry from NAU. From 1989 to 2000, he worked as a pre-sale forester and then as a hydrologist for the Bonners Ferry Ranger District on the Idaho Panhandle National Forest. Deiter then worked on the Fishlake National Forest in Utah as Forest Hydrologist.

"I enjoy working through complex natural resource issues and greatly value connecting communities, partners and youth with their public lands," said Deiter. "I have many years left in my career and look forward to spending them engaging with the communities that claim the Prescott National Forest as their back yard."

Dale is married, with three children ages 24, 20 and 17. In his spare time, he enjoys mountain and road biking, hiking, hunting, fishing and skiing. Dale is excited about joining the Prescott National Forest and returning home to Arizona.
Questions or comments about this article? Click here to e-mail!