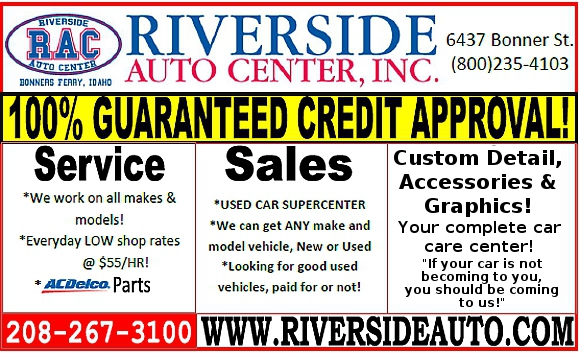 News
May 28

Farm Bureau 2017 Farm Tour an amazing day: Friday dawned sunny and bright, a near perfect morning as car after car started pulling into the fairgrounds parking lot for the 2017 Boundary County Farm Bureau Farm Tour. Cassie Olson, District Manager for the Boundary Soil Conservation District, was a touch nervous ... A NewsBF pictorial
May 27
Entering 100 deadliest days of driving: Idaho is about to enter the annual "100 Deadliest Days of Driving," the period between Memorial Day and Labor Day each year. In 2016, 85 people died on Idaho's roadways during that timeframe.
May 26
~ U.S. 95 back to two lanes at slide ~
According to the Idaho Transportation Department, the flaggers who have directed traffic around as workers stabilized the hillside that slid in March at Mountain Meadows Road are on to other things and Highway 95 has returned to a two-way traffic pattern with a reduced speed limit.
May 25
~ Deep Creek Loop reopened ~
3:07 p.m.: County road and bridge advises that Deep Creek Loop is now open to travel following a temporary repair. There is a 25 mile per hour speed limit in effect and one lane is gravel. Please use caution as there is loose gravel and the south bound lane has a soft shoulder.
~ County roads now open to hauling ~
With the exception of emergency closures resulting from damage by flood, all Boundary County roads are now open to hauling. The roads still closed are Oxford Road from Usher Lane south around the corner to address 942, Fleming Creek Road on the hill from address 1092 west to 3451, and Kootenai Trail Road from address 4894 east down the canyon to 5622.

Memorial Day a day of prayer for permanent peace: BY THE PRESIDENT OF THE UNITED STATES OF AMERICA: A PROCLAMATION: Memorial Day is our Nation's solemn reminder that freedom is never free. It is a moment of collective reflection on the noble sacrifices of those who gave the last measure of devotion in service of our ideals and in the defense of our Nation.
How could anyone abuse or neglect their guardian angel? Is there no greater classic old movie than "It's a Wonderful Life" with Jimmy Stewart? Remember the story? George Bailey had to take over the savings and loan after his father died. By Foster Mayo
Supermoon tonight, but you won't see it: For the first time since 2009, a new moon – not a full moon – will be the closest and largest supermoon of a year. In recent years, the year's largest supermoon has been a full moon. But not in 2017.
May 24

Curiosity keeps Jean Bevins young at 104 years: Imogene "Jean" Bevins, a centenarian resident of the Boundary Community Hospital Nursing Home, will be celebrating her 104th birthday with family, friends and caregivers on Thursday. Bonners Ferry Mayor David Sims will be stopping by to mark the occasion and to pass on the best wishes of the community to this remarkable woman.
FHWA releases funds for repairs, including Deep Creek Loop: The U.S. Department of Transportation's Federal Highway Administration announced on Friday the immediate availability of $1.25 million in Emergency Relief funds to help begin repairs on flood-damaged roads and bridges in Idaho, including Deep Creek Loop in Boundary County.

Gearing up for an All American Small Town Celebration: Each year, hundreds of people gather on the Boundary County Fairgrounds lawn as the sun begins to set on the Fourth of July, set out their lawn chair or spread their blankets, and admonish the kids, "don't stray too far, it's about to start!" This year, organizers putting it all together are trying something new.

Fuller Fur, Feather and Friends Pet Services opens here: Dan and Jennifer Fuller started visiting Bonners Ferry about four years ago, and after hunting for property for two years, they finally bought an incomplete home in the North Bench area about two years ago, then spent their visits working on the place. In September, 2016, Dan and Jennifer packed up not only their household but their business as well and bid farewell to the tiny town just outside Yosemite National Park.

Idaho 8-in-6 an awesome program for students: School District 101 board member David Brinkman was recently asked by another parent about the Idaho 8-in-6 (Fast Forward) Program his daughter, Liliana, is participating in at Boundary County Middle School. "This program is an amazing opportunity for students," he replied.
Labrador adds first name to campaign team: Raúl Labrador formally announced Milford Terrell today as his treasurer for his gubernatorial campaign. Terrell has served on numerous boards and commissions for six different governors over the course of 30 years.
More News →
Letters & Opinions
U.S. Congressman Raul Labrador: Since I was first elected to Congress in 2010, I have advocated for fixing our broken immigration system. In addition, I have frequently stated that the most important step in completing that process is getting serious about enforcing existing law.
U.S. Senator Mike Crapo: I recently had the great honor of meeting with Mary Lynn Spiker, who was selected to be the 2017 Idaho Teacher of the Year. The role of teachers cannot be overvalued. Robert Frost characterized teachers as "awakeners."
More Letters →
Sports & Outdoors

A long, rewarding journey for Isaac Lavala: Isaac Lavala loves the game of football. He has been playing tackle football since the sixth grade and it has always been his favorite sport. When he is not getting the ball thrown or handed to him to gain yardage, he is on the defensive side of the ball. But it was in a sport he turned to with improving his football game that he left his mark in the record book.
Idaho 4-H shooting programs expanding: The University of Idaho Extension 4-H Youth Development program can boast more than a century of helping young people learn leadership and good judgment in hitting targets, ranging from earning blue ribbons for sewing projects to mastering animal showmanship at county fairs.
Need more proof the state 3A baseball game was epic? The Idaho State 3A Baseball Championship between reigning champion Fruitland and first-time contending Bonners Ferry was something special, but just how special became a little clearer on Tuesday when IdahoSports.com released the viewership numbers from this year's live game broadcasts.
More Sports →
Obituaries
Richard Earl Eby, 82, Moyie Springs, Libby and a child of Copeland, died on Sunday, January 15, 2017, at the Libby Care Center surrounded by his loving family. There will be a Memorial Service with potluck following at 11 a.m. Saturday, June 3, at the Copeland Hall.
Harry 'Rick' Philbrook, 55, took flight with the angels on January 19, 2017, after a year long battle with cancer he fought until the bitter end. His service will be held at 1 p.m. Saturday, June 10, at United Methodist Church, 6706 Denver Street, Bonners Ferry.
James Kevin McNally, born March 17, 1952, passed away peacefully at his home in Bonners Ferry on December 10, 2016. A small service to bury Kevin's ashes will be held at Grandview Cemetery 11 a.m. Saturday, July 1. A get together at the Bonners Ferry Eagles Aerie will be held afterward.
More Obituaries →
Search News Bonners Ferry:
Loading
Social News

Pinkerton addresses P.E.O. state convention: Members of Chapter AP, P.E.O. gathered with others from around the State of Idaho to celebrate a "Joyous Journey" in Lewiston for the Idaho State Convention. Chapter AP proudly introduced Alyssa Pinkerton as a featured speaker and recipient of the PCE Grant in 2013.

Raffle quilt on display at A Little Comfort Quilting: The Hall Mountain Volunteer Fire Auxiliary Raffle Quilt is displayed this week through Wednesday, May 31, at A Little Comfort Quilting, 7189 Main Street, Bonners Ferry.
More Social News →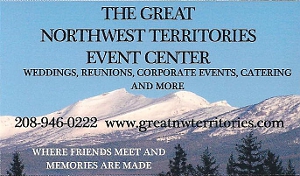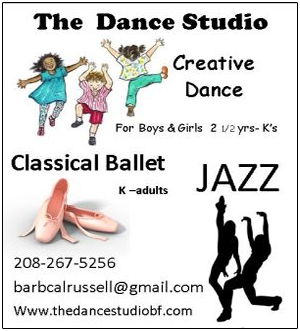 Events
Monday, May 29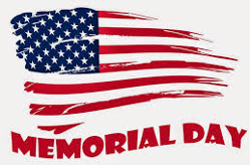 The Memorial Day Parade will begin at 10 a.m. at the Boundary County Fairgrounds. Anyone wishing to participate should be at the fairgrounds by 9:30 a.m. The Memorial Service at Grandview Cemetery follows the parade.
Tuesday, May 30
Free three-day Classical, Christian Homeschooling Conference for parents, 8:30 a.m. to 4 p.m., May 30 through June 1, Sandpoint Assembly of God, N423 Lincoln Avenue, Sandpoint. To learn more, click here.
Wednesday, May 31
Boundary County School District 101 Retirement Party, 5 p.m., Boundary County Middle School Library.
Boundary County Babe Ruth Softball 12U Girls vs. Libby, 5 p.m., Parks and Rec Memorial Field, Boundary County Fairgrounds.
Thursday, June 1
Last Day for Seniors at Bonners Ferry High School.
Boundary County Babe Ruth Baseball 15U Boys Blue vs. Libby1, 5 p.m., Bonners Ferry High School Field.
Boundary County Babe Ruth Baseball 12U Boys at Libby, 6 p.m. PST.
Boundary County Babe Ruth Softball 14U Girls vs. Libby, 6:30 p.m., Rivers Field.
Friday, June 2
Boundary County Babe Ruth Baseball 15U Boys Grey vs. Troy, 5 p.m., Bonners Ferry High School Field.
Community Worship Service, 6:30 to 9 p.m., Bonners Ferry High School, 6485 Tamarack Lane, Bonners Ferry. This month's speaker will be Pastor Stan Christopherson of the Nazarene Church. All are welcome.
Saturday, June 3
Free Day at the Museum, 10 a.m. to 4 p.m. Sponsors for the day are al and Barbara Russell.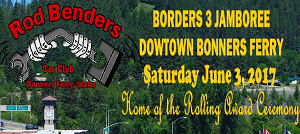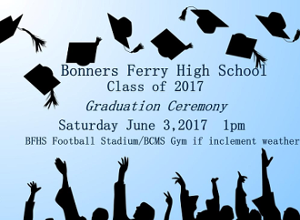 Monday, June 5
Boundary County Amateur Radio Club (BARC) meeting, 7:30 p.m., Bonners Ferry Visitors Center.
More Events →