Women in Agriculture Conference here soon
November 8, 2017
The 2017 Women in Agriculture Conference will offer women in Washington, Idaho, Oregon, Montana and Alaska a unique opportunity to gather in 40 different locations for a one-day event featuring knowledgeable speakers, inspiring stories, networking with other producers and practical advice for learning new skills.

It will be held on Saturday, November 18, from 8 a.m. to 3 p.m.

This year's theme, "We Can Do It," focuses on developing and strengthening your leadership skills.

Locally, the conference will be held at the University of Idaho Boundary County Extension Office, 6447 Kootenai Street, Bonners Ferry, ID. Visit the website at www.womeninag.wsu.edu for details about the conference and registration.

You can also call Kate Painter at the Boundary County Extension Office for more information at (208) 267-3235.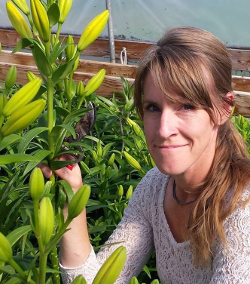 Paula Rice, BeeHaven Farm

Each location will have a local panel of successful women farmers who will share their experiences in developing and managing a successful farm or farm-based business. Our local panel consists of Liz Wood, a local cattle producer; Paula Rice, owner of BeeHaven Farm, a local flower farm, and Georgia Earley, owner of Paradise Farms, producing dried fruit products and juice from her orchard in Boundary County.

This conference is designed for women who are farming, as well as new and aspiring farmers, including students. Supporting spouses, students, interns or people who own an agriculture-related business are also welcome.

The conference registration fee is $30, but local scholarships will defer much of the cost of program participation for Boundary County participants. The conference registration fee includes the workshop, light breakfast, lunch and conference materials.

Students are especially encouraged to attend, and will receive full scholarships.

The format of this conference enables us to offer our headline speakers at all locations, while still tailoring the conference content for each region, Viebrock added. This interactive and engaging conference will motivate women in agriculture to use their leadership skills to define the future of agriculture.

"Last year, nearly 600 women attended," said Viebrock. "Many attendees reported it is the best conference for women producers because it presents practical information they can use right away."

The lineup for the day includes Alexis Taylor, Oregon Department of Agriculture Director who will challenge participants to strengthen their leadership skills, become more involved with long-time farmers and inspire new farmers. Under her leadership at USDA, the Women in Ag initiative became a driving force in the USDA mission to support the growing and diverse next generation of farmers and ranchers.

Ann Schwartz, Blue Heron Farm owner in the Skagit Valley of Washington State, has a prominent role in sustainable agriculture and is deeply rooted in activism. She will inspire women farmers to develop or renew leadership roles within agriculture and their communities. Her message is to "get involved" and "make a mark" on your farm and in your community.

Persons with a disability requiring special accommodations while participating in this program may contact Kate Painter at (208) 267-3235 or email her at kpainter@uidaho.edu.
Questions or comments about this article? Click here to e-mail!