It's official - Santa says Christmas season is here!
November 24, 2017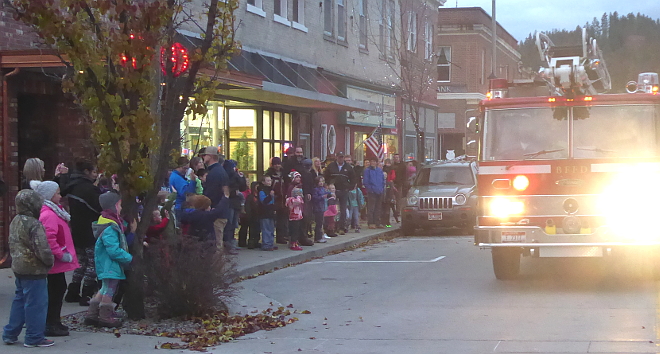 Photos by Mike Weland
Story Courtesy Bonners Ferry Chamber of Commerce

Santa's visit to Bonners Ferry 2017 was a complete success with roughly 160 children in attendance!

The Bonners Ferry Chamber alone could not have planned this event alone and they want to provide several community members an outstanding thank you for all of their help!

First and foremost, thank you Santa Claus for your visit to our community and for officially plugging in the town's holiday lights!

Thank you Bonners Ferry Fire Department for ensuring Santa's safe and timely arrival. Thank you Mandy Bateman for providing photos of the event and thank you Sharlene Delaney and David Brinkman for passing out candy canes and hot chocolate to the children.

Thank you to Bonners Ferry Safeway, who provided the hot chocolate mix, to Bonners Ferry Super 1, who provided the candy canes, and to Jill Nystrom of The Rusty Moose for mixing the hot chocolate.

An extra special thank you to Barbara LePoidevin and all of her elves for making the Georgia Mae Plaza beautiful, and another great big thank you to all the parents who bundled up the kids and came down to the Georgia Mae Plaza to bid Santa welcome and ring in a happy and wonderful holiday season!

Pictures of children with Santa can be purchased from photographer Mandi Bateman at www.stilldreaminstudio.com.

Editor's note: My apologies for the grainy, fuzzy photos -- I'm not sure if it's because it was dusk, because I'm just a click and hope photographer or because, fumble fingers that I am, I dropped my camera onto the concrete. Twice.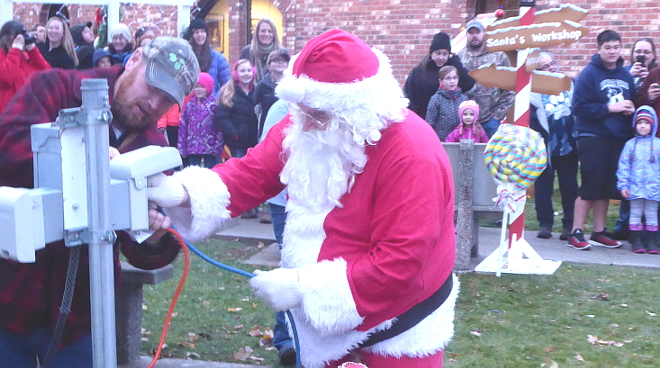 Questions or comments about this article? Click here to e-mail!