Mt. Hall students salute our veterans
November 13, 2017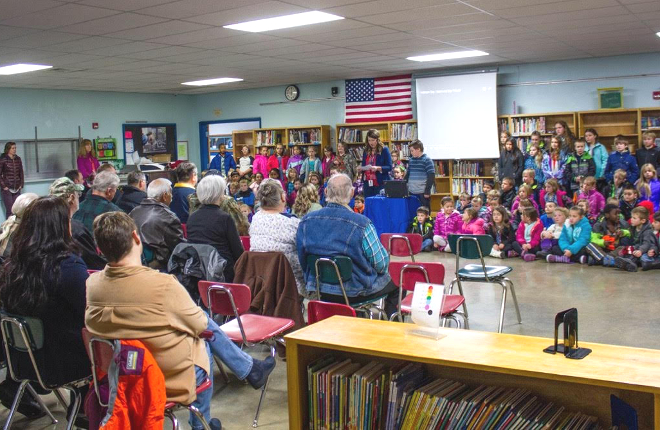 Story by Mike Ashby
Photos courtesy Lisa Iverson

Patriotism is still alive and well at Mr. Hall Grade School! On November 13, approximately 25 veterans were treated to a delightful and charming Veterans Day salute by the students of this school.

Upon my arrival at Mt. Hall, I was greeted by Principal Lisa Iverson. She graciously asked if there was anything she could do or provide for me.

Informing her that old sailors love their coffee, she immediately brought me a steaming cup of "Joe," as we sailors referred to the brew. We vets were then escorted to the school's cafeteria and given seats in the middle of the room. Glancing around me, I notice veterans with insignia from the Gulf War to World War II, with all branches of our military represented.

In a few moments, all the students from the school filed into the room.

The smaller ones sat on the floor in front of us vets, with the older and taller ones standing behind them. Principal Iverson warmly welcomed us and informed us that the students would like to perform a song for us.

A projector screen had been set up in the front and as the students began singing "Proud of Our Veterans" by Teresa Jennings, a patriotic film clip was shown. It was somewhere about then that I'm sure a number of those old warriors begin tearing up. I was too busy trying to keep my own eyes wiped dry to see who else was moved to tears, but there were several.

It was difficult to maintain one's composure, especially when the wee children of the front row were singing for us with so much youthful enthusiasm. If I thought keeping my composure had been difficult for this melody, it was nothing compared to what happened next.
(Story continues below)

The students were sent to line the hallway, each with a small American flag to hold. Next Principal Iverson invited us vets to walk the "Hall of Heroes" as we made our way outside to the flag pole where the colors would be raised and the children would join us in saying the Pledge of Allegiance to our nation's flag.

Wow! I remember going down that hallway, but barely.

As we walked I heard a sob or two from those behind me. Never in the 49 years since I returned from Viet Nam have I received such a moving tribute from any American: 140 children thanking us with their smiles and proudly showing unwavering love with our nation's flag in hand as they said "thank you" to us vets.

Once outside, we joined the children as the American flag was hoisted up the school's flag pole by a sixth grade student. The Pledge of Allegiance was recited, with the clear resonance of children's voices echoing across the Kootenai Valley.
(Story continues below)

Years ago I visited our nation's capital and went to "The Wall." That was tough, but valuable from the standpoint that I visited old friends, saw their names and took rubbings. As cathartic as that visit was, one incident had still never totally left my memory.

Coming home on my squadron's third deployment to Viet Nam, we sailed under the Golden Gate Bridge, proudly "manning the rail," as it's called when ship's company stands in dress blues on the flight deck.

As we passed under that bridge, some not-very-nice people dumped nasty things on us. Not a man moved from formation, but a lot of us wanted to go and visit with those folk.

As I left this morning's presentation, that memory was finally erased from my mind. THANK YOU students of Mt. Hall Grade School.

As far as I'm concerned, you are the heroes.
Questions or comments about this article? Click here to e-mail!