It's beginning to look like the holidays are here!
November 18, 2017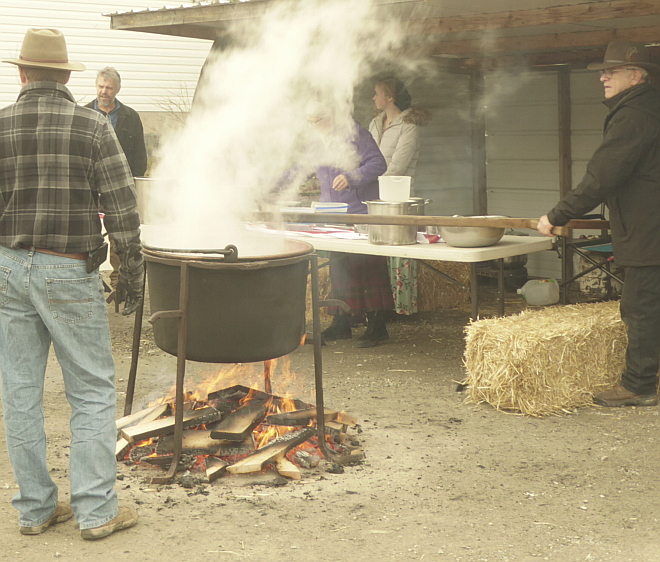 By Mike Weland

The one day of the year you can almost guarantee a traffic jam on the normally placid Moon Shadow Road heading west from Three Mile is on the Saturday before Thanksgiving, when the congregation at the Kootenai Valley Mennonite Church put on their annual Holiday Craft and Bake Sale in the church school.

Every year, folks flock in from near and far to watch homemade apple butter being continuously stirred in a big cast iron kettle over an open fire, to stock up the pantry with some of the finest baked goods you'll find anywhere, to get a head start on their holiday gift purchases with some of the most unique and exquisite hand-made crafts.

And today, the Mennonite congregation weren't the only ones making it feel that the holidays have arrived in Boundary County; the Boundary County Farmers Market vendors had the hallway and cafeteria at the Boundary County Middle School hopping with the fresh fixings for many a holiday meal as well as an array of gift items you'd find no where else at their Holiday Market, and there was not one but two buildings at the fairgrounds bursting at the seams with holiday treasure!

As of the time this is posted just before 4 p.m., the holiday market has already closed and the Mennonite Craft and Bake Sale is getting ready to close when the clock strikes 4 p.m., but there's an hour left at the Vintage Christmas Market at the fairgrounds!

Here are a few pictures of the bustle that was Bonners Ferry today!
From all of us at NewsBF,
to all of you, no matter where in the world you happen to be reading this from,


HAPPY HOLIDAYS!!
Questions or comments about this article? Click here to e-mail!