Rotary learns about BFHS CTE programs
November 28, 2017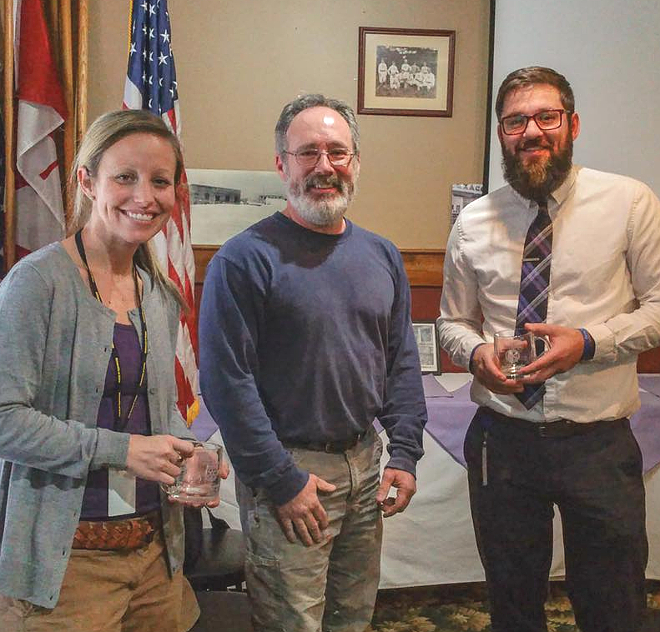 Bonners Ferry High School counselor Jennifer Mackey and principal Kevin Dinning join Bonners Ferry Rotary president Ken Baker after speaking at today's Rotary meeting.
The Rotary Club of Bonners Ferry met today and received a great treat as Kevin Dinning, principal of Bonners Ferry High School, and Jennifer Mackey, Advanced Opportunities Counselor, spoke to members about the Career & Technical Education certification programs available at BFHS.

It's quite impressive, members and guests learned, what the high school offers to our local, rural students that is giving them a leg up in the world.

BFHS is filled with tons of opportunities for high school students to pursue not only the college and continuing education track, but also certifications in engineering, agricultural education, woodworking, auto shop, the metal shop for welding and more

They also have programs in computers and technology, including the robotics class, business planning, marketing and accounting, the drafting and engineering program and more.

Students are able to build real life portfolios and gain qualified experience that puts them at a great advantage upon graduation from high school. Many classes and courses are dual credit and able to be applied toward their college credits.

Goals over the next year, they said, include establishing more internships than previous years, allowing students to "test" a vocation prior to enter schooling for that career, and to add more CTE (certification) programs, allowing students to specialize.

BFHS is having a Career Fair on February 22, and anyone interested in participating with a potential internship or career that local students might be interested in is encouraged to contact the school at (208) 267-3149 or by emailing jennifer.mackey@mail.bcsd101.com.

The Rotary Club of Bonners Ferry extends a big thank you Kevin Dinning and Jennifer Mackey!

The Rotary Club of Bonners Ferry meets every Tuesday at noon at Mugsy's Tavern & Grill, 7161 Main Street in downtown Bonners Ferry. To learn more, call (208) 290-4401 or visit their website.
Questions or comments about this article? Click here to e-mail!