A Thanksgiving run, a Thanksgiving feast
November 24, 2017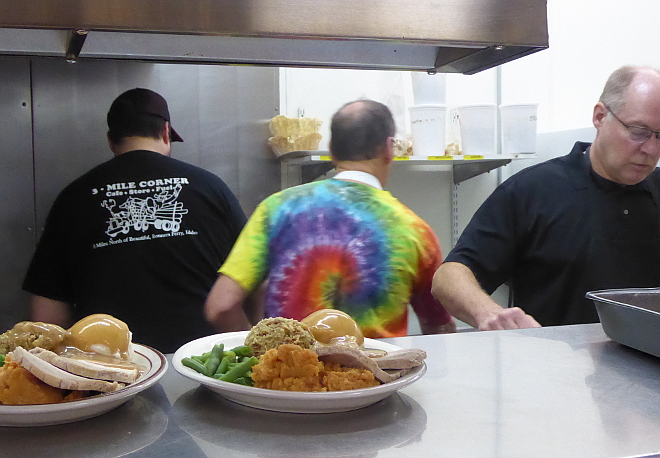 By Mike Weland

For some, Thanksgiving is a day in the kitchen, the savory and spicy smells filling the air for hours before the feast is brought to the table. For others, it's being with family and friends. For some, though, it's about serving others, and two annual Thanksgiving events, the Turkey Trot and the free Thanksgiving dinner at Three Mile Cafe, epitomize the latter.

Three mile patriarch Chuck Quillin can't remember how long Three Mile Cafe has been dishing up traditional Thanksgiving dinners since he's been owner ... he stopped keeping track after 30.

"Thirty-two maybe, 33?" he mused while orchestrating the bustle of his staff as they counted down the minutes to begin serving the already full dining room just before 10 a.m. A line of eager guests was already snaking into the store, just waiting for the tables to open, and the crew in the store were busy waiting on people getting those last-minute necessities before getting to the homes of families or friends.

Unlike many restaurant owners who open their kitchen to serve free traditional fare, Chuck doesn't limit his largesse to the needy, the lonely.

Instead, he opens his door to everyone. Rich, poor, old friends and patrons right along with new.

It's his way, he said, of celebrating the holiday, and of thanking everyone, year after year, for making his business a success. And even though it's one of the busiest days of the year, the cash register wasn't ringing and they weren't home with their own families, there wasn't a frown to be found upon the faces of any member of the crew, there for decades or just starting, as it's a tradition of service they cherish almost as much as the boss does.

Many had been there hours before they even opened the doors, making sure that everything was ready for the hundreds soon to pass through their doors. And even they were smiling through most of it!

Down in Bonners Ferry, there was a much different sort of crowd gathered at the fairgrounds, and a smaller but just as dedicated crew ensuring that all went to plan for this year's Turkey Trot, the ninth since founder Carolyn Testa came up with the idea.

Carolyn wasn't there today, having instead opted to visit sunny Florida, but she promised this year's crew, including David and Melinda Brinkman, Tyler Warner, Paul Bonnell, Mandy and Josh Young, Jessica Tingley and, no doubt, a few I've missed, that she plans to be here next year.

When Jessica woke at 4 a.m. Thursday to get ready for the day, she almost, she said, pulled the covers back over her head. An icy deluge was cascading from the heavens, it was cold and a bit blustery. Not even close to weather for a Thanksgiving day fun run.

But the thought of calling it off weighed too heavy, and by 7:30 a.m., the sun peeked through the overcast, the rain fell to a sprinkle, then quit altogether, and the day warmed unseasonably into the upper 50s, making conditions ideal for a morning run.

Tyler and Paul, who stayed out at the 5K mark handing out water to the runners, were there getting the course markers and road signs out, and then people started trickling in, some in ones and twos, some in groups, many with dogs and kids, all willing to forego a cozy morning at home to go out and run!

And there were a LOT of them! While no official count was kept, over 100 intrepid and stalwart folks from ages young to old turned out and ran -- my guess was 125 at least!

And though it was a fun run, kudos go out to Ty Merrill, who crossed the finish line way out in front, and though he won the race, he didn't win one of the three free turkeys given out; because of the turkey giving rules, the first bird went instead to third-place finisher Sam Gorton!

Ty wasn't upset, though, not by any means. He'd enjoyed a very fun run and there was even cocoa with marshmallows and whipped cream ... and pie!

We at NewsBF are grateful, and we give a very deep and warm tip-o-the-hat to all who worked today serving others, and a hearty Happy Thanksgiving to our neighbors here and all our readers worldwide!

Without further ado, here are some images captured of another grand Thanksgiving day in Boundary County.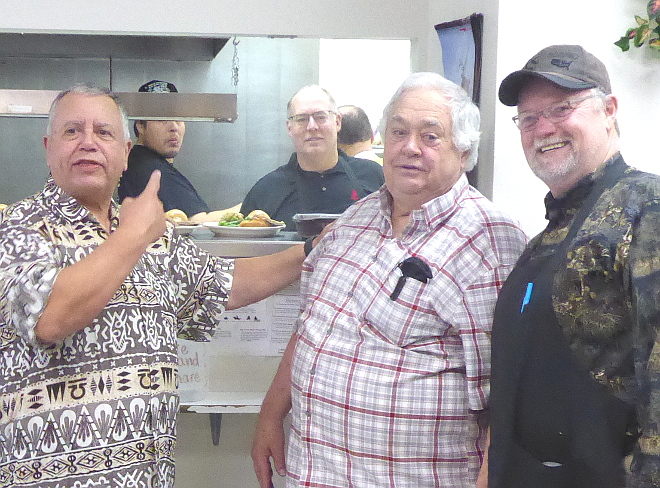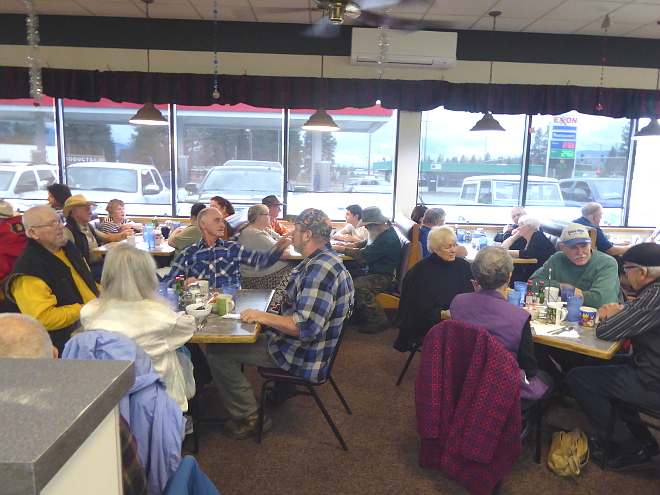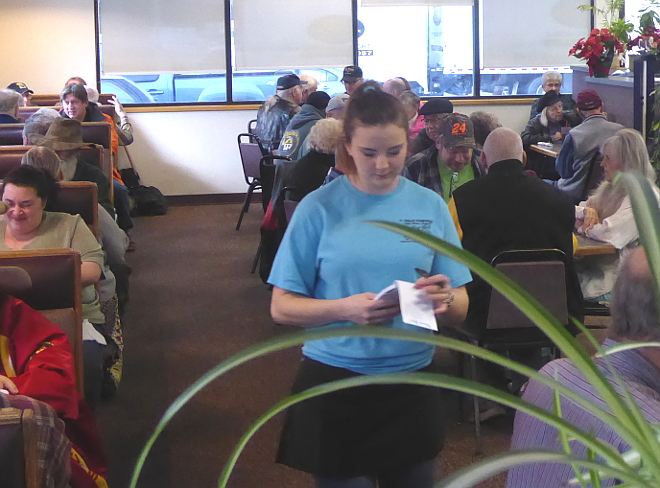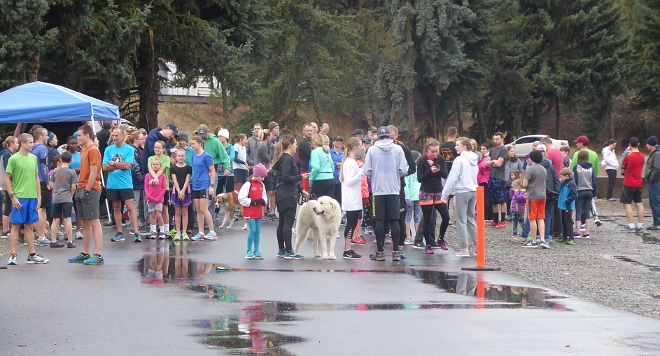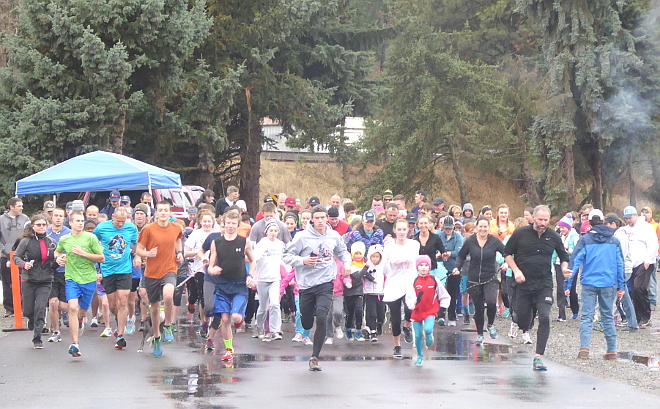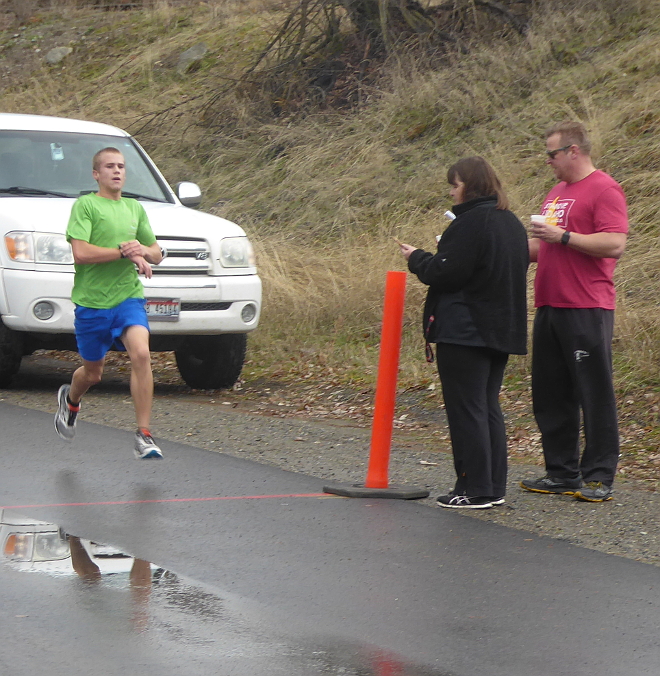 Questions or comments about this article? Click here to e-mail!