Lady Badgers open season with a win
November 17, 2017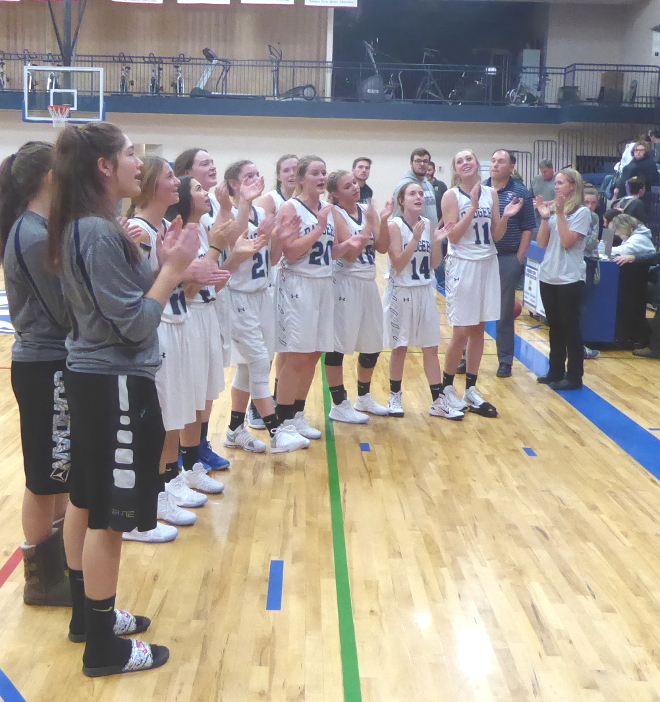 It wasn't bad, though it wasn't as pretty as it might have been, but the Bonners Ferry Lady Badgers did have reason to celebrate as they beat the St. Maries Lumberjacks in their season opener in front of a hometown crowd.
By Mike Weland

"It was fun," Badger coach Travis Hinthorn said of their season opener tonight. "We got a little wild later in the game, but we'll calm down as the season goes on."

Despite opening game rambunctiousness, the Badgers did what they set out to do, earning an opening game win over the visiting St. Maries Lumberjacks, 53-42. The JV squad did likewise, fighting to a 42-36 win in front of a happy home crowd.

Story continues below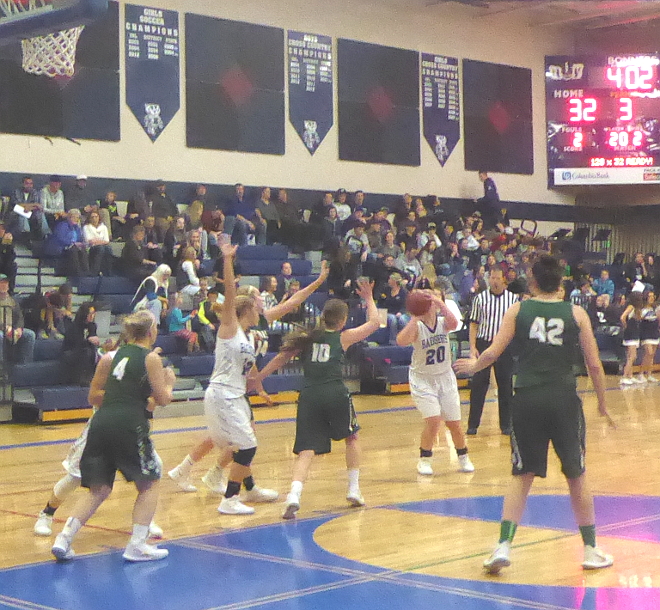 Badger Kadi Bateman, #20, had the hot hand tonight as she landed 26 points to lead all scorers in the Badger's 53-42 win.


The Lumberjacks seemed to tower over the Badgers, and the first quarter ended in a 10-10 tie, but from the second quarter on, the Badgers found their game, going to the locker room at half time ahead 25-18, and outshooting the Lady Jacks 14-12 in both the third and fourth quarters, though the Badger shooting game in the second half was a little too rushed, with several shots missed that could have fallen with just a touch more patience.

Badger senior Kadi Bateman had an outstanding game as she led all scorers with 26 points. St. Maries Madison Cordell also broke double digits to lead the Lumberjacks with 13 points.

Badger senior Miranda Wenk put in nine points, freshman Holly Ansley scored eight, Kassy Skeen put up five, Emily Blackmore four and Jerzie Pluid one to round out the Badger scoring effort.

The Badgers girls hit the road to face the Cusick, Washington, Panthers for their next outing on Thursday, December 7, with the JV squad taking the floor at 4:30 p.m., followed by the varsity team at 6 p.m. The next Badger home basketball matchup comes Tuesday, December 5, as the boys open their season hosting Wallace. The JV team kicks off at 5:30 p.m., the varsity boys take the floor at 7 p.m.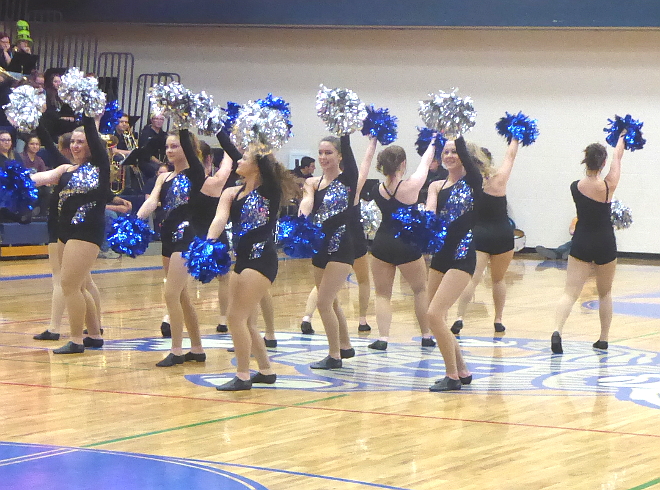 The Badger Dance Team put on a rousing halftime performance to an appreciative Badger crowd!
Questions or comments about this article? Click here to e-mail!