Outdoor Idaho explores Pioneer Mountains
November 27, 2017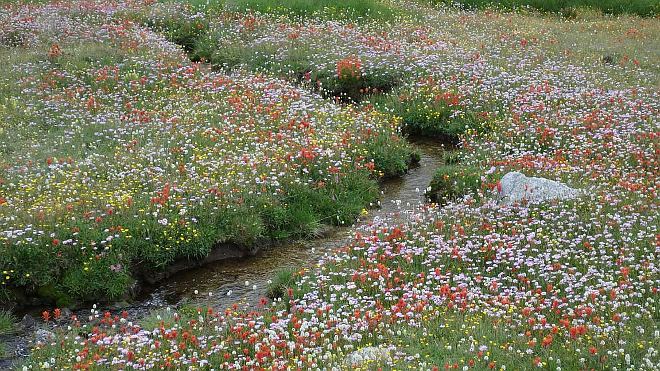 Outdoor Idaho photo by Jay Krajic
A sea of wild flowers in Surprise Valley, one of the places explored in "Into the Pioneers."
Positioned between glamorous Sun Valley and desolate Craters of the Moon, the Pioneer Mountains are, for many, just a blank spot on the map. This year the Outdoor Idaho crew set out to change that, exploring the valleys and the highest peaks throughout the seasons, and along the way interviewing ranchers and geologists, outfitters and biologists, and explorers of all kinds.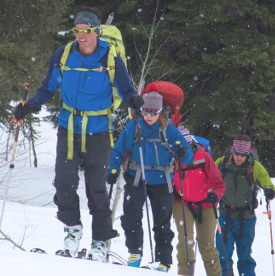 Outdoor Idaho photo by Peter Morrill

"Into the Pioneers" airs at 7 p.m. Sunday, December 3, on Idaho Public Television. It will be available for same-day streaming at video.idahoptv.org/show/outdoor-idaho.

"The Pioneers became for us a real challenge," explains host and producer Bruce Reichert. "We knew so little about this special place. But our team found people who did know. We journeyed with them in every season, and together we've created a show that should delight all Idahoans."

Geologist Paul Link has spent 30 years exploring the Pioneers. "They're the heart of Idaho to me," he says.

Ketchum resident Bob Jonas and his wife, Sarah Michael, trekked two and a half months through five mountain ranges this past summer, saving the "Pios" for last.

"They're the beacon, the siren that first got me into the high country," says Jonas.

The Pioneers are also home to sheep and cattle ranchers like John Peavey, who initiated the Trailing of the Sheep Festival. And it's where world champion cyclist Rebecca Rusch has established a bike race, through Copper Basin and the Pioneers.

This is Idaho's second highest mountain range, where climbers tackle the "black dike" on their way to the summit of Old Hyndman. It's also home to North America's fastest land mammal, the pronghorn, whose closest relative is not the antelope but the giraffe.

Into the Pioneers takes viewers through a region rich in mining history and diverse wildlife and is an hourlong special sure to inspire and intrigue.

Read more about the show at Outdoor Idaho's "Into the Pioneers" website.
Questions or comments about this article? Click here to e-mail!