If suspicious of seasonal delivery drivers, call cops
November 29, 2017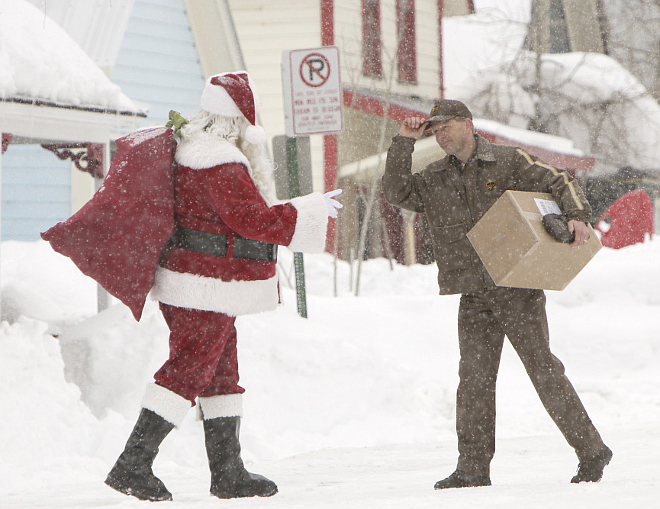 A notice going around on social media giving a Bonner County phone number to call if you see suspicious seasonal UPS, FedEx or other delivery drivers in private vehicles this holiday season isn't quite correct. According to a UPS corporate spokesman, if you see suspicious delivery drivers, no matter who they purport to be working for, call local law enforcement.

"There are so many delivery companies, calling any single one to find out if a driver is legitimate would waste precious time," said UPS Public Relations manager Matthew O'Connor from corporate headquarters in Atlanta. "If a driver doesn't look right or rouses suspicion, by all means call law enforcement."

There have been concerns raised locally that seasonal delivery drivers, specifically UPS drivers could easily be emulated by imposters seeking to case out neighborhoods to rob.

During the busy holiday season, many, if not most delivery companies and services add extra staff to make sure that all the packages get to their intended recipients in time for Christmas. Some, O'Connor said, do use their own vehicles, but, as with all UPS delivery personnel, they wear the official and distinctive brown UPS uniform and they undergo UPS training before they are sent to make a single delivery.

In addition, he said, with seasonal temporary drivers, they specifically hire people from the communities in which they'll work, as they know and are part of the community they'll serve.

"Our seasonal drivers do wear the UPS uniform, and they are hired from within the communities where they'll work," O'Connor said. "On any official UPS delivery, unless it is a package requiring signature, our driver will leave the package at the door unless otherwise specified, ring the doorbell and say 'UPS.' Then they'll scan in that package and, if there's no answer, they leave. You don't have to answer the door if you are worried or suspicious. If it's a package requiring a signature, the same thing applies, except instead of leaving your package, they will leave a notice that your signature is required and giving you pickup information."

"As e-commerce continues to grow, so does the number of packages moving through our network," said Jennifer Caccavo Cordeau, FedEx media relations. "While the use of rental vehicles is typically temporary, during the busy shipping season contracted service providers for FedEx Ground may add rental vehicles to their fleets to accommodate the increased package volume. Employees making deliveries for those service providers are expected to wear a photo ID badge."

If you are wondering and worrying about such things as the holidays draw near, another thing to think about is having important emergency telephone numbers posted prominently by all landline phone sets in your home, or in places from which those in your home are most likely to make a call if they use their cell phones.

While you might know the number to dial if there's a fire, a medical emergency, a crime being committed or some other dire situation, at the holidays, you are apt to have friends and family visiting from out of town, and it may fall to them to have to place the appropriate call for help.

Have those essential numbers posted, even the ubiquitous "9-1-1." Often in an emergency, the mind freezes, and a reminder you can't miss could make all the difference. Be sure to include the numbers to your nearest neighbors on your list as well, as an emergency might require the closest help or you may need a place to go to until the danger is over.
Questions or comments about this article? Click here to e-mail!