Thank you for your service
November 11, 2017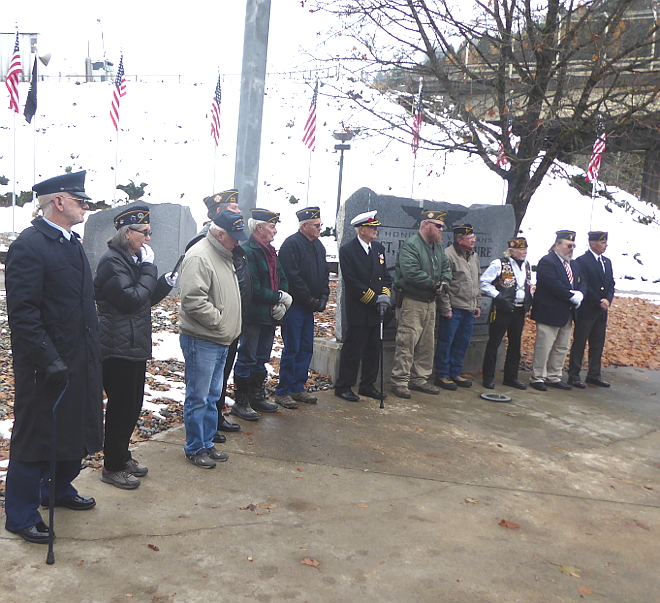 Story and photos by Mike Weland

At 11 a.m. on the 11th day of the 11th month, 99 years after the guns of World War I fell silent, a crowd gathered in Veterans Memorial Park outside the library in Bonners Ferry and remembered the honor and the sacrifice of those among us who, at one time, took an oath "that I will support and defend the Constitution of the United States against all enemies, foreign and domestic."

There was poetry, there were prayers. Tears. Grizzled old veterans and young children. There were hands clasped, eyes locked, the words "thank you for your service" exchanged. Yet the look in most veterans' eyes as they heard the words seemed to say, "thank you for letting me serve."

Margaret Piatt was there, carrying two beautiful quilts, each sewn with loving care to help keep a veteran warm. She called the name on the first quilt, and wasn't surprised not to hear an answer. The day was a little too cold for Hartley King to be out in these days.

At 102 years old, he's a bit more frail, she said, than he once was. Margaret promised to deliver it to him in person, and to gently tuck it around his shoulders.

When she read the name on the second, though, she did get an answer ... a choked gasp from veteran Wanda Tucker who, along with her husband, John, have spent so many years giving it seems they've forgotten how it feels to get. She accepted humbly, her eyes glistening with tears.

Here then, without further words, is a glimpse of some of the images captured today in Bonners Ferry, in the eleventh hour of the eleventh day of the eleventh month, the moment the guns of the Great War fell silent, 99 years ago.

Questions or comments about this article? Click here to e-mail!