Back to Archives Home
News Bonners Ferry
is dedicated to providing news and information of importance to the people of Boundary County, Idaho, when it happens, sometimes as it happens.

Our archives will stay on line as long as News Bonners Ferry does ... accessible to everyone and providing a look back at the news and information that was presented on these pages.
Obituaries
James Lyle Platts: October 28, 2017
Alicia O. Coats: May 14, 1943 ~ October 17, 2017
Lawrence H. Lee, February 8, 1927 ~ October 18, 2017
Linda Rose Dunham Brown, August 2, 1945 ~ October 17, 2017
Ivan "Bernie" Enger, October 3, 1926 ~ October 11, 2017
John Perley Dicus, October 15, 1938 ~ July 21, 2017
Allyce Irene Hansen, May 12, 1931 ~ September 29, 2017
Carl Leslie Belden, November 13, 1935 ~ September 30, 2017
Social

Colson BCSD Employee of the Month: Mrs. Julie Colson has been the librarian within the Boundary County School District for the past six years and is currently educating and supporting students at Valley View Elementary School. It was my privilege to nominate her for the honor of being named Boundary County School District 101 Classified Employee of the Month! By Principal Nathan Williams

Steinhagens win Heart Rock costume contest: Heart Rock Wines and the Crosstime Saloon enjoyed an excellent turnout at the Halloween and costume party held Saturday night, and the staff sends out a huge thanks to you all for making it so much fun!

Shawna Siver exudes Badger awesomeness: As the art teacher at Bonners Ferry High School, it was my privilege to be able to select this week's Badger Awesome Student of the Week. I have selected Miss Shawna Siver. B

y Josh Knaggs

Three from Bonners Ferry earn UI degrees: The University of Idaho awarded 235 degrees, including bachelor's, master's, doctorate, law and specialist degrees, following the summer session. Bonners Ferry graduates are ...

Cassidy Anderson is Badger Awesome! Cassidy Anderson is a junior, enrolled in the Cabinet Making and Millwork 2 class this year. I have had the privilege of teaching Cassidy since her freshman year in the wood shop classes. As her teacher I have watched her grow as an individual through her woodworking projects. By Francis Garner

BCH says thanks for ECF wing gifts: Boundary Community Hospital extends a big thank you to the Baptist Sewing Guild for stitching the beautiful quilt that was donated to the Extended Care Facility! The ECF also received a crocheted lap quilt, and the residents are truly grateful to the community for thinking of them!

Lexie Wells a Valley View role model: We just can't get enough respectful Valley View Super Star Citizens! Lexie Wells is a fifth grade student, the daughter of proud parents Scott and Bobbi Wells. In addition to being a fine student and an excellent role model, Lexie loves art, science, social studies and history. She wants to be a doctor in the military when she grows up, like someone she looks up to; her aunt Linda. We're proud of you, Lexie!

Abby Pierce another respectful student! Why, it's another Valley View Elementary student being recognized as a Super Star Citizen for Respect! This is Abby Pierce, a second grader and the daughter of Jackie and Chris Pierce, and she has a super good reason for being so respectful; she is a role model for her little brother, Gabe, who is in kindergarten, and she has a new baby sister due to arrive in just two weeks!

Dodge Jones knows respect: Dodge Jones, the son of Michael and Ruth Jones, Bonners Ferry, is a September 2017 Valley View Elementary Super Star Citizen! He's in the third grade, and already sets a positive example for others in showing respect! Way to go, Dodge!

Piper Banning a Valley View Super Star! Piper Banning, the daughter of Jesse and Katie Banning, Bonners Ferry, surprised her parents when she came home from Valley View Elementary today, where her million dollar smile lights up her whole fourth grade classroom, having won a September 2017 Super Star Citizen Award for Respect for being considerate of others and for treating others the way she'd like to be treated. Way to go, Piper!
Valley View PTO notes: Please take a moment to congratulate Missy Nelson and Katty Rozok. Missy was elected Valley View Parent Teacher Organization president today and Katty is vice president! Congrats, ladies, and thanks for stepping up!

Welcome, Kynzee Jo! Kynzee Jo Cornett was born at 6:25 p.m. Thursday, September 14, at Bonner General Hospital, Sandpoint, to James Cornett Jr. and Kourtney Wells, Bonners Ferry. She weighed 6.3 pounds and was 18.5 inches long.

Naples says goodbye to Linda, hello to Angela: Naples Elementary staff and students said their tough goodbyes to Linda Lee Holloway, who retired September 28 after 21 years as the Naples school secretary, and now they invite everyone in the community to join them in welcoming their new school secretary, Angela Lucas!

Schnittlinger's welcome Carson Charles: Carson Charles Schnittlinger was born at Bonner General Hospital, Sandpoint, at 9:54 p.m. Monday, September 25, to DeeAnna and Dillon Schnittlinger, Bonners Ferry. He weighed seven pounds, 13.8 ounces and 20 inches long.

Bateman is BCSD Classified Employee of the Month: Cal David Bateman was hired as Business Manager of Boundary County School District #101 on February 1, 2017, and he has not come up for a breath yet! I am pleased to announce that he has been selected as BCSD 101's September Classified Employee of the Month. By Superintendent Gary Pfleuger

Welcome, Layla Rose! Layla Rose White was born at Cabinet Peaks Medical Center, Libby, at 4:49 p.m. October 1, 2017, to proud parents Peter White and Sarah Henslee. She weighed six pounds, 12.6 ounces and was 19 inches long.
Sports
BF Wrestling Club meet results at Kellogg: Kellogg Folkstyle Tournament NIWL Results for Bonners Ferry
Badgers end strong cross country season: In the Idaho State 3A cross country championships today in Eagle, Idaho, the Badger girls finished in eighth place overall and the boys were 10th. The Badger girls were led by Jordan Young, who ran a 20:24 and was 12th overall.

Badger competing in district, state swim meets: Badger Julia Cummings, the first and only swimmer to date for Bonners Ferry High School, is competing today in the District Swim Meet at the Kroc Center in Coeur d'Alene. On Thursday, she travels with Sandpoint High School to Boise to compete in the Idaho State Meet.
~ Great Badger volleyball season ends ~
The Badger volleyball season ended with a grudge match against bitter Intermountain League rival Timberlake. The Badgers fell in five sets, 3-2. Until next year, Go Badgers!
~ Badgers fall to Sugar-Salem ~
The Lady Badgers fought hard but fell to last year's champions, Sugar-Salem, 3-0 at the Idaho 3A State Volleyball tournament. At 6 p.m. the Lady Badgers face a familiar foe in a loser out game: Timberlake.
~ Badgers start volleyball tourney with win ~
The Badger volleyball team defeated Snake River 25-23, 25-18, 25-27, 25-14 to win their opening game October 27 at the Idaho State 3A Volleyball tournament. They next face defending state champion Sugar-Salem at 4 p.m. GO, BADGERS!

Badgers boys finish fourth at state! We've just received word that the Badger boys soccer team took fourth at state after a double overtime and a penalty kick shootout! They fell to Weiser 4-3. Weiser goes on to play Bliss at 1 p.m. The Badgers finished first in the consolation round.

Bonners Ferry man shows star quality in pro debut: Even though the Kelowna Rockets fell to the Portland Winterhawks, a young Bonners Ferry athlete, getting his first start on the ice, opened his career showing potential to be a star in the world of hockey. According to Kelowna Daily Courier reporter Glen Erickson, goalie James Porter, 17, played a solid 20 minutes Friday night on the home ice, stopping all 13 shots fired by Portland.
Badgers win IML championship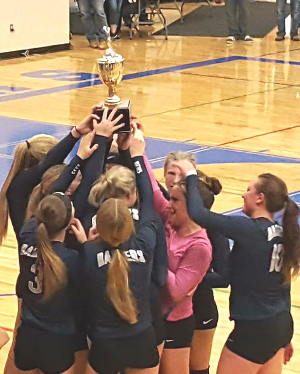 The Bonners Ferry Badgers, after a single league loss to Timberlake during the regular season, defeated the Tigers tonight at home to win the Intermountain League Championship, 25-12! More good news? The Idaho State 3A Volleyball Championship, coming up October 27-28, are in Coeur d'Alene at Lake City High School this year, close enough for everybody to form a massive Badger cheering section to convoy down! To get your tickets, visit https://gofan.co/app/school/IDHSAA.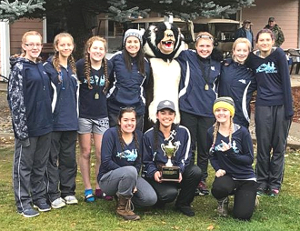 Badger harriers going to state: Badger cross country runner Jordan Young, the senior just to the right of Buddy Badger in the above photo, broke 20 minutes in the 5,000 meter course to win the girls Intermountain League District Championship at Pinehurst today, leading the team to a second place finish, and the Badger boys finished the district meet with a third place effort, meaning both teams will compete at the 2017 State Cross Country Meet on Saturday, October 28 in Eagle.
When you need to reach Fish & Game: With many of Idaho's hunting seasons in progress, the Idaho Fish and Game reminds people who spend time outdoors that there are several ways to contact a Fish and Game officer on weekends or outside regular business hours.

BCMS harriers in top form for districts: The Boundary County Middle School cross country teams had a great day Thursday when the traveled to Kellogg and the boys came home with a first place finish and the girls with a second! And to make it even better, their Kellogg hosts reciprocated what started early this season in Bonners Ferry and may become a tradition in North Idaho, if not beyond -- they provided the visiting teams with cookies as they boarded the buses to go home!
Badgers first in IML, hosting volleyball districts: Badger volleyball coach Kendra Maas announced today that the Bonners Ferry Badgers finished the regular season in first place in the Intermountain League, and will host the second round of district on Tuesday, October 17!
Lady Badgers end season with win: The Lady Badgers volleyball team finished their regular season tonight with a win at Kellogg, 28-18, 25-8, 25-14, ending their season with a 7-1 league record.

BF Wrestling Club hosting tourney: The Bonners Ferry Wrestling Club is hosting the Kids Folkstyle Tournament from 7 a.m. to 3 p.m. Saturday, October 21, in the Bonners Ferry High School gym, 6485 Tamarack Lane. Athletes from the North Idaho League and competitors in the USA Kids Folkstyle Tournament will take part.
Thanks, Badger seniors, for an awesome regular season ...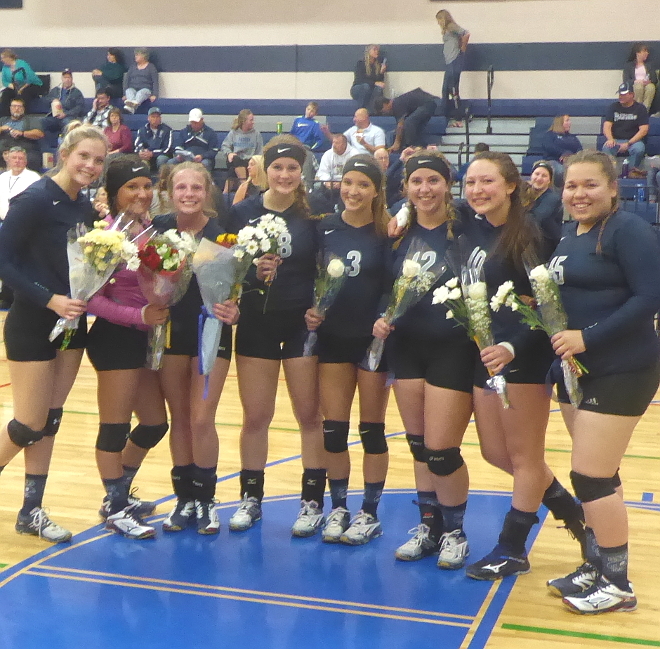 Badger seniors play final home game: The Bonners Ferry Badger varsity volleyball team played their final home match of the season Tuesday night, and for the first time this season, fell in league play to the Timberlake Tigers, 3-1, as both teams vie for the top spot in league standings with one game apiece left in their regular seasons. For the Badger seniors, who were honored before the start of the varsity game, it wasn't the way they wanted fans to remember what so far has been an awesome season.
Once extinct, Idaho coho are back and season opening: The Idaho Fish and Game commissioners on October 2 set a fishing season for coho salmon, which will run October 17 through November 16, or until further notice. Fishing will be open on sections of the Clearwater, South Fork of the Clearwater and North Fork of the Clearwater.
Lady Badgers look to finish strong season on top: The Badger varsity volleyball team is undefeated in the Intermountain League, 6-0 and 9-1 in match play overall, with two league games remaining. BFHS volleyball Senior Night is Tuesday, October 10, when the Badgers face the two-time defending Intermountain League Champion Timberlake Tigers.

IDFG considering opening steelhead harvest season: The Idaho Fish and Game Commission on October 2 postponed a decision on a staff proposal to reopen hatchery steelhead harvest with reduced bag limits in order to gather public comment. The commission plans to vote on October 13, and Fish and Game will take comment on the proposals through October 10.
Letters
U.S. Congressman Raul Labrador: I watched with growing frustration during the Obama Administration as environmentalists used sage grouse as a tool to shut down livestock grazing, energy development and other multiple uses of our federal lands. But I have some good news from the Trump Administration.
Mike Ashby: Since I do not live within the city limits of Bonners Ferry, my endorsement of Ken Toline for the Bonners Ferry City Council is more from a personal nature rather than a political one. I would simply like to inform the good folk who will be voting in the November 7 city election what I know of Mr. Toline, both professionally and personally.
U.S. Senator Mike Crapo: This column is the third in a series of columns to discuss the need for comprehensive tax reform, rather than solely debating traditional rate cuts, review many of the tax reform proposals and ideas put forward from across the political spectrum, consider how reforms are estimated and reflect on the potential effects of the reforms being considered.
U.S. Congressman Raul Labrador: President Reagan used to say, "America is great because America is good; and if she ever ceases to be good, she will cease to be great." In the last month, we have seen both the goodness and greatness of America in the face of tragedy.
Valley View PTO: The Valley View Parent Teacher Organization would like to thank everyone who came out to support our book fair this past week. You helped make it a huge success!
Rosanne Smith: Being an informed and aware citizen is a powerful tool and the recent article concerning local law enforcement efforts was both informative and useful.
U.S. Congressman Raul Labrador: As most of you know, I was born in Puerto Rico and lived there until I was 13. After that, my mom and I moved to Las Vegas, where we lived for the next four years. While I've spent my adult life in Idaho and raised my family here, I will always have strong connections to Puerto Rico and Las Vegas.
U.S. Senator Mike Crapo: I recently wrote about the need for comprehensive tax reform to lower the burden on all Americans and make the tax code fairer, flatter and simpler. This column is meant to be the second in a series of columns to delve into the need for comprehensive reform.
Kirk Dixon: I want to thank Dave Kramer for his symposium for neighborhood watch. It's a really good idea. I'd like to mention that we as citizens should never forget our second amendment rights.
U.S. Congressman Raul Labrador: I wanted to share some great news with you: On Tuesday, I voted for, and the House passed, H.R. 36, the Pain-Capable Unborn Child Protection Act. This bill prohibits abortions 20 weeks after conception because of the substantial evidence that unborn babies at this stage can and do feel pain.
U.S. Senator Mike Crapo: Serious work on federal tax reform is encouraging, as the best way to strengthen families, support small business growth and job creation and boost our national economy is to enact pro-growth comprehensive tax reform. The tax code is weighing us down and in need of comprehensive reform to lower the burden on all Americans and make the tax code fairer, flatter and simpler.

Home
News
Sports
Social
Obituaries
Events
Letters
Boundary County Archives ~ October, 2017
News
October 31
Earlier snow than expected likely: The National Weather Service has issued a winter weather advisory for snow in Boundary and Bonner Counties earlier than expected; the winter weather watch issued this morning remains in effect but the new advisory predicts that one to three inches of snow will fall between 8 a.m. and 1 p.m. Wednesday, November 1.

Disturbing the peace charge after hail of bullets: A man identified by neighbors as a retired law enforcement officer is facing a single misdemeanor charge of disturbing the peace after several neighbors in the Frontier Village Subdivision reported him spraying rounds from an automatic firearm Sunday night, with bullets reportedly hitting the homes and property of at least three of them.
Winter weather watch issued for snow: The National Weather Service in Spokane has issued a winter storm watch is in effect from late Wednesday night through Friday morning for far north Idaho, including Boundary and Bonner Counties, and northeast Washington.
Election November 7, 2017: The November 7, 2017, election in Boundary County will decide two city council members in Bonners Ferry and the mayor and two city council members in Moyie Springs. You must be a resident of each respective city qualified to vote to participate. Polls will be open from 8 a.m. to 8 p.m. at the Fairgrounds Memorial Hall for Bonners Ferry voters and at Moyie Springs City Hall for Moyie Springs voters.
'Add the Words' to be shown: The Boundary County Human Rights Task Force will be showing the documentary, "Add the Words," at 4 p.m. Saturday, November 11, at Trinity Lutheran Church, 6784 Cody Street, Bonners Ferry.

Capitol Christmas Tree hails from Kootenai National Forest: The Christmas tree that will soon light up the West Lawn of the U.S. Capitol this Christmas season comes from Lincoln County and the beautiful Three Rivers Ranger District, Troy, Montana.
4-H coordinator needed: Boundary County is looking for a new County 4-H Program Coordinator. The position is 40 hours per week with county benefits.

Yates gets support from former VP: Former Idaho GOP Chairman and Lieutenant Governor candidate Steve Yates announced today the endorsement of former Vice President Dick Cheney. Yates is running for Idaho Lieutenant Governor in 2018 to put his conservative principles into action.

Halloween is a cross-quarter day: Halloween – short for All Hallows' Eve – is an astronomical holiday. Sure, it's the modern-day descendant from Samhain, a sacred festival of the ancient Celts and Druids in the British Isles. But it's also a cross-quarter day, which is probably why Samhain occurred when it did.
Court dispositions and sheriff's log
October 30
~ More controlled burns underway ~
The Forest Service will be burning slash piles in the Hall, Harvey and Wall Mountain areas through this week.
Grant to fix city pool approved: The City of Bonners Ferry announced today that the Idaho Community Development Block Grant application to reconstruct the City pool facilities was approved!
October 28

Having fun at Naples Elementary: Is October really over already? As the old cliché goes, "Time flies when you're having fun!" It doesn't feel more accurate than it does right now. The first couple months of school have been amazing! I have been learning so much about the students, their families, the staff and the Naples community. By Naples Principal Robin Merrifield
USFWS reviews sturgeon, bull trout recovery efforts: Since white sturgeon in Montana's Kootenai River was listed as endangered in 1994, the U.S. Fish and Wildlife Service has completed several iterations of biological opinions and critical habitat designations for the freshwater fish.

Which the raven, which the crow? There's something about crows and ravens that seems almost spooky, making them the unofficial mascots of Halloween. Flocks of them aren't called an "unkindness of ravens" or a "murder of crows" for nothing. But not all black birds are the same. Can you tell the difference between ravens and crows?
Idaho's U.S. attorney nets over $7.1-million: United States Attorney Bart M. Davis, District of Idaho, announced Friday that his office's Financial Litigation Unit collected more than $4.95 million in criminal restitution, fines and assessments and in civil debts for the fiscal year that ended September 30, 2017.
Blondes and blonds, smiling happily all the way to the bank: I don't know much more about blonds than anyone else does, and most of what I know came from movies and jokes. Like many other folks, I have at times considered them to be of sub-par intelligence. Musings from Moyieboy, by Ken Carpenter
~ Get ready to fall back ~
Sunday, November 5, marks the end of Daylight Saving Time — a twice-a-year occurrence that we, Americans, collectively partake in, changing our clocks forward an hour in the spring and back an hour in the fall. To remember, think "springing forward" and "falling back." The change on November 5 this year will occur at 2 a.m.
October 27
November expected to come in with a snowy brrr: Enjoy the balmy autumn weather that's expected to take us through Hallowe'en -- temperatures are expected to dip down November 1 and hearing that nasty four-letter winter word is likely for the first four days of the month.
Spokane weather radar to get upgrade: The weather radar used by the National Weather Service Forecast Office in Spokane, which provides coverage to an area including Boundary County, will be down for approximately five days beginning October 30 for technicians to install an important technological upgrade.

Garshak selected to lead Idaho's military: Governor C.L. "Butch" Otter announced today his selection of Colonel Michael J. Garshak to serve as Idaho's next adjutant general. This appointment will take effect November 1.
October 26
BCSO offering winter driving classes: The Boundary County Sheriff's Office will be hosting a couple of winter driving courses for the public in early November. The purpose of the class is to provide some basic tips and instructions to help inexperienced winter drivers get around safely this winter.
Forest Service fire hire window opening: The U.S. Forest Service Northern Region is looking for a committed, hard working, highly skilled workforce to suppress wildfires and work in fuels management on 11 National Forests in Idaho, North Dakota and Montana.
Lewis-Clark State College to celebrate 125th birthday: In celebration of its 125th anniversary, Lewis-Clark State College will hold a number of commemorative events in 2018 during a yearlong celebration of the college's past, present, and future.
State-wide climate summit coming in November: A first-of-its kind statewide summit November 16-17 will bring together Idahoans for an interactive two-day conversation, "Safeguarding Idaho's Economy in a Changing Climate - Our Water, Our Land, Our Health, Our Future."
Moyie Spring City Council Minutes, September 6
Boundary County Commission Minutes, September 25
October 25

Retired firefighter fighting biggest battle: George Gemind retired four years ago after a near 30-year career as a fireman with the City of Glendale, California. He has spent his entire life serving his community. After he retired, he and his bride of 32 years moved to Bonners Ferry. A few weeks ago, he learned he has Stage 4 lung cancer.
October 24

Court documents: Punches caused child's pancreas to explode: According to court documents and a release issued by the sheriff's office, a 34-year-old Bonners Ferry man in jail on aggravated battery, theft and drug charges, is suspected of punching a four year old boy, identified only as "J.C.," twice in the stomach, causing the child's pancreas to explode.

Holy Chiroptera, Batman, it's Bat Week! Don't expect a spotlight in the sky over Gotham City, but do expect furry, flying critters to get their due respect October 24 to 31 as it's proclaimed National Bat Week in Idaho by proclamation of Governor Butch Otter.
Indy bound ...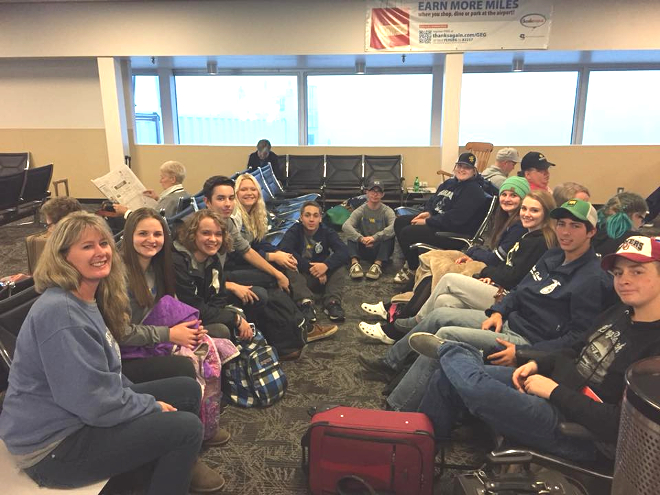 It was an early morning today for Mrs. Julie Smith and members of her Bonners Ferry FFA Chapter, who had to be at the Spokane Airport bright and early as they set out for Indianapolis and this year's National FFA Convention! Here's wishing each of you a memorable time and the chance to shine!
A primer on railroad horns and quiet zones: Have you ever wondered why, especially if you live near a crossing, railroad engineers on approaching trains seem to relish laying on the horn? "The train whistle, or horn, is an important part of our safety practices," Burlington Northern Sante Fe personnel wrote in the October edition of the BNSF Inside Track.
Court dispositions and sheriff's log
October 23
ITD seeks comment on Bonners Ferry project: The Idaho Transportation Department invites the public to comment on the US-95, Alderson Lane to Kootenai River/RR Bridge, Bonners Ferry project. Comments are due by November 3. Comments added

Man allegedly beat four-year-old: On October 19, Boundary County sheriff's detectives and Bonners Ferry Police arrested Kyle Fuller, 34, on a charge of aggravated battery. Fuller allegedly beat a four year old boy, who required significant medical treatment for his injuries.
A week at the Restorium: Let me say right off that on any given day at the Restorium, you will find enough activity and activities to assure you that this place is "hummin'." Every morning there's an exercise program aimed at our residents staying as fit as possible. Restorium Ramblings by Beatrice
ISP Road Safe Class offered for onset of winter: The Idaho State Police will be holding a Road Safe Class for the 2017/2018 winter driving season from 9 a.m. to noon Saturday, November 11.

City council candidate Ken Toline a patriot, servant: Though his name is on the ballot for the November 7 election in the only contested race in the Bonners Ferry City Council election, Ken Toline is not a politician. He professes no political party affiliation. He is not, he confesses, a "local." He is, he said, a patriot, a servant.

Valley View blessed with great people: At Valley View Elementary School, we are thankful for such wonderful students, teachers and staff who go above and beyond daily for each other. Our school is an amazing place due to the people in it and we are also very fortunate to live and work in Bonners Ferry. By Principal Nathan Williams
The curse of the beady eye: Many people have told me that I may be the slowest human alive. It seems like a huge exaggeration to me, as I just believe in conserving energy. Musings from Moyieboy, by Ken Carpenter
October 20

The Lake: "The Lake." It's a term many of us are familiar with from our childhood. Growing up in Bonners Ferry in the 50s and 60s meant that during the summer, you and your family were going to be spending time at "The Lake." Never mind which lake it was, if someone said "We're going to 'The Lake,'" everyone in the family knew which lake they were referring to. Life in North Idaho, by Mike Ashby
October 19
ISP seeking leads on fatal I-90 bicycle collision: Idaho State Police Troopers are continuing to investigate the fatal vehicle versus bicycle collision which occurred at approximately 9:55 p.m. Tuesday, October 17, on I-90 near milepost 15.5, in the eastern city limits of Coeur d'Alene.
It's National Forest Products Week: Trees provide more than 5,000 products that people use every day. From toilet paper to toothpaste to tires, tree-based chemicals and other wood by-products are all around us. It is National Forest Products Week, a time to recognize the many products and benefits that come from forests.
October 18
College-bound Badgers, mark your calendars: Any students interested in taking dual credit courses so as to earn college credits while still in high school, saving big tuition dollars at the same time, need to meet with counselor Bonners Ferry High School advanced opportunities counselor Jennifer Mackey soon! And students with an eye toward college might want to mark down a couple of impending dates as well.
BCH shines through accreditation process: Boundary Community Hospital has successfully completed the accreditation process from DNV GL - Healthcare. By earning reaccreditation as a Critical Access Hospital, Boundary Community Hospital (BCH) has demonstrated that it meets or exceeds patient safety standards established by the U.S. Centers for Medicare and Medicaid Services.
Court dispositions and sheriff's log
October 17
A lot going on tonight at BFHS, help needed: There are a few different things happening at the high school tonight, but BFHS Principal Kevin Dinning is asking your help to make it go as smoothly as it can.
Capital for a Day coming to Ponderay: Governor C.L. "Butch" Otter announced last week that the Bonner County community of Ponderay will host the next Capital for a Day on Thursday, October 19.
Paradise Valley FD holding auction: The Paradise Valley Fire District is selling surplus equipment by sealed bid auction. The equipment listed below will be displayed at the Paradise Valley Fire District's station located at 4375 Cow Creek Road from Monday, October 23, through Monday, November 13.
October 16
Wind advisory issued for Tuesday: The National Weather Service has issued a wind advisory for North Idaho and northeast Washington in effect from 1 to 8 p.m. Tuesday. Southwest winds of 20 to 30 miles an hour are expected, with gusts of up to 50 miles per hour.

School in full action at BCMS! School is already 1/8th of the way done? Hard to believe time can go so fast, but when you are really busy, I guess it is hard to see time go by. BCMS is as active as always while students and staff participate in a myriad of events. By Principal David Miles II
October 15

Valerie Thompson wants to give back: Valerie Thompson freely admits, when she first begins to talk of her decision to run for Bonners Ferry City Council, that she originally felt way out of her comfort zone with "the whole political thing." But in a short time listening to her talk about it, you recognize without doubt that her motives are pure, and deep rooted.

Ahlquist makes good showing to small crowd: As a three-way Idaho Republican gubernatorial primary election May 15, 2018, heats up, the only candidate who has never before run for political office became the first candidate to pay a visit to Bonners Ferry earlier this month, and while the crowd at the Bonners Ferry Visitors Center was small, Dr. Tommy Ahlquist was able to present his blueprint "for an even better Idaho" as he adroitly adroitly fielded a wide-ranging barrage of questions.
Idaho students invited to submit holiday cards: The Idaho State Department of Education is now accepting Holiday Card Contest submissions from Idaho students in grades K-6.
October 14

Hannah Sims wins Idaho DYW scholastic award: On October 7, Rachel Forest of Pocatello was named Idaho Distinguished Young Woman and awarded $7,100 in cash scholarships during the Idaho Distinguished Young Women scholarship program at the Civic Auditorium in Idaho Falls. Hannah Sims, Bonners Ferry, was one of five scholastic award winners.
Book fair coming to Valley View: The Valley View Book Fair takes place from 7:45 a.m. to 4 p.m. Tuesday and Wednesday, October 17-18, and from 7:45 a.m. to 6:30 p.m. Thursday, October 19, with family night going on from 4:30 to 6:30 p.m.
An old tried and true phone scam being tried again: There's is apparently an old scam rearing its ugly head once again as the unscrupulous are tired of working at all and are trying dusty old ways to separate you from your money.
October 13

At long last, our colors fly over sheriff's office: It was a dull, gray day in Bonners Ferry, and a Friday the 13th at that, but neither the cold of fall or the omen of the date could stop a good crowd from turning out at 11 a.m. to watch as the American flag, with great ceremony, was hoisted over the Boundary County Sheriff's Office. A News Bonners Ferry pictorial

Cheyenne's 4-H tom turkey stolen: Update: Though injured, Tom Sebastian was dropped off in the dark wee hours of night and Cheyenne is already working in hopes of helping him recover. This is Tom Sebastian, a Narragansett tom turkey being loved and raised by Cheyenne Cada as her 4-H project. At around 7 a.m. today, Cheyenne's mom, Liz, heard their turkey hen raising a fuss outside their home on Comanche Street in Bonners Ferry, and later went out to find Tom Sebastian gone.
October 12

The end of a Christmas concert era approaches: The Bonners Ferry Community Choir will begin rehearsals for this year's Christmas concert next week, and all singers, high school age through senior citizens, are welcome. No auditions are required, but it's going to be a special year for singers, though tinged with sadness as two women who've been the choir's heart and soul for 40 years both step down.
Winter weather expected at pass elevations: The National Weather Service has issued a winter weather advisory in effect from 5 p.m. today through 11 a.m. Friday for snow across the higher elevations, including passes, in North Idaho and northeast Washington.
October 11

USMC birthday party November 10: The United States Marine Corps birthday celebration in Boundary County will be at the Kootenai River Inn on Friday, November 10. Social hour starts at 5 p.m. and the program and dinner will start at 6 p.m. The cost is $25 per person.

Fatal crash shuts down Highway 95: Emergency crews responded to a report of a fatal single-vehicle rollover on the North Hill on Highway 95 just north of the Kootenai River Bridge this afternoon, a crash that closed the highway for nearly three hours. The crash was reported at about 2:45 p.m., and Highway 95 was closed shortly after deputies arrived on scene. John A. Crump, 49, Bonners Ferry, was pronounced dead at the scene.

Fioravanti to speak at Patriot Academy fundraiser: Mary Fioravanti, who graduated Bonners Ferry High School in May and now attends North Idaho College, took part in the Northwest Patriot Academy elite leadership training program in Boise last summer, and she is so thrilled by the experience she wants to invite everyone to learn more!

Symposium to kick off neighborhood watch program: The Boundary County Sheriff's Office is sponsoring "A Night Out Against Crime: A Symposium on Safety" which will be held from 3 to 7 p.m. Thursday, October 26, at the former Bonners Ferry National Guard Armory across the highway from the Boundary County Middle School.

Andy Sydow coming back by popular demand: Up-and-coming Colorado rocker Andy Sydow returns to The Pearl Theater at 7 p.m. Saturday, October 21. His performance impressed the local audience so much last year they requested his return for another show! This time Pearl Theater Open Mic favorites Paul Bonnell and Friends will open.
Students invited to envision Planning My Future: Students in public schools throughout Idaho have the opportunity to visualize their college or career goals this fall through the State Department of Education's annual Planning My Future art contest.
Court dispositions and sheriff's log
October 10
~ Sheriff's Office Flag Raising and Dedication ~
Everyone is cordially invited to the Boundary County Sheriff's Office Flag Raising and Dedication Ceremony at 11 a.m. Friday, October 13, at the Boundary County Sheriff's Office, 6438 Kootenai Street, Bonners Ferry. After wondering why the sheriff's office didn't have its own flag pole, Sheriff Dave Kramer asked the Idaho Forest Group, owners of the Bonners Ferry mill property, if they might donate one of the old mill flagpoles. Instead, they donated a beautiful new one, installed this week. Please join as the Sheriff's Office raises its first flag.
~ Outdoor burn season begins soon ~
Beginning Saturday, October 21, Boundary County and Moyie Springs residents are free to burn yard waste outdoors without an Idaho Department of Lands burn permit.
October 9

Don't let election 2018 make you overlook November 7: There's an election coming up November 7, but the ads you're seeing on television and in the daily papers aren't for this year, they're for next year's mid-term election cycle. In this year's final election, on November 7, only residents of the Cities of Bonners Ferry and Moyie Springs will be going to the polls in Boundary County, but it's the most important of elections as we vote in city officers.
Little Boy Pink just doesn't sound right: My favorite color has always been blue, and since blue is the most popular of all colors that would make me just another run-of-the-mill color dude. I am not partial to any particular shade of blue, I seem to like all of the dozens of tints. Musings from Moyieboy, by Ken Carpenter
October 8

Just in case: The primary source of meat in the Ashby home in the 1950s and 60s was that which my dad would hunt and fish for. That included, but was not limited to, venison, duck, geese and, of course, fish. He was a consummate hunter, killing or catching every known species that lived or swam in Boundary County. Life in North Idaho, by Mike Ashby
October 7
Rain, snow and cool outlook in the days ahead: Rain is in the forecast for Saturday, but it's coming hand-in-hand with cooler temperatures, with the snow level dropping to 5,500 feet and more gusty winds.
October 6
Early morning crash claims 23 year old: The Idaho State Police responded to a single-vehicle crash at about 2 a.m. today in Coeur d'Alene that claimed the life of a Coeur d'Alene man.

Asteroid to sweep close to Earth October 11-12: The Center for Near Earth Object Studies (CNEOS) at NASA's Jet Propulsion Laboratory in Pasadena, California, and other astronomers and observatories around the globe have had their eye on a small asteroid, designated 2012 TC4. It'll pass close to Earth on October 11-12.
Big job fair in Post Falls Wednesday: The Fall Job Fair organized by the Idaho Department of Labor will have more than 50 employers ready to fill nearly 1,500 positions. The event will be held from 10 a.m. to 2 p.m. Wednesday, October 11, at Real Life Ministries, N1866 Cecil Road, Post Falls.
Gowen Field air show returns: The Idaho National Guard is proud to present Gowen Field's first open house and airshow in more than 20 years: Gowen Thunder 2017, which runs from 8:30 a.m. to 4:30 p.m. Saturday and Sunday, October 14 and 15. The event is open to the public and general admission is free.
October 5

It's been a great first month at Naples Elementary: The first month of school at Naples Elementary has been nothing short of exciting! The Naples staff and students are launching in to October with the same level of enthusiasm for what is in store. This year is going to be one of discovery and adventure for all of us. As many may know, this is my first year as principal at Naples. By principal Robin Merrifield

September flew by at Mt. Hall Elementary: September came and went in a blink of an eye, and what a productive month it was! Our students did a fantastic job falling back into the school routine. A big piece to our successful start up is the dedicated staff at Mt. Hall. A lot of the teachers spent the majority of their summer either at the school or working on curriculum. By Principal Lisa Iverson

Ronniger's offering veggies for harvest help: Ronniger's Farm will be harvesting potatoes harvest in their field near Three Mile on Monday, October 9, and will trade winter vegetables to anyone who wants to come out and help! For every hour you help, you'll get $10 worth of your choice of vegetables, including carrots, beets, garlic, onions, squash and more ... yes, even potatoes!
Comment sought on Boulder Creek restoration: Idaho Panhandle National Forest officials are seeking public comment on the Boulder Creek Restoration Project (BCRP) located on the Bonners Ferry Ranger District. The public comment period is open for 30 days and comments will be accepted through November 6.
Crosstime hosting another Paint One On! The Crosstime Saloon and Heart Rock Wines, are gearing up for their next "Paint One On!" class, and Lillian is open to your ideas and suggestions and would love to hear you feedback regarding potential subject matter.
County Commission Minutes, September 11
October 4
Fine day for a walk!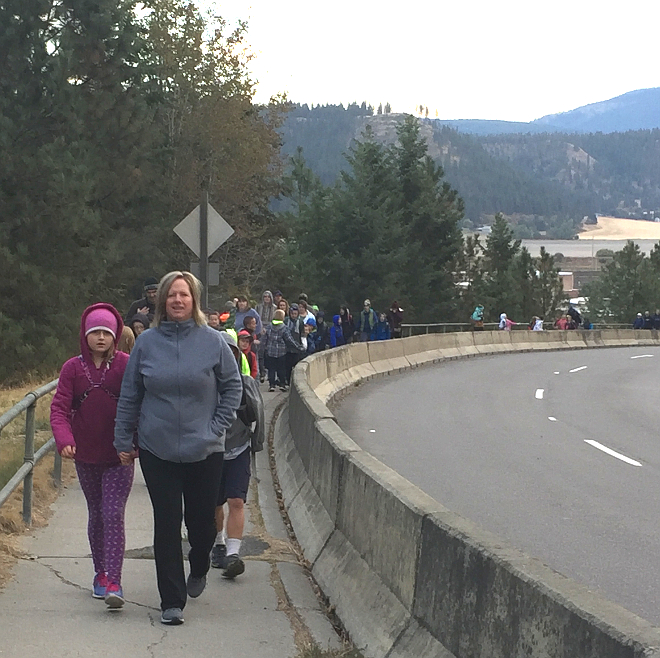 Valley View Elementary students, teachers and friends donned their warm clothes this morning and took part in their annual Walk to School Day, picking a fine, crisp morning to walk up the South Hill and on to school!
Kootenay Lake Board to meet in Nelson: The International Kootenay Lake Board of Control will hold a public meeting October 19 in Nelson, British Columbia.

Pass it Along performing at Trinity Lutheran: "Pass it Along," a gala evening celebrating music and music makers of all generations, will be held Friday, October 13, at Trinity Lutheran Church, 6784 Cody Street, Bonners Ferry. A silent auction begins at 6:30 p.m. with live music by the Creston B.C. Community Band. The concert begins at 7 p.m.
Ministerial Association starting monthly worship: The Ministerial Association is beginning monthly community worship services in the Bonners Ferry High School Auditorium, and these will be a bit different than those in the past.
Court dispositions and sheriff's log
October 3
School district winter closure notices: With the winter months at hand, Boundary County School District No. 101 wants to inform patrons that school closures due to weather/road conditions will be announced on the following news outlets ...
Flu claims first North Idaho victim: Panhandle Health District (PHD) reported Idaho's first influenza-related death for the 2017-2018 flu season. A north Idaho man over the age of 50 died due to complications from an influenza infection. This could be an indication of an early flu season.

Gubernatorial candidate to visit Bonners Ferry: Republican Gubernatorial candidate Dr. Tommy Ahlquist will host nine "44 Counties in 44 Days Tour" events in North Idaho this week starting at noon Thursday. He'll visit Bonners Ferry at 3:30 p.m. Saturday, October 7, at the Bonner's Ferry Visitors Center, and everyone is welcome.
Deadline near for NRCS cost share apps: The Natural Resources Conservation Service (NRCS) provides no-cost natural resources consultation to private landowners.
Bonners Ferry City Council minutes, August 15
Bonners Ferry City Council minutes, August 8
Bonners Ferry City Council minutes, August 1
Bonners Ferry City Council minutes, July 18
October 2

Sandpoint PD investigating racist flyers: During the past week, flyers and mailings have been distributed to businesses and residents throughout Sandpoint falsely representing the views and policies of Mayor Shelby Rognstad, and Sandpoint Police are investigating.
Two killed in I90 crash: The Idaho State Police investigated a three vehicle double fatality crash on I90 at milepost 16 westbound, just east of Coeur d'Alene in the construction zone, at 11:05 a.m. today.

Flags to half staff in wake of Las Vegas shooting: In the wake of the worst mass shooting late last night that leaves families, friends and a nation mourning the deaths of at least 58 people and hoping and praying for the recovery of more than 500, President Donald Trump this morning ordered that flags across the nation be flown at half staff until the sun sets on Friday.

Aerobics & Iron moving to Main Street: The fit folks at Aerobics & Iron, perhaps the longest-running fitness program still ... ahem ... kicking in Boundary County, will welcome participants to their new home this Thursday above This Old Trunk in the old South Hill Furniture building at 7219 Main Street, Bonners Ferry.

The bully and Little Bill: Our story this week takes place in a small town in Middle America. "Little Bill" lived there with his mom and siblings. As single parent families go, their existence was adequate but there are few luxuries in their life. Little Bill didn't have "things" like new school clothes, his own phone, access to a computer or even a television. By Sheriff's Sergeant Foster Mayo
Workers comp rate continues to decline: The Idaho Department of Insurance has accepted a proposal from the National Council on Compensation Insurance (NCCI) for an overall rate change of -5.8% percent to workers' compensation insurance to become effective January 1, 2018.
October 1
~ Best wishes, Hannah! ~
Best wishes as you vie for the title as Idaho's Distinguished Young Woman this weekend in Idaho Falls, Hannah Sims! Your whole Boundary County community is united in cheering you on!
Back to archives