BCMS harriers in top form for districts
October 14, 2017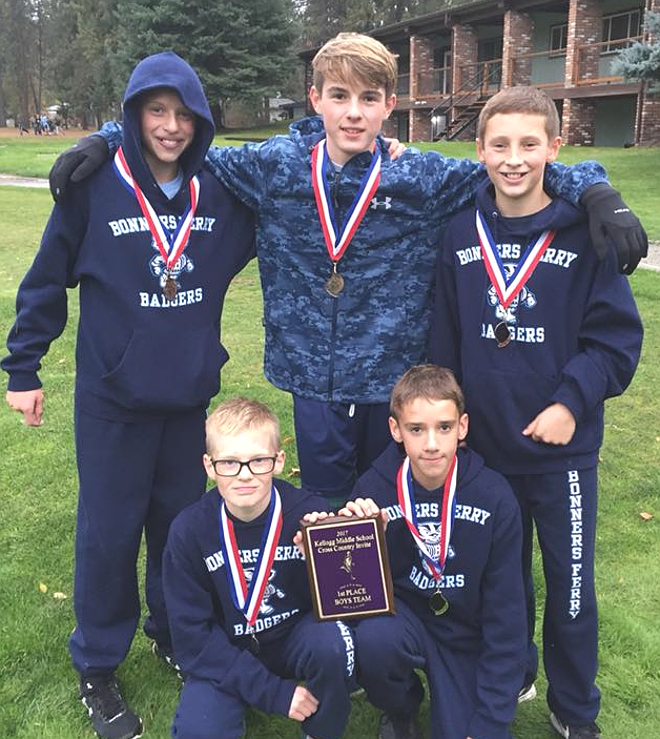 Photo courtesy Kelly Hinthorne
The top five Badger finishers Thursday at Kellogg were (front row, l-r) Eli Newell, second, and Connor Alexander, first. Back row; Brycen Cowin, fourth, Brady Hinthorn, third, and Ridge Williams, ninth. These top four were also the top four at the meet last week in Priest River!
The Boundary County Middle School cross country teams had a great day Thursday when the traveled to Kellogg and the boys came home with a first place finish and the girls with a second!

And to make it even better, their Kellogg hosts reciprocated what started early this season in Bonners Ferry and may become a tradition in North Idaho, if not beyond -- they provided the visiting teams with cookies as they boarded the buses to go home!

The BCMS boys continued their cross country domination, with four Badgers leading the charge across the finish line to finish team scoring with 19 points, miles ahead of Timberlake and Priest River, who tied for second with 71 points each. North Idaho Christian came in with 93 points and the gracious hosts, Kellogg, came in with 124 points.

"It's fun in cross country because even though you are competing, everyone is still supportive of everyone," said BCMS coach Kelly Hinthorn. "We started the season by providing fruit, water and cheese sticks to everyone at the end of our home meet, and it's blossomed from there. One of our eighth graders brings a box of apples to every meet and hands them out to runners, coaches and spectators. Kellogg, Priest River, Timberlake and Bonners seem to have great relationships in the middle school cross country world!"

Leading the way for the Badger boys Thursday was Connor Alexander, who posted an excellent 8:49. Following him in were Badgers Eli Newell, 9:01, Brady Hinthorn, 9:03, and Brycen Cowin, 9:09.

Also finishing in the top 10 for the Badgers was Ridge Williams, who came in at ninth in 9:27.

Chad Smith, Priest River, finished in fifth place at 9:12.

On the girl's side, Timberlake ladies put the first two runners across the line for a 25-point team win, followed by Badgers Camille Ussher, 9:52, and Sophia Roemer, 9:58, to lead the way for the Badgers 40-point second place finish.

Kellogg scored thrd with 75 points and North Idaho Christian finished with 96 points.

Tiger Sage Gervais was the first place finisher at 9:46 and teammate Hailey Johnson was right on her heels at 9:48.

Finishing in fifth place was Sydnee Hotmer, Timberlake, at 10:04.

BCMS harriers head south to Coeur d'Alene for the district meet on Tuesday.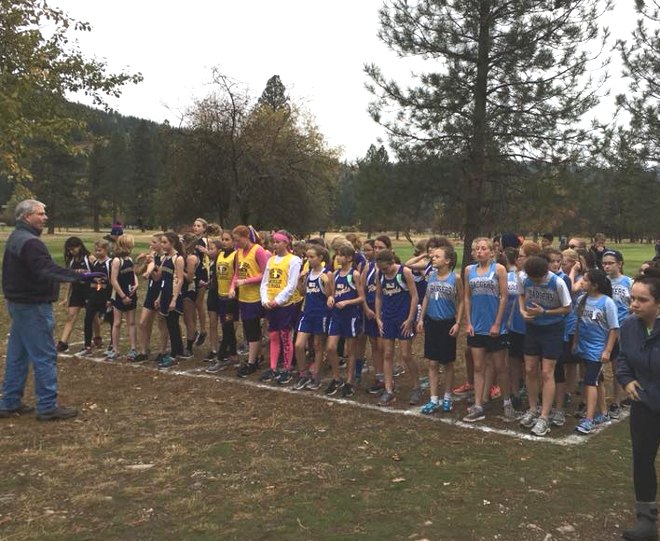 Photo courtesy Paul Bonnell
The BCMS Lady Badgers (right) line up on a cool, gray day to start a cross country run that would earn them a second place team finish Thursday at Kellogg.
Questions or comments about this article? Click here to e-mail!