Sandpoint PD investigating racist flyers
October 2, 2017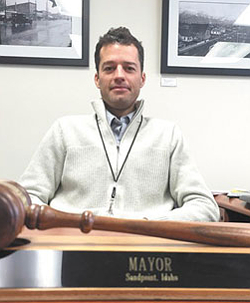 Sandpoint Mayor Shelby Rognstad

During the past week, flyers and mailings have been distributed to businesses and residents throughout Sandpoint falsely representing the views and policies of Mayor Shelby Rognstad, and Sandpoint Police are investigating.

They contain false statements in quotes which have not been made or authorized by the mayor.

In addition to the mayor, police say, his family is also being misrepresented.

The flyers are nothing new, they've been making the rounds since at least April. They're just increasing in frequency and getting more rancorous.

Recent versions of the flyers contain photo-shopped pictures that are presented as the mayor and his family when in fact they are not.

Residents are asked to notify the Sandpoint Police Department if you have received a flyer or if you have further information by calling (208) 265-1482.

"This matter continues to be under active review," they posted today to the Sandpoint PD Facebook page. "There is a fine line between protected free speech and criminal harassment, defamation or stalking."
Questions or comments about this article? Click here to e-mail!