Shawna Siver exudes Badger awesomeness
October 26, 2017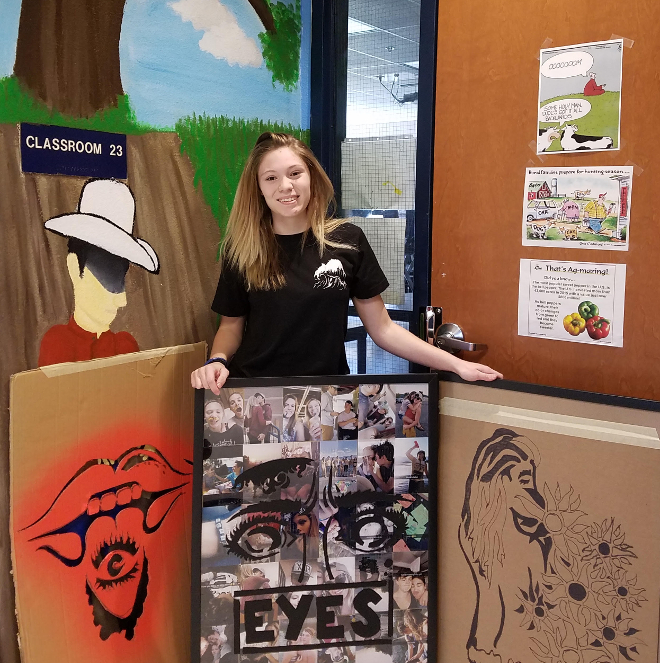 By Josh Knaggs

As the art teacher at Bonners Ferry High School, it was my privilege to be able to select this week's Badger Awesome Student of the Week. I have selected Miss Shawna Siver.

Shawna has been in my art classes on and off for the past three years, and in that time I have witnessed her grow in leaps and bounds creatively. It was clear in her beginning art class that she was a cut above, not only in her skill level, but her thought process.

She was years above the normal freshman antics and I was delighted when she came to pottery class. Drawing is where she found her artistic eye and passion in stenciling.

Currently she is in a section of independent study and the phrase "Badger Awesome" sums up her action perfectly. Consistent awesomeness is all I ever see from this particular Badger.

Miss Siver is the epitome of the creative student. She has come up with numerous aliases, or nom de plumes, for her artistic alter ego, and it has pushed her art into realms that are usually seen at a collegiate level.

In addition to being an amazing artist, Shawna serves as BFHS FFA's vice president, and she works with leadership as an officer. She also manages to maintain a perfect 4.0 grade point average, meaning all of the As she has earned are in the 98th percentile ... she has earned straight A pluses.

That in itself is an amazing feat, but it isn't surprising ... all part of the awesomeness of this Badger. Shawna Siver is surely going to be a student who is missed when she leaves to go change the world for the better.

Congratulations, Shawna, on being this week's Badger Awesome Student of the Week!
Questions or comments about this article? Click here to e-mail!