Gowen Field air show returns
October 6, 2017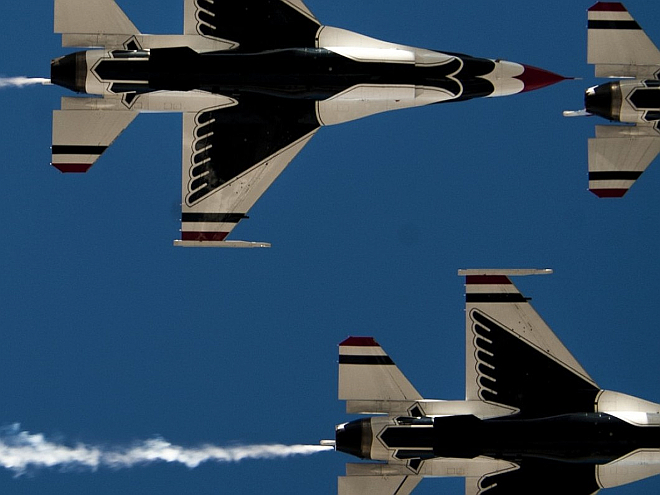 The Idaho National Guard is proud to present Gowen Field's first open house and airshow in more than 20 years: Gowen Thunder 2017, which runs from 8:30 a.m. to 4:30 p.m. Saturday and Sunday, October 14 and 15. The event is open to the public and general admission is free.

VIP tickets are available for purchase by visiting GowenThunder.org. You can also download the Gowen Thunder 2017 app to your smartphone.

This open house and airshow will highlight our soldiers and airmen as well as their equipment and capabilities used when carrying out both state and federal missions of the Idaho National Guard. During this event, there will be many impressive military and civilian performers and static displays as well as a combined arms demonstration along with a variety of local food and merchandise vendors.

The world famous United States Air Force Thunderbirds and their Canadian counterpart, the Royal Canadian Snowbirds, will perform precision aerial maneuvers both Saturday and Sunday.

This event is estimated to draw tens of thousands of spectators from the area. If you are planning to attend, please pay close attention to event parking and entrance instructions.

Gowen Field, located at the Boise Airport, is a secured military installation. As a general rule, if you can't bring it on a flight, don't bring it on a military installation!

Due to the anticipated large volume of spectators entering the military installation, the general public will not be permitted to bring vehicles, to include motorcycles and bicycles, nor will any foot traffic be permitted to enter Gowen Field.

Instead, several parking lots throughout the local area will provide free shuttle service to facilitate entrance to Gowen Field. A complete list is available on the Gowen Thunder website.

Military and state ID card holders, unless in direct support of the open house and airshow, are advised to park offsite.

Disabled visitors with a valid vehicle tag may utilize parking on Gowen Field.
Questions or comments about this article? Click here to e-mail!