Badger seniors play final home game
October 11, 2017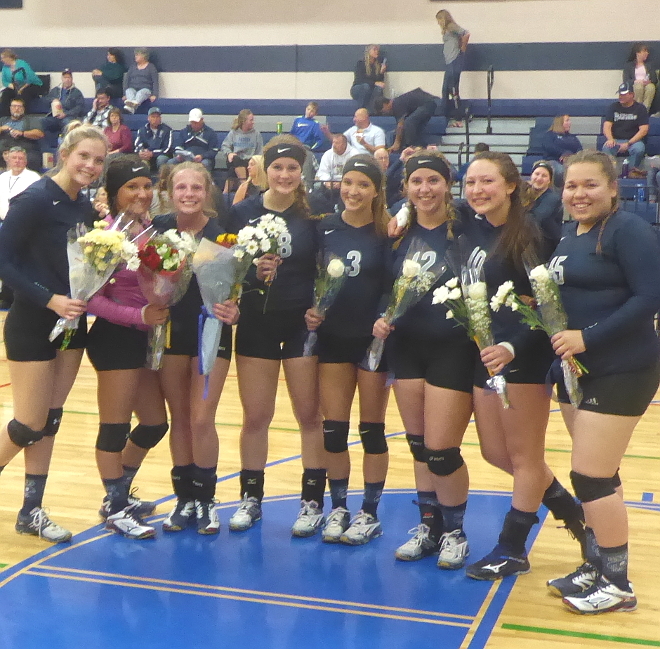 The Badger volleyball programs on Tuesday bid fair winds and well wishes to its graduating seniors (not in order) Kadi Bateman, Jadyn Bennett, Kianna Higgins, Kaylee Kramer, Hannah Olson, Miranda Wenk, Micah Whittaker and Alayna Youngwirth.
The Bonners Ferry Badger varsity volleyball team played their final home match of the season Tuesday night, and for the first time this season, fell in league play to the Timberlake Tigers, 3-1, as both teams vie for the top spot in league standings.

Tiger Kenzie Dean had eight kills as Timberlake defeated Bonners Ferry in four sets, 11-25, 25-19, 25-11 and 25-17. Jerzie Pluid added 11 kills for the Badgers.

The Badgers are now 4-1 in league play, the Tigers 4-0.

The Badger wrap up their regular season Thursday at Kellogg, #3 in league standings, Timberlake wraps up with a home match against Coeur d'Alene Charter. Regardless of the outcomes Thursday, it bodes an exciting district tournament, which begins Monday, October 16, at a venue to be announced.

Despite the loss, the Badgers didn't disappoint, playing tough and having a great time doing it. But for the team's seniors, who were honored before the start of the varsity game, it wasn't the way they wanted fans to remember an awesome season.

Article continues below.

Kadi Bateman, the daughter of Jed and Tomi Bateman, also plays Badger basketball and softball, continuing a long Badger tradition of Bateman family sports standouts. Sister to Ty, Maggie, Thomas, Taren, Jaycee and Jacobie, she enjoys boating, learning sign language and spending time with family and friends. She plans to play college softball as she furthers her education in the medical field. She looks forward to finding and marrying the perfect guy, having four kids and a dog ... a goldendoodle!

Jadyn Bennett is the daughter of Paul and Tonja Beaudoin and sister to Jorryn, Tara, Kristin, Mat and Wyatt. She also plays Badger softball, and she, too plans to play in college as she pursues a degree in law enforcement, finds her significant other and together with him goes to work building a family. Jadyn enjoys rock climbing, hunting, boating and spending time with friends and family.

Kianna Higgins is the daughter of Darlene and Barry Higgins and sister to Shaleyna. In addition to volleyball, she enjoys dance, hiking, makeup shopping, boating, going out to eat and time with friends and family. She plans to go to the U of I to study interior design, then travel the world, start a family and be happy and successful for all her many days.

Kaylee Kramer is the daughter of Melissa and Rocky Kramer and sister to Kaia and Kole. In addition to volleyball, she enjoys golf and dancing, singing, Netflix, taking dank naps, eating, shopping and chilling with friends. Her future plans are to go to college, meet the love of her life and have a cute little family. And then go on tropical vacations.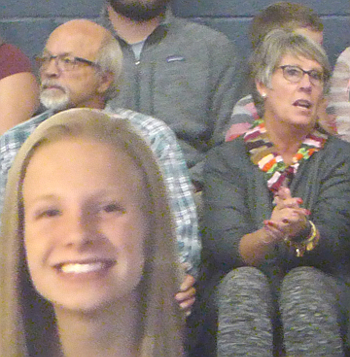 Often at games, it's hard to tell just who a fan might be rooting for. Other times, not so much!

Hannah Olson is the daughter of Holly and step-dad Rob and sister to Bridget. In addition to volleyball, she is a champion at binge cleaning and she enjoys summer, spending time with her family and camping. She plans to study to become a nurse at North Idaho College.

Miranda Wenk is the daughter of Dave and Donielle Wenk and sister to Hailey, Rachel and Ryan. In addition to volleyball, her interests include shopping, painting her nails, taking naps and holding babies. She plans to attend college to pursue a degree in the medical field, marry her BFF, have kids and live a long and happy life with them.

Micah Whittaker is the daughter of Jason and Nichelle Whittaker and sister to Olivia and Ethan. In addition to volleyball, she enjoys listening to music, talking, being loud, talking, sleeping, hanging out with family and friends and talking. After graduating with the BFHS Class of 2018, Micah plans to foster abused animals, marry the love of her life and see where life takes her.

Alayna Youngwirth is the daughter of Debbie and John Youngwirth and sister to Michael and Tony. She plays golf as well as volleyball and enjoys painting, sleeping, eating and being with friends whenever the opportunity avails itself. She plans to go to the U of I for her general education, then pursue a degree in jurisprudence at either Gonzaga or the University of Texas at Austin.

Our thanks and best wishes to each of you, and our thanks for your contributions and thrilling performances in another great year of Badger volleyball!
Questions or comments about this article? Click here to e-mail!