Badger harriers going to state
October 19, 2017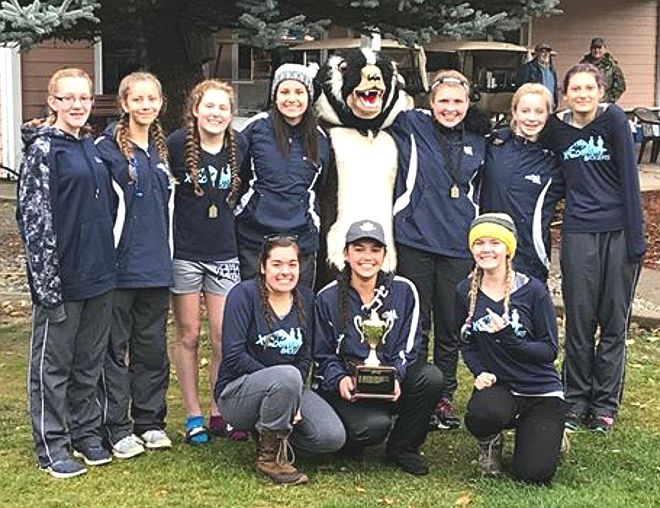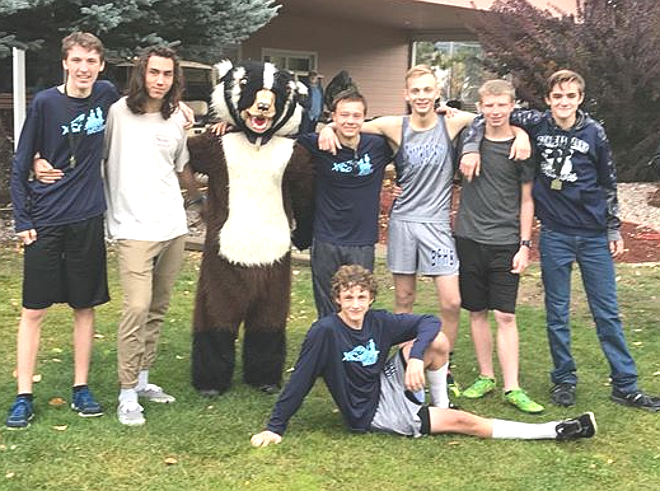 Badger cross country runner Jordan Young, a senior just to the right of Buddy Badger in the top photo, broke 20 minutes in the 5,000 meter course to win the girls Intermountain League District Championship at Pinehurst today, leading the team to a second place finish, and the Badger boys finished the district meet with a third place effort, meaning both teams will compete at the 2017 State Cross Country Meet on Saturday, October 28 in Eagle.

The 3A girls race is expected to begin at 10:45 a.m., the boys race should start around 12:30 p.m.

In today's Intermountain League girl's race, Jordan led all 46 runners, crossing the line at 19:55, followed in by Timberlake juniors Abigail Peightal, 20:19, and Savannah Caudle, 20:43.

The Tigers won in team scoring with 30 points, the Badger ladies finished with 62, Priest River came in third with 63 points, Coeur d'Alene Charter was fourt at 87 and Kellogg finished with 135 points.

Spartan freshman Annika Rantala came in fourth in the girls race at 21:06 and Coeur d'Alene Charter sophomore Josie Yovichin came in fifth at 21:08.

For the Badgers, sophomore Abigail Gorton finished seventh at 21:11, junior Lauren Stidham finished 15th at 22:46:00 and senior Ada Bonnell was 16th at 22:51, sophomore Serenity Fahey came in 27th at 24:31:01, senior Madi Hoggan was 28th at 24:47, freshman Lauren Onstott was 34th at 26:31, senior Rayan Naylor came in 38th at 27:10 and freshmen Ella Huggins came in 43rd at 31:05 and Erin Dineen came in 44th at 32:05.

In the boys race, two Priest River juniors finished first and second, but Timberlake was the overall winner, with 29 points to Priest River's 50. The Badgers came in with 80 points, followed by Coeur d'Alene Charter, 91, and Kellogg, 103.

Spartan juniors Cameron Parkes and Caleb Gleason led the58-runner pack, Parkes first at 16:52 and Gleason coming across at 17:16. Timberlake senior Jordan Hardy came in third at 17:27, CdA Charter Panther junior Karson Chrispens finished fourth at 7:29 and Tiger junior Daniel Pahl came in fifth at 17:50.

Leading the Badger charge were sophomores Austin Donn, who came in ninth at 18:01, and Hunter Smith, but a step behind for a 10th place finish at 18:02. Junior Sam Gorton came in 19th at 18:43, senior Bobby Hart was 21st at 18:43, freshman Lane Stidham was 25th at 18:58, and senior Ryne Rae was 31st at 19:43.
Questions or comments about this article? Click here to e-mail!