Having fun at Naples Elementary
October 28, 2017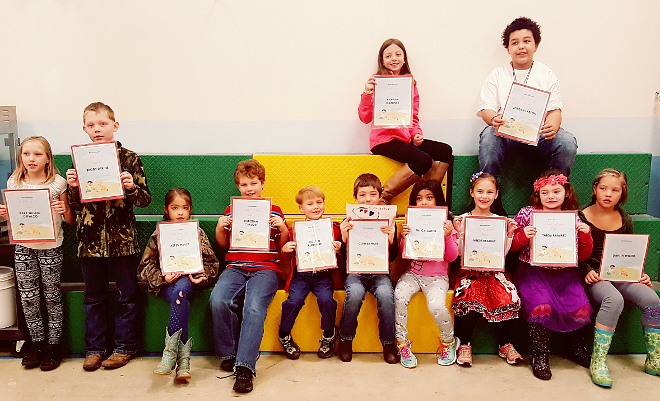 Naples Elementary September Citizens of the Month!
By Robin Merrifield
Naples Elementary Principal

Is October really over already? As the old cliché goes, "Time flies when you're having fun!" It doesn't feel more accurate than it does right now. The first couple months of school have been amazing!

I have been learning so much about the students, their families, the staff and the Naples community. I still have more to learn, so bear with me as I work to do so.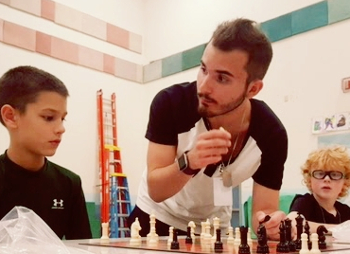 Bonners Ferry High School student Michael Cardinal has been helping teach Naples students the finer points of chess.

We have been busy learning how to read, write, master math facts and enjoy the arts, P.E. and music. Many fifth graders are learning band basics with their instruments under the direction of Mrs. Hanna. The Naples Chess Club, launched in September by Ms. Jennifer, Michael Cardinal from BFHS, and Sheila Lavala, grew leaps and bounds in just a few weeks. Six new chess boards were purchased to make room for more teams.

Most of fourth and fifth grade are now participating in this game of strategy each week.

K-3 has completed their fall benchmark reading assessment. Mid-trimester progress reports have gone home with students. We have conducted a fire drill, an (unexpected) emergency helicopter lockdown and an earthquake drill. Fifth grade is beginning to dive in to the first courses of Microsoft Academy.

It should be noted Naples Elementary is currently the only elementary school in the state of Idaho participating in this remarkable training.

Most students in Idaho begin in middle or high school. In search of a technology challenge for our students, and knowing they are all capable, we went for it! I want to give a gracious "thank you" to Ms. Jennifer for helping "boot up" this academy.

Miss Sam has now taken over the instruction. It's going to be amazing when our fifth graders walk out of Naples in June certified in Microsoft applications!

With the mention of Ms. Jennifer and Miss Sam, we did have one more staff change recently. Ms. Jennifer resigned mid-October to pursue other adventures. We were surprised, but happy for her.

Soon after, Miss Sam stepped forward to assume the role as library and media center instructor. It was an organic move and a natural fit. The kids were quite excited to hear she was their new librarian!

With that move, Sam's position became available. We welcomed Angela Atkins full time to the Naples team as paraprofessional last week. This was another natural and perfect fit!

Yes, there have been many unexpected changes, but I strongly feel they have all been positive and successful. Naples is still Naples. The students are still going to benefit from the fun-loving, small-town, individualized attention they have been receiving here for many decades.

We recognized our first Citizens of the Month, selected by their teachers for consistently being Safe, Civil and Productive.

These students included: Milica Gatto, Colton Alderman, Kinzie Bradley, Couper Hart, Tatem Ramirez, Dahlia Wood, Christian Carson, Aspen Haver, Baby Willow DeFalco, Brody Atkins, Jordan Larson and Hannah Gardner.

This month, our support staff will also be selecting Citizens of the Month. We value the support you give your children at home in becoming Safe, Civil and Productive citizens at school, home and in their community. It shows here at school!

In closing, I would invite you to help us keep the lines of communication running openly in both directions.

If you have a change of address or telephone number, report it immediately. If you prefer another mode of communication, please share that with your child's teacher or Mrs. Lucas in the office.

Communication is key, and we will do our best to share all that we can, as often as we are able, and in as many formats as possible.

I am working on a Naples Elementary Facebook page, so stay tuned for its release!

Enjoy this beautiful fall weather, and … GO WOLVERINES!
Questions or comments about this article? Click here to e-mail!