Home
News
Sports
Social
Obituaries
Events
Letters
Boundary County Archives ~ DecSember 2017
News
December 31
La Nina means cool, wet conditions to stay: Colder and wetter-than-average conditions persisted across the Pacific Northwest in November, with a La Nina weather pattern becoming well established and strengthening during the month, and the outlook is for much of the same going into March.
Bluebird day on Schweitzer: Is there a better way to close out this calendar year than with a blue bird day? We didn't think so either and today is set to be a stunner. From the Schweitzer Snow Crew
December 30
Young entrepreneur ...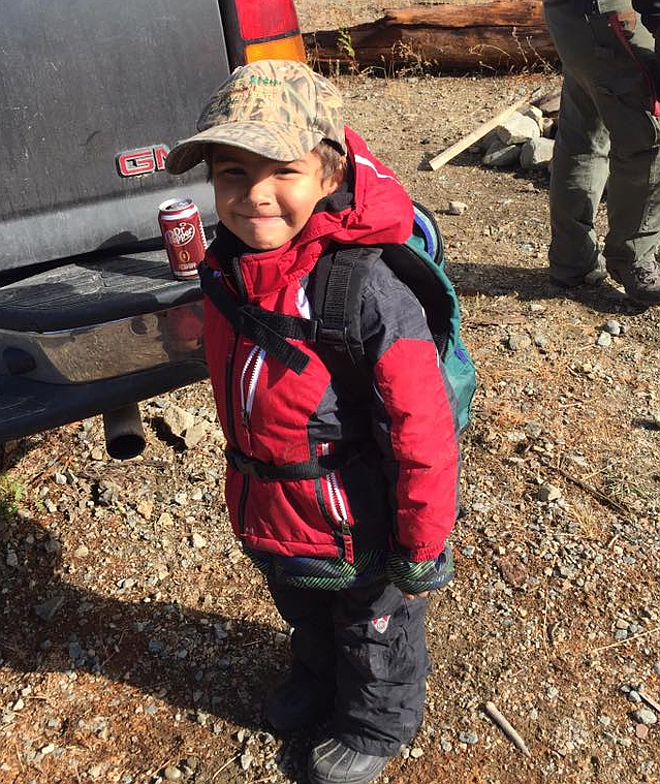 Jackie's son Gabe is five years old and he wants to shovel snow on Sunday with his dad to make some pizza and ice cream money! He can do (with dad's help) driveways, porches and sidewalks in Bonners Ferry. He loves getting out in the community and helping people while also learning the value of money and how working hard gets you cool stuff! You can call or text his mom at (406) 552-8345!
Coeur d'Alene youth killed in I90 crash: A Coeur d'Alene youth was killed in a crash on I-90 last night after the driver of the vehicle the child was in attempted to pass another car and lost control.
December 29

Can you hear me? New face at ITD will help! About 70 people attended an Idaho Transportation Department open house in Bonners Ferry December 14, and many who attended walked away with the impression that all the decisions had been made. There was a new face wearing an ITD name tag at that hearing, one that bodes well not only for ITD, but for everyone in Idaho's District 1 who share the same frustrations.
Now is the opportune time to clear roofs: Depending on your specific location, you have received 8-20 inches of snow in the past 48 hours. Some of us are forecast for another 8-20 inches in the next 36 hours. None of your local infrastructure should be approaching max snow load at this time, however, Boundary County does not mandate a minimum snowload requirement for construction.
Avalanche warning issued for region: The Idaho Panhandle Avalanche Center has issued an avalanche warning indicating HIGH avalanche hazard for the entire forecast region, which includes Bonner, Boundary and Shoshone counties. Travel in the backcountry is not advised until the avalanche danger subsides.
See three planets in a line before sunrise: As 2017 draws to a close, cloud cover permitting, three bright planets are lined up across the eastern sky before sunrise. In their order from the sunrise point upward, these worlds are surprisingly bright Mercury, dazzling Jupiter, and modesty-bright Mars. By Bruce McClure, EarthSky.org
Another round of snow to usher in clear New Year's Day: According to the National Weather Service, a second, more intense storm than the one that just passed will impact the region Friday. This storm will bring the potential for heavy snow to locations north of Interstate 90, with mainly rain south of I-90.
December 28
A look at Positive Train Control with BNSF: There has been an ongoing conversation about Positive Train Control (PTC) in Idaho and elsewhere around the country. At BNSF Railway, we have been a leader in implementing PTC and the company began developing PTC well before Congress mandated it. It's a system in use on BNSF trains passing through Bonners Ferry.
Medicare options available: The Idaho Department of Insurance would like to remind Medicare beneficiaries who are under the age of 65 that they are eligible for a six month open enrollment period and may now purchase a Medicare Supplement (Medigap) policy as early as January 1.
Veteran's service officers to visit Bonners Ferry: Representatives from the Idaho State Veteran's Service Office will be in Bonners Ferry for three January visits at VFW Post 3622 at the Bonners Ferry Senior Center, 6635 Lincoln Street.
December 27

Two collisions, two rescues, one injured: A Moyie Springs woman was seriously injured this morning in one of two motor vehicle collisions that kept emergency responders busy until well into this afternoon. The first incident occurred at about 9:12 a.m. when a vehicle was reported to have gone over a guardrail and rolled down an embankment on Highway 95 near mile 501 on Peterson Hill.
3:07 p.m.: Winter storm warning issued for heavy snow: The National Weather Service has issued a winter storm warning in effect from 4 a.m. Thursday through 10 a.m. Saturday for heavy snow over North Idaho. Valley snowfall of 14 to 20 inches is predicted north of Athol and up to four feet could fall at higher elevations. Lincoln County, Montana, is also under a snow warning.
Winter storm watch issued for region: The National Weather Service has issued a winter storm watch in effect late tonight through late Friday night, with possibly heavy snow making travel difficult.
Brain farts and where to find them: No human in the history of the world has ever been immune to the most common affliction known to man: Brain Farts. We all have them, even though many dishonest people would deny it. Of course, some of us have more than most. Notice I said us, which throws me under the cloak of those whose brain oozes toots like a bean-eating buffalo. Musings from Moyieboy, by Ken Carpenter
Court dispositions and sheriff's log
December 23

Troy family loses home to fire: A family is homeless tonight after losing their house and all it held this afternoon to fire about four miles west of Troy. While grandma and mom wonder about all the essentials, Sierra, 13, and Jordan, 5, wonder if Santa Claus will be able to find them now. Neighbors are working to point Santa in the right direction in time for Christmas, with drop off points in Naples, Moyie Springs and Troy.
Woman from Bonners Ferry killed in Spokane crash: A Spokane resident was killed early Saturday when she drove her car the wrong way on Interstate 90 in downtown Spokane. Jessica N. Soule, who grew up in Bonners Ferry, was a mother of two. From the Spokesman Review
Fun day on tap at Schweitzer: It is a beautifully starry sky filled morning out there as of 6 a.m., that will lead to a day filled with sun, but unless you have a beard like Santa, bundle up when we ski with him this afternoon! I am looking forward to giving myself some Detention followed by a little Recess this morning as the T-Bar is set to spin! By the Schweitzer Snow Crew
~ Power almost all restored ~
As of 6:15 a.m., the count of those in the entire Northern Lights service area without power can be counted on one's fingers -- seven! In four small outages in Boundary County on Lions Den Road and the Westside Road. Crews are working to get them back online.
December 22
~ Christmas Food Basket pickup today ~
If you requested a Christmas Food Basket, the Boundary County Ministerial Association is distributing them today from 3 to 7 p.m. today at Springs of Living Water Free Methodist Church, 6957 Labrosse Hill Street, Bonners Ferry. If you are having someone pick up your basket, please call Mikayla, (208) 597-5734, or Jacob, (208) 597-5618, to let them know.
Collision closes highway ...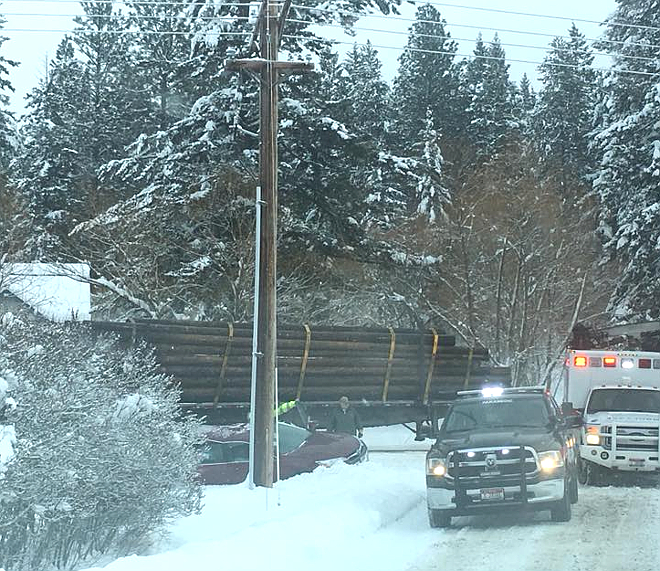 Courtesy photo
A semi vs. passenger car collision was reported on Highway 95 at Kings Row Road near mile 513 at about 11:42 a.m. Two passengers in the car were transported to Boundary Community Hospital, and both later posted that they were sore, but okay. The collision shut down Highway 95 until about 2:19 p.m.
ITD kicking off winter safety campaign: The Idaho Transportation Department is starting the annual winter safety campaign that will help drivers stay safe during the winter months. The "ITD Winter Safety Campaign" offers information via Facebook, Twitter and press releases that helps drivers safely arrive at their destinations.
NLI expects all power on today, cold coming: Northern Lights crews are making good progress, with about 708 members still out of power as of 6:30 a.m. today. And if you haven't already, get ready for frigid temperatures.
December 21
Making Christmas Bright ...
Members of the Boundary County Middle School Leadership Class spent part of their morning gathering up and boxing all the hams and turkeys collected at the school, destined, along with those collected at the high school, to become the entrees in Christmas food baskets put together and distributed to those in our community in need by the Boundary County Ministerial Association. I wrote down the numbers, but I mixed the notebook with a stack of others. Suffice to say, all the students who participated, at both schools, are super stars, and their work will brighten Christmas for a good many.

Man who led North Hill chase sent home: After serving 25 days in the Boundary County Jail, a man thought to be a dangerous felon who led law enforcement on a merry chase on Bonners Ferry's North Hill November 19 has been released and will pay some fines as he goes home to answer to drug warrants that were the reason he bailed and ran from an ISP traffic stop.
Court dispositions and sheriff's log
Road & Bridge removing trees on Westside Road: Boundary County Road and Bridge will be conducting tree removal projects on Westside Road today from Myrtle Creek Junction North to Hickory Road. Expect delays in this area and please follow the directions of flaggers and signs.
~ VVES Christmas program off until next year ~
7:57 a.m.: Despite hopeful rumors to the contrary, the Valley View Elementary School Christmas Program that was a casualty of the snowstorm has officially been cancelled for this year.
A new way of covering a storm: I've covered a few storms in the nearly 30-years I've been in Boundary County, almost all of it involved, in one way or another, with news. The internet, purely from an editorial standpoint, takes the best attributes of each of our existing mainstream news media and combines them all into a single superlative package ideal for a return to small-town news. By Editor Mike Weland
December 20
NewsBF Snow Line back in action: With all the heavy snow, county residents are being encouraged to shovel your walks, plow your drives and private roads, clear your roofs and decks and many of our neighbors, especially the elderly, the ill, single parents with young children and others just can't safely do the work, NewsBF is once again activating the Snow Line.
Action sought to stop mining waste flowing into Kootenai: After long-developing documentation of high levels of selenium, a bi-product of mining in British Columbia's Elk Valley, and the failure of a water treatment plant to curb the problem, the state of Montana and tribal governments are weighing in on the matter. From the Columbia Basin Bulletin
Comment sought on Camp Robin project: The Idaho Panhandle National Forests is seeking public comments on the Camp Robin Project located on the Bonners Ferry Ranger District. The public comment period is open for 30 days, with comments accepted through January 19.
County hit hard by winter: During the last 24 hours, Boundary County has suffered 18 to 24 inches of snow depending on the location, power outages, internet failure, overloaded Verizon phone system, stop lights not functioning, and a bunch of fender benders and accidents closing roads and highways. First responders have been stretched to the limit. By Public Information Officer Michael Meier
NLI making progress, problems persist: From Northern Lights: NLI made some progress today restoring outages. Crews will continue to make repairs through the night. Even though the snow has stopped falling, new outages are popping up as trees continue to topple.
State highways in good shape, city, county roads getting there: As of 4:45 p.m. today, ITD had upgraded conditions on Boundary County's state-maintained highways; 95, 2 and 1, from "fair" to "good." Work is progressing on getting county roads clear so Santa will have clear places to land at homes with too much snow by the chimney, and Bonners Ferry is making good progress in getting city streets back to normal.

Beware telephone fraud: "Hello, Grandad, is that you? This is your grandson." This is how innocently it started. It was not his grandson, but a crafty scammer who was trying to bilk the old man out of $2,500. I first heard about it when the incredibly alert people at Columbia Bank called me and told me that my father-in-law was drawing money out of his savings account. By Sergeant Foster Mayo
~ Community Worship Service tonight at 6 still on
There will be no mid-week activities tonight at First Baptist Church of Bonners Ferry due to the weather and road conditions., however, the Ministerial Association's Community Worship Service in the Becker Auditorium at Bonners Ferry High Scholl at 6 p.m. tonight is still on, however! Everyone is welcome to enjoy and join in on the many Christmas Carols to be sung, and to join together in thanks that our community once again breezed through a harsh storm with few to no serious losses or injuries!
~ City power restored, outlying areas, not so much ~
2:48 p.m.: The power went out in Moyie, and I did too! Sorry ... I just woke from a nap. All power in Bonners Ferry has been restored, but Northern Lights is still working to restore widespread outages with 6,464 members still reported without electricity, including many in and around the Moyie Springs area.
County roads terrible, for a reason: County roads are horrible as the main focus for Boundary County Road & Bridge personnel up to this point has been to clear downed trees from roadways so the plows and sanders can get to clearing the roads.
All Boundary County and Lake Pend Orielle public schools are closed today due to weather. Any Boundary County School District 101 extra curricular activities are also cancelled.
First half tax deadline

today: Boundary County Treasurer Susan M. Larson would like to remind all Boundary County taxpayers that the deadline for paying the first half of the 2018 property taxes without penalty is today.
~ Winter storm warning canceled ~
At 2:47 a.m., the National Weather Service cancelled the winter storm warning that had been in effect. Scattered snow showers will continue this morning but further accumulations will be minor and spotty.
December 19
Avalanche warning issued above 4,000 feet: The North Idaho Panhandle Avalanche Center has issued a backcountry avalanche warning effective from 6 a.m. Wednesday to 6 a.m. Thursday. The area affected includes The Selkirk, Purcell, Cabinet and St. Joe Mountains and the St. Regis Basin.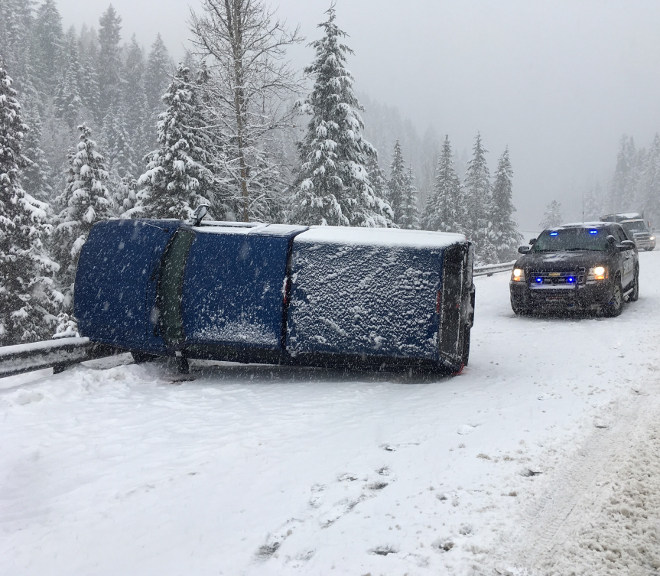 This picture was sent in by a passer by of a rollover on Peterson Hill shortly after two semis spun out at about 10:17 a.m. today. As of 12:57 p.m., truckers are still not chaining up, and they continue to get stuck, tie up or block traffic and take considerable emergency responder time to get moving again. Don't try to save time -- the roads are as bad or worse than they look. Chain up!
12:33 p.m.: All truckers driving through Boundary County are strongly advised not to "save" time trying to take the hills without chains! Roads are as bad or worse than they look -- chain up before taking the hills, you'll be doing yourself a favor!
---
All Boundary County public schools and Lake Pend Oreille School District schools are closed today due to weather. All Boundary County School District 101 extra curricular activities, including the girls home basketball game and the Christmas Choir concert, are at this point cancelled, per superintendent Gary Pfleuger.
---

Getting ready for the (possible) snow storm: As of 12:05 a.m., there are no adverse road reports in Boundary County and the radar capture above shows most precipitation falling as rain, heavy at times (dark blue/green), rain/snow mix (pink) and snow (light blue) to the south of us, with the system at present moving east northeast into south Bonner County.
December 18

Spin last seen Friday at Moyie Store: Spin has been missing since just before our snow storm last Friday, and a young man is missing him terribly. The year old shepherd mix was last seen Friday at the Moyie Store, and may be trying to get to his home at the bottom of the Sandhill.

Grab your popcorn: Solstice coming up December 21: Late dawn. Early sunset. Short day. Long night. For us in the Northern Hemisphere, the December solstice marks the longest night and shortest day of the year. Meanwhile, on the day of the December solstice, the Southern Hemisphere has its longest day and shortest night. No matter where you live on Earth's globe, a solstice is your signal to celebrate!

With snow on the way, time to prepare: With the promise of a white Christmas suddenly upon us, and one that the National Weather Service predicts could arrive in a fairly big way over the next few days, I'd like to ask everyone in our communities to be ready for whatever the weather might bring. Community Watch, by Sheriff David Kramer

Young swimmer has her path laid out: The young woman who brought home Bonners Ferry's first Idaho State swimming trophy November 2, and the first and only Bonners Ferry Badger to compete in swimming, is a remarkably poised young athlete who is using her sport to fuel her dreams, and also to propel her into her future. "The Olympics are a dream," sophomore Julia Cummings, 15, said.
December 17
Winter weather warning issued for snow: The National Weather Service has issued a winter storm warning for heavy snow for Boundary and Bonner Counties, in effect until 7 a.m. Wednesday. Through Monday afternoon, one to three inches of new snow is expected in the valleys and up to nine inches is likely at higher elevations. On Monday night through Wednesday morning, an additional three to eight inches is likely in the valleys with as much as two feet falling in the mountains.

Naples man boldly goes where few have gone: Here's an improbable story about two kids growing up on opposite ends of the country, both watching the original Star Trek, and both playing the various roles of the crew of the USS Enterprise; Captain Kirk, Spock, Scotty, Mr. Sulu, et al, in childhood romps with their best friends. Unlike most of their other friends, though, being fans of the 1960s classic never faded for these two.
December 16
Winter snow advisory issued: The National Weather Service has issued a winter weather advisory in North Idaho for snow and slick conditions, in effect from 10 a.m. Sunday through 10 a.m. Monday. Two to four inches of fresh snow are forecast for the valleys; higher elevations could see up to eight inches.
December 15

Woman injured in December 1 collision dies: A woman severely injured in a December 1 head-on collision on the North Hill lost her fight for life today. Jennifer R. Jones, 39, of Ponderay, succumbed to her injuries at Harborview Medical Center, Seattle, today at 5:40 p.m. She leaves behind three children.
The 2018 Fair Theme has been announced!


"Shout n' Loud ~ We're County Proud"


August 15 through 18

Saturday "elf" matinee a great chance to shop: The Pearl Theater will show free holiday movie Saturday, and it's a take on the golden days when the Rex Theater used to offer a free holiday movie each year. It's a great time for the parents to sneak away to some of Boundary County's wonderful shops or stores to get some Christmas shopping done!

Eight graduate BFHS CNA program: Congratulations to Bonners Ferry High School's recent Certified Nursing Assistant graduates! The Certified Nursing Assistant program is offered to Bonners Ferry High School students by Boundary Community Hospital in affiliation with North Idaho College.
Yoder's Market getting ready for big move: Yoder's Market will be closed January 12 to 15 for moving the store from Bonners Ferry to their new location near Three Mile, and plans are to reopen at the new store on the west side of Highway 95 three miles north of Bonners Ferry on Tuesday, January 16!
Driver's licensing offices back online: The Idaho Transportation Department (ITD) has corrected the issues in its driver's license computer system and restored full service to county offices. Idahoans who delayed getting a license renewed during the outage are encouraged to visit their county DMV office for service.
Fair board has a vacancy: The Boundary County Fair Board is seeking letters from county residents interested in filing a board vacancy after member Craig Kelson elected not to renew for another term. County commissioners and members of the fair board extend their appreciation to Craig for his time and service in helping to make the Boundary County fair a success.
County Commission agenda - week of December 18
County Commission minutes, October 9
County Commission minutes, October 16-24
County Commission minutes, October 30
County Commission minutes, November 13
County Commission minutes, November 20
December 14

Beware of too good to be true holiday offers: Much like the citizens we serve, law enforcement personnel take crimes during the holiday season just a little bit harder than at other times. It's supposed to be a season of good cheer, of generosity and giving, but sadly, thieves know this and do their best to turn it to their advantage. Community Watch, by Sheriff David Kramer
December 13
Court dispositions and sheriff's log

Ray and Beth get a Christmas surprise: Cold, dreary, grey, uneventful and nothing going on much at the Wildhorse Mercantile and Saloon, but aren't we lucky to be here? Christmas is coming and what a surprise Ray and Beth Holmes got Wednesday night when they found out David, a master chief in the U.S. Navy and their youngest, is going to be home this Friday for a few days for a surprise visit!
Audubon bird count drawing near: Local bird lovers will be getting together for an early breakfast on Thursday, December 28, and then scatter to all corners of the greater Bonners Ferry area to take part in the 118th annual Audubon Society Christmas Bird Count. Everyone interested is welcome to join in, even if all you can do is sit at home and count the birds coming to your feeder!
IPNF seeks comment on proposed rate hikes: The Idaho Panhandle National Forests is interested in receiving your comments on a proposal to increase the fees at 11 campgrounds/group sites, 10 cabin and lookout rentals, the Emerald Creek Garnet site, and the Upper Landing RV dump station.

Saving Idaho wildlife – one orphan at a time: Mystic Farm Wildlife Rescue, Sagle, provides care for injured and orphaned fawns in preparation for release back into the wild, where they belong! Due to medical issues and a limited number of volunteers, they will not be holding their annual "Grow More Spots" fundraiser this year.

USFS welcoming two new IPNF leaders: Regional Forester Leanne Marten is excited to announce Holly Jewkes as acting Forest Supervisor on the Idaho Panhandle National Forests, starting January 22. On the Priest Lake Ranger District, Felipe (Phil) Cano will be starting as the new District Ranger starting on February 4.
EAA extends flight scholarship deadline: Experimental Aircraft Association (EAA) Chapter 757 has not received any scholarship applications for the year ahead, and they have extended the application deadline through December 19 in case there is someone out there with a dream of a future in aviation and the willingness to work hard to achieve it.
Historical Society lands IHC grant: The Idaho Humanities Council (IHC), the statewide nonprofit organization devoted to enhancing public awareness, appreciation and understanding of the humanities in Idaho, awarded $72,658 in grants to organizations and individuals at its fall board meeting in Boise.

Be safe on the roads this holiday season, be sober: As the holiday season gets underway in Idaho, the Idaho Transportation Department (ITD) is partnering with law enforcement agencies across the state to remind drivers that Buzzed Driving is Drunk Driving. Beginning today through the end of the year, additional officers will be on the road looking for drunk drivers.
NWA offering $500 sign-on bonus: Northwest Academy in Bonners Ferry has openings for night staff counselors for its female dormitories, and they are offering a $500 sign on bonus for successful applicants!

Shooting added as BFHS extracurricular activity: There's a new club at Bonners Ferry High School, and all BFHS students interested in the shooting sports are invited to check out the recently approved extracurricular activity! The Bonners Ferry Clay Target Youth Club practices every Saturday morning at 10 a.m. at the Bonners Ferry Gun Club.
Already midterm at BFHS: We are cruising through the year at Bonners Ferry High School! I struggle to believe it is already midterm of second quarter, and we are quickly approaching the midpoint of the school year. I am proud of the staff and students at BFHS. Great work is happening here. By Principal Kevin Dinning
Beans, beans the musical fruit: Dried beans have been cultivated as a staple of the human diet for over 9000 years. Interestingly enough, a clue perhaps to the picky society we live in, Beano did not make an appearance until the last half of the 20th century. Musings From Moyieboy by Ken Carpenter
December 11

BVA names personnel of the year: Boundary Ambulance hosted its annual meeting December 2, and Chief Jeff Lindsey announced 2017 Volunteers of the Year Pam Hamilton and Mike Kralik, as well as the 2017 Paramedic of the Year Kelly Halleman.
Still many Badger Passes left to sell: Boundary County Middle School students are selling Badger Passes, and they still have a lot of them to sell, and with a deadline of this Thursday, they hope that getting word out to the community helps their effort. The Badger passes, with are $10 each, offer great savings from businesses throughout the community, and proceeds from their sale will fund this year's eighth grade graduation activities.
Open house set on $9.4-million highway project: The Idaho Transportation Department invites the public to an open house on Thursday, December 14, to learn about a project to improve safety on US Highway 95 through Bonners Ferry. The open house will be held at Boundary County Middle School from 5 to 7 p.m.
Air quality advisory extended: A week-long air quality advisory issued on Friday has been extended for an additional day, and will remain in effect until 10 a.m. Friday, December 15.
December 10
Don't miss the Geminids as 3200 Phaethon swings near: The Geminid meteor shower – always a highlight of the meteor year – will peak in 2017 around the mornings of December 13 and 14. Geminid meteors tend to be few and far between at early evening, but intensify in number as evening deepens into late night.
December 9

Maya shines in Miss Teen of America Pageant: Bonners Ferry's own Miss Teen of Idaho, Maya Roberts, traveled to Orlando, Florida, in November to compete in the 2018 Miss Teen of America Pageant, and against a strong field of amazing young women, she brought home the title of third runner up!

BCMS sending both robotics teams to next level: Science teacher and robotics coach Jacob Garrison and not one, but both of his Boundary County Middle School Omega robotics teams are moving on to Moscow for the next competition.
Spokane man dies in Bonner County crash: A 29 year-old Spokane man died Friday night in a single vehicle crash on Dufort Road near Priest River. According to the Idaho State Police, Andrew P. Blum was driving a maroon Mazda Tribute west in the 9000 block of Dufort Road at about 9:19 p.m. when he lost control while negotiating a curve.
December 8

VVES lost and found overflowing: The Valley View Elementary lost and found is overflowing! Coats, sweatshirts, hats, gloves and lunch boxes. These treasures will be donated to local thrift stores over Christmas break if not claimed. Please have your children check for their personal belongings before December 21!
First half tax deadline just ahead: Boundary County Treasurer Susan M. Larson would like to remind all Boundary County taxpayers that the deadline for paying the first half of the 2018 property taxes without penalty is Wednesday, December 20.
Air stagnation advisory issued for week ahead: The National Weather Service has issued a week-long air stagnation advisory as an air mass settles over the region. Pollutants are expected to increase through noon Thursday, December 14.
ICF makes North Idaho grant cycle more responsive: The Idaho Community Foundation (ICF) has made several important changes to the Regional Grant Cycle program in North Idaho in response to feedback provided by its past applicants and grantees. The Northern Region Grant Cycle, which provides grants of up to $5,000 to nonprofits, schools and public entities, is now open year-round.
December 7

'CELEBRATE' the end of an era: The Bonners Ferry Community Choir is celebrating 40 years under the direction of conductors Vicki Blake Thompson and Barb Nelson, who are presenting their final community choir Christmas concert together. "CELEBRATE!" will be staged at 7:30 p.m. Friday December 15, and at 3 p.m. Sunday, December 17, at Trinity Lutheran Church.

More than 13 years later, missing daughter found: The body of Christine Lott, who went missing more than 13 years ago, has been found. Her parents, Leonard Jr. and Lucille Kucera, were notified on Wednesday. They spent the rest of the day and well into the night contacting family to let them know the sad but so long awaited news.
BCSD 101 loses most free breakfast benefits: Boundary County School District #101 Food Service recently closed a review from the Idaho State Department of Education, and unfortunately, as of January 8, all schools except Valley View Elementary will no longer be participating in the Provision 2 Breakfast Program.
Elderly man believed killed after interrupting burglary: On the evening of Wednesday, December 6, members of the Bonner County Sheriff's Office were dispatched to the 1200 block of Mountain View Road, Clark Fork, to a report of a deceased male. Detectives believe the victim, George Andres, 73, Clark Fork, was returning home and interrupted a burglary in progress.

Former RMA director killed in police shootout: Former Rocky Mountain Academy director Scott Addison, 49, was shot and killed Wednesday afternoon in Cheyenne, Wyoming, after a brief standoff with police. Addison had been charged March 1 in Laramie, Wyoming, where he was living, with 25 felony counts after multiple women accused him of sexual assault and attempted blackmail.
ICF grants help local behavioral health programs: The North Idaho Action Fund in the Idaho Community Foundation is providing over $55,000 in grants to four projects working to improve the accessibility and quality of behavioral health programs in Boundary and Bonner Counties.
December 6

Lawbreaker who bit bitten back: Taking a bite out of crim ... er, a cop, and trying to lie down instead of climbing into the back seat of a patrol car last April proved costly to a 26-year-old Bonners Ferry man, who was sentenced last week to serve 30 days of a four-month sentence and ordered to cough up $450.

Arraignment set in murder case: A Bonners Ferry man who has been in jail on $1-million bond since his arrest for first-degree murder May 1 is scheduled to enter a plea in court at 9 a.m. Thursday, December 21, before District Judge Barbara Buchanan. Eric Allen Dante, 37, is accused of shooting Jesseka Musson, 38, to death.

Christmas Concert & Silent Auction around the corner: The Bonners Ferry Band's annual Christmas Concert and Silent Auction will be held at 7 p.m. Thursday, December 14, in the Becker Auditorium at Bonners Ferry High School. Students need to arrive before 6:30 p.m., dressed in their finest concert black. Band Notes, by Jessica Hanna

The Pearl ringing in the New Year in style: The Pearl Theater is ringing in the New Year in style at their 5th annual New Years Eve Party, with the theme, "Decades," at which guests are encouraged to dress to the nines in the style of their favorite decades. Celebrated from 6 to 9 p.m., this fundraising event will be the perfect way to spend the evening!

A lot of reading happening at Valley View: What tales do you remember from childhood? Any fables come to mind? How about folktales? Well, here at Valley View, we celebrated Idaho Family Reading Week during November with this year's theme of "Tell me a Tale" featuring Jack and the Beanstalk. We had a beanstalk with a giant climbing down it as a photo prop, and all the kids who were "Caught Reading" by their teachers had their pictures taken with it.
Flags to half-staff to remember day of infamy: United States Flags are to be flown at half-staff Thursday, December 7, in honor of National Pearl Harbor Remembrance Day.
Santa to visit kids at houses of heroes: Santa Claus will be taking time out from his hectic Christmas schedule this Saturday to visit with kids at several of the places in Boundary County where you can always find heroes; our fire stations!

ISP Detective Brostmeyer a 'Guardian of the Flame:' Before competition begins at the 2018 Special Olympics USA Games in Seattle next July, an elite group of individuals will serve as the "Guardians of the Flame" and escort the Special Olympics Flame of Hope on a journey across Washington state. Idaho State Police Detective Michelle Brostmeyer, Coeur d'Alene, is among them.
Moyie Springs City Council Minutes, November 8
Court dispositions and sheriff's log
December 5

April Lloyd has been found: UPDATE 8:53 p.m. December 5: We have it from a trusted source that April has been found and is safe. We do not have details at this time, but if the family chooses to share details, we will publish. On behalf of the family, thank all of you for your help and concern.
State unveils revamped IdahoVotes website: Today in a press conference from the Idaho Capitol, Secretary of State Lawerence Denney unveiled a project that has been one of his desires since his first days in office – an Online Voter Registration System.
December 4

Ponderay PD seeks info on burglary: The Ponderay Police Department is seeking information from anyone with information that will help solve a burglary and theft. "Details that we have so far are that on the night of November 24, an unknown male and female committed a burglary at Perfection Tire's Ponderay Store and were able to steal approximately $9,000 worth of various tires," detective Michael Victorino said.

Funds, hams and breakfasts in BCSD 101: Now that we have come to the end of the first quarter and trimester of the 2017-2018 school year, it is time to reflect on what we have learned and what we still need to do. Starting with good news: our enrollment has remained steady and strong. Superintendent's Scoop by Gary Pfleuger

Great things going on at VVES: The Valley View Elementary School staff is excited to be back in school after a wonderful Thanksgiving Break and are looking forward to giving our students a well-rounded education as always. By Principal Nathan Williams
Welcome Allen's Property Management: Bid welcome Bonners Ferry's newest business and the Bonners Ferry Chamber's newest members, David and Lori Allen of Allen's Property Management! They can handle all of your property management needs, including house caretaking and home cleaning service.

One bird's north is just another bird's south: Sad some of your favorite birds are going south for the winter? Don't worry — others are coming to take their places. As birds that breed in the lower 48 states head to Central and South America, those from the boreal forests of Canada and Alaska are also heading south in search of warmer climes. By Ashley P. Taylor
Crisp day at Schweitzer: A clear and crisp morning greets us as we watch the last of the super moon descend across the sky. Should be a great day for finding all those lines we could not see yesterday. Bring your face mask and come ride with us!
December 3

Blind/deaf Sadie missing in Camp Nine area: The Ussher family's dog Sadie, a 14 year old, blind/deaf Queensland heeler, wandered off from home this afternoon at around 4:30 p.m. in the Highway 95 area between Camp Nine Road and Holmes Road. UPDATE: Her owner's report that Sadie wandered blindly for over a mile through the forest and ended up at a friend's ranch this morning. She is cold, tired, but very happy to be in front of the fireplace!

Wesley is missing from home up Katka: 3:26 p.m. UPDATE: Wesley is home! Tina sends out a BIG thank you to Robin Beckle for bringing him home and to all those who kept a lookout for him! "We love our Bonners Ferry community!" she added.
This holiday season, sing, and give a caregiver rest: Caregivers of loved ones with conditions such as dementia or Alzheimer's endure because they have hearts of spun gold. I challenge everyone reading this article to either give a caregiver a break, or spend time at a local facility during this Christmas season. The last thing a brain with dementia retains is music, and as this is the season of giving and music, come and belt out Christmas tunes for others! By Lana M. Galbraith, AD, MS
Forest Service seeking resource assistants: The U.S. Forest Service is offering a Resource Assistants Program to help those wishing to start careers get a faster track on their ambition. The program is a rigorous, immersive, paid internship for individuals interested in Forest Service careers.
December 2

Girls working to serve on trip of a lifetime: Next June, ten young Boundary County women hope to embark on the trip of a lifetime. If they work hard enough and all goes to plan, they will be traveling to Thailand under the guidance of Global Gateway Network, a volunteer team of professional people seeking new ways to make life better by sharing the Good News through holistic service to help the hurting in remote parts of the world, and by giving young people here the chance to serve others, even as they themselves are blessed.
Waiting for snow ...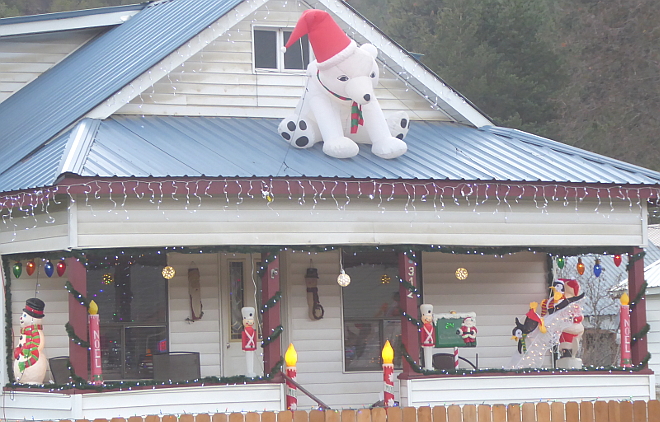 This yard in on Highway 2 in Troy just shouts "Merry Christmas!" but it needs a little snow to give it that true holiday air. Fortunately, we could see a bit of snow across the region through this weekend!

Troy Art Club ornaments an amazing success: When she first learned that the 2017 National Christmas Tree was going to be harvested on the Kootenai National Forest (KNF), U.S. Forest Service National Environmental Policy Act coordinator Lisa Osborn knew that the tree wouldn't be complete without ornaments, so she put out a call for artists from throughout the KNF to bring forth their best work. For members of the Troy Art Club, it's been an amazing ride!

Head on collision sends three to hospital: At about 8:09 p.m. Friday, a Boundary County dispatcher alerted deputies of a tip from a motorist reporting a possibly impaired driver who was erratically driving south on Highway 95 from Three Mile. One minute later, at about 8:10 p.m., the dispatcher alerted deputies that the vehicle had hit another vehicle head-on on the North Hill near the 45 mile per hour sign.
Hunter's bullet hits sleeping couple's bed: On November 30 at approximately 8 a.m., the Boundary County Sheriff's Office responded to a residence in the Pleasant Valley area where a bullet had pierced a bedroom wall and struck an occupied bed. By Boundary County PIO Michael Meier
December 1
~ Head on collision on North Hill ~


A two vehicle, injury head on collision occurred at about 8:10 p.m. on Highway 95 between mile markers 508 and 509 on the North Hill. This is a multiple injury collision. Avoid the area if possible, use extreme caution if traveling through the area. Expect delays. For up to the minute updates, visit https://www.facebook.com/newsbf.
Price of USFS maps going up: For the first time in nearly a decade, increasing costs of production, printing and distribution are driving the need for the U.S. Department of Agriculture's U.S. Forest Service (USFS) to increase the price of its maps. Prices of USFS paper and plastic coated maps will increase to $14 on Monday, January 1.
Plummer man gets prison for child porn: Scott Allen Reed, 67, Plummer, was sentenced Thursday in federal court to 70 months in prison followed by ten years of supervised release for possession of child pornography, U.S. Attorney Bart M. Davis announced. Reed pleaded guilty to that charge on June 28, 2017.

Watch for 2017's first and last supermoon: This month's full moon happens at the same instant worldwide on December 3 at 15:47 UTC, which is 7:47 a.m. Pacific Time. It'll be 2017's first, last and only supermoon. And it's the first of three full moon supermoons in succession -- of which one will be both a blue moon and an eclipse!
New snow has Schweitzer team giddy: The village is sitting in a cloud right now as a light snow falls and our excitement builds to kick this season into high gear! With two new inches of snow overnight, and with more snow in the forecast, it is time to come on up and play!
Back to archives