Home
News
Sports
Social
Obituaries
Events
Letters
Boundary County Archives ~ July 2017
News
July 31
Local woman collecting relief for Montana ranchers: Shawn Watt, who grew up in Bonners Ferry and now lives in Kalispell, is helping to organize a relief effort for the ranchers in Jordan, Montana, an area that has been devastated of late by wildfire.
ECF earns 10th Schoonover award: Boundary Community Hospital is proud to announce that its Extended Care Facility and Nursing Home has been recognized by the State of Idaho with its 10th L. Jean Schoonover Award for Excellence in Caring.
BoCoLocal your source for local farm products: BoCoLocal.com is a new online guide to local Boundary County producers that helps potential customers locate produce including fresh produce, flowers, raw milk and milk products, locally grown and ground flour, worm castings, dried fruit, local beer and more!

Exercise for joint stability: How many times, on the sports field or playground, do you hear the kids talking about being "double-jointed?" This is common slang for a condition called joint hypermobility or joint laxity, and it simply means that someone is able to move their joints farther than most people can.

Making sure children receive all their vaccinations: The start of the 2017-18 school year is quickly approaching and Panhandle Health District (PHD) is reminding North Idaho parents to plan ahead for children's immunizations. Each year, hundreds of local students visit Care Plus Clinics at PHD to get vaccinated and meet school-entry requirements.
July 30

2017 Boundary County All Class Reunion in pictures: There are students, Tracy Iverson said in welcoming alumni to the 2017 Boundary County All Class Reunion, who get out of high school in just four years. But an inordinate number of kids in School District 101 start out just like all the rest, learning to count their ABCs on both hands in kindergarten, progressing through the halls of elementary schools like Valley View, Naples, Mount Hall and arriving, at last, at Bonners Ferry High School ... and then not leaving for decades.
July 29

2017 All Class Reunion under way! Once every five years the population of Boundary County swells dramatically, seemingly overnight, as people who shared the experience of attending school here are invited back, no matter where in the world life has taken them. Though it is a regular event, no two Boundary County All Class Reunions are ever the same. A NewsBF pictorial
July 28

11:50 p.m.: Latest update on IPNF fire situation; hot and dry: As we go into the weekend, U.S. Forest Service officials on the Idaho Panhandle National Forest want to update you on the latest wildfire activity. The Idaho Panhandle National Forests have some ongoing fire activity following a lightning storm last week as well as several human caused starts.
North Idaho fire danger very high: Idaho Department of Lands and U.S. Forest Service Fire Managers in Bonner and Boundary Counties have elevated the wildland fire danger to "Very High." The increased fire danger is the result of persistent high temperatures and low relative humidity over north Idaho this month.
July 27
Stage I fire restrictions on Kootenai National Forest: Kootenai National Forest officials decided today to raise fire restriction across the forest. For the past week or so, fire danger has been rated "very high" as temperatures in the 90s persists in the local area.

Weapon retention as important in home as in your holster: The seven-year-old had just finished watching the Lone Ranger (or maybe it was Gunsmoke) when he remembered his father's Colt Peacemaker sitting in a bedroom drawer. Curiosity drove the young lad to open the drawer, pick up the weapon and become Matt Dillon. Sometime during the weapon handling, the boy cocked the loaded weapon.

Lavala publishes 'and a child she became' Author Sheila Lavala, Bonners Ferry, has just published a new book, "and a child she became." This is a story about Sheila's journey through a tumultuous upbringing of abuse and pain to finally be transformed into the fun-loving child she is today.
Kootenai River jet boat adventure up for grabs: Boundary Search and Dive Rescue Team Inc. has partnered up with Swiftwater Logistics LLC for a fundraiser to support the purchase of aging and outdated equipment for Search and Rescue.
July 26
Opening on state tax commission: Governor C.L. "Butch" Otter announced today that applications are being accepted until the close of business on Friday, August 18, for a seat on the four-member Idaho State Tax Commission.
July 25
Bonners Ferry man gets five years for child porn: Thurlo Eugene Clark, 72, Bonners Ferry, was sentenced today in federal court in Coeur d'Alene to 60 months in prison for possession of sexually explicit images of minors, Acting U.S. Attorney Rafael Gonzalez announced.
Court dispositions and sheriff's log
July 24
Community Hospital to auction surplus: From 8 to 11 a.m. Tuesday, August 1, Boundary Community Hospital will sell, to the highest bidder by means of sealed bid, the following surplus items on display at 6653 Kaniksu Street ...

City to hold surplus auction: The City of Bonners Ferry is disposing of the items shown below by sealed bids. The vehicles listed will be displayed at the City utility yard at 6362 Washington Street from 7 a.m. to 3:30 p.m. through July 27. All bids must be submitted by 5 p.m. Thursday, July 27.
Kootenai River restoration project earns accolades: A review of 29 wildlife habitat projects funded by the Bonneville Power Administration was completed by the Independent Scientific Review Panel June 28. One of the projects looked at was the Kootenai Tribe's Kootenai River Restoration Project.
Free sports physicals just around the corner: Do you have students in grades 7, 9, or 11 who plan to participate in sports, including cheerleading, in the upcoming school year? Then according to the Idaho High School Activities Association, these students will need to have a physical before the first practice starts.
ITD gearing up for Great American Eclipse: It's just shy of one month away from the biggest astrological event in the Gem State since 1979. Dubbed The Great American Eclipse, it could also be the biggest tourist attraction and traffic generator in Idaho history.
Warmer than average temps expected: The Pacific Northwest should expect continued warmer-than-average temperatures and normal rainfall August through October, according to a new long-term climate outlook developed by the NOAA Climate Prediction Center.

Does that man have a panty on his head? Thirteen, fourteen, fifteen, sixteen ... "What are you doing to my panties, you sicko?!" "Ahhhheeeeeee!" I cried. "My precioussss, it is," I hissed, cuddling the bundle of panties to my chest as I scurried to the corner. Musings from Moyieboy by Ken Carpenter
'Pollinator in Peril' events slated in Sandpoint: A noted bee expert will headline a "Pollinators in Peril" series of events in Sandpoint Tuesday and Wednesday, August 1-2, focusing on the importance of pollinators and how to help them.
I-95 work planned in Plummer: Idaho Transportation Department crews will be working Wednesday and Thursday (July 26-27) to repair an older asphalt section of U.S. 95 in Plummer damaged by the recent winter.
July 23

Five injured in three vehicle crash near Elmira: A three vehicle collision on Highway 95 near Elmira this afternoon sent five people to the hospital and closed the highway for nearly five hours, backing traffic on the north end clear to Naples.
July 22

Museum building a century old!
In the fall of 1916, Charles W. Megquier began construction on a two story brick building on Main Street. This was to be used as the new Crescent Garage & Plumbing Company. Today, members of the Boundary County Historical Society and folks who shared parts of the building's history regaled guests with tales venerable century-old edifice.

Ahrens announces run for Idaho Senate: Danielle Ahrens, a 58 year old mother and grandmother who lives on a ranch north of Sandpoint, recently announced her candidacy for the Idaho Senate in District One in an article in Redoubt News.
July 21
Lightning sparks several North Idaho wildfires: The Idaho Panhandle National Forests had multiple new fires detected following the Thursday night lightning storm. Here is an update on fire activity across the forest ...
July 20
Summer Reading wrapping up with magic show: The Boundary County Library will wrap up their Summer Reading program with an awesome comedy magic show for kids and families at 1 p.m. Wednesday, July 26, at the Boundary County Fairgrounds.

Bonner County sheriff seeking David Xanatos: The Bonner County Sheriffs Office is requesting the public's assistance in locating David A. Xanatos, 37, last known to have been in the Clark Fork area. Vehicle associated with him is a blue 1988 Chevy truck with Idaho plate 7BL6090. He is described as 6-foot, 3-inches tall, 244 pounds, hazel eyes and brown hair.
Last drivers ed class of year starting: The final driver education class of the summer begins August 1. There will not be another class until spring. The class is $325, with classes held Tuesday and Wednesday mornings.
Nutritional aide needed at BCH: Boundary Community Hospital has a part time position (afternoon/evening/weekends) in Nutrition Services. The Nutritional Aide is responsible for a variety of duties and services to ensure appetizing food is prepared and served.
Polaris seeking workers: Bonner County Job Service will hold a job fair to help Polaris is find eight assembly operators, no experience needed. These are full time, temporary positions starting July 24 and ending October 5.

Woodward running for Senate seat: In the wake of Shawn Keough's decision not to seek another term as Idaho's favorite Senator, Jim Woodward, a long-time Bonner and Boundary County resident, recently announced his candidacy for the Legislative District 1 State Senate seat with Keough's full blessing.

Newest Habitat home to be dedicated: Boundary County Habitat for Humanity invites you to attend a Ribbon Cutting Ceremony and Open House for their latest build! This event will take place at 10 a.m. Saturday, August 5, at 6707 Spokane Street in Bonners Ferry. Habitat volunteers have been working on this project for the past year and are excited for their latest partner family.
Boundary County Commission minutes, June 26-27
Boundary County Commission minutes, June 19-20
Boundary County Commissioner minutes, May 29-30
Boundary County Commission minutes, May 22-23
July 19

Groundbreaking at St. Ann's set for Sunday: St. Ann's Catholic Church will be holding a groundbreaking ceremony at 11 a.m. Sunday, July 23, at 6712 El Paso Street, Bonners Ferry, the location of their former church. Mass will be held at 10 a.m., prior to the groundbreaking.
Wildfires popping up - danger to increase Thursday: The Coeur d' Alene River Ranger District of the Idaho Panhandle National Forests is currently staffing the Beaver Creek wildfire and have contained two others. According to the National Weather Service, thunderstorms will move into the region after midnight tonight which are likely to produce lightning but generally have little to no precipitation with them.
Fires closing roads in south Idaho: Fire season is officially here, and according to the Idaho Transportation Department, it's closing several roads in southern Idaho.

Moon and Venus closest morning of July 20: Before sunrise on July 20, 2017, look for the waning crescent moon and planet Venus in the eastern morning twilight. Or if you're up before dawn, say an hour or two before sunrise, then let the predawn darkness show you the star Aldebaran and the Pleiades star cluster as well.
BFHS wins art award: The Idaho Commission on the Arts announced today its Fiscal Year 2018 annual grants and awards, totaling $487,000 to 102 organizations and schools spanning 29 communities throughout the state, including Bonners Ferry High School and Boundary County School District 101, awarded $3,836.
July 18
Lions Den RR crossing to close for repairs: On Thursday, July 20, the railroad crossing at Lions Den Road just east of Hickory Road will be closed from 6a.m. to around 2 p.m.
Clear skies in west predicted for eclipse: Researchers from the University of Idaho's College of Natural Resources (CNR) have developed a map that shows the likelihood of clear viewing of the solar eclipse coming August 21.
Two local schools get fresh produce grants: Today, 113 Idaho elementary schools were awarded Fresh Fruit and Vegetable Program grants, Superintendent of Public Instruction Sherri Ybarra announced.
Court records and sheriff's log
July 17

Summer reading slows the slide: Where can you find 50+ kids on Thursdays in July? Why, at the Valley View Summer Reading program! This year's program is starting strong with 47 kids attending our first session, and 60 kids on July 6. With teachers and support staff volunteering their time, we have opened our library. By Valley View librarian Julie Colson
I90 ramp at Sherman closed through Friday: The Sherman Avenue (Exit 15) Interstate 90 eastbound off-ramp in Coeur d'Alene will be closed until 2 p.m. Friday, July 21, for reconstruction. This is part of the reconstruction of I-90 from Northwest Boulevard to Sherman.
Idaho closes budget year with fiscal flourish: Idaho's surging economy produced $29 million more than projected in State tax revenue in June and almost $94 million more than economists expected for the fiscal year that ended June 30, enabling the State to meet the constitutional requirement for a balanced budget while beefing up its rainy day fund.
Bonners Ferry City Council minutes, June 6
Bonners Ferry City Council minutes, May 30
Bonners Ferry City Council minutes, May 16
Bonners Ferry City Council minutes, May 2
Bonners Ferry City Council minutes, April 18
Bonners Ferry City Council minutes, April 11
Bonners Ferry City Council minutes, April 4
Bonners Ferry City Council minutes, March 21
Bonners Ferry City Council minutes, March 7
Bonners Ferry City Council minutes, March 3
July 15

Sandpoint woman killed in collision: A Sandpoint woman died in a head-on collision with a semi early today on Highway 95 north of Hayden. According to the Idaho State Police, Samantha Wolf, 31, Sandpoint, was driving south in the northbound lane in a 2005 Chevy Tahoe at about 3:06 a.m. when she collided head-on on with a northbound 2017 Freightliner.
Solar flare to light up aurora Sunday night: A geomagnetic storm on the sun two days ago is expected to give Earth-bound sky watchers across most of Canada and the northern U.S. a good Northern Lights show Sunday night into Monday morning. The sky spectacle should be visible in Idaho, Washington, Montana and other northern states.

The meek may well inherit the Earth: The world's most indestructible species, say scientists, is the tardigrade, or water bear, an eight-legged micro-animal, also known as the water bear. The tiny creature will survive the risk of extinction from all astrophysical catastrophes, and be around for at least 10 billion years – far longer than the human race.
July 14

Village Project looking for youth participants: This will be the third year the Village Project has offered summer youth programming for migrant youth in Boundary County and their second year partnering with Boundary School District 101. This year marks the first time they have enrollment spots available for other youth in the community to join in on the fun!
Trails closing due to North Fork Hughes Fire: The Idaho Panhandle and Colville National Forests have issued temporary trail closures on National Forest System Trails #312 and #512 in Pend Oreille, Washington, for public health and safety due to the North Fork Hughes Fire in the Salmo Priest Wilderness.

The love nibble of the bed bug: Bed bugs have become one of the trendiest blood suckers around, even more so than the popular movie vampires. It is not that they are admired or, Lord forbid, lusted after, but in the 21st century, they are likely to show up in any high-class hotel at any time, especially in New York. Musings from Moyieboy by Ken Carpenter
Manufacturing jobs available in Sandpoint: Dynamic Recruiting is hiring production workers for full-time manufacturing work in Sandpoint. These positions offer a $9 per hour starting wage.
July 13
Figgins, Odd prevail in sodden golf tourney: It was wet, but Josh Figgins and Matt Odd played through the rain to win the Fry Healthcare Foundation's ninth annual Fry Healthcare Foundation Golf Tournament held on Friday, June 16, at Mirror Lake Golf Course in Bonners Ferry.

David Gerald bringing blues to the Pearl: Legendary blues singer David Gerald will bring legendary blues to the Pearl Theater for one night only on Friday, July 28. The son of rural Mississippi-born and raised parents, he grew up to the sounds of the blues and R&B music in his hometown, Detroit.
Museum building turning 100: In the fall of 1916, Charles W. Megquier began construction on a two story brick building on Main Street. This was to be used as the new Crescent Garage & Plumbing Company. July 21, 2017 will mark the 100th Birthday of the Main Building of the Museum.
Foot of Hall Mountain entered into conservation agreement: Approximately 300 acres of prime forest and wildlife habitat at the foot of Hall Mountain near Bonners Ferry in northern Idaho was conserved recently by The Nature Conservancy and the Idaho Department of Lands.

Pieces of Bonners Ferry landmark unveiled at museum: For four sunny days in August 1988, the exciting buzz of chainsaws could be heard on Kootenai Street's entrance into downtown Bonners Ferry, Idaho. The Boundary County Resource Council, with generous donations from the community, had commissioned a well-known chainsaw artist, Dave Clark of Eureka, Montana, to carve a sculpture on site.
County Road & Bridge facing budget shortfall: Boundary County did not receive our normal funding from the U.S. Forest Service Secure Rural School program for funding year 2016-2017.
Wildfire season begins on Idaho Panhandle National Forests: The Priest Lake Ranger District has two small wildfires. As of Monday, firefighters were actively suppressing a one-acre fire, the Cedar Creek Fire that is burning in the Cedar Creek drainage. Approximately five miles west of the Cedar Creek Fire, the North Fork Hughes Fire is approximately 45 acres and highly visible from the Priest Lake recreation area.
Inland blood supply getting low: Inland Northwest Blood Center is calling on the community to come forward and give blood in an effort to rebuild both local and national blood supplies in addition to preparing for any unexpected events which could cause an increase in the need for blood.
Court records and sheriff's log
July 7
Ten-digit dialing to begin in Idaho next month: Beginning August 5, every local call in Idaho will require using the area code. This change from seven-digit dialing to 10-digit dialing will affect every call, be it from an office phone system, home phone or cell phone.
July 6
A Boundary County Fourth of July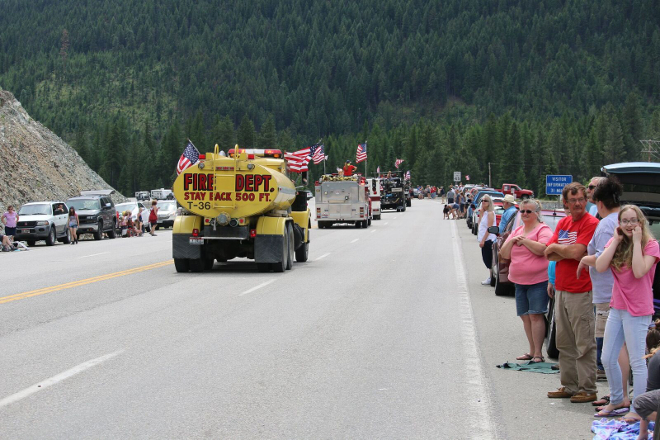 Click the image for a few scenes of the 2017 Boundary County Fourth of July!
Moyie Springs City Council minutes, June 7
In the backwoods, be mindful of bear: The Idaho Panhandle National Forests would like to remind visitors to the forest to be mindful of wildlife, particularly bears. Several bear encounters have occurred this week already. Whether you hike, mountain bike, or ride horses on your 2.5 million acres of beautiful national forest, the following suggestions will help make the journey safer for you.
Road work to close I-90 Exit 14 in CdA: During the week of July 9, crews will work in the eastbound lanes of Interstate 90 from 9th Street to Sherman Avenue in Coeur d'Alene. During this phase, The 15th Street (Exit 14) I-90 eastbound on- and off-ramps will be closed.
Woman, dogs mauled by bear near Priest Lake: A 60-year old woman and her dogs were attacked and injured by a bear shortly after 9 a.m. Tuesday, July 4, near Priest Lake. The attack occurred on the Chipmunk Rapids trail near the Priest Lake Visitors Center on the southwest corner of the lake.
5.8 Montana earthquake shakes area: The U.S. Geological Survey reports that a 5.8 magnitude earthquake struck at about 11:30 p.m. Wednesday about 11 kilometers south-southeast of Lincoln, Montana, which is near Helena, at a depth of 13.6 kilometers.
What you need to put that craft on the water: The Boundary County Sheriff's Office would like to take a few minutes to show everyone the legal requirements for being out on Idaho waterways.
County P&Z filling vacancy: Boundary County Commissioners are seeking letters of interest for county residents who've lived here two years or longer who are interested in serving on the county planning and zoning commission.
Take time selecting a building contractor: Every construction job is different, but one thing remains true no matter what you're having built. You want to find a good reliable contractor that offers you fair prices.
July 5
Local crime rate remains steady: According to statistics compiled by the Idaho State Police, the total number of crimes committed in Boundary County was the second lowest in the past five years, with 147 as compared to 142 in 2014, and the City of Bonners Ferry 2016 crimes committed fell in the middle range, with 153 crimes reported in 2016, down from 198 reported in 2014 but up from 133 reported in 2012.
Even small boats need a sticker: Do you own a boat, canoe, kayak, or raft? Get on board with the Idaho invasive species sticker for watercraft!
Boundary County commission minutes, June 12-13
Court records and sheriff's log
July 3
Nerf wars at the library, guns needed: Hey everyone, the Boundary County Library is starting up a Nerf Gun War monthly ... but they need a stock of reliable Nerf guns, preferably N-strike!

Rod Benders cruising to Troy Fourth of July bash: For over 100 years, Troy, Montana (population 950), has thrown a traditional Fourth of July celebration. Each year it has grown and now more than 6,000 people visit the town annually to take part in this free, family-friendly event with a fireworks display that cannot be beat, and once again, the Rod Benders will be taking some of Boundary County's hottest cars to take part!

Signs to be dedicated as historic bridge gets replaced: In 2014, the Idaho Transportation Department proposed replacing the historic Round Prairie Creek Bridge on US Highway 95 near the Canadian border. The 24 feet wide and 31.6 feet long bridge, an example of a tee-beam bridge from the 1930s, was designed in 1932, cast in concrete and completed in 1933.
Over $8K raised for Bonners Ferry Fourth: The numbers are almost final for this year and organizers of the Bonners Ferry Fourth of July celebration raised over $8,000!
Alternative chosen for Deer Creek project: Idaho Panhandle Forest Supervisor Mary Farnsworth is pleased to announce she has signed the decision, selecting alternative 2, for the Deer Creek Project located on the Bonners Ferry Ranger District.
Fish and Game Commission to meet in Bonners Ferry: The Idaho Fish and Game Commission will hold public hearing at 7 p.m. Wednesday, July 26, at the Kootenai River Inn, 7169 Plaza Street, Bonners Ferry.

Ponderay man sentenced for child porn: Aragon Miller, 43, of Ponderay, was sentenced in United States District Court last week to 57 months in prison, followed by 10 years of supervised release and a $5,100 special assessment, for possession of child pornography.
ISP releases 2016 Crime in Idaho report: The Idaho State Police Bureau of Criminal Identification released their annual "Crime In Idaho" report for 2016 today. The report is a synopsis of statewide crime statistics gathered from law enforcement agencies across Idaho.
Polaris seeking to fill temp positions: Polaris is seeking 14 assembly operators, no experience needed, and a materials handler/forklift operator with the ability to obtain certification. A hiring event to fill the slots will be held from 11 a.m. to 2 p.m. Wednesday, July 12, at the Sandpoint Job Service.
July 1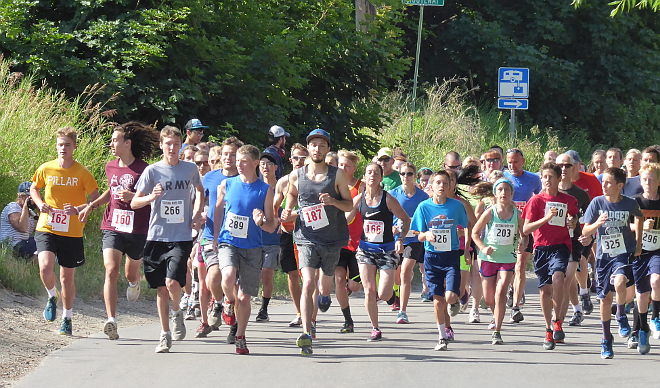 Intrepid runners brave hot sun in fun run: A total of 158 intrepid runners from around the region braved an unusually hot morning today to complete another outstanding Kootenai River Run. By race time, the temperature was in the low 80s, so while everyone who worked the fun run today was appreciated, none were thanked more than those at the water stations!
New signs to mark Vietnam Vets Memorial Highway: In anticipation of the Fourth of July holiday the Idaho Transportation Department (ITD) will officially unveil new 4x8-foot signs installed along the 275.6 miles I-84 in Idaho.
Back to archives