Take the time to say 'thanks'
July 14, 2017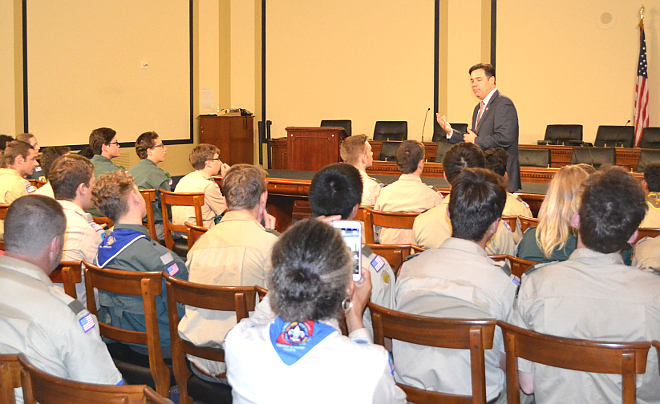 By U.S. Congressman Raul Labrador

This week, I had the pleasure of addressing several dozen Boy Scouts as part of the National Youth Leadership Training (NYLT) Academy. The Academy is a training program hosted by the Boy Scouts of America, in which Scouts and Venturers from all over America learn how to become better leaders, and more importantly, better people.

The Boy Scouts is an amazing organization that's always been close to my heart. That's because I'm an Eagle Scout and I learned so much from the Boy Scouts at a time in my life when I had a lot to learn.

President Ronald Reagan said that "by sponsoring many useful physical, mental, and social activities designed to promote self-responsibility, the Scouts strengthen the cornerstone of individual freedom in our nation. These programs develop the youngster's confidence in his ability to deal with nature, society, and a challenging world."

I couldn't agree more.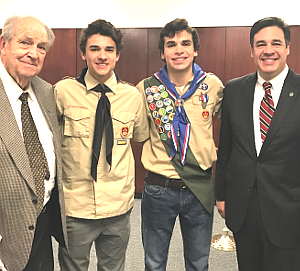 Three generations of Eagle Scouts

When I was in the Boy Scouts, I learned countless lessons that have helped me become successful in life and continued to guide me throughout my life as a husband, father, lawyer, and even now as a member of Congress.

These lessons include the importance of working together, treating people with respect, and never quitting. Even lessons that might not seem applicable to Congress – like leaving the campsite better than you found it – actually make a lot of sense, if you look at it from the right perspective.

We owe it to each other – and in particular, to the next generation – to be good stewards of everything that's been entrusted to us – whether that's a campsite, the street we live on, or our entire democracy.

I joined the Boy Scouts at age 13 when I moved with my mom from Puerto Rico to Las Vegas.

As the only child of a single mother, I was full of ambition and enthusiasm, but my mother recognized that I also needed discipline and direction. Our scout leader, Bob Swift, became a strong male influence in my life – teaching me and the other boys about the importance of hard work and making sure we always gave 100 percent to whatever task we were doing.

In Boundary County, many might picture Alva Baker where I see Bob.

Bob encouraged me to become an Eagle Scout, and I devoted a lot of time toward achieving that goal. One of the proudest days of my life was when I finally attained the rank of Eagle, and I would never have been able to do that without Bob's support.

We, as individuals and as a country, can learn a lot from the Boy Scout organization. I know I did. That's why I encouraged my sons to become Scouts, and all of them joined the program. Two of them earned their Eagle, while my youngest son, Rafael, is currently working on his Eagle Project.

If you have children or grandchildren between the ages of 7-17, I encourage you to enroll them in the Scouts. They will be exposed to great experiences and great people.

You can also become an adult volunteer, like my old scoutmaster, Bob Swift. Whether it's the Boy Scouts or some other outstanding organization, please go out there and make a difference to the people you know and the community you live in.

And take the time today to thank somebody who made a difference in your life.
Questions or comments about this article? Click here to e-mail!