Wildfire season begins on Idaho Panhandle National Forests
July 13, 2017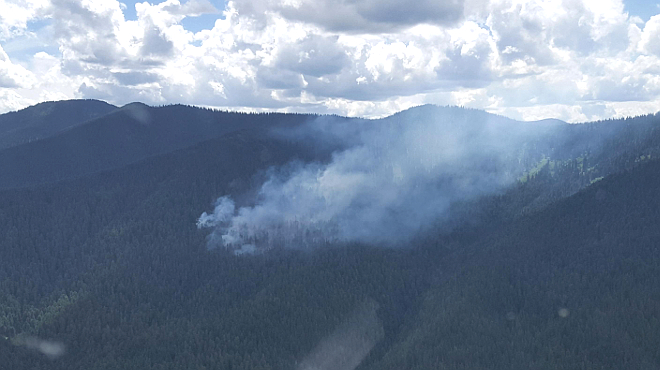 North Fork Hughes Fire
The Priest Lake Ranger District has two small wildfires. As of Monday, firefighters were actively suppressing a one-acre fire, the Cedar Creek Fire, believed to have been caused by lightning, that is burning in the Cedar Creek drainage.

Approximately five miles west of the of Cedar Creek Fire, the North Fork Hughes Fire, located north of Hughes Meadows in the upper Hughes Creek drainage, is approximately 45 acres and highly visible from the Priest Lake recreation area. This fire, believed to have been caused by lighting, was located by firefighters on July 4.

Smokejumpers were sent to suppress the fire, but after three days, due to safety concerns, they disengaged.

Steep, rugged terrain is challenging; presenting multiple safety concerns for firefighters on the North Fork Hughes Fire. The fire is burning in a remote location within the Salmo Priest Wilderness where access is very limited. The fire is burning in very large trees on a steep slope, creeping and burning downslope.

As it burns, trees are falling, posing significant hazards to firefighters. One of the challenges with this fire is that because of the heavy dense timber, retardant and water are not effective as the fire is currently burning inside of cedars trees.

Fire managers are considering several variables and evaluating the fire from both air and ground.

It has been determined that firefighters cannot safely engage the fire due to remoteness, rugged terrain, heavy fuels, snags, lack of helicopter landing spots, escape routes and safety zones. As fire managers develop a strategic action plan to manage this fire, Chandra Neils, Acting Priest Lake District Ranger, said, "The plan will give the highest priority to firefighter and public safety, with safe, efficient, and mindful management decisions."

Information on the North Fork Hughes Fire will be updated as needed. To subscribe to these updates, go to https://inciweb.nwcg.gov and select "North Fork Hughes Fire" from the dropdown. For additional information, contact Kary Maddox at (208) 443-6835.

Due to high heat and dry condition, regional fire conditions are expected to stay high to very high through the next several weeks, and everyone is encouraged to be extremely careful with all fires, especially if in the forests or back country.
Questions or comments about this article? Click here to e-mail!