Rod Benders cruising to Troy Fourth of July bash
July 3, 2017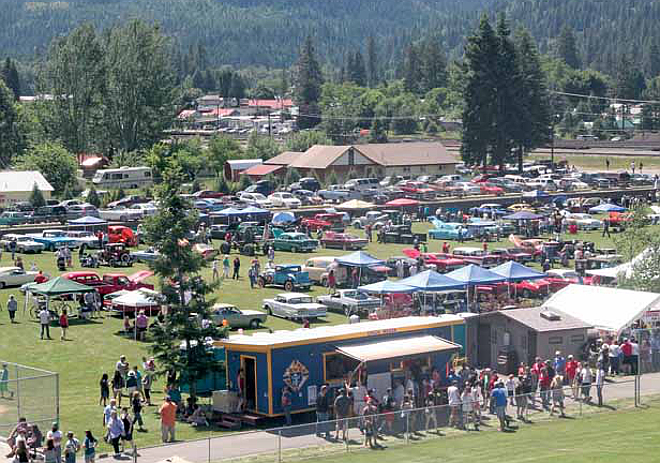 For over 100 years, Troy, Montana (population 950) has thrown a traditional Fourth of July celebration. Each year it has grown and now more than 6,000 people visit the town annually to take part in this free, family-friendly event with a fireworks display that cannot be beat, and once again, the Rod Benders will be taking some of Boundary County's hottest cars to take part!

The Rod Benders Car Club members will meet up at Three Mile at 8:30 a.m. to get lined up for the drive east, departing at 8:45 a.m. with the aim of arriving in time to be served an old-fashioned breakfast in Roosevelt Park, which kicks off a full day of fun at 9 a.m.

At 11 a.m., the Troy Fourth of July Parade gets underway, and afterwards, the Rod Benders will join up with the Cruisers Car Club and others from around the region for the Cruisers Car Show.

In addition, the park will be filled with vendors, food booths, artists, games, including a three on three basketball tournament, and a beer garden and more.

The Pitiful Players will perform "Caveman of the Kootenai" at the Lincoln Theatre at 1 and 3 p.m. and there will be live music all day, with featured band Rural 508 and special guest Izzy Def.

Bus service will be available starting after the parade. Pick up and drop off will be at Morrison Elementary, Troy High School, Troy Activity Center and Roosevelt Park.

The celebration will culminate in a spectacular fireworks display at 11 p.m., showing the world just how a small town Fourth is still the finest way to celebrate Independence Day!

All times are Mountain Standard.

For safety at the event, organizers ask that you leave your pets at home or at the campsite, no bicycles or skateboards, no personal fireworks and no adult beverages from outside Roosevelt Park.

To learn more about the Rodbender's ride, call cruise director Diane Eisenhour, (208) 627-9763 To learn more about the Troy Fourth of July, visit the Troy Chamber of Commerce website, http://troymtchamber.org.
Questions or comments about this article? Click here to e-mail!