David Gerald bringing blues to the Pearl
July 13, 2017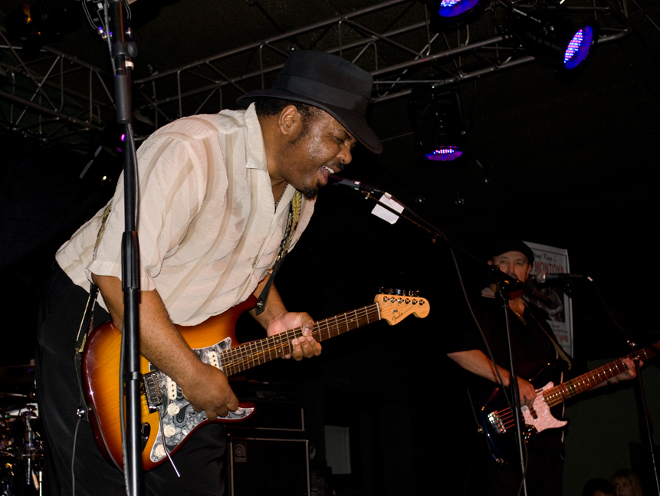 Legendary blues singer David Gerald will bring legendary blues to the Pearl Theater for one night only on Friday, July 28.

The son of rural Mississippi-born and raised parents, he grew up to the sounds of the blues and R&B music in his hometown, Detroit.

Gerald started playing guitar at the age of 15, influenced by Prince and other 80s rock guitarists. He rediscovered the blues and listened to the music of Albert King, ZZ Hill, B.B. King, and Stevie Ray Vaughan, to name just a few.

"I was lucky enough to have a neighbor who was a guitarist and gave me scrap guitars. I would piece them together and build 'Frankenstein' guitars," Gerald said. "They were horrible to play and sounded bad, but I had to play music. It was and is my destiny. I finally scraped up enough money to buy an old amp and I was happy."

Gerald performed in many local blues, R&B, and rock bands cutting his guitar and vocal chops live and in person.

Around the age of 24, he began experimenting with computers to write and compose music, which he has done to this day. Now in his 40s, Gerald is playing nationally with his own band, performing at clubs and festivals across the United States.

Gerald's blues have been receiving widespread radio play, along with recognition in the Blues and Rock communities.

Recently Gerald was listed as #1 on the ReverbNation blues charts for Michigan Blues artists. His debut album "Hell and Back" reached #1 on Roots Music Report's Blues Chart for Michigan based artists and remained in the top 20 for many weeks in a row.

To learn more about the musician, visit http://davidgerald.com.

David Gerald will take the stage of the Pearl,7160 Ash Street, Bonners Ferry, at 7:30 p.m. Doors, and the Pearl Cafe, open at 6:30 p.m. Advanced tickets are $12 and $5 at Mountain Mike's, Bonners Books or online at www.thepearltheater.org. At the door, adult tickets are $15.
Questions or comments about this article? Click here to e-mail!