Lavala publishes 'and a child she became'
July 27, 2017
Author Sheila Lavala, Bonners Ferry, has just published a new book, "and a child she became." This is a story about Sheila's journey through a tumultuous upbringing of abuse and pain to finally be transformed into the fun-loving child she is today.

You won't want to miss this incredible story as it will touch your heart and help you become like a little child once again!

"My story may belong to me, I understand the names and places of each part, but the experience of it belongs to many. Too many," she said. "From domestic violence to alcoholism, from molestation to verbal abuse, from neglect to abandonment. These are the experiences many of us share.

"I hope my story inspires you to come out of the shame to walk and live in your victory. Be brave and courageous to love who you are designed to be. Take my hand and let me walk you through my life so you can live yours, abundantly loved by the Father. Adored and cherished as His child. Let us walk together to become the child we're meant to be."

Sheila is an amazing wife, married for 35 years to her husband, Robert, and a wonderful mother to her son, Isaac, who has now graduated from high school. She is a Black Belt in Taekwondo and is co-owner of Boundary Martial Arts in Moyie Springs with her husband.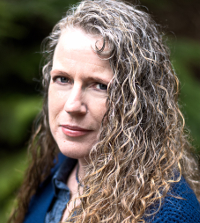 Sheila Lavala

She is currently working with kids in Bonners Ferry, doing a job that she absolutely loves, and she is planning her next book.

Sheila loves to have quality time with her family and arranges kayak trips, family outings, reunions, and anything else that brings the family together. She is a hard-working individual and is goal-oriented. One of her strongest character traits is organization.

Be watching for more from this exciting woman as she continues to write, travel and speak to women all around the Inland Northwest.

"and a child she became," with a cover design by Bethany Bortz, is 142 pages in paperback, published July 24 by the CreateSpace Independent Publishing Platform.

The paperback is $9.97 on Amazon, and available as a free Amazon download on kindleunlimited. Read more by clicking here.
Questions or comments about this article? Click here to e-mail!