Boundary County Archives ~ December, 2013
Home
News
Sports
Social
Obituaries
Events
Letters
News
December 31
Sandpoint woman dies in collision with train: A 25 year old Sandpoint woman lost her life this afternoon after apparently failing to yield to a train in Bonner County.
FIRST Team Alpha seeks support: On behalf of FIRST Team 2130, we are pleased to announce that we are getting an early start to the 2014 season. We are looking forward to a great, and productive year. By Josh Sher
Trap thief riles Momma bear: Folks in Boundary County love the outdoors and all it has to offer, from watching a glorious sun set over the mountains, to hiking and riding through some of the most beautiful and idyllic scenery anywhere. And there's one fact of nature that's unavoidable.

Farnsworth honored for forest practices: Al Farnsworth and his wife Caroline have been performing sound forestland practices spanning over 40 years. In 1992, Al and Caroline received the "Take Pride in America Conservation Farm Award" for their forestland practices. This year, the Boundary Soil Conservation District honors him again, naming him a 2013 Boundary County Farmer of the Year.

Ty Iverson 2013 'Farmer of the Year:' Boundary county is blessed with some of the best farms in the world, and making a great farm takes a number of diverse things; good, fertile soil, clement weather, adequate moisture, plenty of sunshine. But the key factor essential in any great farm, especially a great farm that's abided for generations, is a great farmer, and the Boundary Soil Conservation District's 2013 Farmer of the Year, Ty Iverson, is more than living up to his family legacy.

Amber Reed wants to sing for an idol: One of Bonners Ferry's own talents is vying for the chance to fulfill the dream of a lifetime, the opportunity to share the stage with American Idol winner and heartthrob Taylor Hicks, but Amber Reed needs your help, and she needs it quick!
December 30
Remembering ...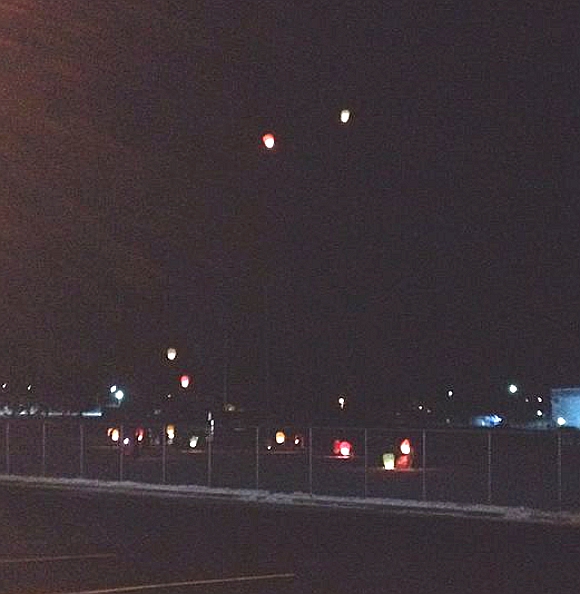 It's hard to tell just how many people showed up Monday evening at the Bonners Ferry High School soccer field to remember a friend lost too young, too soon, but there were many. There were enough to send soaring aloft 26 paper sky lanterns; one for each year Josh Wilkerson would have lived to see his birthday had he not tragically lost his life in a vehicle collision on Highway 95 August 20.
He is not forgotten.
Photo courtesy Deborah Youngwirth

Daisy Mae missing in Curley Creek: Daisy Mae is missing and her family is asking for the community's help in finding her. The yellow Lab went missing Sunday in the Curley Creek area, and though they've been looking, the family has seen no sign of her yet.
Refuge note: Due to unsafe driving conditions, the Auto Tour Road at the Kootenai National Wildlife Refuge is now CLOSED to all vehicles for the winter months. Visitors are welcome to hike, snowshoe, or cross-country ski the tour road instead!
Court records and sheriff's log
December 29
Snow, rain could make travel risky: The National Weather Service has issued a winter weather advisory through 7 p.m. today warning of the potential for a mix of light snow and rain throughout the region which could make driving hazardous.
December 28

Sandpoint airman dies in IED attack: The Department of Defense announced today the death of an airman who was supporting Operation Enduring Freedom. Captain David I. Lyon, 28, Sandpoint, died December 27, 2013, from wounds suffered when his vehicle was attacked with an improvised explosive device in Kabul, Afghanistan.

Big Max is missing: Max is a big old galoot, friendly, full of fun and mild-tempered, and his family is missing him, and praying he's safe and will be back home soon. He disappeared December 24 on Templemann Lake Road near Smith Lake, and though the family has been out looking, they've seen no sign of Max yet, and hope you can help.
December 27
A Christmas Tail: On Christmas Eve, the Bonners Ferry Police Department received a call regarding an injured dog on the Kootenai River Bridge. By the time police arrived on scene, two local girls, Crystal Martin and Michelle Colaianni, had picked up the dog to carry it to the Sheriff's Office.

Found, lost, found again: Gary Regehr has spent a lifetime in the woods. As owner of Regehr logging, he's seen and worked places most of us can only dream about. And over the years, he came across signs of history, signs of the toil our forbears endured to carve a living of the abundant natural resources of this once forbidding place. This is an account of but one of those finds.
Festival of Trees still going strong: They'd have loved to have seen more trees and participation, but organizers of this year's 18th annual Fry Foundation Festival of Trees are pretty happy; the event raised about $33,000 and donations are still coming in.
FDA eases fresh produce standards: The Food and Drug Administration (FDA) will revise key provisions of its proposed fresh produce rule after Idaho food producers deemed the new water quality and manure standards unworkable. Idaho Senator Mike Crapo has repeatedly pressed the FDA for revisions since the draft rules were released pursuant to the Food Safety Modernization Act of 2011.
Dense fog advisory issued: The National Weather Service has issued a dense fog advisory for Boundary, Bonner and Kootenai Counties, effective until 10 a.m. today.
December 24
It's a small world at Christmas: It's a small world, especially at Christmas. You wouldn't, in the most arcane Geography Bee, ever imagine a connection between people in a small town in North Idaho, those in a Bavarian Village, or how that tie has brightened the Basilica at the Vatican.
December 23
Another bout of Bell's Palsy: To those who see me in the next few weeks, don't worry if I'm a bit less expressive than usual, if only one eye blinks or if I slur or drool a little out the left side of my mouth. I've been hit once again with Bell's Palsy, a condition affecting the nerve that controls the muscles on one side of the face. By Mike Weland
Update on Tiffany Murray: Just received word from Kevin Murray ... his wife, BFPD Officer Tiffany Murray, is undergoing surgery today in San Francisco. Thus far, he said, all is going well. An account has been set up at Mountain West Bank for those who would like to assist the family; donations to the Sharlene F. Murray donations for Tiffany Murray" can be made at any bank branch.
Drive safe for the holidays: Festive parties and celebrations are under way so the Idaho Transportation Department reminds motorists to make this holiday season safer for everyone by choosing to not drive impaired.
Idaho unemployment drops: Idaho's seasonally adjusted unemployment rate dropped to 6.1 percent in November, the largest one-month decline on record. The November rate matched the post-recession low posted last spring.
Court records and sheriff's log
County commission minutes, December 9-10
County commission minutes, December 2-3
December 22
Weather advisory issued for snow and ice: The National Weather Service has issued a winter weather advisory a region including Boundary County effective from 7 p.m. today to 10 a.m. tomorrow for light snow and freezing rain.
December 21
Christmas Under the Stars tonight: The Christmas Under the Stars Concert takes place at 6:30 this evening at Grace Bible Fellowship, 6291 Main Street at the south end of Bonners Ferry.
Pitiful Players on stage tonight: The Pitiful Players are once again bringing some holiday cheer to town! "A Sherlock Holmes Christmas" will be presented at 7 p.m. this evening at The Pearl Theater. There is no charge, so bring the family and join the fun!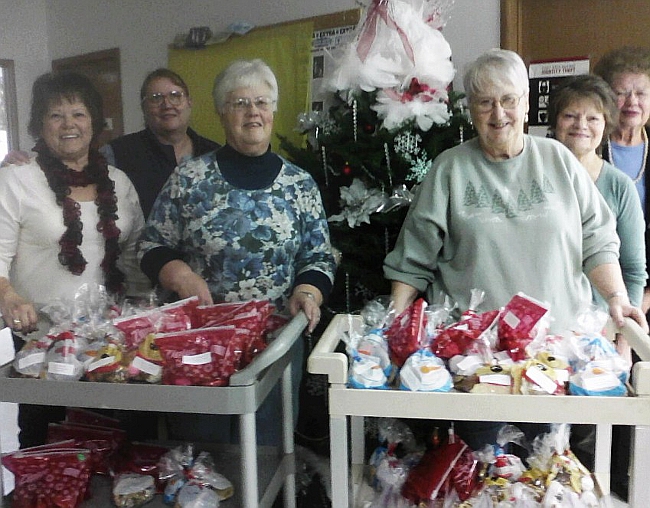 Members of Xi Beta Omicron Chapter of Beta Sigma Phi again selected the Senior Hospitality Center as their Christmas project. Although unable to find a time when they could all get together and bake pies like they did last year, they all baked cookies and on Thursday evening put together 75 individual bags of cookies to be given to the seniors attending the Christmas lunch on Friday, December 20. All 11 members made cookies and 6 were able to help make up the bags. Pictured are Joanie Mark, Barb Kovacs, Linda Alt, Audrey Schenck, Wilma DeVore and Bev Saul.
Ring in New Year at the Pearl: Looking for something different to do this New Year's Eve? Head to The Pearl Theater to ring in the New Year with a Masquerade Ball! This fun filled, Mardi Gras style event will be sure to start your new year with a bang!
Drive safe for the holidays: Law enforcement officers from across Idaho are teaming up to stop impaired driving this holiday season. Police departments, sheriff's offices and the Idaho State Police are joining together as "One Team for Borderless Enforcement" of impaired driving laws.
Winter precip far below normal: A late summer deluge soaked the Pacific Northwest, but precipitation has been considerably less than recent decades' average ever since as the region heads into what is its all-important wintertime snow/water supply accumulation period.
Climate change impacted caribou: Reindeer, from Northern Europe or Asia, are often thought of as a domesticated animal, one that may pull Santa's sled. Caribou, similar in appearance but living in the wilderness of North America, are thought of as conducting an untamed and adventurous life.
December 19
Snow advisory issued: The National Weather Service has issued a winter weather advisory to be in effect Friday, predicting from two- to four-inches of valley snow in the Panhandle.
December 18
Orr nominated for USAF Academy: Idaho Senator Mike Crapo has nominated 39 Idaho high school students for continuing education and service as a part of the nation's military academies, including Alan Orr, Bonners Ferry, nominated for the U.S. Air Force Academy.
BCMS students shine: Please congratulate Myla McKechnie for placing first in our local region for the VFW "Patriot Pen" essay contest! She also placed third overall in the northern district VFW (Sandpoint, Priest River, Clark Fork, and Bonners Ferry) and second in the VFW Ladies Auxiliary version of the essay contest.
VVES students make great gains: The first half of the school year is coming to an end! Our focus during the 2014 school year will remain the same: keeping VVES SAFE, CIVIL & PRODUCTIVE! To date, we have made great gains by following this motto. By Principal Gary Pfleuger
Two from BCMS Employees of the Month: Special education teacher Cynthia Stovall-Sanders and librarian Lori Plato, both of Boundary County Middle School, have been named School District 101's certified and classified Employees of the Month for December.
Mrs. N November Employee of the Month: Bonners Ferry High School is proud to announce Diane Niewieroski as School District 101's November certified teacher of the month.
Beth Butters honored: Beth Butters has been selected as the Boundary County School District Classified Employee of the Month for November.
Skies quiet, airport busy: The short days and low clouds make for quiet skies this time of year, but the instrument approach into the airport allows arrivals in all kinds of weather conditions, which was critical this week for the MedStar aircraft that made a quick stop over to transport a patient to Spokane for emergency medical services. By Ashley Glaza
Service makes it easy to track sex offenders: The Idaho State Police Bureau of Criminal Identification has added a new email subscription service that will allow notification to the public if a sex offender listed on the Idaho Sex Offender Registry changes residences.
December 16
Old new chief at BFPD, for a while: The City of Bonners Ferry has a new police chief, and the mayor and city council didn't have to look far to find a candidate with exquisite credentials; clear to Naples.
BFPD wishes you safe, happy holiday: As the holiday season approaches, the Bonners Ferry Police Department would like to remind us all to be safe not only on the roads, but also at home and while shopping.

Two dogs missing from Bonners Ferry home: Jessica Stebbins, who works at the Boundary County Department of Motor Vehicles, usually lets her two dogs, Bear and Dakota, out to do their business one at a time. But at around 6 a.m. Sunday morning, both got out on her at once, and they haven't been seen since. Update: Both found safe and now at home!
Court records and sheriff's log
County commissioner's minutes, November 25-26
December 13
Fire destroys Troy apartments: A fire destroyed the Pine Tree Plaza apartment complex in Troy, Montana, late Wednesday evening, sending one man to the Utah Burn Center in Salt Lake City and left 14 people, one a child and one expecting a baby girl in the next month or so, homeless and without any belongings.
December 12
Info sought on school bus hit and run: A school bus hit and run at 4:30 p.m. December 11, involving a late model Ford, silver or white full size or mini van, occurred at the corner of Eisenhower and Sacramento Streets in Bonners Ferry. Both vehicles suffered damage. The van has an Idaho license plate starting with 9B. A student on the bus believes the vehicle was a 2008 Subaru Outback. Any person with any knowledge of the hit and run please call 911 or, if out of county, (208) 267-3151, extension 0, to help identify the van or driver.
December 11
School bus in hit and run: A Boundary County school bus was involved in a hit and run collision today, no one was injured but police are seeking any information.
BCH Auxiliary ...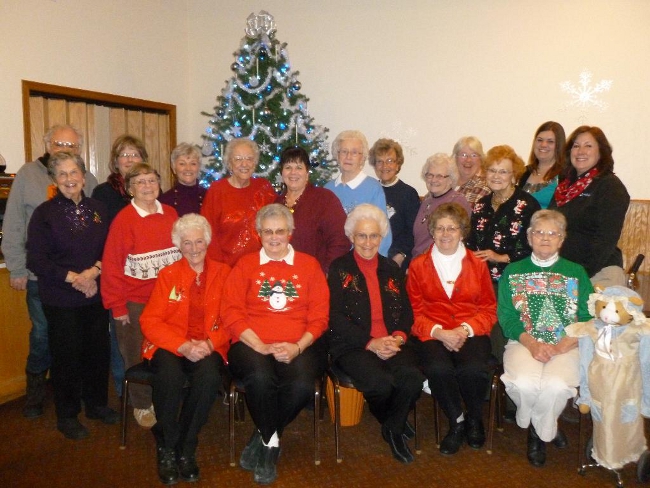 Drexel Love photo
The Boundary Community Hospital Auxiliary met for a luncheon at the Chic n'Chop Restaurant Tuesday, and while there, Rocky Burkholder drew the raffle winner of a beautiful Christmas Tree and a ton of toys. Irma Clark was the lucky winner!
The Boundary County Drivers License office will be closed all day Thursday, December 12, for installation of new flooring. The office will re-open Friday. This is very short notice because they were just told yesterday the install date! Thank you for your patience and if you have any questions please contact the sheriff's office at (208) 267-3151.
Copeland honored by district: What an elementary school needs is consistency and what Pam Copeland gives to this district is just that! Pam has worked for the Boundary County School District for 15 years.

Kathy Hampton Teacher of the Month: Every student looks forward to second grade at Naples Elementary and misses it when they graduate – and for good reason. Kathy Hampton has been teaching for 22 years – with the majority of those at Naples School.
Obama Care impacts solid waste disposal: Due to increased expenses of the federally mandated Affordable Care Act, also known as Obama Care, Boundary County is forced to reduce the hours of operation at our monitored solid waste disposal/collection sites.
December 10
National Geographic Bee coming to VVES: The first round of the 2014 National Geographic Bee kicks off next Wednesday, and Valley View Elementary students will be competing for the chance to represent Boundary County and the State of Idaho next spring in Washington, D.C.
December 9
Tribe intervenes in caribou suit: The Kootenai Tribe of Idaho (Kootenai Tribe) has moved to intervene in the litigation over the endangered woodland caribou. Woodland caribou historically inhabited all of Kootenai Territory in what is now north Idaho, northeast Washington, northwest Montana and southeast British Columbia.
Christmas concert dedicated to Glenda McCalmant: With the Bonners Ferry Community Choir and the Bonners Ferry Youth Choir "Swingin' on a Star" combined in song, over 100 voices will bring our community "We're Not That Far From Bethlehem," the 2013 annual Christmas Concert.
School district closure info sources: With the winter months at hand, Boundary County School District No. 101 wants to inform patrons that school closures due to weather/road conditions will be announced on the following ...
Court records and sheriff's log
VVES Student Council minutes
Libby water supply forecast released: The Libby Dam December April to August water supply forecast (WSF) volume is 5502 KAF, which is 87% of the long-term (1929-1999) average and 94% of the near-term (1981-2010) average; this inflow volume forecast calls for an end of December reservoir draft target of 2426.6', which is only 0.1' from a full relaxed draft target.
Missing mountain water studied: Recent Forest Service studies on high-elevation climate trends in the Pacific Northwest show that streamflow declines tie directly to decreases and changes in winter winds that bring precipitation across the region.
December 7
Labs missing from Moyie home: Two Labs, one chocolate, one vanilla (yellow) are missing from the Nelson home in Moyie Springs, and one look at the picture is convincing proof they are sorely missed. Update: They're home!
Tremendous year at Valley View! The end of a year comes quickly ... At this point in time, there are three ways to look; past, present and future, so let's go in these directions. Starting with our accomplishments: 2013 was a tremendous year for Valley View Elementary School! PPP by principal Gary Pfleuger
December 6
'You've been hacked, I'll tell you how to fix it!' Sherry Nash, Bonners Ferry, received a phone call this morning that sounded so insistent and sincere, she almost fell for it ... (not!). She stayed on the line, computer off, writing down details so she could report a potential crime in progress.
December 5
Bev Docherty passes: Newsbf is saddened to report the passing of Bev Docherty. I don't have details as yet, but have received notice of her passing from a family member.
Flags to half staff for Pearl Harbor Day: More than seven decades ago, on a calm Sunday morning, our Nation was attacked without warning or provocation. The bombs that fell on the island of Oahu took almost 2,400 American lives, damaged our Pacific Fleet, challenged our resilience, and tested our resolve.
Wind chill watch issued: Brutally cold winds are possible Friday night through Saturday morning in North Idaho, western Montana and eastern Washington, with could drop wind chill values to 25 below zero.
December 4
New owners at newsbf: While I can't reveal details, News Bonners Ferry has a buyer, and I'm pleased to announce that they are local, committed to the community and eager to continue what I have tried so hard to do; provide the people of Boundary County a source of free, accurate and timely news.

Police chief tenders resignation: Citing family obligations and medical needs not easily available in Boundary County, Bonners Ferry Police Chief Steve Benkula on November 21 tendered his resignation to Mayor David Anderson, effective December 6.

Local woman cured by comedy star: On the first day of Christmas, Stephanie Moss, Highland Flats, was miserable. In bed, fighting a terrible cold. So as more of a joke than anything, she sent a tongue in cheek Facebook message to one of her idols, Daniel Lawrence "Larry" Whitney.
What's happening at BCMS: It's cold but Boundary County Middle School students still go outside for social time/lunch recess! Please make sure your children have proper clothing to accommodate this! Thank you. By Principal David Miles II
December 3

Cat needs to go home before kids name it: A young, very loving cat, about six months old, turned up recently at a home on Cody Street, and people who are providing shelter would like to find the rightful owners before the kids give the cat a new name.
December 2
Credit card scare over; URM says you may now resume using credit, debit and EBT cards at all member stores after they successfully implemented security measures designed to block cyber-attacks against its payment processing system.
Think of pets and livestock as weather turns cold: It should go without saying, but in light of my last article, Bring in your brass monkeys, I've been asked to remind readers that metal monkeys aren't the only things needing tended when the weather turns frigid ... your furry and feathered friends need attention, too.
Bring in your brass monkeys ... If you've enjoyed the balmy, summer-like temperatures of late, with the thermometer hitting the low 40s some days of sultry November, grab your wool socks, winter temperatures are finally here.
There will be Christmas movies at the Rex: Yes, summer has come and gone and the biggest question is, "oh, when is that theater going to open?" The answer, when they ship us the equipment. We did not tear down the old screen, so that we may still have our Annual FREE Children's Holiday Movie at 11 a.m. Friday and Saturday, December 6-7.
Family Fun Night offers more than ever: Defrost the car, bundle the kids, pack-up grandma and head to Family Night at the Festival of Trees Friday, December 13 in the Memorial Hall at the Boundary County Fairgrounds!
Search underway for missing plane: A search is underway for a small airplane with five people on board traveling from an airport in Baker City, Oregon, to Butte, Montana. The aircraft lost radar and cell tower contact near Johnson Creek airstrip in Yellow Pine, 50 miles northeast of Cascade, Idaho, Sunday afternoon.
Court records and sheriff's log
December 1
Essay contest for residents: The Boundary County Human Rights Task Force is inviting county residents to submit entries in their new essay contest, with the winner to read their essay at their Human Rights Celebration in January.
Obituaries
June R. Ripatti, December 7, 1925 ~ December 30, 2013
Clifford Andrew Clifton, April 24, 1927 ~ December 29, 2013
Allen Wyatt VanAlstyne, Jr., March 19, 1929 ~ December 28, 2013
Irma Esther Bochu, January 16, 1922 ~ December 26, 2013
LaVern M. Dinning, September 7, 1933 ~ December 16, 2013
Almer "Dallas" Kelson, November 1, 1934 ~ December 21, 2013
Rodney "Rod" Eugene Thompson, November 10, 1945 ~ December 7, 2013
Richard Alan Armstrong, January 13, 1950 ~ December 9, 2013
Curtis M. Osborne, January 15, 1924 ~ December 3, 2013
Beverly Jean Docherty, January 22, 1934 ~ December 5, 2013
Greta Elaine Marcy, May 10, 1951 ~ December 4, 2013
Sharon "Sherri" Anne Miller, December 8, 1946 ~ November 29, 2013
Social

Mariah Rae named Student of the Month
:
A junior at Bonners Ferry High School, Mariah Rae is a happy student who likes to laugh, enjoys humor and have fun in her many activities. She is November's Student of the Month, selected by the Delta Kappa Gamma Women Educators.
BCMS student takes honorable mention:
The Idaho Forest Products Commission announced winners of the 18th annual Forest Products Week Essay Contest, November 30, and a Boundary County Middle School student was on the list.
Sports
New process for IPNF events: The Idaho Panhandle National Forests are implementing a new open season application process for special use recreation events. A special use authorization is required before conducting any type of commercial recreation use of National Forest System lands.
Moose Madness a week away! Moose Madness is hitting the boards at 6 p.m. Friday, December 20 with the faceoff of the Badger and Bulldogs girls varsity basketball teams. The annual event is in Sandpoint this year at Sandpoint High School.
Lady Badgers' first win at home: The Lady Badgers played their first home game of the season Tuesday and scored their first win of the season as well, defeating the Libby Loggers 36-29.
Update on Badger home hoops: School district athletic director Steve Morton has sent out clarification on home basketball games this week as weather has upset the scheduling.
Lady Badgers lose heartbreaker: The Lady Badgers lost a heartbreaker to Lakeland Thursday, 51-45. Lakeland led by 11 points at the end of the first half, 30-19, and stretched their lead to 17 in the third quarter before the Badgers started climbing back.
Hunters asked to report hunting results: Most of the major big game hunting seasons are now over. Successful or not, hunters are already starting to think about next season. So are we at Fish and Game.
Boys win, girls fall at CdA Charter: Badger varsity boys basketball kicked off their season Tuesday night with a 62-21 win over Coeur d'Alene Charter. The Lady Badgers fell in a heartbreaker.
Letters
Congressman Raul Labrador
:
Every year, on Christmas, we gather with friends and family to celebrate a tradition that spans 2,000 years; inspires millions of Americans and billions of people around the world; and brings out the greatest joys of life – a sense of meaning, a spirit of generosity and kindness, and a conviction we are all connected in ways that we can hardly imagine.
Congressman Raul Labrador
:
Last week, I voted against a budget plan to raise taxes and increase government spending by $63 billion over the next two years.
Senator Mike Crapo:
Our water is one of our greatest resources. Access to clean, abundant water is fundamental to our economic well-being and critical to communities, economic development, agriculture, commerce, transportation, recreation and energy.
Congressman Raul Labrador
:
This week, I participated in a Judiciary Committee hearing about the President's failure to fulfill his most basic Constitution duty – to "faithfully execute the law."
U.S. Senator Mike Crapo

: I recently shared in the Senate some of the infuriating experiences of Idahoans who are among the more than three million Americans now losing health care coverage and facing much higher premiums due to the Affordable Care Act. The promises of the flawed health care law are nothing like the real

ities.
Back to archives