Home
News
Sports
Social
Obituaries
Events
Letters
Boundary County Archives ~ September, 2017
News
September 11

Locals taking part in Walk to End Alzheimer's: A team of walkers from Bonners Ferry will be participating in the Walk to End Alzheimer's on September 30 in Coeur d'Alene, and they need your help, either by walking with them or donating to the cause.
Deadline near for SCD tree sale: It's nearly your last chance to order trees during this year's Boundary Soil Conservation District Annual Tree Sale. All their trees are container grown and handed to you in an eight-inch or 15-inch plug.
Over 2,000 homeless in Idaho: Results from Idaho's annual Point-in-Time (PIT) count show the state's homeless population continues to hover at 2,000 on average. The count remains consistent with the numbers reported the last six years.
September 10
Check your Weekly Grand tickets: Idaho Lottery jackpot's newest winning ticket was bought in Boundary County! Players who purchased tickets for the Idaho-only game Weekly Grand for Wednesday night's draw are encouraged to check their tickets carefully to see if you are the one.
September 8
Air quality alert extended again: The air quality alert that had been set to expire at noon today has instead been extended through 10 a.m. Monday as breezes anticipated haven't arrived and sparse scattered showers in the county today have done little or nothing to settle the thick blanket of dense smoke covering much of the northwest.
~ Air quality hazardous ~
11:51 a.m.: North Idaho's air quality is at the bottom of the scale, with the air in Bonners Ferry and Sandpoint rated as unhealthy and the air further north rated as hazardous. Those with breathing problems, especially the very young and very old, should remain indoors and be ready for a trip to the hospital if breathing becomes difficult.
Work scheduled on two UP railroad crossings: Union Pacific Railroad crews will tentatively be working on the crossing on Wilderness Road from 5:30 a.m. to 5 p.m. Sunday, September 10.
Traveling art exhibit coming to Boundary County: The ArtsGrowLearning Traveling Art Exhibit is going to be making a stop in Boundary County for two weeks! The Idaho Commission on the Arts partnered with venues across the state to present ArtsGrowLearning, a touring presentation showcasing student visual art, dance, creative writing/storytelling and media arts created through Idaho's ArtsPowered Schools program.
Forest Service road closing for repair: The Bonners Ferry Ranger District is issuing a road closure on Forest Service Road #2509 in Boundary County while a culvert is removed. The culvert will be replaced with a bottomless arch over Spruce Creek to restore fish passage upstream of the road.
Medicare workshop offered in Sandpoint: Senior Health Insurance Benefits Advisors, a unit of the Idaho Department of Insurance, is offering a Medicare Workshop from 4:30 to 6:30 p.m. Wednesday, September 13, at the Bonner General Hospital, N520 3rd Avenue, Sandpoint.
Moyie Springs City Council Minutes, August 9
Boundary County Commission Minutes, August 7
Boundary County Commission Minutes, July 3
September 7
IPNF weekend fire update: Eight new wildfires were detected across the Coeur d'Alene Dispatch Area in the last week. Firefighters have worked hard to contain new starts quickly. With all the smoke throughout Boundary County, the sheriff's office is receiving countless calls from people with concerns of local fires. As of 4 p.m. today, there are no wildfires burning within Boundary County!
Lincoln County fires update: This is the September 7 fire update on the fires that are burning on the Kootenai National Forest. The Gibralter, Caribou, West Fork, Moose Peak, and Highway 200 Complex fires are detailed below.
Mutt Strut canceled due to smoky haze: Due to the smoky, unhealthy haze enveloping the region, organizers of this year's Mutt Strut dog/human walk run have made the hard decision to cancel the popular Pawsitive Works fundraiser.

Senator Crapo joins KVRI Board for lunch: Idaho Senator Mike Crapo took time from his busy schedule to meet with the Kootenai Valley Resource Initiative Board for lunch on August 29. Left to right are County Commissioner Walt Kirby, commissioner LeAlan Pinkerton, Ron Abraham, Kootenai Tribe of Idaho, Senator Mike Crapo, Commissioner Dan Dinning, Bonners Ferry Mayor David Sims and Gary Aitken Jr., Kootenai Tribe of Idaho.
September 5
Kootenai National Forest fire update: This is the September 5 fire update of the fires that are burning on the Kootenai National Forest. The Gibralter, Caribou, West Fork/Mount Tom, Moose Peak and Highway 200 Complex fires are detailed below.
West Fork Fire prompts more evacuations near Libby: The West Fork Fire just seven miles northwest of Libby is growing quickly. The fire started last week and is now burning about 1,600 acres. The Lincoln County Sheriff's Office on Monday afternoon updated the areas listed under a mandatory evacuation order.
Court dispositions and sheriff's log
September 4
~ Fireball seen over the region ~
10:18 p.m.: Police are responding to a report of a fireball falling from the sky and landing in the north part of Marx Subdivision or in the area of the landfill. Fire crews have been notified. As of 11:43 p.m., firefighters are still out, but they are winding down as nothing has been found and the area of reported sightings has grown to cover much of the region from Spokane to Tacoma to Calgary. If it was an asteroid that hit, it could take hours to days for a resulting fire to grow large enough to be spotted. It is most likely, if it was an asteroid, that it came apart well before hitting earth, making the chance of finding an impact site even more difficult. The most credible footage of the fireball seen across the northwest comes from Jacquie McKay, Bridge Lake, B.C., north of Kamloops, though the security camera capture does not show where or if the meteorite impacted. The original footage can be seen at on Jacquie's Facebook page at https://www.facebook.com/jacquie.mckay/videos/10154654679511193.
~ Woman rescued from fall into Kootenai River ~
7:14 p.m.: Emergency personnel have been paged to respond to a report of a person falling from the railroad bridge into the Kootenai River. Water rescue personnel are assembling. 7:21 p.m.: The person reporting this says a woman went into the water on the north side and was shouting for help; police have spotted the victim in the water about 100 feet from shore and in distress. A boat is being launched and the officer is calling for a throw rope. 7:31 p.m.: The woman has been brought to shore; she is alert and walking. Additional personnel are standing down.
Smoke expected to get worse before clearing: An air quality alert remains in effect through noon Wednesday, with air quality only expected to get worse as wind shifts bring in more smoke from British Columbia and Montana fires, in addition to smoke from the Washington and Oregon Cascades.
Welcoming the Memorial Wall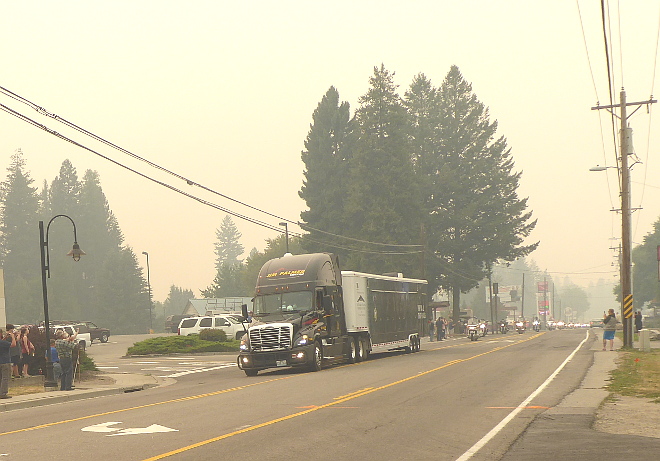 Despite a heavy blanket of smoke choking the region, many turned out in pockets along Highways 95 and 2 this morning to wave flags and salute the convoy carrying the Vietnam Memorial Wall through Boundary County on its way to Kalispell, Montana.
September 3

Open house set at The Little White Church: After three years of fixing up The Little White Church in Paradise Valley, built in 1903, most of the work is pretty much finished, and Larry Hall is organizing a potluck picnic and open church for the community!
September 1
Fire weather watch issued for Sunday: The National Weather Service has issued a fire weather watch in effect on Sunday afternoon and evening for high Haines Index for North Idaho, the east slopes of the Cascades and the Okanogan highlands.
Building great habitat for our unique Kootenai River fish: The Kootenai Tribe is building a project to increase and improve habitat for Kootenai River white sturgeon, burbot and other native fish. Construction of the project, which is upstream from Bonners Ferry between river miles 153.5 and 155, began in late August.

Bats in your house? Stay calm: News of recent cases of rabid bats in various parts of Idaho have left residents nervous about encountering bats inside or outside their homes. It is important that people understand how to best handle a bat that is found in their home, including what precautions to take to prevent exposure to rabies.

Vietnam Vets Memorial convoy to roll through town: The Vietnam Veterans Memorial will be passing through Bonners Ferry on Monday, September 4, at approximately 11:45 a.m. to noon, as it travels from Goldendale, Washington, to Kalispell, Montana, where it will set up at 2000 US 93 S and be on display, sponsored by Vietnam Veterans of America NW Montana Chapter 1087, from September 7-10.
Old bachelors die hard: As time goes by, or to be more specific, as the past nine years of married life go by, I am beginning to notice a few things about myself. The most important is, I am more like an old dog than I would have guessed. Musings from Moyieboy, by Ken Carpenter
Time to thin the herd and flock: Marchita Johnson, who is retired from a career in retail management and now describes herself as a grandmother, gardener, farmer and daughter of the King, is working to divest her Moyie Springs farm of a few goats and chickens, but she wants to make sure the homes they go to are as loving and caring as hers is.
North Idaho WIC recognized for breastfeeding program: The U.S. Department of Agriculture recently awarded Panhandle Health District's Supplemental Nutrition Program for Women, Infants and Children Program with the Loving Support Gold Elite Award of Excellence.
Back to archives