Locals taking part in Walk to End Alzheimer's
September 11, 2017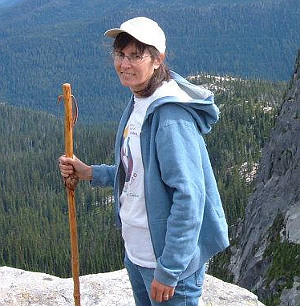 Kathy Konek

A team of walkers from Bonners Ferry will be participating in the Walk to End Alzheimer's on September 30 in Coeur d'Alene, and they need your help, either by walking with them or donating to the cause.

They are asking for your assistance as they raise funds to help bring educational seminars to the community, support those who families are afflicted by this disease and fund further research to find a cure for Alzheimer's.

Please visit http://act.alz.org/goto/bonnersferrywalkers, to either join the team or make a donation.

The goal for the walk this year is to raise $70,000, and so far, $29,744 has been raised. The Bonners Ferry Walkers are seeking to raise $1,000, and they're almost half way there with $481 raised so far. Your help can get them the rest of the way.

"I'm walking, for my 21st year, to help reclaim the future for millions," wrote team leader Kathy Konek. "By participating in the 2017 Alzheimer's Association Walk to End Alzheimer's, I'm committed to raising awareness and funds for Alzheimer research, care and support."

The entire team sends the following message, "Thank you for your consideration and contribution to support those in need!"

If you have any questions, or would like to donate off-line, please feel free to contact Kathy at (208) 267-8295.
Questions or comments about this article? Click here to e-mail!