Sanders County Sheriff seeking tips on stolen truck
September 22, 2017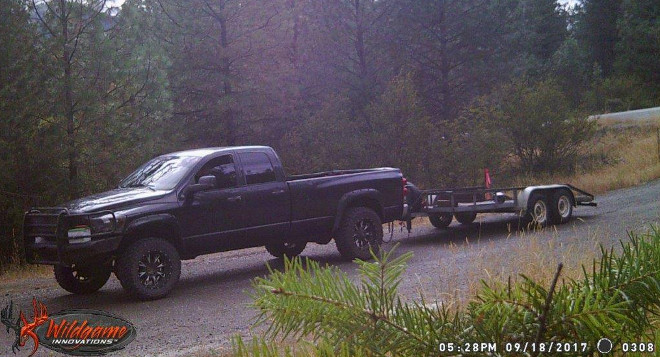 A game camera captured this image of a Dodge pickup and an empty trailer entering private property in Trout Creek, Montana at 5:28 p.m. Monday ...
The Sanders County, Montana, Sheriff's Office needs your help in locating the person(s) responsible for the theft of a pick up truck in Trout Creek on Monday.

On September 18, an individual or individuals broke into secured private property and stole a 1974 Ford pick up, green and white in color (VIN # F25BRT03789). The theft was captured on a game camera at 6:58 p.m. MST.

The individual(s) loaded the Ford truck onto a trailer that was attached to a Dodge pick up.

If you have seen this truck and trailer and/or the stolen truck, or know anything about this theft, please contact Deputy April Phillips at the Sanders County Sheriff's Office, (406) 827-3584, extension 3.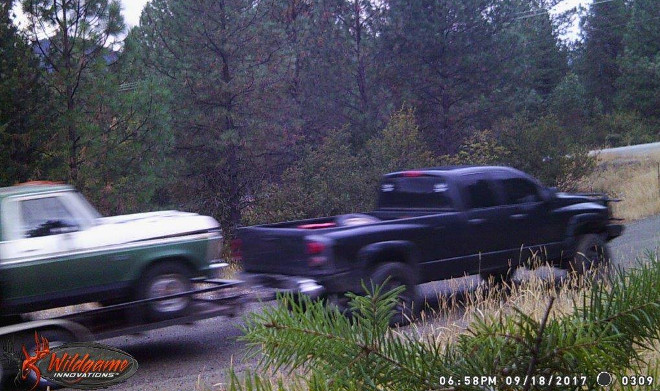 ... and this picture of the same rig, now with a stolen green and white 1974 Ford pickup loaded on the trailer, departing the property at 6:58 p.m.
Questions or comments about this article? Click here to e-mail!