North Idaho WIC recognized for breastfeeding program
September 1, 2017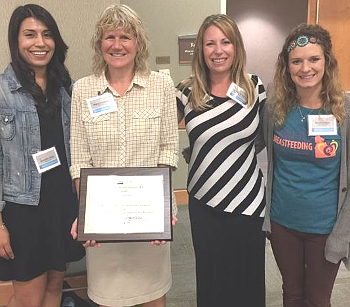 WIC Staff after receiving Loving Support's Gold Elite Award at the Breastfeeding Summit in Boise in August. (l-r) Jennifer Post, USDA, Mary Monroe, PHD WIC, Kim Young, PHD WIC, and Mimi Fetzer, Idaho WIC.

The U.S. Department of Agriculture (USDA) recently awarded Panhandle Health District's (PHD) Supplemental Nutrition Program for Women, Infants and Children (WIC) Program with the Loving Support Gold Elite Award of Excellence.

This is the highest level of recognition by Loving Support. PHD's WIC Program is the first local agency in the country to have achieved this prestigious honor.

"This award underscores the amazing work our staff do every day to support local families," said Mary Monroe, PHD Breastfeeding Coordinator. "We aim to provide encouragement and support to empower mothers as they strive to meet their personal breastfeeding goals."

Over 7,600 people, including more than 1,000 infants, received WIC benefits from Panhandle Health District in 2016. Over 40 percent of infants enrolled in WIC were fully breastfed for their first six months. That is far and above the national average, reported at 13 percent of infants in the USDA's 2016 Breastfeeding report.

In addition to remarkable breastfeeding data, PHD was recognized for its peer counseling services, supportive and breastfeeding-friendly environment, and strong community partnerships.

Panhandle Health District WIC has six locations in Hayden, Post Falls, Kellogg, Sandpoint, St. Maries and Bonners Ferry.

Qualified WIC families receive nutritional education, monthly vouchers to purchase healthy food, breastfeeding support and counseling, as well as resources and referrals to meet each clients' needs.

To learn more about WIC services in North Idaho, call (208) 415-5130 or visit panhandlehealthdistrict.org/wic.
Questions or comments about this article? Click here to e-mail!