Happy homecoming 2017!
September 29, 2017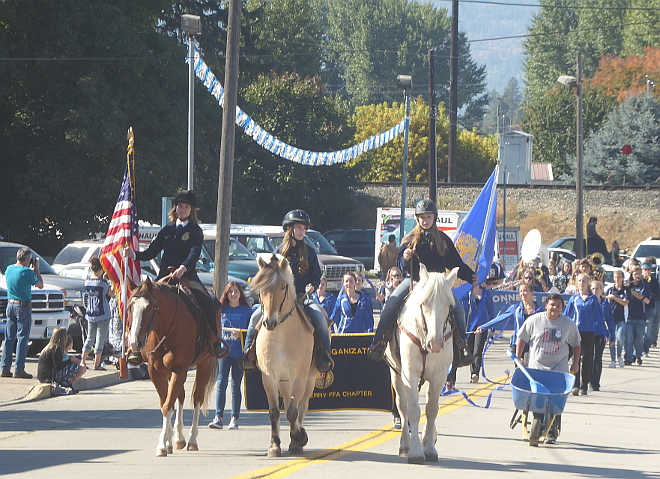 Today is the big day at Bonners Ferry High School, especially for those in the Badger Class of 2018, who took part today in their final homecoming celebration. While the homecoming game doesn't take the field until 7 p.m., the spirit of the event was made manifest as the parade wound through downtown Bonners Ferry this afternoon!

We at NewsBF and Boundary County Live tip our hats to today's celebrants, and like nearly everyone who calls Boundary County home, we are cheering for our Badgers as they prepare to take on the St. Maries Lumberjacks; seniors Brady Bateman, Xavier Boychief, Ronnie Craig, Taiga Deleon, Ryan Mason, Anthony Minor, Allen Riois, Chris Sabin, Jesse Sandelin, Kendall Stone, TJ Stotler and Shane Walkwer, juniors Jesse Bradley, Kenny Branson, Christian Dehlbom, Chris Durette, Josh Little, Jeff Novak and Donavan Varelman, sophomores Ty Bateman, Ashton Blumenauer, Jake Jelinek and Matt Morgan, and coaches Cory Kramer, Kevin Campbell, Don Alt, Chris Sabin, Corey Richards, Reed Bennet and David Koon; cheers to each of you, and thank you for all you do as Badgers!

Here's a look at today's homecoming parade -- and we hope to see all of you at the game tonight, but remember, if you can't make it, no matter where in the world you happen to be cheering from, you can catch the game live at 7 p.m. Badger time tonight at http://boundarycountylive.com!
Questions or comments about this article? Click here to e-mail!