Volleyball Association offering open gym
September 21, 2017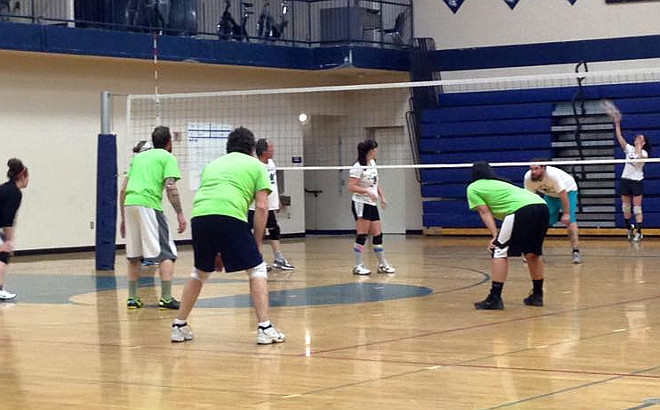 Photo by Deborah Freeman-Kerr
The 2016 B League Championship Match between the B. Town Heroes and Idaho Forest Group. The B. Town Heroes won!
The Boundary County Volleyball Association is gearing up to offer a fun, active and competitive way to help you through the long dark that lies just ahead; adult co-ed volleyball on Wednesday nights from November through February, with an open gym starting at 6:30 p.m. Wednesday, October 4, for everyone interested in trying out.

Two leagues will be formed; the competitive A League for more experienced players and B League for players who just want to stay active through the winter doldrums and have fun while they're at it.

League play will run from November 15 to February 14 this year, with a week off for Thanksgiving and two off for Christmas. Games will be played each Wednesday at 6:30, 7:30 and 8:30 p.m., with each team typically playing two of those slots.

In years past, the volleyball association only offered team sign ups, but this year, individuals are invited to open gyms during the month of October to allow people not already on teams to come play alongside those who do so new teams can be formed.

Each team consists of three guys and three gals, and cost for the season is $120 per team, just $20 per player. Some teams get local businesses to sponsor them and if that happens, the business will generally cover the entry fee as well as provide shirts.

To learn more, check out BCVA on Facebook, or contact Lauren Bartoe at lcbartoe@gmail.com.
Questions or comments about this article? Click here to e-mail!