This Old Trunk celebrates a year
September 13, 2017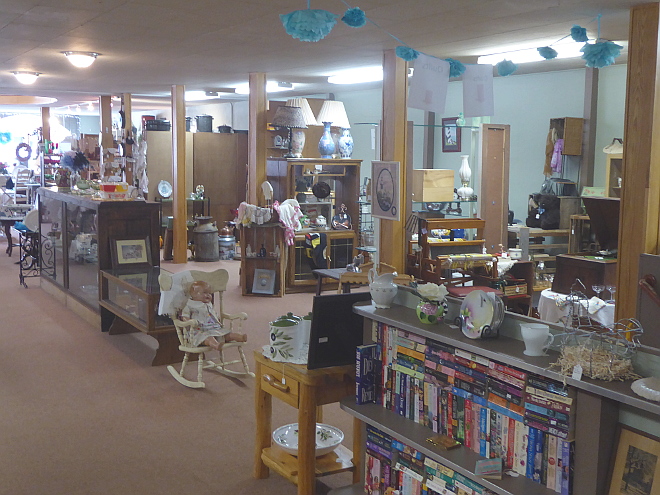 An eclectic shop quietly celebrated its first anniversary last month in the old South Hill Furniture building on Main Street, and if you haven't visited yet, you owe it to yourself to stop in and visit "This Old Trunk Antiques and Collectibles, 7219 Main Street, Bonners Ferry, and owner/retail baby sitter Heather Bailey.

And if you have been in but not in a while, drop in again -- you'll find that everytime you do drop in you'll find something new and exciting.

This Old Truck is a consignment store, with 18 current vendors bringing in and setting up their wares while Heather mans the shop from 10 a.m. to 5 p.m. Tuesday through Saturday, greeting customers and making them welcome as they view the antiques, home decor, gifts, arts and crafts, books, knick knacks and so much more.

In just one short year, the main floor has filled and the lower level is getting that way, and once it is there's still an upper floor to go! The prices for customers are superb, and rates for vendors are reasonable as well.

Heather, who moved to Bonners Ferry full time three years ago, brings a wealth of experience to the store. Growing up in Michigan, she helped her mother in similar stores, then moved to Georgia, where she lived for 25 years setting up a working flea markets and consignments.

It was (ahem) the promise of cooler weather that eventually brought Heather and her family to North Idaho. They first looked about 15 years ago, then visited several more times before deciding to move here for good.

And then came this summer, hot as any Georgia had to offer!

This Old Trunk offers something for everyone -- even vinatge fishing gear!

If you're looking for that perfect gift, for yourself or someone else, don't overlook This Old Trunk! To find out more, call (208) 267-8700.
Questions or comments about this article? Click here to e-mail!