Home
News
Sports
Social
Obituaries
Events
Letters
Boundary County Archives ~ May, 2017
News
May 31
~ Fleming Creek Road reopened ~
Fleming Creek Road has been repaired and was reopened to normal traffic today.

Two circuses coming, only one giving back to community: Thanks to the sponsorship of the Bonners Ferry Rotary Club, Culpepper & Merriweather Circus, America's Favorite Big Top Circus, is coming to Boundary County Fairgrounds on Wednesday, June 14, with scheduled performances at 5 and 7:30 p.m. Proceeds from the circus will come back to the community as a major fundraiser for the Bonners Ferry Rotary Club.
Boundary County Commission minutes, May 15
Boundary County Commission minutes, May 8
Boundary County Commission minutes, May 1
Boundary County Commission minutes, April 24
May 30

Boundary County remembers its fallen: Memorial Day in Bonners Ferry is always a kaleidoscope, smiles and laughter through the parade, kids scrambling for candy from the passing fire trucks and cool cars, the solemnity of each year's remembrance of those of who lie in Grandview Cemetery, having paid the ultimate sacrifice, laying down their life in service to our nation. A NewsBF pictorial

Valley View puts on awesome Curiosity Fair: Valley View's Annual Curiosity Fair was a great success. There were 57 projects in the contest this year and we had some amazing judges who volunteered their time to look over these projects and score them based on content, display, knowledge of their topic, and effort. By Principal Nathan Williams
Northern Idaho Crisis Center can help in Boundary County: Boundary County Sheriff David Kramer would like to share some information on the North Idaho Crisis Center. He is on the advisory board for the center and returned today from a meeting. While he was there he was able to verify that they will facilitate transportation to their facility in Coeur d'Alene from Bonners Ferry.
May 28

Farm Bureau 2017 Farm Tour an amazing day: Friday dawned sunny and bright, a near perfect morning as car after car started pulling into the fairgrounds parking lot for the 2017 Boundary County Farm Bureau Farm Tour. Cassie Olson, District Manager for the Boundary Soil Conservation District, was a touch nervous ... A NewsBF pictorial
May 27
Entering 100 deadliest days of driving: Idaho is about to enter the annual "100 Deadliest Days of Driving," the period between Memorial Day and Labor Day each year. In 2016, 85 people died on Idaho's roadways during that timeframe.
May 26
~ U.S. 95 back to two lanes at slide ~
According to the Idaho Transportation Department, the flaggers who have directed traffic around as workers stabilized the hillside that slid in March at Mountain Meadows Road are on to other things and Highway 95 has returned to a two-way traffic pattern with a reduced speed limit.
May 25
~ Training burn this evening ~
The Idaho Department of Lands is planning a training burn of less than 1/10th acre beginning at 6 p.m. today in the Paradise Valley area. The training is expected to last until about 9 p.m.
~ Deep Creek Loop reopened ~
3:07 p.m.: County road and bridge advises that Deep Creek Loop is now open to travel following a temporary repair. There is a 25 mile per hour speed limit in effect and one lane is gravel. Please use caution as there is loose gravel and the south bound lane has a soft shoulder.
~ County roads now open to hauling ~
With the exception of emergency closures resulting from damage by flood, all Boundary County roads are now open to hauling. The roads still closed are Oxford Road from Usher Lane south around the corner to address 942, Fleming Creek Road on the hill from address 1092 west to 3451, and Kootenai Trail Road from address 4894 east down the canyon to 5622.

Memorial Day a day of prayer for permanent peace: BY THE PRESIDENT OF THE UNITED STATES OF AMERICA: A PROCLAMATION: Memorial Day is our Nation's solemn reminder that freedom is never free. It is a moment of collective reflection on the noble sacrifices of those who gave the last measure of devotion in service of our ideals and in the defense of our Nation.
How could anyone abuse or neglect their guardian angel? Is there no greater classic old movie than "It's a Wonderful Life" with Jimmy Stewart? Remember the story? George Bailey had to take over the savings and loan after his father died. By Foster Mayo
Supermoon tonight, but you won't see it: For the first time since 2009, a new moon – not a full moon – will be the closest and largest supermoon of a year. In recent years, the year's largest supermoon has been a full moon. But not in 2017.
May 24

Curiosity keeps Jean Bevins young at 104 years: Imogene "Jean" Bevins, a centenarian resident of the Boundary Community Hospital Nursing Home, will be celebrating her 104th birthday with family, friends and caregivers on Thursday. Bonners Ferry Mayor David Sims will be stopping by to mark the occasion and to pass on the best wishes of the community to this remarkable woman.
FHWA releases funds for repairs, including Deep Creek Loop: The U.S. Department of Transportation's Federal Highway Administration announced on Friday the immediate availability of $1.25 million in Emergency Relief funds to help begin repairs on flood-damaged roads and bridges in Idaho, including Deep Creek Loop in Boundary County.

Gearing up for an All American Small Town Celebration: Each year, hundreds of people gather on the Boundary County Fairgrounds lawn as the sun begins to set on the Fourth of July, set out their lawn chair or spread their blankets, and admonish the kids, "don't stray too far, it's about to start!" This year, organizers putting it all together are trying something new.

Fuller Fur, Feather and Friends Pet Services opens here: Dan and Jennifer Fuller started visiting Bonners Ferry about four years ago, and after hunting for property for two years, they finally bought an incomplete home in the North Bench area about two years ago, then spent their visits working on the place. In September, 2016, Dan and Jennifer packed up not only their household but their business as well and bid farewell to the tiny town just outside Yosemite National Park.

Idaho 8-in-6 an awesome program for students: School District 101 board member David Brinkman was recently asked by another parent about the Idaho 8-in-6 (Fast Forward) Program his daughter, Liliana, is participating in at Boundary County Middle School. "This program is an amazing opportunity for students," he replied.
Labrador adds first name to campaign team: Raúl Labrador formally announced Milford Terrell today as his treasurer for his gubernatorial campaign. Terrell has served on numerous boards and commissions for six different governors over the course of 30 years.
May 23
Man drowned fleeing Canada: At about 5:19 p.m. Monday, May 22, the Boundary County Sheriff's Office and Boundary Ambulance responded to Eastport to assist the United States Border Patrol with a male subject who had gone into the Moyie River.
Memorial Day waters high and cold: With Memorial Day weekend looming this weekend and all the people who will be setting out to play after our very long and hard winter, Boundary County Emergency Management would like to remind everyone that our rivers and streams are running very high, cold and strong.

Mixed emotions and May Madness: It is difficult for me to explain the mixed emotions that surround the end of the school year. Students, teachers, staff members, family members, and coaches have Senioritis. We are all ready for graduation, and not ready for graduation at the same time. By Principal Kevin Dinning
Local hams preparing for field day: Amateur radio has played an important part of emergency communications since the dawn of radio. Amateurs always practice their skills. One of those practices is the American Radio Relay League Annual Field Day.
Roadwork underway in Round Prairie area: Work is underway to replace a bridge and resurface pavement on Highway 95 in the Round Prairie Creek area of northern Boundary County.
Working to identify all Idaho's veteran memorials: With Memorial Day coming up, Governor C.L. "Butch" Otter announced today that the Idaho Division of Veterans Services has launched an effort to identify all Idaho monuments and memorials honoring the military and veterans.
Idaho joins in settlement in Target breach: Idaho Attorney General Lawrence Wasden announced today that Idaho has joined 46 states and the District of Columbia in reaching an $18.5 million settlement with the Target Corporation.
May 22
!! Missing child !!
8:10 p.m.: The girl has been found! 7:46 p.m.: Please keep an eye out for a missing 11 year old autistic girl in the area of VanBuren Street in Bonners Ferry. She has short brown hair and was last seen wearing a purple top. If you see her, please call 911.

In Flanders fields the poppies blow: You might see folks out and about this week, older folk mostly, many wearing blue garrison or baseball caps emblazoned with military badges, patches and medals, offering small red paper poppies, asking no set price, but gladly accepting whatever you offer. The American Legion recognizes National Poppy Day this year on Friday, May 26.
Line break in 20-Mile water system
1:40 p.m.: 20-Mile Creek Water Association has informed NewsBF of a water line break in the system on 20 Mile Creek Road. Crews are working to restore the line as quickly as possible. 9 a.m. May 23: The break was repaired last night and the system brought back on line; however, crews are out this morning checking to see if there are other leaks or problems. That you for your patience!
Vendors invited for big day: The Bonners Ferry Chamber of Commerce is looking for vendors, food booths, community organizations, musicians and performers to participate in our Kootenai River Day's Street Fair that will be held Saturday, July 8, in downtown Bonners Ferry!
County rents spray equipment to local residents: In its effort to rid the county of noxious weeds, Boundary County rents out sprayers to county residents.
Trump signs North Idaho disaster declaration: On May 18, President Donald J. Trump signed a Presidential Disaster Declaration for Boundary County and seven other northern and north-central Idaho counties.

The itchy and scratchy world we live in: I was in the Army in 1973, stationed in Yokohama, Japan. One of my friends and I decided to escape the rat race for a weekend so we drove north in search of an isolated beach, armed with blankets, matches, Kirin beer, a bag of rice balls wrapped in seaweed and little else. Musings from Moyieboy, by Ken Carpenter
California pilot walks away from controlled landing: At around 4 p.m. Sunday, deputies from the Kootenai County Sheriff's Office and personnel from the Northern Lakes Fire Department and the Coeur d' Alene Airport responded to a report of an airplane in distress.
Oklahoma woman killed near Garwood: At about 9:42 p.m. Sunday, May 21,a fatal crash occurred near the intersection of US Highway 95 and Garwood Road north of Hayden.
May 21

Get up early to see moon and Venus: Tomorrow – Monday, May 22 – get up an hour or two before sunrise to see the moon and planet Venus, the second-brightest and third-brightest objects in the sky after the sun. The brilliant twosome will be near each other, a beautiful and compelling sight as seen from around the globe.
Expect heavy travel, higher prices Memorial Day weekend: AAA projects that 39.3 million Americans will travel 50 miles or more from home this Memorial Day weekend, a 2.7% increase from 2016. That is one million more travelers than last year taking to the roads, skies, rails and water, creating the highest Memorial Day travel volume since 2005.
IPNF to go after noxious weeds: The Idaho Panhandle National Forests will be treating noxious weeds on National Forest System lands as part of an integrated pest management program that includes mechanical treatment, seeding/fertilizing of competitive native grasses, biological controls, and chemical treatment.
Visitor use surveys underway on KNF: If you head into Montana, you may soon see more Forest Service employees working in developed and dispersed recreation sites and along Forest Service roads on the Kootenai National Forest. They will be wearing bright orange vests and be near a sign that says "Traffic Survey Ahead."
Revisions advised in state science standards: A state committee is recommending revisions to science standards that will be presented to the State Board of Education in August.
May 19

Spring Into Summer with Bonners Ferry Community Orchestra: The Bonners Ferry Community Orchestra takes the stage at 7 p.m. Thursday, May 25, at The Pearl Theater for their 2017 Spring concert, Spring Into Summer, conducted by Glenda Novinger. The orchestra dedicates their performance to the memory of Lillie Albertson, whose tireless commitment and love for music inspired all who knew her.

EAA to hold season's first huckleberry pancake breakfast: he first Experimental Aircraft Association Chapter 757 Huckleberry Pancake Breakfast of the season takes place from 8 to 10 a.m. Saturday, May 27, at the Northern Air Hangar at the Boundary County Airport, 64602 Highway 2 at Three Mile. Funds from the breakfast are used for flight training scholarships.
Integrated Personnel holding job fair: Integrated Personnel Inc. is holding a job fair in Sandpoint from 10 a.m. to 2 p.m. Thursday, May 25, and they will be hiring for production positions including ...
Limited service at Under the Sun: Due to a death in the family, Under the Sun, 7178 Main Street, Bonners Ferry, will not be serving sandwiches Friday and Saturday, May 19-20. The shop will be open as usual and soups, salads and coffee will be available.
May 17

Luna missing east of Three Mile: FOUND AND HOME SAFE!! Luna went missing east of Three Mile this morning, and her family is hoping to get her back home soon. She is two years old and super friendly. If you see her, please call Marqui at (208) 627-8181.
Labrador, Goodlatte introduce immigration bill: Immigration and Border Security Subcommittee Vice-Chairman Raúl Labrador (R-Idaho) and House Judiciary Committee Chairman Bob Goodlatte (R-Virginia) on Tuesday introduced a robust immigration enforcement bill to enhance public safety, protect national security and ensure the rule of law.

Beth and Bruce to play The Pearl: At 7 p.m. this Saturday, May 20, The Pearl Theater welcomes world-class singers and songwriters Beth Pederson and Bruce Bishop to the stage, where they will share their recent album, "Keeping Time by the River. "

Sara Sue is missing: Sara Sue has been missing since May 6 from her home on Maas Loop north of Bonners Ferry. She is a small blue heeler, black, tan and white, with no collar. Please help find this sweet girl and bring her home. If you know anything please contact Renee Pruitt at (208) 946-8517.
May 16
Two new faces on school board: Ron MacDonald, running unopposed after Justin Gibbins withdrew because of a move, held onto his Zone 1 seat on the Boundary County School District 101 Board with 44 votes, and Teresa L. Rae captured the Zone 5 seat, garnering 50 votes to challenger Bethany Blackmore's 25. Susan L. Weed, who ran unopposed for the Zone 2 seat, is also new on the board. Editor's note: An earlier version of this article that indicated only one new trustee was caused by confusion over Tess Rae, who sits on the board but was not up for reelection. Teresa Rae is her sister-in-law.
Northern Lights warns of scam: Northern Lights Electric Co-op is warning members to beware of scams within their service territory. NLI has received a report that a member has been contacted by an individual who represented them self as an employee of the Co-op, and who was requesting personal information.

Polyphobia is not a fear of cracker packing parrots: Over 2400 years ago, Hippocrates, the famous Greek physician who diagnosed and misdiagnosed more new afflictions than anyone in history, came up with a new one. Based on only two puzzling cases, he wrote that "men who feared that which need not be feared" were suffering from a phobia. Musings from Moyieboy by Ken Carpenter

Three officers to receive Idaho Medal of Honor: Three police officers have been selected to receive the Idaho Medal of Honor for performing with exceptional courage and bravery while protecting the public, including Sergeant Greg Moore, Coeur d'Alene Police Department, who was killed in the line of duty in 2015.
One killed, two injured in Kootenai County crash: A young man was ejected from a vehicle in a single vehicle crash near Spirit Lake Monday evening and killed. Another youth and a Coeur d'Alene man were injured.
May 15
Flood watch issued for heavy overnight rain: The National Weather Service in Spokane has issued a flood watch for portions of North Idaho and Washington, including Bonner and Boundary Counties, in effect from 2 a.m. Tuesday through Tuesday evening.

A great year for Valley View Elementary: This year is nearly over and I am happy to announce it has been a great one for Valley View Elementary School. The students and staff are wrapping up testing and looking forward to some educational field trips, outdoor school, and other kinesthetic activities that will help create lifelong memories. It is a great time to be a Badger. By Principal Nathan Williams
Flags at half staff for fallen peace officers: United States Flags at Half-Staff on Monday, May 15, in Honor of Police Officers Memorial Day 2017. President John F. Kennedy declared the first Peace Officers Memorial Day on May 15, 1962, as a tribute to peace officers and in honor of peace officers who, through their courageous deeds, lost their lives or became disabled in the line of duty.
|May 12
Sturgeon flow augmentation set to begin Monday: Water managers at the U.S. Army Corps of Engineers, along with federal, tribal, and state fishery biologists, have determined that spring run-off conditions warrant the commencement of required flow augmentation at Libby Dam for endangered Kootenai River white sturgeon downstream in Idaho.
Another class released ...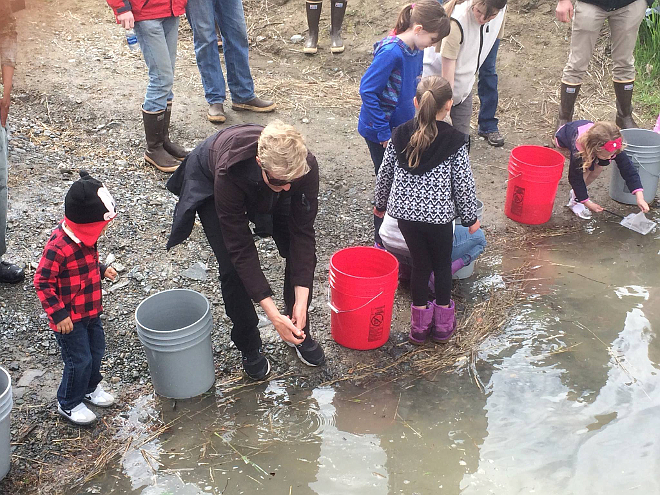 A good number of people young and old turned out at the Waterways boat launch to help the Kootenai Tribe release another year class of hatchery-reared year-old white sturgeon into the waters of the Kootenai River today. With the hatchery effort and the river restoration project, it is hoped that one day the sturgeon will again be able to reproduce in the wild.

Bonner County sex offender may have more victims: Bonner County Sheriff's Detectives on Thursday arrested registered sex offended Michael Forker for two counts of sexual battery of a minor child and one count of possession of child pornography. The Bonner County Sheriff's Office says they have reason to believe there may be other under aged victims in the community.
May 11
CdA to see major road construction this summer: Major construction will impact north Idaho traffic in and around the Coeur d'Alene area this summer. Interstate 90, U.S. 95, and other area roads will be impacted.

Spiritsong hosting auditions for Iceland trip: Auditions for Spiritsong, the international touring choir directed by Bonners Ferry local Vicki Blake Thompson will be held soon. Spiritsong will be performing in a women's choral festival in Iceland in June of 2018.
The circus is coming! The circus is coming! This is the circus brought to Bonners Ferry by the Rotary Club every two years, and it will be here for shows at 5 and 7:30 p.m. Wednesday, June 14.
Get out the fire extinguisher, Mama, it's barbecue season: Memorial Day will be upon us pretty soon, carried away on a cloud of aromatic meat smoke, as it is every year. Barbecue season is officially here. Musings from Moyieboy by Ken Carpenter
Flood watch issued for Moyie River at Eastport: The National Weather Service has issued a flood watch for the Moyie River at Eastport, in effect from late Friday night to Sunday morning. At 10:45 a.m. today, the river was at 7.8 feet. The river could reach flood stage of nine feet by Saturday morning.

HOME SAFE! Small dog found in Paradise Valley: This small brown and white dog was found today in Paradise Valley. Call Kim (518) 578-0598 or Lou (528) 569-0830 to claim.

Creston gearing up for Blossom Festival: The 76th annual Creston Valley Blossom Festival, with the theme "76 Trombones – Canada Celebrating 150 Years" will fill the streets of Creston, B.C., with a plethora of activities, most of them free, that kick off on Friday, May 19, and last all through the long weekend to Monday.

Annie Meadows to speak at Mt. Hall Church: Mt. Hall Community Church is pleased to host Miss Annie Meadows as the guest speaker for their 2017 Women's Conference from 10:30 a.m. to 3 p.m. Saturday, May 20. Annie is an internationally acclaimed author, Christian recording artist and radio talk show host based out of Las Vegas.
Comment period open on Halfway Malin project: The Idaho Panhandle National Forests is inviting the public to review and make comments on the Halfway Malin Environmental Assessment (EA). The proposed project area includes roughly 4,860 acres and is located about ten miles up the St. Joe River from Avery, Idaho, between Bird Creek and Eagle Creek.
May 10
From Boundary County Road and Bridge: Turner Hill Road is now open to normal traffic.
BCH Health Fair 2017; be proud of your community hospital: Everyone wants to live longer and healthier, but not everyone knows where to find answers to health questions or where to find local services and support groups. A good place to start is right in your back yard.

Why no eclipse with tonight's full moon? Tonight – May 10 – the moon is full. Here's something fun about this May full moon, and, in fact, about most full moons. That is, it won't undergo an eclipse. In fact, the May 10 full moon swings a whopping five degrees (10 moon diameters) north of the ecliptic, the plane of Earth's orbit around the sun.
Air Force CyberCamp offered in Sandpoint: Young adults who want to learn about cybersecurity and technology career options will have the opportunity during one of two Air Force Association's CyberCamp summer camp programs hosted by University of Idaho Coeur d'Alene.
Free home buyer education program offered Saturday: For many, the dream of home ownership can seem out of reach in today's fast-moving, competitive real estate market. Skyrocketing home prices, limited housing choices and escalating interest rates can be intimidating until one understands how the housing market works.
May 9

Labrador launches campaign for governor's office: U.S. Congressman Raúl Labrador announced to major media outlets today his intention to run for Idaho governor in a race to be decided in November, 2018. He also launched an official "Raúl Labrador for Governor" website, http://istandwithraul.com, where voters can learn more about the candidate, make donations to his campaign and sign up for emails on campaign news and events.

Dallas is missing in Moyie: This is Mackenzie's dog Dallas. He is missing from his home on Old Highway 2 Loop in Moyie Springs. If you happen to spot him, please call 290-4783.
IDL seeking art judges: The Idaho Department of Lands (IDL) invites the public to participate in judging posters submitted by Boundary County elementary school students for a Smokey Bear coloring contest.

FFA members help at Moose Valley Farms: On Saturday, May 6, members of the Bonners Ferry FFA Chapter went to Moose Valley Farms to help out at their annual Customer Appreciation Day. Moose Valley's Customer Appreciation Day consisted of lots of sales on flowers, shrubs, trees, soil, bark, and many other items. This year there was also a blood drive going on. By Katelyn Hutchinson

Skeeter season is upon us: Panhandle Health District (PHD) is urging residents to be aware of mosquito-borne illnesses. Historically, a wet and snowy winter season leads to additional snowmelt and new sources of standing water during the spring and summer months. These conditions are ideal breeding grounds for mosquitoes.
Man dies after fall from raft: The Boundary County Sheriff's Office, along with first responders from Boundary Search and Dive Rescue, Boundary Ambulance, Border Patrol, Hall Mountain Fire, North Bench Fire, Moyie Springs Fire and pilot Rich Little responded to the Moyie River Monday evening in response to a report of a person floating face down in the Moyie River near the Meadow Creek Campground. Updated 2:43 p.m.

Bonners Ferry makes good showing at Bloomsday: Bonners Ferry was well represented among the 38,748 who ran Bloomsday 2017 Sunday in Spokane, and this bunch, including four generations of Bloomies in Etta Mae Schnuerle's family, made the trip back home wearing this year's prize Bloomsday T-shirt.
May 8
Legal skinny on school trustee election: In accordance with Idaho Code 33-503, the Board of Trustees of School District 101 shall conduct its Annual Trustee Election on May 16, 2017, for the purpose of electing trustees for Trustee Zone Number 1 and Trustee Zone Number 5. Now with zone map

Spring is baby season for all things wild: Being the peak time for wildlife to have their young, the Idaho Fish and Game offers this simple suggestion to those well-intentioned people that discover baby animals that appear to be abandoned: Leave them alone. Each spring a myriad of baby birds, ducklings, goslings, squirrels, fawn mule deer, calf elk, baby raccoons and baby rabbits are taken from the outdoors and brought to Fish and Game.
May 7

Beware of unexpected gifts: Police are warning of a new scam that is so clever many who fall for don't realize they've been robbed for days, and by then it's too late. In this scheme to get the little bit of information that is all a crook now needs to steal your hard-earned money, victims receive a phone call from a person claiming to be from a delivery or courier business, complete with a professional sounding name.
May 6
Valdie Burkholder hospitalized after second fall: Bonners Ferry's favorite Mom, Valdie Burkholder, 92, was hospitalized again today after a fall in her home Friday, just two days after undergoing shoulder surgery May 4. According to her family, Valdie's health has deteriorated since she tripped on a throw rug in her kitchen April 23.

Museum given Simon Francis bow and arrows: The Boundary County Historical Society & Museum received a bow and arrow today that belonged to Simon Francis - "White Otter" - who was a member of the Kootenai Tribe. Simon said he was born on May 7, 1891, in the Kootenai Valley.
Flood watch issued on Moyie River: The National Weather Service has issued a flood watch for the Moyie River at Eastport as the river reached 7.7 feet at 10:45 p.m. Friday and could rise above flood stage of nine feet by Sunday evening or night. Updated 11 a.m. May 6
May 5

Mike Boeck challenges Scott for Idaho House seat: Lifetime Bonner County resident Mike Boeck announced his candidacy for State Representative District 1 Position A on the Republican ticket today, challenging incumbent Heather Scott. "I look forward to the opportunity to represent the people of District 1," Boeck said. "Born and raised in Bonner County and having worked my entire adult life in the forest products industry both in Bonner and Boundary Counties, I have come to know very well the issues that this district really cares about."

State FFA Leadership Conference a success: Over the week of spring break, April 4-9, the Bonners Ferry FFA Chapter took a bus down to Twin Falls, Idaho, for the 56th Annual State FFA Leadership Conference. Chapters from all over Idaho traveled to Boise along with all of the state officers. By Katelyn Hutchinson, FFA Chapter Reporter
KCSO seeking public help in deaths of woman, children: Kootenai County Sheriff's detectives are seeking assistance from the public on the deaths of a woman and her two children found deceased in Fernan Lake on Thursday, November 3, 2016.
Boaters on Lake Pend Oreille could see more debris: U.S. Army Corps of Engineers' officials are advising boaters to watch for additional debris in Lake Pend Oreille due to a breach in a drift yard facility which allows logs and debris to enter the lake.
ISAT resources available online: Idaho parents can learn more about state tests and their child's performance using a new interactive website available from the Idaho State Department of Education. Students in grades 3-8 and 10th are wrapping up ISAT testing and soon reports will be available from local districts to parents.
May 4
Flash flood watch issued for tonight, Friday: The National Weather Service in Spokane has issued a flash flood watch for portions of North Idaho and northeast Washington, including Boundary County, in effect from late tonight through Friday afternoon.

Fatal DUI simulation an eye opener for students: This morning Boundary County law enforcement and schools are presenting a graphic crash simulation to the students of Bonners Ferry High Schools, and the entire program has been cloaked in secrecy so as to not alert students prior to the simulation.

If you are bald and don't like it, have I got a deal for you: Man has been battling baldness since shortly after he began to walk upright. I can only imagine the stigma a bald pate would have attached to one of the hairy Neanderthal boys. Musings from Moyieboy, by Ken Carpenter
May hiring event in Post Falls: The Idaho Department of Labor hosts a monthly hiring event from 10 a.m. to noon Wednesday, May 10, at the Idaho Department of Labor, N600 Thornton Street, Post Falls. This event is an opportunity for job seekers to meet employers with active job listings.
May 3
Work to resume on Little White Church: It's time to start working again on the Little White Church in Paradise Valley! The building has been jacked up and a foundation built underneath. The exterior siding of the building has been repaired and/or replaced and painted and looks great! By Arleen MacKinnon

Explorers visit Virtra simulator: Bonners Ferry Border Patrol Explorer Post #190 held their April meeting at the Spokane Police Department, where the U.S. Border Patrol currently houses their Virtra simulator machine. This $250,000 machine is used by law enforcement all over the country to train in scenarios and situations where an officer may or may not have to shoot.
May 2

Dante admits to killing fiancé, charged with first-degree murder: A Boundary County man admitted to killing his fiancé Monday after she allegedly threatened him and members of his family with the Hell's Angels, according to court reports. Authorities discovered the body of Jesseka Musson, 38, covered in blood and leaning over the end of a bed with a fatal gunshot wound to the head.
Bonners Ferry FFA Chapter elects new officers: The Bonners Ferry FFA Chapter Awards Banquet was a stunning success Monday night, and a little sad, as they bade farewell to their seniors as they set out on new journeys.
Hall Mountain Fire raffling quilt, rifle: Hall Mountain Volunteer Fire Association is holding raffles for both a beautiful quilt and a brand new rifle, with the drawing to be held at the association's annual Appreciation Dinner September 30.

UPDATED 3:53 P.M. Dante charged with murder: The Boundary County Sheriff's Office received a 911 call at about 10:45 a.m. Monday, May 1, requesting law enforcement at the Cedar Court Trailer Park on McCall Street in Bonners Ferry. Once on scene, they found that 38 year old Jesseka Musson had been killed inside her residence.

Jon Riebli and family carrying on farming tradition: Meet the Riebli family; Jon, Shaina, Landen and Ashlyn. Jon is currently serving as the Boundary County Farm Bureau's Young Farmer's and Rancher chair. Jon's parents, Mike and Kathy Riebli, started farming and ranching in the Rock Creek area around 1980. By John Kellogg
The beat goes on at BCH: On May 1, the Spacelabs Cardiac Monitoring Central Station came online at Boundary Community Hospital. Funded by the community through generous donations to the Fry Healthcare Foundation Festival of Hearts, the new Cardiac Monitoring system enables Boundary Community Hospital to monitor patients in the Emergency rooms and the Acute Care Hospital from one central location.
Road update
Per Boundary County Road and Bridge at 8:32 a.m. the culvert maintenance work on Furrow Road has been completed and Furrow Road in now open.
Court records and sheriff's log
May 1
Suspicious death under investigation: On the morning of May 1, the Boundary County Sheriff's Office responded to an emergency call on McCall Street in Bonners Ferry. Upon arrival, a deceased person was located.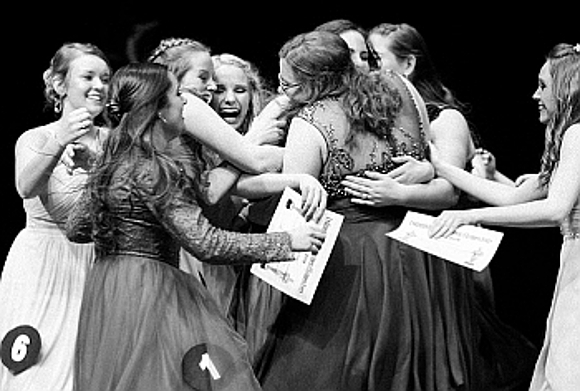 'A Night at the Oscars' a shining celebration: It was a night of 20 young women, 20 incredible talents all on a single stage. There was pomp, there were tears. There was music, comedy, dance and of course, acting. It was after all, A Night at the Oscars Saturday night in Bonners Ferry, the night of the 2016-17 Distinguished Young Women Program, a night filled with glamour and emotion.
TLCW annual sale supports local cancer patients: The Trinity Lutheran Church Women (TLCW) will have their annual sale this Friday, May 4, from 8 a.m. until 4 p.m. Sale items include plants, books, DVDs, and CDs, along with a variety of tasty home-baked treats.
The end is near for Boundary County Middle School! The end of another school year is upon us. This is the next to last article to be written this school year. It is always surprising when this time of the year seems to come so quickly. The end of the year is a perfect time to reflect upon the work done by teachers. This week has been set aside for teacher and staff appreciation week. By Principal David Miles II
Spring may be here at last: The National Weather Service has a bit of good news for those who are still looking forward to the onset of spring; we may see a few more showers in Boundary County in the week ahead, but warmer temperatures are on the way.
Traffic Alert!
Train derailment south of Sandpoint at about 7 a.m. near Highway 95 at Cocolalla Flats. ITD says that Highway 95 at mile 460/Cocolalla Flats will remain one lane traffic in both directions at least through Tuesday morning. Traffic may be moving slowly in that area so please use caution and patience when approaching and going through this area due to emergency vehicles on scene. Expect delays.
Back to archives