Three officers to receive Idaho Medal of Honor
May 16, 2017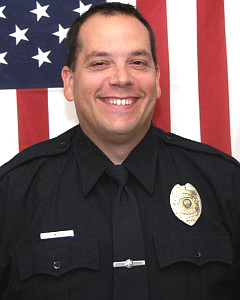 Coeur d'Alene Police Sergeant Greg Moore

Three police officers have been selected to receive the Idaho Medal of Honor for performing with exceptional courage and bravery while protecting the public, including Sergeant Greg Moore, Coeur d'Alene Police Department, who was killed in the line of duty in 2015.

The medals will be awarded at 2 p.m. Wednesday, May 17, during a ceremony on the second floor of the Idaho Capitol in Boise.

The 2017 recipients of the state's highest honor for law enforcement officers will be awarded to Moore,
Sergeant Kyle Moore, Elmore County Sheriff's Office and Chief Deputy Mike Barclay, Elmore County Sheriff's Office.

"There is no higher honor bestowed upon law enforcement by the State of Idaho than the Medal of Honor," said Attorney General Lawrence Wasden, chairman of the Medal of Honor Commission. "Each of these three men performed courageously in the name of public safety. Their actions exemplify what it means to be an Idaho peace officer. I would like to commend Chief Deputy Barclay and Sgt. Kyle Moore for risking their personal safety while protecting the public in a very dangerous situation. Sgt. Greg Moore's selection as a recipient also highlights his career of brave and dutiful public service and is something his family and friends can be very proud of."

Early in the morning on May 5, 2015, Coeur d'Alene Police Sergeant Greg Moore was patrolling an area where several car break-ins had been reported. Moore stopped a suspicious male and radioed the man's information to dispatch, but made no further radio contact. A citizen heard gunshots and found Moore wounded in the street. He died several hours later.

Chief Deputy Barclay and Sergeant Kyle Moore were responsible for ending a scenario that endangered motorists on Interstate 84 on August 2, 2016. At around 8 a.m., police received a report of a residential burglary and stolen vehicle in Hammett. Officers Barclay and Moore began a search for the suspect. Soon, the suspect was located and a high speed chase ensued.

The suspect would later abandon the vehicle and point a gun at passing motorists in an attempt to carjack their vehicles. After aggressively attempting to enter another vehicle by trying to smash the window with his gun, the suspect turned his gun on the officers. In order to protect their own lives and ensure the safety of the public, the deputies fired at the suspect, resulting in his death.

The Idaho Medal of Honor was created by the Legislature in 2004. The statute directs that the medal be awarded by the Governor to professionals whose actions have been distinguished by the exceptional meritorious conduct at the risk of life above and beyond the call of duty.

A ceremony to honor Idaho firefighters will be held September 8 in Boise.

For more information about the Idaho Medal of Honor and past recipients, visit: www.medalofhonor.idaho.gov.
Questions or comments about this article? Click here to e-mail!