Hall Mountain VFD thanks Vanessa and Mane Street
May 6, 2017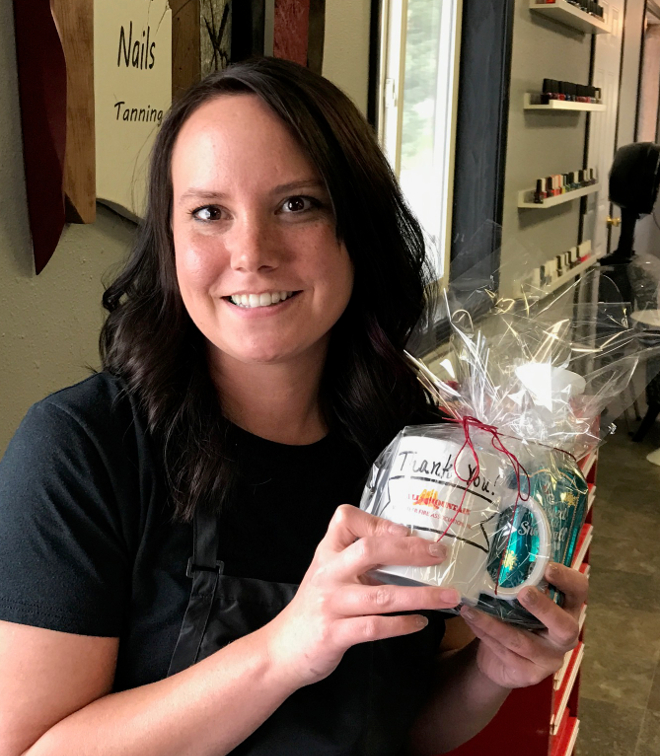 The Hall Mountain Volunteer Fire Association Ladies Auxiliary want to thank Vanessa at Mane Street Hair for displaying their raffle quilt in her shop for a week and for helping sell tickets!

In gratitude, auxiliary member presented Vanessa a "Thank You For Your Support" coffee mug and gift pack!

The Mossberg Patriot 30-06 Rifle is available to view at Far North Outfitters, as are raffle tickets; 25/$20 or six for $5.

The Raffle Quilt is on display and awaiting ticket buyers at Wildhorse Mercantile. Stop by for lunch and Beth will be happy to sell you tickets; six for $5 or $1 each.

Auxiliary member Justine Williams will be selling both rifle and quilt raffle tickets at the Health Fair on Saturday, May 13.

Thank you for supporting the Hall Mountain Volunteer Fire Department!

To learn more about this year's Hall Mountain VFD raffle, click here or call Justine at (208) 267-5730.
Questions or comments about this article? Click here to e-mail!