A long, rewarding journey for Isaac Lavala
May 27, 2017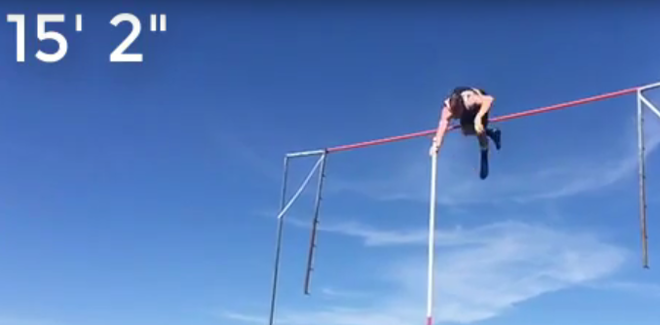 Badger senior Isaac Lavala caps his high school athletic career May 19, setting the Idaho State 3A pole vault record with a 15'2" effort to win the 2017 Idaho State championship at Middleton High School.
Story and photos by Robert Lavala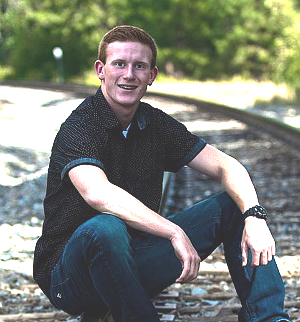 Isaac Lavala

Isaac Lavala loves the game of football. He has been playing tackle football since the sixth grade and it has always been his favorite sport. When he is not getting the ball thrown or handed to him to gain yardage, he is on the defensive side of the ball.

Lavala usually plays every game on both offense and defense and plays for the entire game — if possible.

For those of us who are die-hard fans, we have had to endure a few seasons of ups and downs, especially in the area of coaching. In 2015 the coaching staff gained solid footing and then there was a shortage of players. Needless to say (but I will) the games we have endured against much bigger teams from both Idaho, Washington and Oregon were tough on our boys.

Lavala, however, tried to make the best of this and worked as hard as possible to do his best on the field. One of the things he decided to do was to join the track and field team. His goal was to do sprint training so that he could get quicker for football. Yes, everything revolved around football.

So he joined the track team and started working toward getting faster and having even more endurance.

A few weeks into practice, then head coach George Hays asked Isaac if he had ever considered pole vaulting. Lavala told Coach Hays that he was not interested and then gave him his reasons for even joining track — again, football.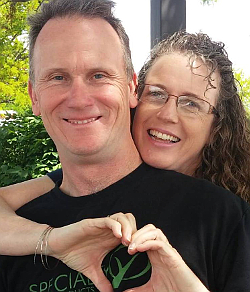 Robert and Sheila Lavala

Mr. Hays was persistent, however, and continued to badger — pun intended — Lavala to try the pole vault. He continued to refuse until one day Mr. Hays didn't ask. Instead, he took Lavala over to the pole vault pit and put a pole in his hand. The time for asking was obviously over and now here he was, doing something he had no intention of doing.

By the end of that first practice (or maybe one more), Coach Hays told Lavala that he was signed up to pole vault in the upcoming Bonners Ferry Invite.

Isaac jumped over his first bar at this meet, clearing 8 feet, 6 inches. As the season progressed, Lavala continued to pole vault and got a season record of 12 feet. He went to State but did not do well.

In his second season of track and field, Lavala didn't have to be persuaded to pole vault. He now loved the sport almost as much as his beloved football. The 2016 season would see a 40-year-old record fall to the wayside. What Coach Hays saw clearly in Lavala would now play out in the breaking of the record he himself set back in 1976.

The old Bonners Ferry High School pole vault record was 13' 6", set by George Hays.

Isaac jumped in front of the home crowd and cleared 13' 7" and thrilled everyone in attendance — including Mr. Hays, who was at the track meet helping to run various events.

Story continued below photo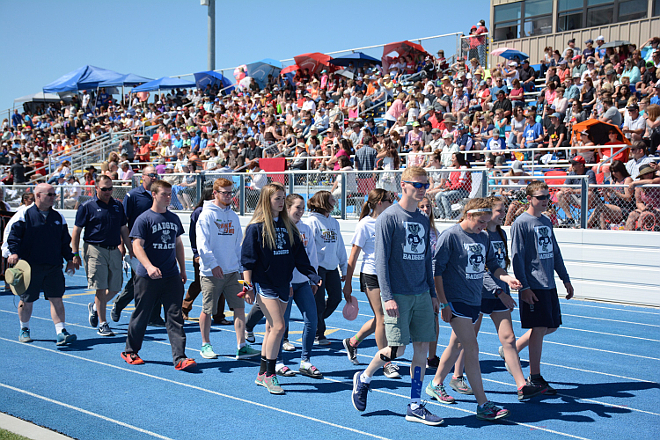 The Bonners Ferry Badgers make their way onto the field of competition May 19 at Middleton High School.


Isaac would go on to break the District record at Timberlake three weeks later by jumping 14' 6". This would also raise the record for BFHS.

Heading to state, we were greeted by harsh weather on the field at Middleton High School. The temperature was hovering around 37 degrees Fahrenheit with blowing rain. Lavala didn't live up to his potential at this meet and would come away with fifth place.

He was disappointed in this outcome but not defeated and he would enter into a regimen of off-season training to keep up his skills.

Fast-forward to 2017 and we see Lavala concentrating solely on the pole vault after gaining offensive Most Valuable Player for football.

Some athletes do multiple events and that is fine, in most cases.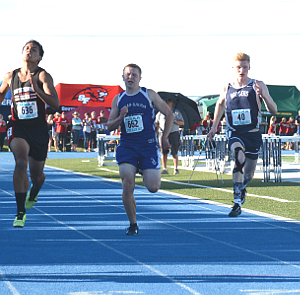 Badger junior Nik Bertling, right, set personal bests in the 200 meter dash with a time of 24.11, and in the pole vault at 13-feet, good for a fourth place finish at state.

For Lavala, however, his goal was to break the State of Idaho 3A record this season and he desired to train only with the pole vault. His dad, Robert, took Iasaac and another Badger pole vaulter, Nikolas Bertling, to a pole vault camp in Seattle where they could get honed up for the upcoming season.

The first meet of the 2017 season Lavala came out and jumped 14' 3", winning the first meet at Timberlake. From there, the coaching staff decided that it would be best for him to seek competition outside the district so pressure could be added.

To set the stage for this, you need to understand that every track meet Lavala attended last year went like this. Everyone jumped and finished at around 12 feet. Lavala would jump once, win, and then go for records.

This year that would be different.

Pasco, one of the largest one-day track meets in the country, would feature 20 pole vaulters jumping at the 14-foot level. Out of the 40-plus jumpers at Pasco, Lavala took eighth place with 14 feet. The winning jump that day would be 15 feet.

Two more big meets in Washington would yield a fourth and then a third place finish and then it came to the Meet of Champions May 4 in Post Falls.


Badger senior Jill Alexander cleared 7'6" at state for a 12th place finish.

The best of the best in District 1 (1A through 5A schools) would gather to see who would be crowned Champion of Champions. Corbin Maltba, Priest River, gave Lavala good competition jumping up to 14' but then failed on 14' 6". Lavala cleared 14' 6" on his first try and then went on the break the Idaho State 3A record with a jump of 15' 2", one inch better than the current standing record.

The catch with this record is Lavala will have to replicate the jump at the State competition May 19 for it to be permanent.

Lavala's attitude toward practice and going out and doing his best can be summed up with a quote from Vince Lombardi; "The difference between a successful person and others is not a lack of strength, not a lack of knowledge, but rather a lack of will."

Riding a natural high from the Meet of Champions in Post Falls and then on to the District competition at Timberlake, Isaac was feeling well-prepared for the IHSAA 3A State Track Meet held at the Middleton High School in Middleton, Idaho. As it would turn out, the weather at the Meet of Champions would transpose itself to Middleton, providing for an amazing experience for everyone at the meet.

For the past two years in a row the weather at the state meet in Middleton has been miserable. The average temperature for both years was a crisp 40 degrees and each year featured both rain and wind. When you are a pole vault athlete, both physical elements can be extremely detrimental to your performance, not to mention the risk factor that increases exponentially.

Leading up to the track meet on Friday, May 19, southern Idaho would get snow on Wednesday, May 17, with temperatures in the low 40s. Everyone, especially the pole vault team, watched the weather and hoped that the various news outlets had predicted correctly: Sunny with temperatures in the mid-70s.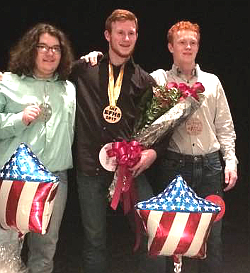 Isaac Lavala, center, Mr. BFHS.

Arriving on the Thursday before the meet, the team went to the field to practice and found the weather dry, warm and with only a touch of wind. Then the big day arrived and the sky was clear, temperatures as forecast, and the anticipation of the athletes was palpable.

Everyone applied the necessary sunscreen and into the arena they went, each to do what they had prepared for up to this moment.

It was around 2 p.m. when the boys 3A pole vault was announced and the guys started practicing. The poles were bending well and with the warm weather, the run to the vault was even faster than usual. Practice ended after about 30 minutes of the scheduled 60 and the vaulters listened intently for their name to be called.

We had two vaulters in the boy's division and one in the girl's division (Jill Alexander). First up would be Nikolous Bertling with a personal record up to this point of 11' 6". Nik would best his PR by 1'6" and clear the bar at 13-feet, which would secure him a fourth place finish!

There was a level of drama and excitement as Lavala, ranked all year as #1, entered the competition. He entered at 14' and the only other young man to remain with Lavala at that height was Corbin Maltba from Priest River. Maltba and Lavala have been competing against each other for the past three years and now, both as seniors, it would come down to this last competition.

Maltba's first attempt at 14 feet failed and Lavala came in and cleared the bar. Now Maltba would have two more attempts to clear at this height or Lavala would win outright.

On Maltba's next attempt, he would not clear and he would land on the mat wrong and drive his knee into his mouth and nose. Blood was pouring from his face as the medical staff came and attended to him and to clean up the mat. After he was cleaned up the result was two front, bottom teeth were broken off. There was a fifteen-minute break in the action to allow for both the cleanup of Maltba and the bloodied mat. Like the true athlete and fierce competitor that he is, Maltba grabbed the vaulting pole and attempted the 14' barrier again. This time he cleared it amidst cheers from everyone in attendance.

Now he would have only two minutes to do the next jump, as he was first in the rotation. The new height was set at 14'6", Maltba's current PR, and he would have three tries. He failed on the first attempt and Lavala also failed the first attempt. Maltba tried again but failed and Lavala cleared.

Then Maltba failed the third time and Lavala had won the State 3A Championship.

However, there was one bit of unfinished business to attend to. Isaac needed to confirm that he could jump 15'2" to establish the new 3A State classification record. The bar was set, the crowd was electrified with anticipation, the coaches – Shasta Baisden and Robert Lavala, were barely breathing, each family member clutched the fence, and now was the moment.

Lavala took off on the run, planted well, and cleared the 15'2" jump the first attempt, setting the new record! The crowd, coaches and family all went wild and Lavala's journey as a high school athlete was complete.

In his senior year, Lavala would begin by taking Grand Champion at a karate tournament in Spokane, going undefeated against the Black Belt division ages 16-30 years old, he would receive the Offensive MVP award for football, he won the Mr. BFHS competition, he set the new BFHS Pole Vault record at 15'2", the new State record at the same, and accomplished his goal of becoming the state champion.

Next on Lavala's radar is shipping out to the United States Air Force in August. He will do boot camp in Texas and then his technical training there as well. He plans to join a pole vault club while enlisted and continue to push the limits and break the barriers of higher heights.

Special thanks goes out to George Hays, as without his insistence Lavala would not have tried the pole vault, Shasta Baisden, the current head pole vault coach, Tim Cheney, who assisted in Lavala's junior year of pole vaulting with coach Baisden, Travis Hinthorn, head coach of the Badgers track and field team who encouraged Isaac to go to larger competitions in Washington to prepare for the pressure of state, Tim Rielly, NW Pole Vault Academy, where Issac and his father trained in the off-season, Sandpoint High School and Coach Paul, who loaned us the pole Lavala used to break the record, Sheila Lavala, Isaac's mother, for traveling to every meet and encouraging both the athlete and the coach (me) to "go for it," and last but certainly not least to the Lord for keeping Isaac Lavala safe and providing the means necessary to do everything we did over these exciting years
Questions or comments about this article? Click here to e-mail!