Boundary County Archives ~ September, 2013
Home
News
Sports
Social
Obituaries
Events
Letters
News
September 30
Tribe hires police chief: While details are sketchy, it has been verified that the Kootenai Tribe of Idaho has hired its first official police chief, possibly affecting years of contracting with Boundary Country and the City of Bonners Ferry to provide tribal law enforcement.
Porthill fire hall going up: Hall Mountain Fire Association's new Porthill Fire Hall #1 is now under construction. The new fire hall provides much needed room for the apparatus and space for indoor training.
Idahoan's personal income up slightly: Rising wages offset lower business profits last spring, edging Idaho's total personal income upward. The U.S. Bureau of Economic Analysis estimated Idaho's second quarter personal income at $56.4 billion on an annualized basis, up four-tenths of a percent from the first quarter.
Court records and sheriff's log
September 27
Flash flood watch issued: The National Weather Service has issued an areal flash flood warning for Boundary, Bonner and Kootenai Counties, in effect from Saturday morning through late Sunday night.
Caribou Pass Road to close: The Bonners Ferry Ranger District announces the temporary closure of Forest Service Road 1007, Caribou Pass Road. The closure will be from October 1 through October 4, and again October 7 through October 11, to allow visitor access along the road during the weekend.
Road closure dates firmed up: Firm dates for two road closures are now established. Lion's Den Road will be closed beginning Monday, September 30, and will remain closed for three to four weeks. Access to Snow Creek will remain open from the south only.
September 26
County payments bill sent to President: Federal legislation that will send $270 million to rural counties to help offset tax-free federal land within their borders is on its way to the President's desk for signature.
Forest health bill passes House: Last week, the House passed legislation I've been championing for the past three years to empower Idaho's rural communities by allowing greater state involvement in managing our forests. By Congressman Raul Labrador
Girls to attend 'Women in Science Day:' Women in Science Day will bring about 200 high school sophomores together at the University of Idaho Coeur d'Alene Center October 1- 2. The program is designed to inspire young women to pursue careers in STEM areas (science, technology, engineering and math).
September 25
Meeting to be held on IDYCA: Representatives from the Idaho Youth ChalleNGe Academy will host an information session at 5 p.m. Friday, October 4, at the Bonners Ferry Armory, located at 6566 Main Street.
September 24
Commissioners call emergency executive session: In accordance with Idaho Code 67-2343, the Board of Boundary County Commissioners will meet to hold an emergency meeting on Wednesday, September 25, 2013 at 9:30 a.m.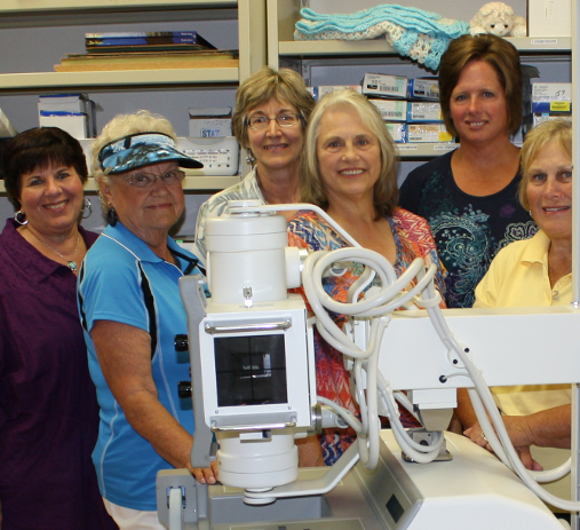 Fry Foundation buys portable x-ray
:
Bill's contagious enthusiasm put a smile on the faces of five of the members of Fry Healthcare Foundation as they watched him wheel a new portable x-ray machine into position next to an emergency room hospital bed.
Commissioners make counter offer to BVA: After meeting in special session last Friday to further consider proposals from three organizations offering to provide ambulance service to the county, Boundary County Commissioners rejected all three, and on Monday, they submitted a counter offer to Boundary Volunteer ambulance.
Getting productive at Valley View: In the third week we are leaning into our new norm. Safe and civil behaviors are easy to recognize. Safe is seen through our physical actions: hands and feet to ourselves, no knock-down games and positive comments. By Principal Gary Pfleuger
Roadwork may cause detours, delays: Be advised the Deep Creek Loop and Lion's Den Road temporary road closures could occur on both of these routes as early as next week due to Federal Emergency relief projects.
Coats for Kids underway at VVES: Valley View Elementary is beginning its annual Coats for Kids drive. Anyone may drop off their gently used, clean coats with working zippers.
Burn permits available: The arrival of cool, moist weather has reduced fire danger to the "low" level, enabling fire managers to issue fire safety permits for burning yard debris, hand piled slash, and orchard clippings.
Northwest Small Farms conference set: On October 19, the Spokane Conservation District and the Washington State University Extension will host the third annual Inland Northwest Small Farms Conference. Farmers from across Eastern Washington and Northern Idaho will convene to explore the conference theme, "Country Living with Purpose and Profitability."
County commission minutes, September 9-10
Court records and sheriff's log
September 21

Male dog nearly hit: This male dog, which appears to be a brindle boxer, was nearly struck by a vehicle at about 3 a.m. on Highway 2 near Division Street in Moyie Springs.
September 20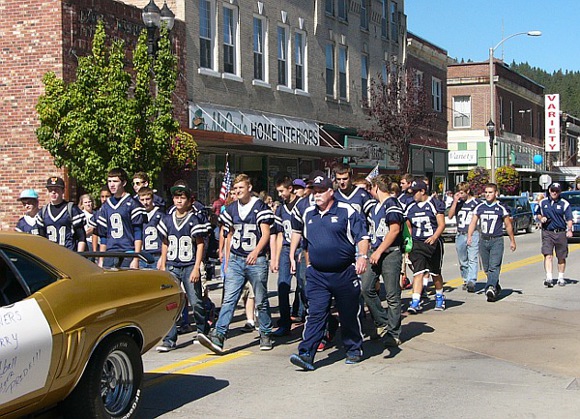 The Bonners Ferry Badgers football team joined in a spirited Homecoming Parade today as they prepare to face the Freeman Scotties tonight at 7 p.m. For more parade photos, click here.

Friendly Dobie followed kids home: This handsome fellow followed some children home yesterday in the area of Buchanan Street. He is a friendly young adult male (neutered) and very handsome! If anyone recognizes him please let his owners know that he is at Second Chance Animal Shelter, or call the shelter at (208) 267-7504.
September 19
Crapo, Risch work to protect privacy: Idaho Senators Mike Crapo and Jim Risch are co-sponsoring a new bill introduced by the Finance Committee Ranking Member Orrin Hatch. The Trust But Verify Act will prevent the implementation of health insurance exchanges established under Obamacare until the U.S. Government Accountability Office and U.S. Department of Health and Human Services Inspector General can verify that the proper tools are in place to protect the private information of enrollees.
Fire alarm at high school not intentional: For the second time in two days, Bonners Ferry fire crews were called to Bonners Ferry High School Wednesday morning for a fire alarm that turned out to be false, sparking concerns of a new twist on last year's oft-repeated bomb threats.
Prescribed burns planned: The Priest Lake, Sandpoint and Bonners Ferry Ranger Districts are planning several prescribed burns this fall to reduce potential wildfire impacts, prepare areas for tree planting and improve wildlife forage.
September 17

Puppy found at Safeway: This cute little girl was found Monday, September 16, in the Safeway parking lot. She was wearing a red collar with black trim but no identification tags. If anyone recognizes her please let her owners know that she is at Second Chance Animal Shelter. Call (208) 267-7504.
Brown pleads guilty to arson: Gary Lee Brown, 19, Bonners Ferry, entered a plea of guilty earlier this month to second-degree arson for a string of early morning fires set July 16 in Copeland, burning several tons of hay, a storage shed and farm equipment.
Last EEA Pancake Breakfast for the season: The local Experimental Aircraft Association (EAA Chapter 757) will hold the last of the summer pancake breakfasts at the airport on Saturday, September 28, from 8 to 10:30 a.m.
Flags to be lowered for Navy Yard victims: Flags across the nation will be lowered to half staff Friday to remember the 12 killed and eight wounded Monday in a shooting rampage at the Washington Navy Yard.
Three ambulance proposals considered: Boundary County Commissioners will spend much of the day today pondering the future of ambulance service in the county, having received proposals from three organizations interested in providing service on Monday.
Court records and sheriff's log
September 15
Severe thunderstorm warning issued: A severe thunderstorm warning was issued at 9:40 p.m., effective until 11 p.m. today, for eastern Washington and North Idaho, including Boundary County.
September 13
CNA class to begin at BCH: Boundary Community Hospital provides classes to earn certification as a Certified Nursing Assistant (CNA) four times a year. These classes are a great way to be eligible for steady work. A new class will begin Tuesday, September 24 and continue through November 14, 2013.
September 12

Updated: Female border collie at Second Chance: This pretty border collie was found Tuesday evening near Highway 95 and Denver Street. She is sweet and well mannered, but very worried about being in the shelter. If anyone knows who she belongs to please have them call (208) 267-7504 or come to the shelter. GOING HOME! Thank you!
September 11
School board addresses issue, for now: School District 101 Superintendent Dick Conley was right when he said there were no easy answers to staffing issues in the district's three elementary schools, and there was dissension within the board on how to remedy the situation, at least for now.
Crapo responds to Obama's Syria stance: Idaho Senator Mike Crapo issued the following statement Tuesday after listening to President Barack Obama's prime time address to the nation on the subject of American military action in Syria and the possibility of an international agreement for Syria to surrender its remaining chemical weapons stockpiles to outside control.
Tort filed against school district: Boundary County School District 101 was notified September 6 of a tort claim seeking $250,000 in damages by a local family contending wrongful suspension from Bonners Ferry High School last March in relation to a bomb threat.
County commission minutes, September 2-3
County commission minutes, August 19-20
County commission minutes, August 12-13
County commission minutes, August 5-6
September 10
Labrador against use of force in Syria: Congressman Raúl Labrador announced today that he will vote against any Congressional authorization of the use of force against Syria.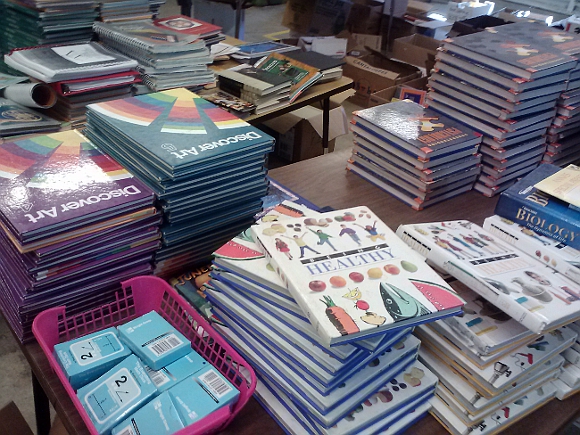 School district giving away books: Back in a small corner of the Boundary County Middle School is a room filled with thousands of books, all free for the taking.
Bonners Ferry Farmers Market honored: The Bonners Ferry Farmers Market, which fill the city parking lot each Saturday from May through September, has been recognized as one of the top farmers markets in the nation by the website, The Daily Meal.
Flags to half staff Wednesday: Twelve years ago this month, nearly three thousand innocent men, women, and children lost their lives in attacks meant to terrorize our Nation. They had been going about their day, harming no one, when sudden violence struck. We will never undo the pain and injustice borne that terrible morning, nor will we ever forget those we lost. By President Barack Obama.
Allergy support group formed: Living with an allergy can be hard. It is even harder for a child. The mother of one local boy who has been struggling with a life threatening peanut/tree nut allergy has decided to help others with such an allergy, young and old alike.
BNSF offers hazmat classes: The BNSF Railroad is sponsoring the 2013 Railroad Hazardous Material Awareness Class to be held Friday, September 13, from 9 a.m. to noon at the Sandpoint City Council Chambers located at 1123 Lake Street, Sandpoint.
September 9
No easy answers, Conley says: The Boundary County School District 101 Board of Trustees will meet at 6 p.m. Tuesday in the middle school library, and among the myriad issues they'll be called upon to consider is one that has no easy answer.
Laffoon safe, Savage arrested: Troy, Montana, Police, working with law-enforcement officers in Portland, Oregon, have located DJ Savage and Sandra Laffoon in a hotel.
Court record and sheriff's log
September 6

Idaho Amber Alert issued: An Amber Alert has been issued by the Idaho Falls Police in an attempt to find a five year old Idaho Falls girl believed to have been abducted by her non-custodial grandparents, who are allegedly taking her to Mexico.
Three way race for BF City Council: Unless there are candidates who file as write-ins, three people will vie for two seats on the Bonners Ferry City Council in November, with the top two vote getters filling the slots. The deadline for filing to be on the ballot ended today.
Unemployment payments at six year low: The number of Idaho unemployment insurance payments dropped below 10,000 the first week in September, the first time weekly benefit payments have been that low since the end of November 2007.
Suit filed over bull trout: Cascadia Wildlands says it has filed a 60-day notice of intent to sue the U.S. Forest Service and Bureau of Land Management over "their failure to consult and consider the impacts of projects and actions on the critical habitat of federally threatened bull trout throughout its range in the Pacific Northwest."
County puts out call for ambulance proposals: Boundary County is soliciting proposals from qualified providers for the delivery of Basic Level Ambulance service for the geographic area of Boundary County, with a response capability of 24/7.
Holiday basket programs need help: Our beloved Deacon Joe Nicholas has announced that he and his wife, Lorraine, are retiring as chairs of the annual Thanksgiving and Christmas Basket program, sponsored by the Boundary County Ministerial Association.
Prescribed burns planned in Panhandle: National forest visitors this fall can expect to see occasional smoke and short term area closures due to planned prescribed fires in various locations across the Idaho Panhandle.

Troy woman missing, may be in danger: The Troy, Montana, Police Department is looking for assistance in locating Sandra Laffoon, who has been missing from the Troy area since Monday, September 2.
September 5
Severe Thunderstorm watch issued: The National Weather Service has issued a severe thunderstorm watch for the Panhandle beginning tonight and lasting through 2 p.m. Friday.

Local students get world class advice: Bonners Ferry High School students received a rare treat Wednesday when possibly the most stoic actor in history, an economics professor whom many of the students had seen portray an economics professor in the movie, "Ferris Bueller's Day Off."
BCSDR hones tracking skills: Boundary Search and Dive Rescue Team hosted a one day tracking class over Labor Day weekend.
September 4
Flash flood watch issued: The National Weather Service has issued a flash flood watch for the region, including Boundary County, in effect from late tonight through Friday afternoon.
September 3

Documentary to explore love of Boundary County: I'm sure some of you have heard, but for those who haven't, Rob Tenas and I were hired by Boundary County to shoot a documentary. The documentary will be showing what an amazing place our county is and telling the unique story that we have to tell. A request from film maker Kyle Flory
Court records and sheriff's log
September 2
Restorium rates increasing: On Tuesday, August 27, county commissioners voted for raising the rates for new tenants at the Community Restorium rather than seek an increase in property taxes.
September 1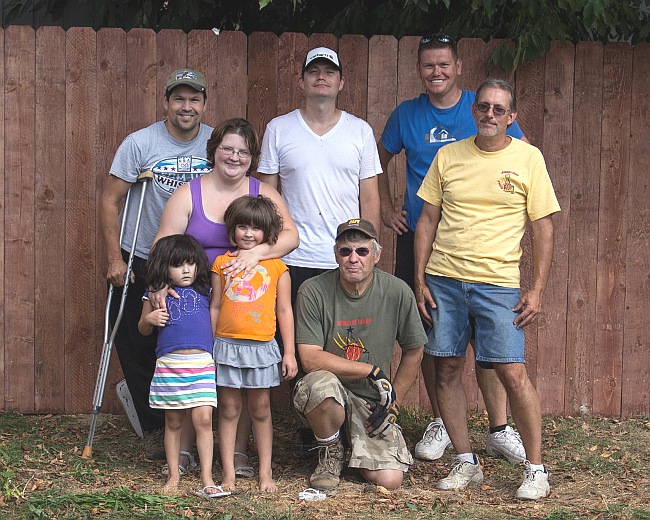 Thanks to many, Abby has a safe place to play: The Abby Bliss fence project was completed on August 23 at around 2 p.m. This was a full three day project, and well worth the work.
City residents should lock vehicles: It's not something most Bonners Ferry residents want to hear, but city police are reluctantly encourage residents to lock their vehicles after a spate of brazen break-ins over Labor Day weekend.
Commissioners clarify ambulance stance: Under state law, Boundary County is mandated to provide basic ambulance service to the residents of Boundary County in one form or another. First and foremost, Boundary County Commissioners are responsible for the health and welfare of our residents and also control the finances required to secure those basic services.
Valley View is moving up! Get some hiking boots, cuz' Valley View is MOVING UP! According to the Department of Education in the Great State of Idaho, we have moved into the ranks of a "Four Star School!"
ARES looking for HAMs: Amateur Radio Emergency Services (ARES) will be providing radio communications for the Kootenai River Ride to be held September 14, and are in need of volunteers with an FCC amateur radio license to help with the event.
School district giving away books: Boundary County School District 101 has a warehouse full of outdated curriculum and older but well-loved books, and they're inviting everyone, come and get it!
Block party raises sizeable contribution: The second annual Bonners Ferry Block Party August 23 raised over $7,000 for the Memorial Park Project, and the Bonners Ferry Herald staff thanks everyone who attended.
Labrador calls for special session: Rep. Raúl Labrador called on Speaker Boehner August 31 to call the House into special session next week in order to debate a Congressional authorization of the use of force against Syria.
Obituaries
Andrew 'Lon' Huggins, November 26, 1926 ~ September 27, 2013
George Oscar Lang, Jr., June 13, 1947 ~ September 28, 2013
Kenneth Wayne Chapman, April 26, 1951 ~ September 25, 2013
Shanna Mae (Jay) McNall, December 6, 1972 ~ September 17, 2013
Nancy Kathleen Bornemann, April 9, 1941 ~ September 15, 2013
Danette Jean Vaughn, November 11, 1967 ~ August 23, 2013
Marvin George Mackey, January 12, 1925 ~ August 27, 2013
James Alfred Patton, July 20, 1932 ~ September 3, 2013
Theon Isabelle Ames Albrecht, October 10, 1927 ~ September 2, 2013
Coleen 'Pat' Robins, December 14, 1930 ~ August 30, 2013
June Marie McBride, June 20, 1937 ~ August 28, 2013
Social

Ray Olson celebrates 93rd birthday:
Ray Olson celebrated his 93rd birthday with a cake at the Rotary bike ride on Saturday. Jenny Fessler was in charge of baking the cake.

Hazel Pace 90 years young!
Hazel Pace, my hero and lifelong mentor, turned 90 years old September 5, 2013. By Darrell Kerby

Hawks earns honors in Nave 'A' school:
Navy Seaman Recruit Alecia J. Hawks graduated U.S. Navy basic training June 21 at Recruit Training Command, Great Lake, Illinois. She went on to graduate as Honor Graduate from Aviation Ordnance "A" school August 22 in Pensacola, Florida.

Blumenauer graduates Navy basic:
Seaman Recruit Brennan Blumenauer graduated basic training in the United States Navy September 6, 2013, at Recruit Training Command, Naval Station Great Lakes, Illinois.
Sports
'Dig Pink' at BFHS Tuesday: The Bonners Ferry High School volleyball teams will take on Timberlake High School Tuesday, October 1, in the nationwide "Dig Pink" event to raise funds to raise awareness of breast cancer and to support those who face the disease.
Badgers fall to Maniacs: On Friday, the Bonners Ferry Badger varsity football team traveled to Orofino to battle the Orofino Maniacs.
Bonner County roads to open for disabled hunters: Forest Service officials at the Sandpoint Ranger District are announcing opportunities for qualifying disabled hunters to hunt behind gates in three locations – Upper Cocolalla Road 630B1 in the Cocolalla area, Johnson Creek Spur Road 278F in the Clark Fork area, and Cat Tail Road 1359 in the Kickbush area off the High Drive Road.
Badgers do well at home tourney: The Badger volleyball team hosted the Bonners Ferry Tournament over the weekend and finished second in pool play, but two teams from Montana came out on top overall.
Badger runners get better: The weather held off all week during practice hours and on Saturday at Plantes Ferry Sports Complex the Badgers' luck continued. The rain clouds that hung over the area for most of the day refused to bathe the gently rolling, mostly flat, and grassy course and made for a cool and enjoyable meet.

KVJRC starting season: The Kootenai Valley Junior Rifle Club is starting up for the winter shooting season. Young men and women starting at around 12 years old up to age 21 who are interested in competitive shooting are invited to stop by the Kootenai Valley Shooting Range, three miles East of Three Mile, at 6:30 p.m. October 3 or call Tom Daniel, (208) 267-5274 or Don Jordan, (208) 610-0226.
Runners return to their roots: Cross country made a turn back to its roots on Saturday, September 14, at the Hayden Canyon Course in Coeur d'Alene. The meet planners rejected the parks and golf courses that have become the sport's norm and instead chose a very hilly course that wove through the woods and trails on a hot morning that saw the Badgers face all IML teams together for the first time.
Badger soccer squad 2-0 in IML: The Bonners Ferry boys' soccer squad defeated the St. Maries Lumberjacks 4-0 last Thursday to improve their IML record to 2-0.
Badger runners show grit at Silverwood: After the weather cancelled the Kellogg Invite last Thursday, the Badger cross country teams looked to get back into rhythm at Silverwood Theme Park for the Coaster Cross invite last Saturday.
Badgers show tenacity in season opener: The Bonners Ferry Badgers won their season opener Saturday evening, beating the Libby Loggers 35-14, but it wasn't a pretty start. The first quarter was all about rust and mistakes.
Badger season off to a great start: The last day of August marked opening day for the Badger sports, and for the football and soccer teams, it was a most auspicious start.
Letters
Mike Weland
:
I've been privileged to have worked as a public servant employed by Boundary County for more than a dozen years as zoning administrator before a stroke cut that rewarding, though often controversial, career short … years before I wanted it to end. I've since been privileged to become an elected official, giving my time to serve as a school district trustee.
Ron and Shari Husk
:
Ron and Shari Husk would like to extend their thanks to the community they have served with Jacobs Towing since 1996. We have decided to enjoy a little rest and relaxation and have sold the towing company and phone number to Sarah Falck.
Rosanne Smith
:
I recently submitted the proper paperwork, which was accepted and approved by both the county and city clerks, to run for the office of Mayor and City Councilperson for the City of Moyie Springs.
Mike Ashby
:
It has been my pleasure to serve you veterans and citizens of Boundary County for the past 20 years through my association with the American Legion. As Chaplain and Community Liaison Officer of Boundary Post #55 I have met and worked with such outstanding people and you are the ones who make Boundary County such a wonderful place to live!
Rebecca Huseby
:
From our hearts to yours! The Robins, Gilbertson and Huseby families would like to convey our deepest gratitude for the incredible outpouring of love during this time of separation from our beloved wife/mother/grandmother/sister/friend.
Congressman Raul Labrador
:
On September 11, I joined my colleagues on the Capitol steps to honor the thousands of Americans who were killed in the terrorist attacks twelve years ago. There were so many heroes that day – in New York, the Pentagon and Shanksville, Pennsylvania. There were so many acts of courage and sacrifice.
Theresa Wardle
:
Despite pleas from Naples parents voiced at school board meetings since February of this year, Naples Elementary School has been forced to support extremely large combined classes.
Bernadette Kirk-Bonner
:
On August 26, I had the privilege of attending the Medal of Honor ceremony of Sergeant Ty Carter in Washington, D.C.
Congressman Raul Labrador:
President Obama's decision to seek Congressional authorization for a military attack on Syria has caused a major debate all across America about the proper use of our military in regional conflicts, whether or not an attack on Syria would promote, or undermine, America's national security, and whether or not an attack would even help the people of Syria themselves.
Roy Krohmer
:
I understand someone on your Facebook took issue with the dog policy at the fairgrounds during fair this year. Dogs have never been allowed during fair. Also this is my last year at the fair.
Mike Weland
:
Many of you noticed that these pages haven't been updated for the past several days, and a good number of readers contacted me by phone, email and Facebook to see if I was okay. I am, and I thank you for your caring concern.
Congressman Raul Labrador
:
While President Obama publicly states that "we have not yet made a decision" about attacking Syria, leaks from the Administration indicate that an attack is likely. In fact, the Washington Post calls it "imminent."
Back to archives