Boundary County Archives ~ March, 2014
Home
News
Sports
Social
Obituaries
Events
Letters
News
March 28
Rotary donates to Memorial Park: At their meeting on January 21, the Bonners Ferry Rotary Club donated $10,000 to the Parks and Recreation Department's Memorial Park Project for new playground equipment under Phase 1 of a three-phase overall project.

One day Cayuga sale at Blue Lake: On Saturday, April 5, for one day only, Blue Lake Resort is selling nearly 100 Cayuga grape vines from their vineyard to make way for a commercial produce garden.
Spring has sprung! It is that time of year that all of us plant addicts love. Spring. The buds swelling, the sun shining, the floods subsiding, are all indicators that spring is upon us. It's time to get those fingernails dirty and break out your gardening tools! By Cindi Kimball
March 26

Jordan running for NLI board: I am running for the position of Northern Lights Inc. Director, District 6, because of my long standing interest in energy generation and energy efficiency. I see conservation as a prime way of reducing our inevitable increase in electrical costs.
SBAC testing coming to Valley View: Spring Break is here! This marks the beginning of the final quarter for 2013-2014. For the third, fourth, and fifth graders, we will start the SBAC Testing within a week after our return to school at Valley View Elementary. This test is the new requirement by the Idaho State Department of Education.
Mason bee a solution to pollination woes: Despite "green thumb" efforts last spring, many gardeners are reporting lackluster plant and food production. Quite possibly, the reason was a lack of bee pollination. There is a solution; the diminutive, garden-friendly mason bee, a super pollinator that rarely stings.
Natural Resources Camp coming: Campers ages 12 to 14 years will see and learn about Idaho natural resources in some of the state's most scenic settings near Sun Valley June 23-28. University of Idaho Extension and the Idaho Association of Soil Conservation Districts again will sponsor the annual Natural Resources Camp, which has roots stretching back more than 60 years.
Court records and sheriff's log
March 22
Kootenai flow to increase: Outflow from Libby Dam will increase Sunday, March 23, from four kcfs to nine kcfs over three hours, beginning at 8 p.m.. Outflow from Libby Dam will then increase again Monday, March 24 from nine kcfs to 15 kcfs over two hours, beginning at 6 a.m.
County commission minutes, March 3-4
County commission minutes, February 24-25
March 21

Diamond the tomcat is missing, and missed: There has never been a missing pet tale quite like this one, which is all the more reason to keep your eyes open that a beloved animal might go home. This is about Diamond, a tom cat missing since late February. How he came to be that way you'll understand if you've ever loved a cat.

Incredible day for flying at Northern Air: Between the several hazardous weather outlooks and winter weather advisories we endured early this month, we sporadically experienced a few incredible days, perfect for making holes in the sky. Now that spring is here, we're hoping for many more such days! By Tana Schneider
Don't bring pasta to Dems fundraiser! Boundary County Democrats Chairman Fred Hendrickson has requested that we pass along a note regarding Saturday evening's Cabin Fever Pasta Dinner and Auction Fundraiser ... "we are not asking everybody to bring Pasta dishes!"
Snedden making bid for Idaho Statehouse: Sandpoint attorney Stephen Snedden, a third-generation Bonner County resident, is hard on the campaign trail as he seeks election to Seat 1A in the Idaho House of Representatives.
Coupons offered for private forestry training: Coupons are available to incentivize Idaho forest landowners to take advantage of forestry related training opportunities. The Idaho Forest Stewardship Program, in cooperation with University of Idaho Extension Forestry, is offering 20 percent off registration fees for selected forestry training.
March 18
School district has board vacancy: The Boundary County School District #101 Board of Trustees declared a vacancy on the board for Trustee Zone 1, which represents the Mt. Hall area, at its March 11 board meeting. Pursuant to Idaho Code 33-504, the vacancy shall be filled by appointment by the Board of Trustees.
Commissioners' races won't be decided in May: With the deadline for declaring candidacy and appearing on the ballot past, three county incumbents head toward the general election unopposed, but the races for two seats on the board of county commissioners won't be decided until the last ballot is counted in November.

Vicki to bid adieu to Swingin' on a Star: The Pearl Theater is pleased to sponsor Swingin' on a Star: the Bonners Ferry Youth Choir's spring concert on Sunday, March 23 at 3 pm at Trinity Lutheran Church in Bonners Ferry. This will be the final concert with conductor and founder Vicki Blake Thompson, who celebrates 18 years with the choir.
USDA playing up the benefits of wood: At a meeting hosted by the White House Rural Council today, Agriculture Secretary Tom Vilsack announced a new partnership to train architects, engineers and builders about the benefits of advanced wood building materials, and plans for a forthcoming prize competition to design and build high-rise wood demonstration projects.
High school drug sweep nets three: On March 12, Bonners Ferry High School coordinated efforts with law enforcement to reduce the presence of drugs in and around the High School campus.
Court record's and sheriff's log
March 14

Handsome boy found near Three Mile: This friendly guy was found wandering on the highway near Three Mile at about 9 p.m. today, and the family who found him are keeping him safe, warm and dry until the people he belongs to are found.

Penguin Plunge a frigid success! What a successful Plunge this year's annual "Freezin for a Reason" was, with 42 jumpers all with supporting sponsors taking the plunge into the Kootenai River raising over $7,300 for Idaho Special Olympics!
The power of PAWs: I will begin this edition with celebrating our students who are leading by example; these students, along with many others, were given a PAW for exhibiting "Safe, Civil and Productive" behaviors at school. By Principal Gary Pfleuger
March 13
Something seems familiar ...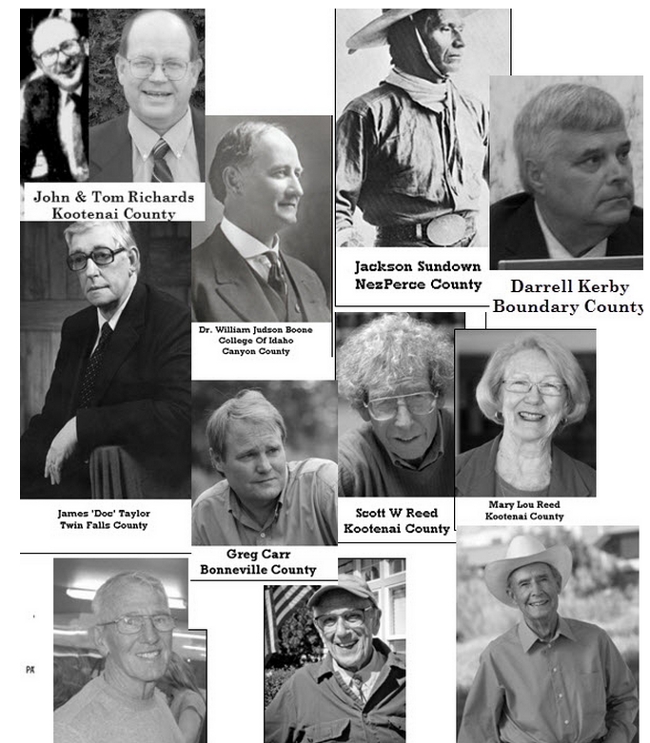 I can't quite put my finger on it, but something seems awfully familiar in this picture, taken from the Idaho Hall of Fame homepage collage of 2014 inductees. While I work to unravel the mystery and share it with you, you might want to consider purchasing tickets to this year's induction banquet. The date of the event isn't online as yet and information so far is scant, but you can get to the page where it will be by clicking here.

Last chance to see 'Liberation of a Butterfly:' If you like Anime', Steampunk, Frankenstein, Shakespeare or just a great theater production, you have to go see "The Liberation of the Butterfly," an original production by Jesse Tobin that opened last weekend to rave reviews and ends its run this weekend.
Bomb hoaxes prompt schedule change: Here at Bonners Ferry High School, we put a high value on learning and we believe the best learning occurs when our students are engaged in the classroom. During the year we have lost some valuable time due to bomb threat evacuations. By Principal Tim Gering

Iverson BCSD Teacher of the Month: Lisa Iverson was chosen as February's Certified Employee of the Month for February. BCSD#101 presented her with a gift certificate from Akins Harvest Foods and the Kootenai Tribe of Idaho gifted her a complimentary room at the Kootenai River Inn and a $50 gift card.
GRIP Act proposed to protect gun owners: Second Amendment rights will get stronger under legislation recently co-sponsored by Idaho Senator Mike Crapo. The bill, introduced by Senator Thad Cochran (R-Mississippi), would prohibit any federal funding from being used to support a gun registry created and/or maintained by non-federal entities, including state and local governments.

Owens is, in a word, amazing! When you look up the term "old school," the definition reads, "anything that is from an earlier era and looked upon with high regard or respect." This fits the description of our Classified Employee of the Month for February, Edwina Owens.
Monster scam: Once again Boundary County is hit with a scam that seems too good to be true. A concerned citizen reports that someone claiming to be from Monster Energy Drinks wants to pay them to display signage on their vehicle for them.
Kootenai River burbot nearing extinction: A once thriving fishery, the wild Kootenai River burbot – freshwater cod – is nearing extinction if it doesn't get help, according to a scientific summary of the burbot in this river that spans two states and British Columbia.
Legislation aims to protect Constitution: Representative Raúl Labrador (R-ID) voted for legislation Wednesday that will ensure that President Obama does not ignore his Constitutional duties and abuse his power.
March 12
Election 2014 warming up: The filing period for candidates for elected office who'll be running in the May 20 primary election opened March 3, and election 2014 at the local level is already shaping up to be interesting.
Relay for life helps those in our community: The American Cancer Society's Relay for Life helps cancer patients -- past, present and future -- on more than one level. Proceeds from the event fund cancer research, education, prevention and patient services.
Special breakfast set for Kelsey: The Bonners Ferry Eagles, along with the American Legion and help from the Rotary Club of Bonners Ferry will be hosting a benefit breakfast for Kelsey Shutes from 8 to 11 a.m. Sunday, March 16.
Cowell shuts down two more felons: On August 29, 2012, Bonners Ferry Police Officer Willie Cowell, during a routine traffic stop, made the biggest heroin bust ever in the state of Idaho, taking 8.1 pounds of the drug off the street and sending two to prison on federal charges. On Tuesday, he pulled off his second "once in a career" arrest.
County poll workers needed: Each year, U.S. citizens make their way to the polls to exercise the right that's at the very foundation of what defines us, our right, and civic duty, to vote. For most, it's a simple matter; study the candidates and issues and go make a tick mark on the ballot. But it takes a lot of volunteers to make the process possible. Corrected
Gearing up for the health fair: A whole lot of folks, and not just those at the hospital, are gearing up for this year's Boundary Community Hospital Health Fair, taking place on Saturday, May 10, and offering more events and activities than ever.

Morty needs a new home: My name is Morty. I am four years old. I must find a new home. I am a Lab/Rhodesian Ridgeback mix. I can run and chase balls for hours. I love to snuggle and will sleep with you if you let me.
Court records and sheriff's log
March 11
The end of a legacy ...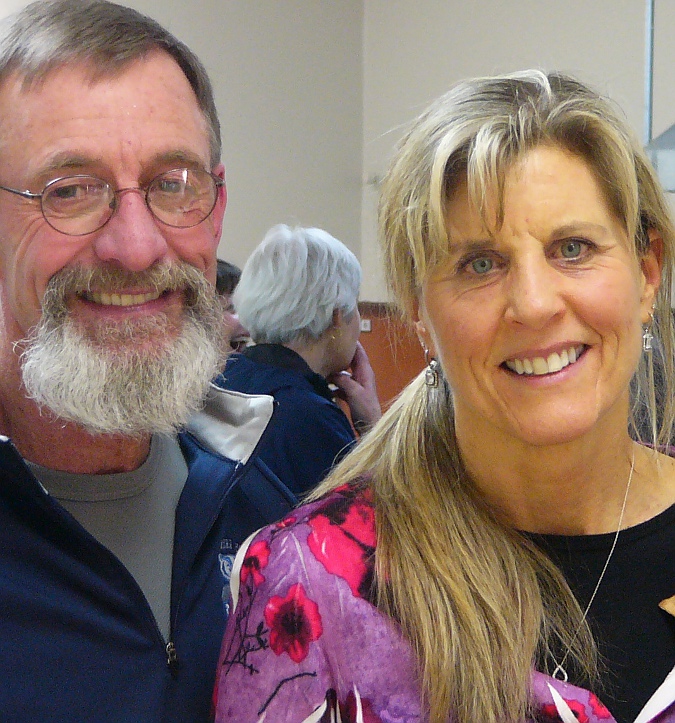 Janis Tucker and her husband, Jim, were the guests of honor Tuesday at the Boundary County School District 101 office, where Janis was honored following her retirement as Badger head volleyball coach after 30 seasons. There were smiles, laughs and not just a few tears as former players and fellow teachers, some of whom played for Coach Tucker in their high school days, recounted fond memories of a legacy of remarkably positive and lasting influence on generations of young women, both on the court and off. Janis, who will continue to teach, promised to remain a part of the Badger volleyball program. She's going to enjoy spending more time with her family, but admitted she is already wondering how she's going to react when next season starts. For all you've done and all you do, Janis, thank you.
March 9

Arrest made in Northside bombing: A 19-year-old Bonners Ferry man has been taken into custody for the explosion that rocked Bonners Ferry's Northside this morning and sent two people to the hospital for treatment.
Updated 5:30 p.m. Mar. 9: Suspected bomb injures two on the Northside: A joint investigation with the Bonners Ferry Police Department, the Boundary County Sheriff's Office and the Idaho State Police is underway after an early morning explosion heard by many on the Northside in Bonners Ferry.
March 8
More flooding expected: The National Weather Service, Spokane, has issued a second areal flood watch as rains in the region intensify in the region. The advisory is in effect through 11 p.m. Sunday.

A memorable trip the long way: Gregor Philyaw and his fiancé, Jessica Ferguson, decided to take the long way home to Bonners Ferry from Sandpoint Wednesday, and it turned out to be a memorable decision.
Speed restrictions to start on Highway 1: Speed restrictions will go into effect on Idaho 1 from the Hall Mt. Junction to the Canadian border Sunday, March 9. The restrictions are designed to protect the road and travelers until warmer spring weather can solidify the road base.
Basin water forecast near normal: The snowy blanket that builds in winter and feeds Columbia River rivers and streams through spring and summer has shown a much desired growth spurt thanks to a wet February and continued precipitation in early March.
County commission minutes, February 17-18
March 6
-- Heavy sloughing on District 2 Road --
An area resident stopped a sheriff's Deputy on District 2 Road near the county ballparks at about 2:45 p.m., and as he watched, he reported heavy sloughing on the hill leading up to the Union Pacific Rail line. At his request, U.P. has halted rail traffic on the line until the situation can be assessed.
-- NIC Bonners Ferry Center closed --
The North Idaho College Bonners Ferry Center at 6791 Main Street is closed today Thursday, March 6 due to flooding. All classes and tutoring sessions as well as the center are closed. At this time, it is unknown if the center will be open on Monday, March 10 (the center doesn't open on Fridays). More information will be released as it becomes available.
-- Roads flooded around county --
Fleming Creek Road in Boundary County is closed from the top of the hill to the District 5 Road due to severe flooding, with several homes cut off by the rising water, and flooding problems are being reported on roads throughout the county, though no others have been closed as yet. Motorists are warned not to attempt to drive through flooded areas. County commissioners will be considering a disaster declaration due to the flooding this morning.
March 5
Court records and sheriff's log
March 4
-- Bomb threat at high school --
9:11 a.m. March 4: Here we go again ... emergency crews are responding to Bonners Ferry High School for a report of "one of the usual" incidents, yet another bomb threat. Students are being evacuated.
March 3
Area-wide flood watch issued: An area wide flood watch has now been issued on the heels of the region's most severe snowstorm of the season. Temperatures are now expected to warm and the snow turn to rain, creating the possibility of flooding along area rivers and streams though the end of the week.
-- County public schools closed --
Boundary County School District 101 Schools are closed today due to snow; school transportation supervisor Bill Irwin said county crews have not yet been out and county roads are treacherous.
March 2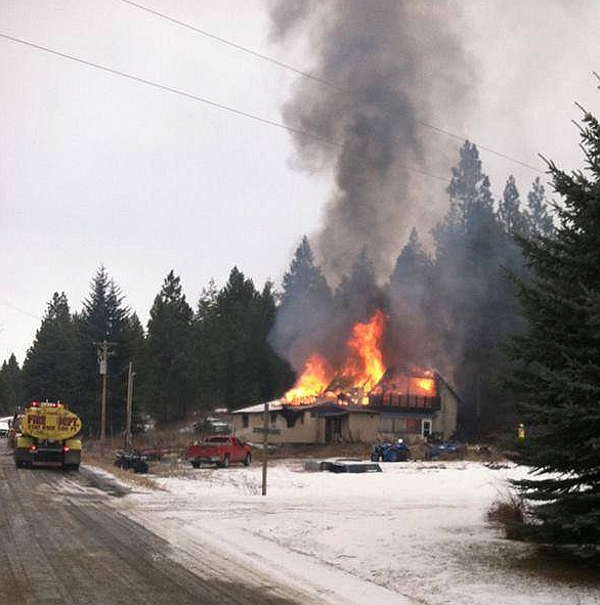 'Ranger Bill' to rebuild after fire: Bill McIntosh, known as "Ranger Bill" by many for his years working with the U.S. Forest Service part time keeping up the Snyder Guard Station, doesn't yet know how, but he says he is planning to rebuild after fire destroyed his Camp Nine home Friday.
March 1

Meister to Walk Out of Darkness: Leah Meister, Bonners Ferry, will be joining with hundreds of people to walk 18 miles through the night in the Out of the Darkness Overnight to benefit the American Foundation for Suicide Prevention on June 14-15.

Donna Nystrom out of this world! Bonners Ferry High School is ecstatic to announce the awesome Donna Nystrom as the esteemed classified employee of this lunar cycle, or, for those of you more down-to-earth, as Boundary County School District 101 Classified Employee of the Month.

Cavender coming home for recital: For students graduating from the University of Idaho with a performance major, it is customary to put on a Senior Recital in Moscow. Never being one for custom, Chloe Cavender wanted to add a new dimension to the event and put on a recital in her hometown of Bonners Ferry.
-- Badger boys fall --
After leading at the half, it has been reported that the Badger Boys lost their opening state playoff game to Filer, 42-32. We wish the Badgers and all Badger fans who made the trip a safe trip home.
Watch upgraded to winter storm warning: The winter storm watch issued by the National Weather Service yesterday has been upgraded to a winter storm warning, effective from 4 a.m. Sunday through 4 p.m. Monday, meaning confidence in the threat of nasty weather has increased.
Obituaries
Ervin Jantz, March 24, 2014
Helen Irene Doering, August 30, 1941 ~ March 21, 2014
Walter Richard Worley, February 20, 1929 ~ March 14, 2014
Mark Spencer Lavoie, February 6, 2014
Vickey Sue Boles, December 8, 1946 ~ March 14, 2014
George Sawyer February 23, 1984 ~ March 9, 2014
Robert "Bob" Earl Phillips Sr., June 10, 1946 ~ February 18, 2014
Ruth Prather Parks, 94, March 6, 2014
Lorain Elisabeth Niemiec, October 25, 1926 ~ March 7, 2014
Joyce Ann Trueblood, December 17, 1930 ~ March 4, 2014
Ernest Lawrence 'Ernie' Loewen, May 8, 1930 ~ March 1, 2014
Stanley Morris Battles, June 12, 1941 ~ March 5, 2014
William Delwin Frans, August 4, 1929 ~ March 2, 2014
Michael Harris Mills, November 15, 1945 ~ February 22, 2014
Social

Cossairt, Munson Students of the Month
:
The Bonners Ferry Rotary Students of the Month for March are two hard-working and talented Bonners Ferry High School seniors; Gabrielle Munson and Collin Cossairt.
Gaspar named Student of the Month
:
A gregarious and athletic senior at Bonners Ferry High School, Johnathan Gaspar is Upsilon Chapter of Delta Kappa Gamma Women Educators' student of the month for March.

BFHS grad Air Force NCO of the Year
:
Air Force Technical Sergeant Melissa A. (Easley) Danner, Bonners Ferry, distinguished herself as Air Force Aviation Resource Manager 1C0X2 Non Commissioned Officer Of The Year while serving as NCO in Charge, Host Aviation Resource Management, 375th Operational Support Squadron, Scott Air Force Base, Illinois, from October 1, 2012, to September 30, 2013.
Rotary names Students of the Month:
Each month, the Bonners Ferry Rotary honors two students from Bonners Ferry High School as Rotary Students of the Month. For February, Rotary honors went to Kylie Byars and Dalin Hubbard.
Locals shine at U of I art contest
:
The University of Idaho recently announced the winners of the 23rd Annual High School Art Competition sponsored by the College of Art and Architecture's Art and Design program, including two from Boundary County.
Sports
Badger Pride ...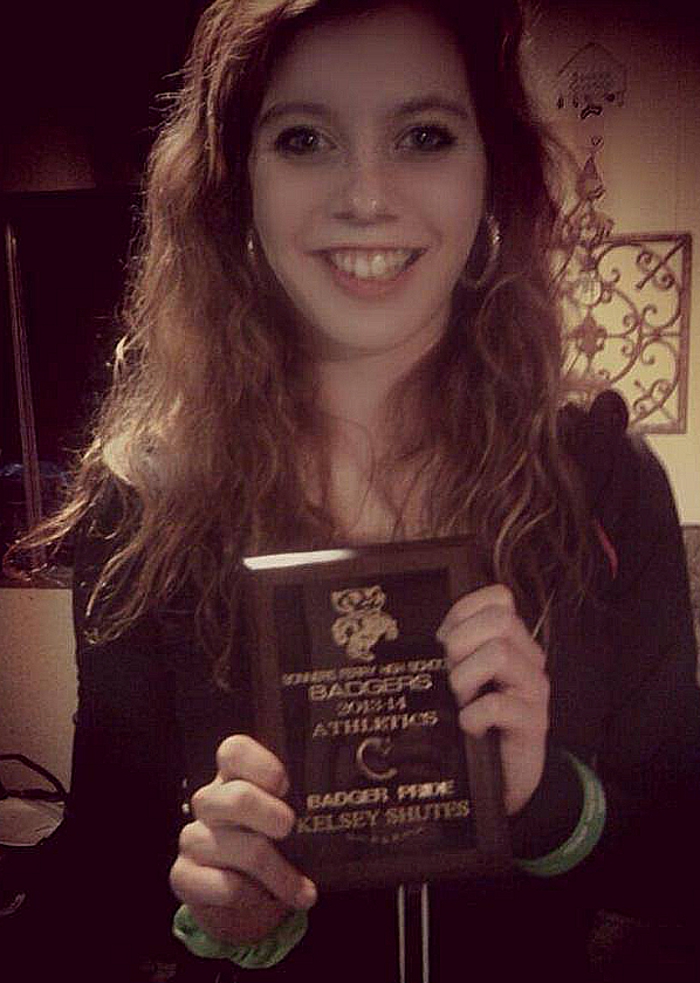 Though she couldn't compete with her fellow cheerleaders at state due to injuries from a car crash the night the team earned their state berth, the team presented her with a beautiful Badger Pride plaque for her indomitable spirit following their state performance. Kelsey and her parents were able to attend state, but they're back home and Kelsey is hard at work in rehab to gain back what she lost.
Lady Badgers take first win of the season: The Badgers varsity girls softball team travelled to face Sandpoint's varsity team in a double-hearer Tuesday evening, falling dismally in the opener but roaring back to win game two 7-3 and their first win of the season.
Badger wrestlers keep tradition alive: The Bonners Ferry Wrestling Program is in full swing for the spring season, with wrestling Freestlye and Greco-Roman in several tournaments over the last couple of weeks.
Little League tryouts this week: Little League tryouts will be held from 5 to 7 p.m. Friday, March 28 and from 9 a.m. to noon Saturday, March 29, at the west end of the fairgrounds ball fields. Please be at the batting cages, located near the parking lot of the old downtown mill, if your child plans to play this year in any group other than mini-minors.
Coaches looking to build lacrosse program: Are you looking for an exciting new spring sport? Coaches John Niewieroski and Brandon Glaza are looking to start a new lacrosse team in Bonners Ferry for boys in grades four through eight.
JV girls have good first outing: The Badger's JV softball team played a double header Thursday, March 20, against the Post Falls Trojan's C-team and did very well for their first game. By Sam Schneider
B-run steelhead restrictions lifted: The Idaho Fish and Game Commission voted unanimously to lift the restrictions on harvest of "B-run" steelhead on the Clearwater River for the remainder of the 2014 season effective immediately. The decision was made during the commission meeting on Thursday, March 20, 2014.
IDFG Commission adopts 2014 rules: The Idaho Fish and Game Commission Thursday, March 20, adopted the 2014 seasons for deer, elk, pronghorn, black bear, mountain lion and gray wolf, as well as seasons and limits for Spring Chinook Salmon as proposed by Fish and Game biologists.
Bound for state ...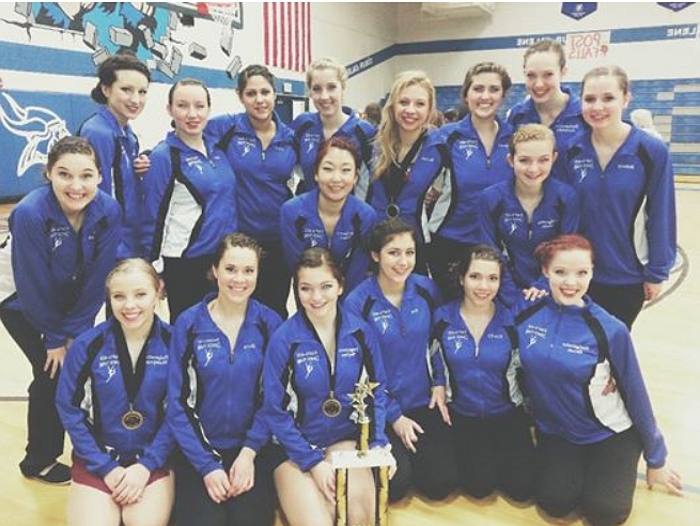 The Bonners Ferry High School Dance Team will also be traveling to the Idaho Center in Nampa Friday, where they will compete in four different dance categories ... GO, BADGERS!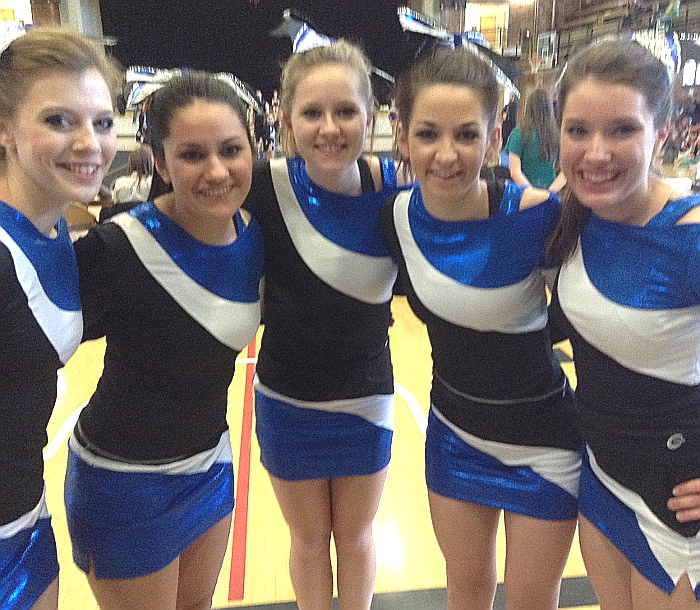 The Bonners Ferry High School Cheerleaders will be heading to state competition Friday, March 21, at the Idaho Center in Nampa. The Badgers will be competing in three divisions; 3-A All Girl Show Routine, Group Stunt, and Pom Routine. They are very hopeful that teammate Kelsey Shutes, recovering from injuries sustained in a car crash the day she and her team won district and the state berth, will be able to attend and watch. The community's prayers and support are appreciated.
Senior fitness leaders wanted: Do you want to reduce your risk of falls? Stretching and bending your arms and legs with a crowd of happy people can help you reach that goal. Panhandle Health District (PHD) coordinates a group of volunteer leaders who teach Fit and Fall Proof classes.
Letters
Ken Ewing
:
In May we can vote on an $8 million bond for a three story building plus an additional levy of $100,000 for operating expenses. A library is a fine complement to a community. The current facility is great and provides access to the Internet for those who don't have computers at home. The book resources are excellent.
Ingrid Elena Pavia
:
The number of children who are born with various challenges for one reason or another is growing. Others will be involved in accidents and/or succumb to illnesses which place them ~ temporarily, long-term, or permanently ~ in a position that should make us all take a serious look at the true accessibility and inclusive play we should incorporate into our new playground design/equipment at the Boundary County Fairgrounds.
Senator Shawn Keough:
This week – the week of St. Patrick's Day - the pace of the Legislature is hectic as we work to meet our target completion date of Friday, March 21.
Don Jordan:
We can all agree on some core characteristics that are important in our county. Some are rural character, wildlife and clean water.
Senator Shawn Keough
:
On Friday, March 7, the State Senate honored four Idaho servicemen who fought and lost their lives in Afghanistan during 2013. Families of the honorees attended the special ceremony.
Tim Patton
:
As you may know, the upcoming county comprehensive plan proposed revision for chapter 13 and 14 will be at 1:30 p.m. Tuesday, March 18, in the county extension building. This proposed revision by the planning and zoning commission is a total disaster for our county.
Jeff and Tia Avery
:
Allen Avery is our son. We would like to apologize to the people involved and the community for his reckless behavior and lack of regard for human life.
U.S. Congressman Raul Labrador
: This week, the President unveiled his budget for Fiscal Year 2015, a budget that - if passed – would devastate our economy and add a crushing debt burden onto our children.
Mike Weland:
Just for fun, I did a quick search of newsbf and compiled a partial list of the articles regarding school bomb hoaxes in Boundary County public schools.
Senator Shawn Keough
: This week, Representative Eric Anderson announced that he will not seek another term in the Idaho House of Representatives. I've enjoyed my service with Anderson as we have worked together on many issues that are important to our community.
Representative Raul Labrador:
As Americans, one of our most cherished values is freedom of speech. Our Founding Fathers enshrined free speech in the First Amendment to the Constitution, and we have worked over the generations – through today – to protect that cherished principle from any and all threats.
Back to archives