Boundary County Archives ~ August, 2012
Home
News
Sports
Social
Obituaries
Events
Letters
News
August 30

Herald to host downtown block party: The staff at the Bonners Ferry Herald, 7183 Main Street, is kicking off Labor Day weekend by inviting everyone to head downtown, do a bit of shopping and stop by for an old-fashioned block party from 11 a.m. to 2 p.m. Friday, August 31. It's the first block party ever for Boundary County's oldest business.
Free CommUNITY Breakfast nears: It's time to mark your your calendars and make plans to attend the 10th annual Free CommUNITY Breakfast, taking place once again in the Boundary County Middle School cafeteria, 6577 Main Street, Bonners Ferry, from 7 to 10 a.m. Saturday, September 22.
City appears to be seeking new attorney: While there's little yet to go on, it appears that the City of Bonners Ferry and the city attorney, Tim Wilson, are parting ways, and the city appears to be looking for a replacement, not only to serve as city attorney, but also to carry the title "assistant city administrator." But they're looking in a rather unusual way.

Cat with a ticket to Europe missing: A cat with a ticket to Europe to be with his family is missing, and the family is understandably anxious to find him. They're offering a reward to anyone who finds him and gets him home safe.
Nothing can stop a great year at VVES: The staff of Valley View Elementary School has been hard at work preparing for a special school year. We will offer great challenges, adventure and excitement as we prepare our students for success in the 21st Century. Many changes are coming to the public schools system: the advancement of technology/communication and National Common Core Standards, to name a few.
Bonners Ferry City Council minutes, July 17
Bonners Ferry City Council minutes, July 13
August 28

Association working to restore historic church: The Paradise Valley Cemetery Association board is starting fundraising efforts to renovate Boundary County's historic Paradise Valley Church, built over a century ago and too long boarded up.
Moyie Mudbog cancelled: The Moyie Mudbog, a biannual event that has brought thousands of people to the Moyie River Road for the past several years, has been cancelled until further notice, and the people who put it on, Bruce and Kathy Behrman, are asking that their decision and privacy be respected.
Idaho fire danger high: At least 50 wildfires are currently being tracked in Idaho, and continued hot, dry conditions have resulted in expanded Stage 1 fire restrictions being imposed today in much of central Idaho, placing strict limitations on the use of all fires until further notice. Those restrictions haven't been imposed in Boundary County, but the danger for wildfires throughout North Idaho are high.
Lots of new faces at School District 101: Students going back to school Tuesday will be greeted by quite a few new faces, all new hires in Boundary County School District 101.
BCMS 'Transition Day' set: Students and parents of incoming sixth grade students are invited to attend "Transition Day" at the Boundary County Middle School from 8 a.m. to noon Thursday, August 30.
Gearing up for more river restoration: Construction equipment is being mobilized, logs and root wads and other construction materials are being stockpiled, and a volunteer fish rescue crew is waiting on call. What's all this activity about? It's all preparation for construction of two Kootenai River habitat restoration projects that will be built from September through November this year.
ITD suspends highway construction for holiday: Work that could impact travel will be suspended on all Idaho Transportation Department highway construction projects statewide September 1-3 for the Labor Day holiday, except in special circumstances.
Moyie Springs City Council minutes, July 25
Moyie Springs City Council minutes, July 11
August 27
Happy birthday, Jack!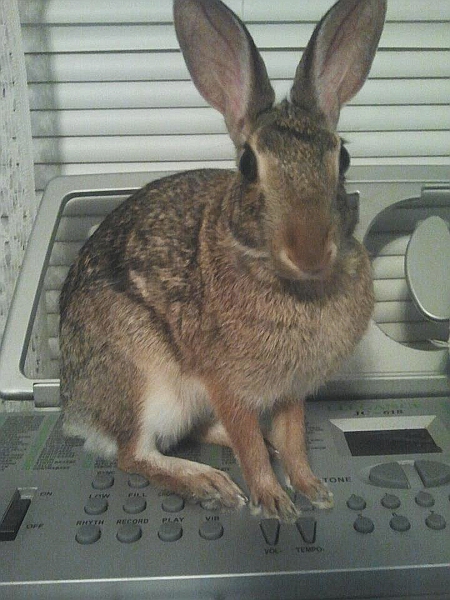 A very happy bunny birthday: This is the story of Jack, a rabbit celebrating his first birthday deep in the heart of Texas. Nothing local about this one. The lady who ran over him with a tractor before his ears were unfurled happens to share a relatively rare last name with me, "Weland," though it's unlikely we're related. It's not local, but it's a neat story all the same.
Welcome!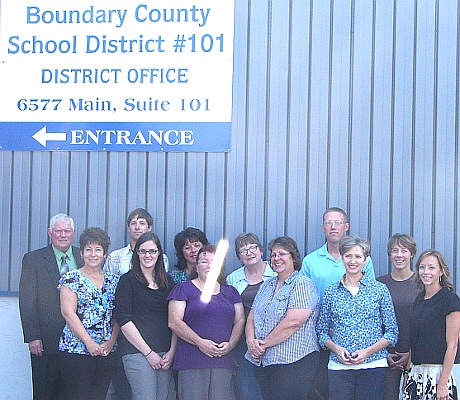 School superintendent Dick Conley (far left) welcomed a bunch of new faces to the district today, and this isn't even all of them! Some are familiar faces, some are brand new to the best community in the world! Please make welcome (l-r) Karen Moore, Aaron Hanson, Amber Weymer, Angela Hittle, Julie Vinton*, Patty Burlingame, Gloria Hanson, Luke Omodt, Adrenne Warren, Kathryn Omodt and Erin Delude. *My apologies, Julie ... I didn't see that reflection when I was taking the picture! News Bonners Ferry will tell you more about these and other great folks in days ahead, where they'll be working and what they'll be doing ... so stay tuned!

Mayor addresses tree house issue: On August 24, the day after city-hired contractors tore down a tree house at the root of a controversy that swept around the world, Bonners Ferry Mayor Dave Anderson submitted a letter to the Bonners Ferry Herald addressing the issues. On request, he graciously provided a copy to News Bonners Ferry.
Court records and sheriffs log
County commission minutes, August 20-21
August 25
BFHS Freshman Day Thursday: All Bonners Ferry High School freshmen are invited to a day of events beginning with orientation at 8 a.m. Thursday, August 30, in the high school auditorium.
Naples General Store holds back-to-school contest: The folks at Boundary county's oldest retail business want to make the high cost of back to school a bit easier for a deserving local family nominated by you! The chosen family will win school supplies, clothing and accessories.

Tree house comes down: After months of controversy, a contracting crew hired by the City of Bonners Ferry showed up at the riverfront home of Tremain Albright and Adara Dancer Thursday and took down a tree house that garnered global attention earlier this summer, along with the tree it once sat in.
Traffic tied up Friday by vehicle fire: A vehicle fire near Elmira shut down both lanes of U.S. 95 Friday afternoon.

Shakespeare at the Pearl: If you've ever wanted to see all 37 of the Bard's timeless plays in one night, mark Friday, August 31, on your calendar. That's the night "The Complete Works of William Shakespeare" takes the stage at the Pearl Theater.
Dryer, warmer winter may be on tap: A two-year reality of precipitation-rich winters – even more so than normal – in the Pacific Northwest could well be broken if climatic conditions in the equatorial Pacific shift from so-called neutral conditions toward El Nino.
Free hiring fair for veterans set: The American Legion is sponsoring "Hiring Our Heroes," a free hiring fair for military veterans and their spouses September 29 in Coeur d'Alene.
Tips for improving safe school commuting: School zone safety is everyone's responsibility – from parents and school officials to children and motorists, the Idaho Transportation Department advises. Increased awareness of the risks and safety measures will ensure safer commutes. Here are some tips to share with your children before school begins.
August 23

They're home! Mali and Chance missing: Two dogs, a black Lab named Mali and a brown and white mix named Chance, managed to get out of the fence of their Moyie Springs home this morning and the family needs help finding them.

4-H & FFA Market Animal Sale 2012: Thank you to all the businesses and individuals who supported this year's sale; and thanks to all the 4-H and FFA members who worked so hard preparing for it!

Idaho awarded grant for training veterans: The Idaho Department of Labor was one of 11 entities across the country awarded grants to provide training services to veterans in high demand industries.

Grant to help IDFG inventory rare species: Idaho Fish and Game has received a $950,000 competitive State Wildlife Grant from the U.S. Fish and Wildlife service to launch the Multi-Species Baseline Initiative, a coalition of more than 20 partner organizations. A portion of the initiative study area lies in Boundary County.

DUI emphasis stepped up for Labor Day: Labor Day picnics and activities offer people many choices, from what to eat to what to do. One important choice the Idaho Transportation Department encourages everyone to make is to not drive impaired.
August 22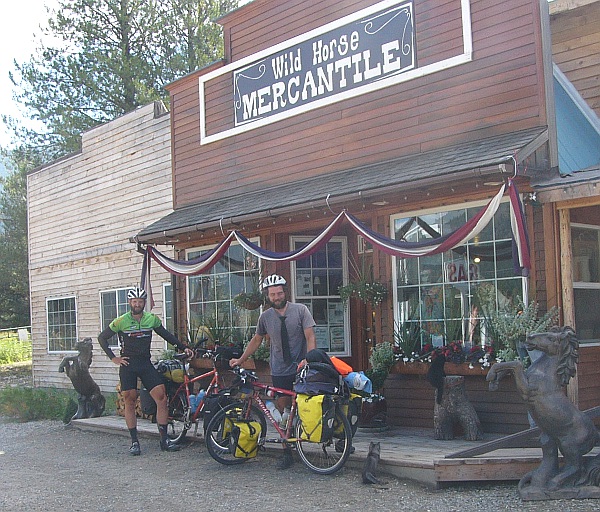 Cyclists on epic tour visit county: There was little to distinguish Mike Fusaro and Josh Peterson from any of the myriad bicyclists that pass through Boundary County. A look at their well-muscled legs might tell you they're well used to cycling, but unless you have the chance to chat, you'd never know the awesome route they've travelled.

Family looking for return of stolen property: Most people here take pride in the fact that this is a community of good neighbors, one in which we look out for one another. This may be one of the last bastions on earth where people who've lived here for awhile carry keys to their front door, but don't remember why. They seldom use them.

Hawaiian luau Saturday at the Wild Horse: Ray and Beth Holmes are inviting everyone to the Wild Horse Mercantile & Saloon on U.S. 95 south of Good Grief for an all-afternoon Hawaiian luau this Saturday.

KNWR seeks local artists: An Art Show and Sale will be held at Kootenai National Wildlife Refuge on October 6, 2012. The free event is being organized by the Friends of Kootenai National Wildlife Refuge group, and will feature art, food vendors, and music, and local artists are needed!

Suit filed to overturn USFS planning rule: The American Forest Resource Council and a group of national and regional interests filed suit last week in Washington, D.C. to overturn the new federal Forest Service Planning Rule adopted last April.

MyTech Student Tech contest underway: Will classrooms have finger-painting in the future? How will students collaborate? Communicate? Take tests?These are just some of the questions teachers and students get to answer in the MyFuture Student Tech Contest.

Land Board approves increased payouts: The State Board of Land Commissioners on Tuesday approved a 2.8-percent overall increase in fiscal year 2014 financial distributions over the FY13 payouts from State Endowment funds, bringing the total FY14 distribution for all Endowment beneficiaries to nearly $49 million.

County commission minutes, August 13-14
County commission minutes, August 6-7
County commission minutes, July 30-31
Court records and sheriff's log
August 20
Delays on U.S. 95 at Chilco: U.S. 95 between Chilco and Silverwood will be paved beginning this week from 7 a.m. to 5 p.m., creating substantial delays for motorists wanting to use Chilco Road, the Idaho Transportation Department announced.

Another county fair for the ages: The week was warmer than normal, with temperatures hovering in the low to mid 90s. Still, the people of Boundary County went to work to put on another great fair, wiping their brow a bit more often, sipping a few more ice-cold lemonades. Folks commented on how hot and dry it was, not in the way of complaint but more as a way to start conversation. A News Bonners Ferry pictorial.
August 18
Rich Carlson passes: We are saddened to learn that life-long Bonners Ferry resident Rich Carlson lost his battle against pancreatic cancer in Coeur d'Alene Friday.
August 17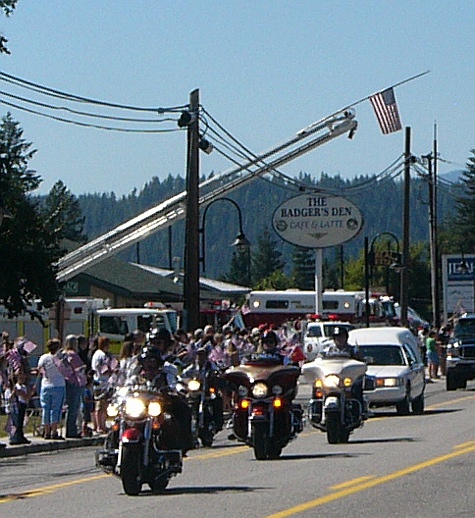 A hero comes home: As the cortege passed through Bonners Ferry, chatter stopped. Hands went over hearts, solemn salutes were held as the white hearse bearing the body of 22-year-old Army Specialist Ethan Jacob Martin, made it's sad and slow way.
August 16

Bringing a fallen hero home: The body of Army Specialist Ethan Martin, 22, killed in Afghanistan August 7, will be flown to the Sandpoint Airport from Dover Air Force Base, Delaware, on Friday, and escorted to Bonners Ferry with his family in a military cortege. A grass-roots effort is now underway by many in Bonners Ferry to show the family just how much this community respects and honors the terrible sacrifice they've laid on the alter of freedom.
Whooping cough still around: Whooping cough cases in northern Idaho are down this year compared to the high numbers in 2010 and 2011, but the highly contagious illness is still making the rounds.
August 14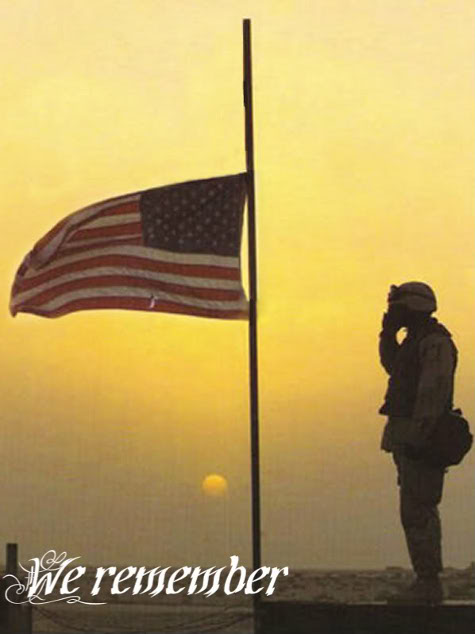 Idaho Governor Butch Otter has ordered that flags on all state offices be flown at half-staff Saturday, August 18, in recognition of the ultimate sacrifice on behalf of a grateful nation paid by Army Specialist Ethan Martin, who died August 7 while serving his country in Afghanistan.
Expect delays on U.S. 95 in CdA: The U.S. 95 Northwest Boulevard Interchange on- and off-ramps will be paved from 8 p.m. Wednesday, August 15, to 5 a.m. Thursday, creating substantial delays for motorists wanting to use the exits, the Idaho Transportation Department announced.

Carson Bosworth here for fair: Lumberjack legend Carson Bosworth, now living in Lake Geneva, Wisconsin, will be in Bonners Ferry to visit family, attend the fair and demonstrate the awesome skills that make him one of the world's top competitors in logging sports today.
Important info for start of the school year: If you have a child who'll be a student in Boundary School District 101 Schools or if you work for the district, here's some important information for the start of the school year.
Someone will win a mini-motorcycle: Some lucky Boundary County fair-goer will be the proud owner of a brand-new 50cc mini-motorcycle Saturday evening during family fun night.

Local man saves snagged osprey: Travis Shearer, Bonners Ferry, was fishing on Lake Fernan in Kootenai County August 2 when he and others watched as an osprey dove into the water to retrieve a fish discarded by another fisherman, became entangled in several fishing lines, and struggled to stay afloat.
Services set for Ethan Martin: Funeral Services for Ethan Jacob Martin, 22, will be held on Saturday, August 18, in the Becker Auditorium at the Bonners Ferry High School with interment in the Paradise Valley Cemetery, Bonners Ferry. Updated 8 p.m. August 14.
August 13
County P&Z to take up Tungsten gravel pit ... again: A reconstituted Boundary County Planning and Zoning Commission will meet at 5:30 p.m. Thursday, August 23, and once again take up an application that has vexed Boundary County for years; whether or not to approve a seven-acre gravel pit in north Boundary County proposed by Tungsten Holdings.
RAC meeting rescheduled: Due to scheduling conflicts, the Idaho Panhandle Resource Advisory Committee (RAC) meeting originally scheduled for August 24 has been rescheduled for September 7.
Court records and sheriff's log
August 10

Crop loss from flooding estimated at $4-million: The Kootenai River basin flooding of 2012 will go down as the worst year since Libby Dam went into operation in 1972, with initial damage from crop loss alone estimated at $4-million, double the losses calculated for the flood of 2006.
'Cats' opening evacuated by gas leak: The opening night performance of "Cats" by the Bonners Ferry Summer Youth Theatre was interrupted last night by a fire alarm, which forced the evacuation of the Becker Auditorium and the cancellation of the rest of the show.


Final fair days fun! It's getting close to wrapping up, but perhaps the biggest day of the Boundary County Fair comes on its final days. By Fair Royalty Aubrey Tucker.
August 9

Army releases information on Ethan Martin: The Department of Defense today officially announced the death of Specialist Ethan Martin, 22, who died August 7 in Korgay, Afghanistan, of wounds suffered when he encountered small arms fire.

Alexanders moving into ministry; big moving sale! It might seem to many a spur-of-the-moment decision, but the Alexander family, 1724 District Two Road, are holding a big moving and fare-well sale this Friday and Saturday, and moving to Indianapolis next Wednesday in answering God's call.

Local GOP buying, raffling off fair hog: The Boundary County Republican Central Committee is inviting everyone to stop by their booth next week during the Boundary County Fair, not only to meet and chat with GOP representatives, but maybe to take home a lot of pork.
August 8

Soldier with local ties killed in Afghanistan: Flags were at half-staff today in Boundary County after the family of Ethan Martin, 22, confirmed today that he had been killed while serving in the U.S. Army in Afghanistan.
Gust facing grand theft charge: A preliminary hearing has been set for 1:30 p.m. August for Shawnna Gust, 43, Bonners Ferry, who is facing a felony charge of grand theft for allegedly embezzling from Well Life Pharmacy for several years.
A royal invitation to the fair: Come to the Indoor Arena at the Boundary County Fairgrounds on August 15, 2012 at 6:30 p.m. where opening ceremonies for the Boundary County Fair will be held. An invitation by Fair Royalty Kate Wood.
Habitat getting ready for house nine: Boundary County Habitat for Humanity is now accepting applications for their ninth house to be built in Bonners Ferry.
August 7
Naples family loses home to fire: A Naples area family lost their home and belongings to fire this morning, and friends and family are rallying to give aid, and calling on the community to help. Fortunately, that family was away at the time, and no one, including those who responded, were injured.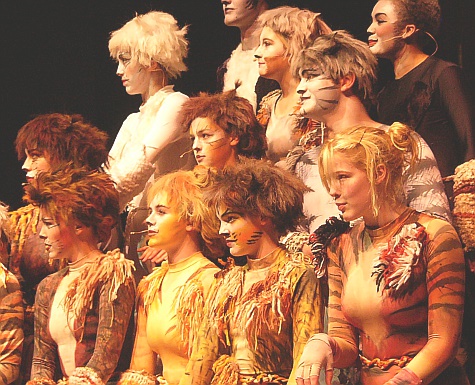 'Cats' coming to Bonners Ferry: "Cats" is a wondrous musical composed by Andrew Lloyd Webber, based on T.S. Eliot's "Old Possum's Book of Practical Cats." Since its Broadway debut in 1982, it's garnered numerous milestones, including a Tony for Best Musical. It'll set another milestone Thursday evening, when

Bonners Ferry Summer Youth Theatre opens "Cats, A Musical Revue" on a two-night run at the Becker Auditorium.
Fry Foundation closing in on $1-million: Once a year, acting almost like elves, volunteers for the Fry Healthcare Foundation transform the Boundary County Fairgrounds into the Festival of Trees, which is closing in on one million dollars worth of purchases for the Boundary Community Hospital, including large purchases of a CT Scan, almost $300,000, to smaller purchases like the television for the Extended Care Facility.

Entirely Natural can help you hear your body: William Shakespeare said "eyes are the window to the soul." At Entirely Natural, the eyes are just one window into the health and susceptibilities of their owner.

Shelter dogs can be Pawsitive heroes: Pawsitive Works knows there are hidden heroes in our shelters. They are ready and willing to be someone's new best friend, and they have shown us over and again just how incredible they can be at making a life-long difference in the lives of youth at risk.
NIC offering esthetician course: A free information session on the North Idaho College esthetician course will be offered from 5 to 6 p.m. Thursday, August 9 at the North Idaho College Workforce Training Center in Post Falls.
Court records and sheriff's log
August 3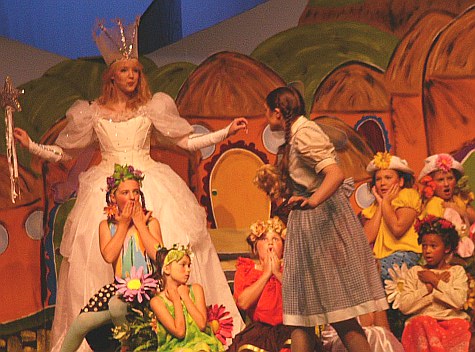 'Wizard of Oz' a thrilling extravaganza: The Bonners Ferry Summer Theatre performances of "The Wizard of Oz" surpassed the expectations of nearly everyone except for the cast and crew, who put on an extravaganza Thursday and Friday unlike anything ever staged in the Becker Auditorium. The only thing wrong is that, while the crowds were good, there were too many seats unfilled. There's one last chance to remedy that, as there's one more performance at 7 p.m. Saturday. A News Bonners Ferry pictorial.
E.L. Internet Northwest coverage growing: Living up to their goal of providing wireless internet service to the most places in Boundary County, Eric and Linda Lederhos, owners of E.L. Internet Northwest, just announced the completion of their new Deep Creek tower, bringing high speed internet and internet telephone service.

Local food bank needs help: The Bonners Ferry Food Bank, which collects and distributes food for those in need year in and year out, is in dire need of volunteers to help meet the demand.


Bonners Ferry officer assumes brigade command: The 1st Air Cavalry Brigade, 1st Cavalry Division, changed command during a ceremony August 2 at Cooper Field. Colonel John Novalis, Williamsport, Pennsylvania, relinquished command to Colonel Cory Mendenhall of Bonners Ferry.

County commissioner's minutes, July 23-24
County commissioner's minutes, July 9-10
August 2
All Class Reunion a year away: While work has been underway since students of Boundary County's schools last swarmed into Bonners Ferry in August, 2009, the word is just now going out; the next Bonners Ferry All-Class Reunion is set to descend again, with the main events taking place Saturday, August 3, 2013.


Local cathouse causes consternation: A Bonners Ferry cathouse has caused consternation among the Bonners Ferry Police Department, a couple of non-profit public service groups and around 50 tenants, and considerable effort is going to be needed to turn the wayward denizens into productive members of society.


Grave in Round Prairie: Joe Vevera committed suicide with a shotgun in a house later lived in by Milt Branson in year 1903 or 1911 ... not sure which. He's buried alongside what is now Highway 95, and the grave was never moved. Looking Back by Jack Flinn.
August 1
Congressman Labrador to be in Bonners: U.S. Congressman Raul Labrador (R-Idaho) will be in Bonners Ferry on Monday, August 6, to meet with local constituents in one of two North Idaho town hall meetings.

Vilsack's 'Meatless Mondays' questioned: Idaho Senators Mike Crapo and Jim Risch have joined their Western Senate colleagues in sending a letter to U.S. Secretary of Agriculture Tom Vilsack regarding the U.S. Department of Agriculture's (USDA) efforts to discourage employees from eating meat.

Obituaries
Max Leroy Owen, September 29, 1917 ~ August 28, 2012
Shirley Clarissa Curless Linnemeyer, June 23, 1918 ~ August 23, 2012
Shirley Winifred Weber, January 10, 1942 ~ August 22, 2012
Gay Lee Wall, August 9, 1951 ~ August 20, 2012
Dolores Pruitt, April 10, 1928 ~ August 21, 2012
Richard Wade Carlson, May 17, 1960 ~ August 17, 2012
Glen Myron Peaster, June 12, 1923 ~ August 10, 2012
Ethan Jacob Martin: December 30, 1989 ~ August 7, 2012
Doris Ellen Howard, December 29, 1920 ~ August 11, 2012
William Daniel Mulvaney, February 13, 1925 ~ August 7, 2012
Phyllis Raye Thomas, May 27, 1942 ~ July 31, 2012
Harland Eugene Mendenhall, February 14, 1927 ~ July 31, 2012
Marcie Lee (Buck) Kramer, December 1, 1972 ~ July 30, 2012
Frank Warren Kuhn, October 23, 1935 ~ July 25, 2012
Social
Bill and Linda Hiatt celebrating 50 years: The children of Bill and Linda Hiatt cordially invite family and friends to an open house celebration in recognition of their Golden 50th Wedding Anniversary on Sunday, August 19.
Sports

Bonners Ferry Jamboree a fun success: Four schools and more than 75 runners participated in the inaugural Bonners Ferry cross-country jamboree last Thursday near McArthur Lake. Runners from Bonners Ferry, Priest River, Lake City, and Timberlake tested their pre-season fitness on a race course that featured a gravel road and rolling sand hills, and which finished in Jeff and Karen Perkins' front yard.
Badger girls add another win: The Badger girls soccer team played host to the Timberlake Tigers Tuesday and added to their winning ways, earning their third straight league win to stay perfect in league play with a 2-0 win.
IDFG Panhandle fishing report
Merrifield leads Badgers to win: The Badger JV and varsity volleyball teams hosted the Post Falls C and JV teams Thursday and sent both Trojan teams packing with a tick in their loss columns.
Badger boys spank the Maniacs: The Bonners Ferry High School boys soccer team won their opening Intermountain League game Friday, defeating Orofino on the road 7–1.
Lady Badgers chalk up second win: The Badger girls soccer team traveled to Kellogg Saturday and took down the Wildcats to earn their second win in as many days.
Badgers fall to Libby, JV gets a shutout: The Bonners Ferry Badger varsity and JV footballs teams opened their seasons in away games against the Libby Loggers Saturday, and while the Badger JV romped to a 25-0 shutout, the varsity team fell in a heartbreaker, 14-6.
Badger girls shut out Orofino: The Maniacs didn't have what it took Friday evening as the Bonners Ferry Badger girls soccer team paid a visit and trounced the Orofino girls 6-0.

Packers legend to lead U of I parade: University of Idaho legend, Sandpoint native and Lombardi-era Green Bay Packer star Jerry Kramer will lead the University of Idaho's 103rd annual homecoming parade as Grand Marshal on Saturday, October 6.
Enter second Super Hunt drawing now
:
It's not too late to apply for a second chance at the hunt of a lifetime. Entries in the second Super Hunt drawing must be received at the Fish and Game headquarters by August 11 with the drawing set for mid-August.

Idaho Vandal ready for Olympic marathon
:
She's Danish, she's British, she's a Vandal; but when alumna Jessica Draskau-Petersson lines up for the Olympic marathon in London on August 5, it's her dad who will be the guiding hand in her race.

Idaho's Kristin Armstrong takes gold
:
U of I alumnae Kristin Armstrong, Boise, earned a second gold medal in the Olympic cycling time trials in London, beating Judith Arndt of Germany by more than 15 seconds.
Letters
Julie Krezman: Thank you Bonners Ferry! The Bonners Ferry CROP Hunger Walk was a huge success this summer. $8,428.16 was contributed by our neighbors and friends to support the hunger-fighting efforts of Church World Service, both here at home and around the world.
Tammy Satterlee: My roots are strong and deep in this community. I read your editorial on how you spent many years traveling and judged the town by their news media. Living in a small community is such a unique experience.
Elizabeth Cada: The 4-H rabbit group, lead by Krissy King, raised $429.51 in our raffle towards making an obstacle course to do a rabbit hopping exhibition at the fair next year.
Mike Weland; I'm remiss. It's been almost four months since I wound up in the hospital, and in spite of all the encouragement and support I've received, I've not yet said, "thank you."
U.S. Senator Jim Risch: The treaties this nation enters into must not harm U.S. sovereignty. In America there is general agreement a person has a right to self-defense and a right to use a gun as part of that self-defense. Conversely, U.N. organizations argue gun control is mandated by international human rights law and there is no right to self-defense. I will not vote to hand our sovereignty and constitutional protections over to people who are not accountable to U.S. citizens.
U.S. Senator Mike Crapo: How a nation handles its spycraft says a lot about its government. Countries that undervalue it pay a huge price in stability and security.
Raul Labrador: For several years my colleagues in the House of Representatives have introduced legislation that would bring greater transparency to the Federal Reserve. Most well-known are the tireless efforts of Congressman Ron Paul and his call to audit the Fed.
Rosanne Smith: County taxpayers just paid, and will for years to come, $340,000 for a business that, in 2010, brought in $235,000 in revenue. In 2009, it was $228,000, 2008 it was $248,000.
Back to archives