Bringing a fallen hero home
August 16, 2012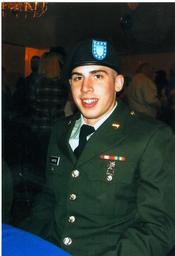 The body of Army Specialist Ethan Martin, 22, killed in Afghanistan August 7, will be flown to the Sandpoint Airport from Dover Air Force Base, Delaware, on Friday, and escorted to Bonners Ferry with his family in a military cortege.

Also accompanying the cortege will be the Patriot Riders, a motorcycle group comprised primarily of military veterans and their families whose mission is to honor all the fallen heroes in this nation's war on terror.

A grass-roots effort is now underway by many in Bonners Ferry to show the family just how much this community respects and honors the terrible sacrifice they've laid on the alter of freedom.

Local businesses from Sandpoint to Bonners Ferry are being asked to update their signs to honor Ethan Martin, and Boundary County residents, church and civic groups, Boy Scouts, Girl Scouts, law enforcement groups, fire departments, and more are being asked to gather on the Bonners Ferry National Guard Armory at 11 a.m. or earlier Friday, August 17, and from there to line the route the cortege will pass through our city.

The family has expressed significant concern that the solemn procession may be disrupted by protesters, however, the Patriot Riders have assured that any protesters who may show up will only be allowed their protest a respectful distance away; well out of sight of those there to honor Ethan.

According to several national media outlets, Westboro Baptist Church representatives have threatened protests at several funerals for fallen heroes in recent weeks, but have not appeared at any.

In Bonners Ferry, it is hoped that those reflecting our love and gratitude to the family for their sacrifice line the cortege's route all the way through Bonners Ferry.

It is likely, however, that the family will see people in places all along the route on U.S. 95 from Sandpoint to Bonners Ferry, waving flags, hand over heart as the cortege passes slowly by, those in military or law enforcement dress solemnly saluting, a grateful nation personified.