Boundary County News Archives ~ June, 2011
Home
Sports
Social
Obituaries
Events
Letters
June 30

Idaho soldier marks second anniversary as a POW: Sgt. Bowe R. Bergdahl, Hailey, Idaho, was captured and taken prisoner of war on June 30, 2009, in Afghanistan as part of Operation Enduring Freedom.

Gold Star Mom needs help: While our nation's warriors who die in combat in service to our country make the ultimate sacrifice, the families they leave behind, particularly their mothers, the Gold Star Mothers, pay a terrible cost as well, a cost that lives with them for the rest of their lives.

Groundbreaking on Border Patrol station set: Groundbreaking on the long-awaited new Border Patrol station, to be built at Three Mile Junction off Moon Shadow Road, has been set for July 13, with completion and a ribbon cutting ceremony expected a year later.


Airport news: Saturday, June 25, was the second Huckleberry Pancake breakfast of the season at the Boundary County Airport. Thankfully the sun burned off the morning fog and there was a good turnout of planes from out of town, and the EAA chapter served a record 150 plates of delicious huckleberry pancakes.

Looking to borrow a chicken plucker: Bonners Ferry is a rural community, and through the years our methods of communicating have changed. Somehow, word has always spread when a person or a family needed something ... until not too long ago by word of mouth. Times change.

Court records and sheriff's log
June 26
Rotary ends another great year: On a cool and misty late Friday, June 17, 22 brave souls descended into the depths of the Twin Rivers Resort for Rotary's Annual End of the Year party where good food is consumed, the changing of the guard takes place, and Rotarians are recognized for their accomplishments during the past year.

Avoid sprouts from local grower: Idaho state public health officials are investigating 19 Salmonella cases, several believed to be connected to the consumption of alfalfa sprouts grown in Moyie Springs.

Interior holding up renewable energy: A bipartisan group of 21 U.S. Senators say that the Department of the Interior (DOI) is curtailing renewable energy development and job creation by adding unnecessary obstacles to the permitting process.

Dr. Dave McIntosh named 'Rotarian of the Year:' At their June 21 meeting, concluding a very successful Rotary year, the Bonners Ferry Rotary Club presented David McIntosh, D.D.S. with the 2010-2011"Rotarian of the Year" award.

State agrees to drug manufacturing settlement: The State of Idaho will receive $602,825 from a legal settlement with GlaxoSmithKline, LLC (GSK) and SB Pharmco Puerto Rico, Inc. (SB Pharmco), Attorney General Lawrence Wasden said Thursday. Wasden joined with the attorneys general of 37 other states in the settlement.
June 23, 2011
Ozzy Osborn passes: News Bonners Ferry is saddened to tell of the passing of Ozzy Osborn, who is reported to have died in his sleep this morning.

Unemployment activity finally starting to ebb: The pressure on Idaho's once-broke Unemployment Insurance Trust Fund is finally easing, but the impact of the worst recession since World War II is still being felt.

County P&Z closing in on Ordinance: After years of effort, the nine volunteers on the Boundary County Planning and Zoning Commission appear to be on the cusp of forwarding to County Commissioners their recommendation of what this county's next Zoning and Subdivision Ordinance should be.
June 22, 2011
Commisioners offer $2,000 reward to stop vandals: The Bonners Ferry High School Class of 2011 is no different than the graduating classes of those who matriculated before; 99% great kids who have a bright future. Perhaps the 1% of misguided kids who have wreaked havoc on Boundary County are "achievers" as well ... in 18 years with the Idaho Transportation Department, local maintenance supervisor George Shutes has never seen this much damage.
June 21, 2011
Landowners can get funds for river restoration work: Agricultural landowners along 55 miles of the Kootenai River in Boundary County can help the Kootenai Tribe with a restoration project along the river corridor. The Tribe received special funds from the Natural Resources Conservation Service to restore and enhance fish and wildlife habitat conditions along the river. NRCS will provide financial and technical

assistance for conservation work; applications for funding will be taken through July 7, 2011.



June 7 Bonners Ferry City Council minutes
Commissioners minutes, June 6-7
Commissioners minutes, May 30-31
Court records and sheriffs log
June 19, 2011
Naples News: There's a lot to catch up on in Naples!
June 18, 2011

Twin Falls family faces 'choking game' tragedy: On May 30, Skyler Smith, 12, Twin Falls, went inside to wait out an afternoon storm. When his mother went to let him know the sun was back out, she found her energetic son lifeless, the victim of a "game" he learned from his friends at school, "the choking game."

Full Idaho delegation involved in Binns MOH review: While the process is thus far quiet, the entire Idaho Congressional delegation is involved in an effort by a retired Marine Corps officer now living in Florida to see that a retired Bonners Ferry Marine, Ricardo C. Binns, receive the recognition many feel he deserves for his actions in a battle in Vietnam that took place 45 years ago this week.

Not time to get complacent about flood risk: "Now is not the time to become complacent about flood risk -- it's not over, yet," said Steve Hall, a hydrologist in the Walla Walla District's Reservoir Regulation and Hydrology Section. "The snowpack is still really high in the upper basin. There's a lot more water volume headed for the rivers in the next few weeks."

'Students Come First' task force has first meeting: Jeb Bush, Governor of Florida from 1999-2007, and Bob Wise, Governor of West Virginia from 2001-2005, helped kick off the first meeting of Idaho's Students Come First Technology Task Force.

Senators seeking to reduce regulation on job creators: Senators Mike Crapo and Jim Risch were among several who introduced a bill last week to reduce excessive unfunded government mandates on job creators, giving them greater freedom to invest in their companies and hire new workers.

Borders Three Jamboree winners named: The Borders Three Jamboree filled downtown Bonners Ferry with classic cars from around the region June 6, with more than 200 cars, trucks, motorcycles and other machines on display, the best show thus far since the Bonners Ferry Rod Benders Car Club began putting on the show.
June 16, 2011

Busy week at the airport: From a visit by the Governor to a landing by an Anheuser Busch jet, folks at the Boundary County Airport had a fun week. They also had validation that they're the best around, as an international student from the other side of the world the world picked our airport as the place to train. "This man is prettier than Mel Gibson!"

Grandma's quilt: Trudy Dinsmore made beautiful patchwork birthday quilt for her granddaughter, Jessica. Instead of that quilt being a gift to one family, it is a gift to many, raising support for Idaho's first "Run for the Fallen."
June 15, 2011

Seussical Jr. a smashing success! In the years I've lived in Boundary County, not a day goes by that I'm not impressed by the stunning array of talent of the people who call this place home. I was floored, however, by the talented cast who ended their four-day run of Seussical Jr. Tuesday evening.
June 14, 2011
Risch tours Guantanamo Bay: U.S. Senator Jim Risch (R-Idaho) returned from touring Guantanamo Bay Monday evening, capping a full day of meetings and tours of the detention facilities located at the Guantanamo Bay Naval Base on the island of Cuba.

Worst ... typo ... ever: In nearly 30 years in the news business, I've made my share of mistakes, but none with quite the impact of a simple slip that occurred Sunday evening. It only happened once, and it only involved the omission of a single vowel ... In this case, an "i," in a single word. It happened in the wrong word.
June 13, 2011
Slide shuts down BNSF traffic: A rockside about 15 miles east of Bonners Ferry has shut down rail traffic on the Burlington Northern Sante Fe line since Sunday afternoon.


Application for zip line course approved: Boundary County Commissioners on Monday approved an application by Lisa Robbe, owner of a 40-acre parcel over a mile off of Christmas Lane in south Boundary County, who is looking to bring a little adventure to the community and people who visit here by establishing what would be only the third "zip line" course in Idaho.

Second half taxes due June 20: Boundary County Treasurer, Jennifer Fessler, would like to remind all Boundary County taxpayers that the deadline for paying the second half 2010 Property taxes without late charge is Monday, June 20.
After June 20, 2011 a 2% late charge is immediately applied and interest of one percent per month is added, retroactive to January 1, 2011.

Court records and sheriff's log
June 11, 2011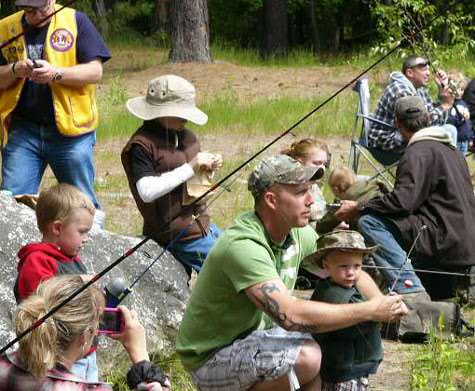 Though the number of fisherfolk were somewhat lower than most year, on account, most likely, of rain, kids and parents had a great time at the Lions Den pond on Free Fishing Day Saturday. Not detered by the wet weather above, the fish below were biting!

Kootenai River Run #24 in man's quest: He didn't set any land speed records, but after what he went through to get here, it's an amazing feat that Harold Doss finished today's Kootenai River Run at all. Doss, of Long Beach, California, set a goal to participate in a fun run in all 50 of this nation's states. With the Kootenai River Run, he chalked off number 24.


Deep Creek Loop damage has road to one lane: Deep Creek Loop, just north of Mirror Lake Golf Course and before the railroad underpass, was severely weakened in the north-bound lane and sloughing toward the downhill side, forcing county road and bridge to section off and close the lane to traffic.

Man who died during attempted arrest named: The man who died May 16 during an attempted arrest has been identified as Daniel Mittelstadt, of Mount Shasta, California.

Middle schoolers moving up: Over 100 Bonners Ferry Middle School students took the walk Thursday evening that takes them to the next step in their educational careers, promotion to high school freshmen.
June 7, 2011
ICE recruiting special agents: If you're searching for an opportunity to serve your country ... if you have an affinity for action, excitement and challenge ... if your goal is to work with a cadre of men and women trained to uphold customs and immigration laws, then becoming a Homeland Security Investigations (HSI) special agent could be for you.

Use caution when driving the wet woods: Across the forests in north Idaho, the Idaho Panhandle National Forests and our county partners are discovering more and more roads with damage due to the significant amount of snowpack and runoff. Currently there are many roads with temporary closures in place due to road washouts or other unsafe conditions.

Idaho gross state product rebounds in 2010: The value of all goods and services produced in Idaho rebounded in 2010 after posting its first decline in 2009 since the statistic was initially compiled in 1963.

Comment sought on Charlie Preston EA: The Charlie Preston Environmental Assessment (EA) is complete and is available for public review and comment.

Bussel 484 draft SEIS available: The Bussel 484 Draft Supplemental Environmental Impact Statement (SEIS) is completed and is ready for public review and comment.

Commissioners minutes
June 6, 2011
Service set for Vern Burdick: Kay Burdick and family wish to invite Vern's friends to a celebration of his life. Please join us at The Great Northwest Territories Event Center, Highway 95, milepost 498, one mile east on Meadow Mountains Road, at 1 p.m. Saturday, June 11, to share your memories.

Sparkles still missing: Despite a family's continuous search since their puppy went missing Saturday evening, there's still no sign of four-month-old Sparkles, and the Copeland family, especially four-year-old Billie Jo, want everyone to help look.

A grand and glorious day Saturday: There was no place in the world better to be Saturday than Bonners Ferry, which celebrated much more than a high school graduation. There was the best Bonners Ferry Rod Benders "Border 3 Jamboree" to date, a day long car wash and bake sale by the Bonners Ferry Middle School Cheerleaders, and a "Pass in the Grass" lawn mower race that brought competition from miles around. A Bonners Ferry News pictorial.

Court records and sheriffs log
June 5, 2011
Puppy missing, four-year-old distraught: A Bonners Ferry family's puppy went romping with another of their dogs Saturday evening, and while the other dog came home, Sparkles is still missing, four year old Billie Jo is devastated, and a family has spent hours searching.

Local man hurt in farm accident: A local farmer suffered a lacerated scalp and broken arm Saturday morning when the tractor he was operating overturned on the family farm near Porthill.
June 4, 2011

BFHS Class of 2011 steps to the future: The Bonners Ferry High School Class of 2011 readied, and steadied, themselves for the right of passage that is high school graduation. A News Bonners Ferry pictorial.


June 2, 2011

Harlem Globetrotter coming to SWISH: For all you old has-beens and hopefuls, competition at this year's Bonners Ferry Swish, coming up July 16, just got a whole lot tougher. A former Harlem Globetrotter is going to be in the crowd.
June 1, 2011
Flood threat imminent, officials say: Boundary County Commissioners met today with both state and local emergency managers, learned why the county was excluded from a recent presidential emergency declaration, and heard that while the county has dodged the flooding bullet thus far, it's still very likely that this will be a "watershed" year for what could well be historic flooding.


'Suessical, Jr' coming to the Pearl Theater: It is Dr. Seuss set to some amazing music performed by some of the strongest young performers in our area, at what will become Bonners Ferry's own Pearl Theatre. Site updated to include photo and contest information!

Court records and sheriffs log
Commissioners minutes
RAC meeting slated for June 17: The Idaho Panhandle Resource Advisory Committee (RAC) will meet June 17 at 9 a.m in Coeur d'Alene to review and recommend funding for proposed forest projects. The meeting will be held at the Idaho Panhandle National Forests Supervisor's Office located at 3815 Schreiber Way.
Obituaries
Carol Jean Phillips, November 20, 1939 ~ June 29, 2011
Maurice "Morris" Lee Brakeman, August 16, 1942 ~ June 28, 2011
Gladys June Thompson, June 16, 1919 ~ June 24, 2011
Lois Marie Tillotson, July 18, 1948 ~ June 23, 2011
J.T. "Oz" Osborn, January, 1941 ~ June 23, 2011
Kathleen A. Shaw, November 3, 1956 ~ June 22, 2011
Edwin Raymond Fairbrother: February 10, 1939 ~ June 16, 2011
Janet Susan Rate, September 20, 1935 ~ June 14, 2011
Myra L. "Babe" Troyer: December 5, 1919 ~ June 11, 2011
Claude Shannon Dozier, April 9, 1928 ~ June 11, 2011
Mary Jane (Chappell) Irwin, March 4, 1916 ~ June 8, 2011
Daniel Mittelstadt: July 5, 1954 ~ May 16, 2011
Larry A. Rodenz: Larry L. Rodenz, age 64, passed away on Sunday, May 29, 2011, at Theda Clark Regional Medical Center in Neenah, Wisconsin. A celebration of Larry's life will be held on Sunday, July 17, 2011, in Mabel, Minnesota. The Holly Funeral Home of Waupaca, Wisconsin, is assisting the family with local arrangements.
Patricia A. Madden: December 23, 1935 ~ June 7, 2011
Wilma Louise Owen: January 4, 1922 ~ June 4, 2011
Social
Braatz pens poem: Coordinating this year's Rotarian scholarship event inspired Rotarian Norm Braatz to pen a special poem to all graduates setting out into a bigger world.
UofI awards scholarships: The University of Idaho recently awarded more than 5,400 students nearly $30-million in scholarships for the 2011-2012 academic year, including a number to Boundary County students.
Recent marriages
Best wishes, Brooke: Brooke Roney, one of 13 Rotary scholarship recipients in 2011, was unable to attend the Rotary dessert social at the Kootenai River Inn May 12. Instead, she paid a visit at a much more mundane membership meeting June 14.
Recent marriages
Reeds welcome baby boy: Ryan and Sarah Reed, Naples, are the proud parents of a son, Micah Kenneth Reed, born May 8 weighing seven pounds, 10-ounces.
Local students on NIC Dean's List: North Idaho College recently released its 2011 spring semester Dean's List, and several Bonners Ferry students were awarded the honor.
Chris Blanford getting married: Christopher Blanford, the son of Robert and Diane Blanford, Bonners Ferry, and Tennille Toussaint, the daughter of Bill and Jeanne Toussaint, Woodenville, Washington, have announced their engagement and forthcoming marriage.
Recent marriages
Farrell, Rijkenberg exchange vows: Johanna Joy Farrell, the daughter of Joe and Nancy Farrell, Bonners Ferry, and Wijnand Rijkenberg, the son of Wim and Francien Rijkenberg, the Netherlands, exchanged wedding vows June 4 at the Western Pleasure Guest Ranch, Sandpoint.
Recent marriages
Sports
Cold, wet spring extends morel season: Usually by this time of the year the morel mushrooms have come and gone, but with our weird cold, wet spring, there may still be some out there to be found, especially in the Bonner's Ferry area.

Know before you go this Fourth of July: If you plan to visit national forest areas during the Independence Day holiday (July 4th) weekend, "Know before you go," suggests acting Idaho Panhandle National Forests Supervisor Maggie Pittman. What's important to know? Read on!

High water doesn't make for good fishing: All the water in the area rivers and streams has put a damper on the fishing this season. High flows are making rivers and streams very hazardous for anglers and fishing along these waters is not recommended. Most high mountain lakes are still snowed in, but warmer weather expected later this week may help open access to these lakes.

Another great Kootenai River Run: Over 200 runners and walkers turned out for today's Kootenai River Run, and carrying on tradition, the winners were Bonners Ferry Badgers. Now updated with top times.


Harlem Globetrotter coming to SWISH: For all you old has-beens and hopefuls, competition at this year's Bonners Ferry Swish, coming up July 16, just got a whole lot tougher. A former Harlem Globetrotter is going to be in the crowd.
Letters
Kevin McNally: I think the kids are getting credit for someone else's work w/ the theft of the grates from the bridge. I think some questions need to be asked.

Governor C.L. "Butch" Otter: There are a few industries in Idaho that get most of the limelight. We talk a lot about agriculture, technology, and lately renewable energy. But we're fortunate to have a more diverse base these days, which is a big change from where we were two decades ago.

Senator Mike Crapo: A basic question about the juvenile justice system has been how much weight to place on rehabilitation versus holding juveniles accountable for their actions. Perhaps, there is no real division between rehabilitation and accountability.

Karen Schumacher: Why did

Second Chance Animal Adoption

(SCAA) recently vote to deny shelter dogs the opportunity to participate in the Pawsitive Works™ Program that serves both at-risk youth and homeless dogs?



Kevin McNally: I want to talk about unnecessary vehicle traffic on the Kootenai River during high water periods. This traffic increases the erosion damage many times more than the natural river high water.

Colet Allen: I congratulate them (BFHS Class of 2011) on their graduation, however, with all the graffiti that has been spotted around the county defacing private and public property, they may be remembered for the wrong thing.