Home
News
Sports
Social
Obituaries
Events
Letters
August, 2017
News
August 31

Welcome to another great BCSD 101 year: Included in this addition of the news is a copy of my "Back to School" speech for the staff of BCSD 101. I wanted to share these thoughts with the community, as it directly speaks to our work with your children. But, I also need to assure the community of promises made in the past and an explanation of the direction I see for our future. Superintendent's Scoop by Gary Pfleuger
Feist Creek Falls Resort celebrating 20 years! Feist CreekFalls Resort is celebrating their 20th Anniversary this weekend, September 1 through 3! Head up north for live music by the Wastin' Time Band on Friday at 8 p.m. and the Rural 508 Band on Saturday at 7 p.m.
August 30

Angry young college hopeful charged with murder: A Puyallup, Washington, man denied entry to Gonzaga University in Spokane is in the Bonner County jail, admitting to deputies that he became enraged at being turned away, and so hailing a cab and eventually killing the driver.
Weekly Forest Service fire update: The National Weather Service has issued a Red Flag Warning for the region due to increased winds, low relative humidity, and high temperatures. Additional challenges for the area include unstable weather conditions that could bring high winds and lightning.
Hit and run driver sought: The Boundary County Sheriff's Office is investigating a hit and run collision that occurred this morning on Highway 95, approximately 1/2 mile north of Franklin Street.
Red flag warning as dry lightning looms: The National Weather Service has issued a red flag warning to North Idaho and northeastern Washington from 11 a.m. to 6 p.m. today.
August 29
Air quality alert in effect until Thursday: An air quality alert has been issued for North Idaho, including Boundary, Bonner, Kootenai, Shoshone, Latah, Lewis and Nez Perce Counties, in effect until 10 a.m. Thursday, August 31.
Court dispositions and sheriff's log
August 28
Call for blood donations in wake of Harvey: Blood donors across the country are being asked to give blood as soon as possible over the next several days to help ensure patient blood needs can continue to be met despite the effects of Hurricane Harvey.

Honeysuckle hitting The Pearl on Idahome tour: Longtime resident Holly McGarry returns to North Idaho with her Boston band, Honeysuckle, on Friday, September 8, at the Pearl Theater, 7160 Ash Street, Bonners Ferry. Their "Idahome" tour offers music lovers a rare, intimate venue to hear the trio's "homespun folk" act as they tour the country from coast to coast.
Kootenai River Ride fast approaching: Register now to ensure you receive a shirt for the Bonners Ferry Rotary Club's Kootenai River Ride 2017, the 15th year of one of the Northwest's premier bicycle rides!
Boundary County Commission minutes, August 14
August 25

Boundary County couple arrested in Yaak murder: A husband and wife from Boundary County have been arrested on murder charges in connection with the death of a former Lincoln County man. According to the Lincoln County Sheriff's Office, Ezra Skinner, 28, and Sarah Carpenter Skinner, 27, are being held without bail.

Idaho's longest serving governor passes: Idaho's longest serving governor, Democrat Cecil Andrus, died Thursday, one day before his 86th birthday, from complications related to lung cancer. "Cecil Andrus made everyone around him better," said current Idaho Governor Butch Otter, a Republican.
Gonorrhea cases increasing in North Idaho: Panhandle Health District is alerting the public about an increase of gonorrhea cases in North Idaho. The five northern counties have seen a 115 percent increase in cases so far this year, compared to the same period in 2016.
Caribou Fire burning in the Yaak: The Caribou Fire, located up the Yaak along the U.S. Canada border of Three Rivers Ranger District, Montana, is one of three active fires currently being staffed on the Kootenai National Forest. It is estimated to have started August 11, and was reported at about 2 p.m. yesterday.
Moyie Springs auctioning surplus rigs: The City of Moyie Springs is disposing of surplus items by a sealed bid auction that begins today and runs through 4 p.m. Wednesday, September 6. Bids will be opened at the regular Moyie Springs City Council meeting at 7 p.m. September 6.
Looking for Explorers: Bonners Ferry Border Patrol Explorer Post #190 is now recruiting! If you or someone you know is interested in joining, have them go to the Bonners Ferry Border Patrol Station, 112 Moon Shadow Road at Three Mile and pick up an application.
Boundary County Commissioners minutes, July 31
Boundary County Commissioners minutes, July 24
Boundary County Commissioners minutes, July 17
Boundary County Commissioners minutes, July 10
August 24
~ BF traffic light to return to operation ~
The Idaho Transportation Department will change the light at Highway 95 and Alderson Lane from the flashing light to a full signal operational light at 6 a.m. Tuesday, August 29. This in preparation of the school year starting the following week.
IPNF weekend fire update: Fire danger remains "extreme" across the Idaho Panhandle, meaning that fires of all types start quickly and burn intensely. Even with slightly cooler temperatures, people are advised to be cautious, as firefighters continue to detect and suppress wildfires across the forest. Seven new fires were detected across the Coeur d'Alene Dispatch Area in the last week.
Life jacket kiosk goes up on Kootenai River: The Idaho Department of Parks and Recreation boating program is celebrating the installation of the 101st life jacket loaner station in Idaho, recently placed by the Kootenai river boat launch next to the Waterways/Search and Rescue building in Boundary County.

Renaissance Faire coming to Sandpoint: The first Sandpoint Renaissance Faire is approaching quickly! Join in September 2-3 for two days of chivalry, excitement and fine entertainment at Wood's Ranch, 1000 Woodside Drive!
Boundary Soil Conservation District's tree sale underway: The Boundary Soil Conservation District's annual tree sale is underway now, and western white pine, western larch, lodge pole pine, ponderosa pine and Douglas fir are all still available while supplies last.
NCRS offers help with timber, ag and wildlife projects: The local Natural Resources Conservation Service provides no-cost natural resources consultation to private landowners in Boundary County.
Trapper Peak/Sundance Fire program to be shown twice: Boundary County Museum officials have decided to run the Trapper Peak/Sundance Fire program twice on Saturday, August 26, as the funeral for community member Jim Chubb will take place at 2 p.m. at Trinity Lutheran Church, the same time initially set for the 50th anniversary fire program.
Three council seats up for grabs in Bonners Ferry: The City of Bonners Ferry will hold an election on November 7, 2017, for the purpose of electing three council positions.
Support needed for city pool grant: The City of Bonners Ferry is looking for letters of support as they apply for a $100,000 grant to fund improvements to the Bonners Ferry Municipal Pool. Without it, there are enough maintenance needs that it may be at risk for closure.
August 23
School free/reduced meal policy set: Boundary County School District 101 has announced its 2017 policy for free and reduced price meals for children unable to pay the full price for meals served under the National School Lunch and Free Provision 2 Breakfast programs.
Four thousand milligrams: Her name was C.W. and she was addicted to Demerol. I found her prescriptions in more than a dozen different pharmacies because of her drug of choice and her distinctive writing style. By Sergeant Foster Mayo
Priest River woman succumbs to crash injuries: A Priest River woman died Monday of injuries she sustained in a single vehicle crash one week earlier on Highway 95 near Silverwood Theme Park.
August 22

Two who died 50 years ago to be remembered: Sundance Mountain is the site of a horrific lightning caused wildfire that ignited in August, 1967, and claimed two lives: assistant fire control officer Luther Rodarte, 36, Santa Maria, California, and bulldozer operator Lee Collins, 53, of Thompson Falls, Montana. Both men perished in the blaze of The Sundance on September 1, 1967. Fifty years later, commemoration programs are being held in honor of these two wildfire firefighters.
Court dispositions and sheriff's log
August 21
BCMS gearing up for another awesome year: Welcome back to the beginning of another school year! Boundary County Middle School is excited to open the doors to students once again for another amazing year. Student schedules will be available beginning Tuesday, August 29. By Principal David Miles II
Scam targeting those on jury duty: The Idaho courts have recently received multiple reports that a phone scam is currently being attempted in Idaho. Citizens are being targeted with calls threatening them with prosecution for failing to report for jury service.
August 20

Bonners Ferry will get a good eclipse show: With the 2017 Solar Eclipse just hours away, there is still some misconception that to see it, you have to get to a narrow band that spans the U.S. from Oregon to South Carolina. While those within that band, the band of totality, will have the best show, nearly everyone in the continental United States and Canada will see a spectacle to remember. Article includes instructions for making a cereal box eclipse viewer!
Fundraiser set for Mt. Hall Church children's ministry: Mt. Hall Community Church will host a day-long Biscuits-n-Gravy Breakfast with a yard sale and several raffles fundraiser at the Fairgrounds Memorial Hall Saturday, September 2, to raise funds for the church's new Children's Ministry Community Outreaches!
August 17
What's cooking at the fair? Friends, family and fun aplenty!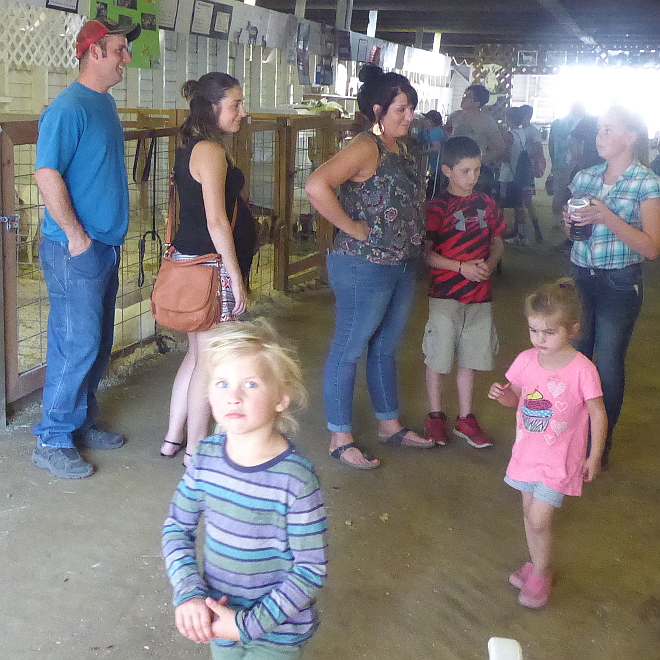 There's a whole lot cooking at the 2017 Boundary County Fair, and you don't want to miss a minute of it! To see what is still ahead and a few new pictures of what has happened, click here. To see the full schedule and all the NewsBF pictures, visit the print version!
IPNF weekend wildfire update: Stage 2 fire restrictions are in effect until further notice in all state, federal, and private forestland and rangeland in Benewah, Bonner, Boundary, Kootenai, Shoshone, and Latah Counties. This also includes public lands in Washington and Montana that are administered by the Idaho Panhandle National Forests.
Wildfire and the eclipse; what land managers are doing: With all the additional people outside enjoying the historic eclipse event in Idaho on Monday, land managers and fire managers are taking extra steps to ensure public safety when it comes to wildfire.
Land Board sets new record for endowments for FY19: The State Board of Land Commissioners approved on Tuesday a 6.4-percent year-over-year increase in the fiscal year (FY) 2019 payout from the eight endowment funds that support Idaho's public school system, universities and other beneficiaries.

It's a beeping, bleeping world: I've had it with dummy alarms. It seems like you can't go anywhere or do anything without some infernal contraption beeping at you. They do it with one goal in mind: to alert you, the dummy, that something is amiss, or done, or desiring your instant attention. Musings from Moyieboy, by Ken Carpenter
August 16

Trapper Peak was ablaze 50 years ago: It was a hot, dry August 11 in 1967 when a violent thunderstorm roared across the Northwest, a storm full of crackling lightning, rolling thunder, and no rain in sight. By August 12, three fires had broken out on Trapper Peak in Boundary County, and plumes of smoke marked the beginning of fires that would consume the tinder dry forest floor vegetation, and spread into the towering trees.
August 15
~ Cabinet Mountain Water members asked to conserve ~
Cabinet Mountain Water District members are being asked to be stingy with water use for the next few days as a main pump has quit and the severity of the problem is not yet known. Until further notice, members are asked to water lawns only as necessary and refrain from using any water that is not essential. Additional information will be posted as it's made available; those needing additional information can call (208) 946-1985.
Court dispositions and sheriff's log
What's Cooking at the 2017 Boundary County Fair?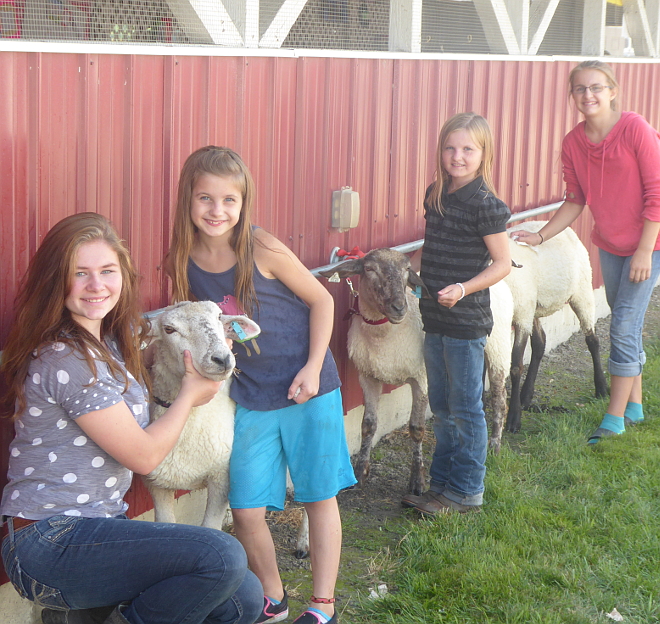 While today is mostly a lot of hard work and sweat as 4-H and FFA animals are readied for the fair activities that lie ahead, the 2017 Boundary County Fair is officially underway with a ton of fun stuff on tap in the days ahead! For a look at the schedule, click here or on the photo!
Idaho Land Board to auction 10 properties: The State Board of Land Commissioners (Land Board) today authorized the Idaho Department of Lands (IDL) to offer 10 commercial properties for auction in 2017. The properties are a combination of commercial buildings, parking lots and vacant commercial building lots located in Boise, Meridian and Idaho Falls.
August 14

Idaho's top general to retire: Major General Gary L. Sayler announced last week that he will retire October 31 after more than seven years as Adjutant General of the Idaho National Guard, capping an exemplary 45-year military career.

Fire danger stays high, restrictions to increase: Drought conditions coupled with extreme fire danger levels continue to persist in northern Idaho. These conditions have prompted fire restrictions to be raised to Stage 2 in accordance with the criteria established in the 2017 Idaho Fire Restrictions Plan for all lands in the Coeur d'Alene Dispatch area, effective at 12:01 a.m. Wednesday.
INBC combats dip in blood donations: Inland Northwest Blood Center is inviting donors to their Spokane and Coeur d'Alene locations for a week of fun to help ensure a safe blood supply this summer. Donations fall by about 40 percent during summer months while the need for blood increases.
August 12
Red flag warning in effect this afternoon: The National Weather Service has issued a red flag warning in effect for North Idaho, as shown in the map above, from 2 to 11 p.m. today as isolated thunderstorms are expected to move across a very dry region at high risk for wildfire ignition and spread.
August 11

BFHS FIRST Robotics Team Alpha+ hosts summer camp: At the end of July, twenty-five students, grades four through six, participated in a four-day Summer Robotics Camp, hosted by BFHS FIRST Robotics Team 2130 Alpha+. The camp was organized and run solely by the high school team members, whose goal was to introduce younger students to the joys of computer programming and robotics. By Neil Martin
Mountain lion hanging out on Parker Canyon Road: The sheriff's office reports that a mountain lion has been sighted several times in the area of Parker Canyon Road. Recently the cat has been at a road kill deer on the upper end of the canyon close to Kootenai Trail Road.

Woman pleads to Three Mile burglary: On July 16, the Boundary County Sheriff's Office investigated a burglary at the Three Mile Store at the intersection of Highways 95 and 2. The investigation led to the arrest of Alisha Sims, 30, no known address. Sims was identified by the store's 24 hour video surveillance system as the suspect.
August 10
Panhandle Health conducting survey: Panhandle Health District is partnering with community health leaders to update the region's Community Health Needs Assessment. North Idaho residents are encouraged to participate in an online survey and give their input on local health related needs and concerns.
August 9
Heavy traffic expected on Eileen Road
Union Pacific Railroad crews will be using Eileen Road with trucks and heavy equipment to repair damage from a derailment last spring, and heavy traffic is anticipated from Monday, August 14, through Tuesday, September 5. Please use caution when driving in the area during this time, and use caution at the Highway 2/Eileen Road junction.

The Plaza Downtown offers business space, services: Over the past six months, renovation has been underway at 7177 Main Street in Bonners Ferry in anticipation of a new and fully furnished business center. The Plaza Downtown, located in the former Dr. Barker and First Security Bank building, offers a dynamic and energetic shared office space in the heart of downtown Bonners Ferry.
Locals certify in swiftwater rescue: Eighteen emergency responders and employees of the Kootenai Tribe of Idaho were certified as Swiftwater Rescue Technicians on August 6. Boundary Search and Dive Rescue Team Inc. hosted the class, put on by Whitewater Rescue Institute of Missoula, Montana, August 4-6.
Gibralter Ridge fire burning near Eureka: New wildfires are burning near Eureka, Montana, after Monday night's lightning storm. The Gibralter Ridge Fire, located five miles east of Eureka, is estimated today at 1,133 acres. Spotting, caused by high winds, created hazardous conditions and fire growth.

Eclipse day checklist and stages of the eclipse to watch for: So the big day – August 21 – is nearly here. Are you all ready for the 2017 total eclipse of the sun? It's important to be prepared to take in everything the eclipse has to offer.
Confessions of a bathroom reader: I can't remember how old I was when I started taking my passion for reading behind the locked door of the family bathroom. Probably as soon as I learned to read, for it seemed like a waste of time to sit there doing nothing. Musings from Moyieboy by Ken Carpenter
Bonners Ferry City Council Minutes, July 11
Bonners Ferry City Council Minutes, July 5
Bonners Ferry City Council Minutes, June 21
Moyie Springs City Council Minutes, July 5
Moyie Springs City Council Minutes, July 26
Moyie Springs City Council Minutes, July 27
August 8
Sandpoint Ranger District opening firewood areas: The Sandpoint Ranger District will be opening 10 "preferred" fuelwood areas for personal use firewood gathering. These locations, in the Sagle, Clark Fork and Forest Service Road #278 South areas, are open to the public for wood gathering through Thursday, August 31.
Court dispositions and sheriff's log
August 7

Woman killed in Dufort Road collision identified: The woman killed Thursday, August 3, while jogging in the 16000 block of Dufort Road near Priest River has been identified as Katherine R. Malone, 36, Nashville, Tennessee, who was in town visiting relatives.
Gearing up for the 2017-18 school year: School goes back in session on Tuesday, September 5, but there's already a lot happening throughout Boundary County School District 101 as everyone gears up. Here in no specific order, are items helpful to know as the big day draws nigh ...

Look for Sturgeon Moon to shine down tonight: The moon may have looked full and round in last night's sky, yet this August full moon actually falls today, August 7, at 11:11 a.m., which is during the daylight hours for us in the Americas. Normally, it's not vital whether the crest of the moon's full phase falls in daylight or darkness for your part of the globe. Tonight's full moon is a bit different, however.
August 5
~ 10-digit dialing day ~
Don't forget that today is the day 10-digit dialing goes into effect; to make even a local call, you have to dial the area code.
Long Bridge Swim canceled due to wind: For the first time in its 23 year history, swimmers had to be kept out of the water today for the Long Bridge Swim in Sandpoint due to high winds.
Observances of the Trapper Peak and Sundance Fires set: On a hot, dry day in August of 1967, the forces of nature combined to create a series of events that would be forever in the minds of many Boundary and Bonner County residents.
August 4

Told she'd never walk, Ahrens is running again: Danielle Ahrens has never shied from a challenge, taking on one of Idaho's most popular sitting Senators twice when, after having volunteered to serve in Boise and seen first-hand, she determined that our North Idaho voices were not being heard. And not only did she run, in 2014 she did so after being told she'd never walk again.
Jogger dies when log truck overturns: A Bonners Ferry log truck driver lost control of his rig and overturned while rounding a left hand curve near Priest River at about 9:53 a.m. Thursday, hitting and killing a woman who was jogging.
Air quality worsens as smoke blankets region: Smoke continues to darken Boundary County skies, and Idaho DEQ has reduced the air quality index in Bonners Ferry to moderate while air quality in the north half of the county is classed as unhealthy.
North Fork Hughes fire closes more trails: The Idaho Panhandle and Colville National Forests have issued temporary closures on National Forest System Trails #535, #315 and #317 and extending the existing #512 (Shedroof Divide Trail) closure from the #312 Junction north to Little Snowy Top.
Suicide prevention walk set for September 9: The Suicide Prevention Action Network of Idaho will commemorate National Suicide Prevention Month September 9 in Coeur d'Alene with the 'Break the Silence' walk. The 5K walk is SPAN's signature fundraising event bringing together friends, family, and neighbors to increase awareness of suicide in North Idaho.
August 3
Locally-acquired West Nile in North Idaho: Panhandle Health District (PHD) has confirmed a human case of West Nile virus in North Idaho. A Kootenai County resident over the age of 50 tested positive for the virus. The individual was hospitalized and is now recovering. This is the first locally-acquired human case ever reported in North Idaho.

Earth's eclipses are special: You might have heard that the Earth is the only planet in our solar system that experiences eclipses. That is not true. Granted, our eclipses are special, but hypothetical observers on other planets also could experience partial and total solar eclipses.
August 2
Stepping up to help neighbors: Deena Shotzberger, Libby, and Shawn Watt, Kalispell/Bonners Ferry, are coordinating a relief effort to provide hay and other supplies from Northwest Montana and Northern Idaho to the Lodgepole Fire Area near Jordan, Montana.
Smoky skies bring air quality alert: An Air Quality Alert has been issued by the Idaho Department of Environmental Quality in Coeur d`Alene Idaho, to include Boundary, Benewah, Bonner, Kootenai and Shoshone counties. Some of the communities affected are Bonners Ferry, Sandpoint, Kellogg, Coeur d`Alene and St Maries.

The Blind Date Hall of Fame is still safe: There are few more horrifying terms in the world than "blind date." Strong bachelors turn pale at the thought, for their fate is no longer in their hands but in the control of at least one and often two or more other people. One they know, or think they do, and the other could very well be Charles Manson's cranky twin sister. Musings from Moyieboy, by Ken Carpenter
Hiring fair in Post Falls August 9: The Idaho Department of Labor will host a hiring from 10 a.m. to noon Wednesday, August 9, at the Idaho Department of Labor, N600 Thornton Street, Post Falls, to provide an opportunity for job seekers to meet several employers with active job listings.
Endowment fund strong at year's end: Managers of Idaho's land grant endowment assets closed out Fiscal Year 2017 (FY17) with strong performances, yielding more money to support Idaho's public school system, higher education, and other State of Idaho institutions.
Court dispositions and sheriff's log
August 1
Harvest time ...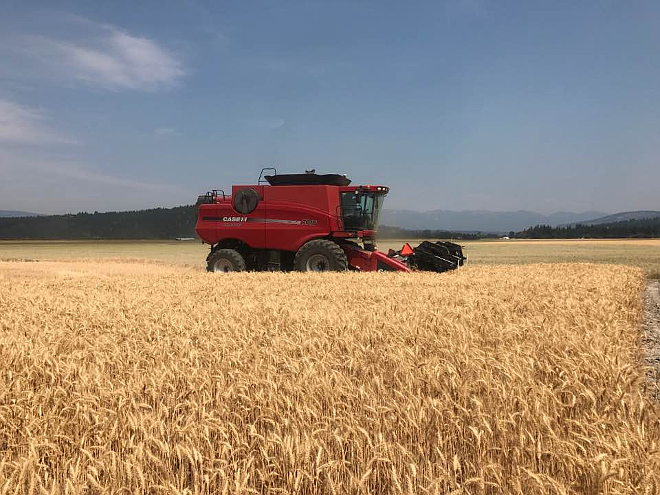 Carrie Figgins photo
Harvest of what appears to be another great crop of wheat got underway today on the Figgins farm in Boundary County.
Driving too fast causes crash: Today at around 3:30 p.m. the Boundary County Sheriff's Office responded to an accident located at the Mountain Meadows Road/Highway 95 slide reduced speed area.
Stage 1 fire restrictions going in effect: With the threat of wildfire danger increasing rapidly in northern Idaho, local land management agencies will implement Stage 1 Fire Restrictions on all lands within the Coeur d'Alene Dispatch area beginning at 11:59 p.m. Thursday, August 3.

Here she is, Miss Teen of Idaho! Last year, I competed in my first pageant with the Miss Teen of America organization, which is now American Pageants. I was awarded First Runner-Up Miss Teen of Idaho, and won additional first place awards in Creative Writing, and a Photogenic Competition. By Maya Roberts, Miss Teen of Idaho 2017-2018
Reminder: Today is Avian Flu testing for ANY 4-H, FFA or OPEN class birds/poultry being entered at the fair. It will be at the Boundary County Extension Office, 6447 Kootenai Street, Bonners Ferry, until 5 p.m. Testing is free, but mandatory! Also, there will be no water fowl entries at this year's fair.

The scoop on huckleberry picking: The Boundary County Sheriff's Office wants to let people know it does not have the authority to enforce the commercial huckleberry picking restriction; that is a charge that needs to be investigated by the Forest Service as there is not an Idaho law pertaining to commercial picking and selling of huckleberries.
Vinelink keeps crime victims informed: The Idaho Sheriffs' Association (ISA) manages statewide victim's services by working with Appriss Inc. to maintain computer interfaces with jail booking systems throughout Idaho and the Idaho Department of Correction to automatically notify registered users of an offender's incarceration status.
August guide to the bright planets: Three of the five bright planets – Jupiter, Saturn and Venus – are easy to see in August 2017. Bright Jupiter is the first "star" to pop into view at nightfall and stays out until mid-to-late evening. Golden Saturn is highest up at nightfall and stays out until late night. Brilliant Venus rises before the sun, shining in front of the constellation Gemini the Twins for most of the month.
Back to archives